July of 2021 witnessed the world billionaires start the scramble for space exploration. The result was an exponential growth of this industry from its 2020 value of $446.9 billion, causing the Bank of America to revise its 2030 target value for the industry to upwards of $1.4 trillion. The space industry is not just about moon travel.
At present, there are close to 29.000 objects orbiting space, with an estimated 50.000 new satellites expecting to join that orbit by 2030. Add this to the global billionaires making space tourism the next big thing. Thus, this industry has the making of the final frontier, unearthing a galaxy of investment opportunities to fly any portfolio to the orbit of millions.
Space ETFs for cosmic returns: how do they work? 
As the world ventures into the final frontier, the investment world has taken note and provided exchange-traded funds to ensure investors are part of this multi-billion-dollar industry. These ETFs comprise equities in the following segments:
Commercial Space Travel
Satellite & Rocket Manufacturing & Services
Next Generation Telecom
Rocket Launch & Ground Services
Space Military
Defense Technology
Space Exploration & Mining
Top 3 space ETFs to fly your portfolio into the orbit of millions
Whatever Elon Musk touches turns to gold, PayPal, Tesla, and now Space X. There must be a reason why the global billionaires now have their eyes set on the space industry, and we can all agree that these aren't pet projects but serious investments. Having the Midas touch like Elon's when it comes to equities is quite rare, necessitating a different investment strategy for this industry. The three ETFs below expose investors to this final frontier and a chance to make astronomical returns as this industry grows.
№ 1. ARK Space Exploration and Innovation ETF (ARKX)
Price: $16.53
Expense ratio: 0.75%
Dividend yield: N/A
If you are to invest in an emerging market heavily reliant on technology, disruptive technologies and innovations are the way to go. The recent past has shown has that there is no better at this niche than Cathie Wood and Co. at ARK investment.
Investors can gain exposure to the space industry via the ARK Space Exploration and Innovation ETF. This actively managed fund seeks capital appreciation by investing at least 80% of its total assets in global equities involved in space exploration and related innovations.
The top three holdings of ARKX ETF are:
Trimble Inc. – 9.73%
3D Printing ETF – 7.88%
Kratos Defense & Security Solutions, Inc. – 7.57%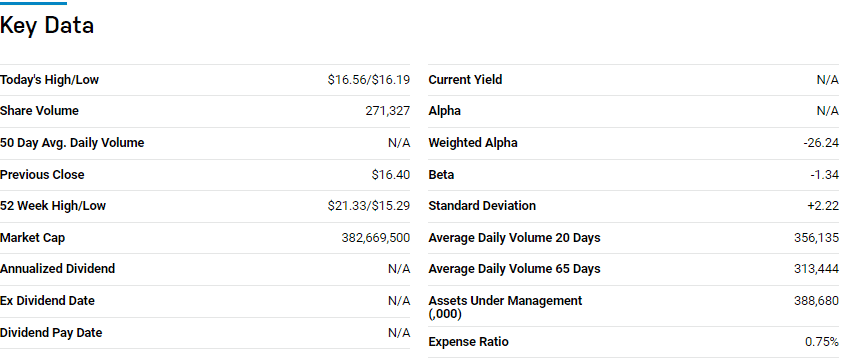 ARKX ETF has amassed $366.5 million in assets under management in less than a year, with an expense ratio of 0.75%. ARK investment tends to beat the market. With active management and an interest in the entire space industry value chain, this ETF has the makings of a money minter with the agility to grab all opportunities in this chain. Having launched in May of 2021, investors have a chance to buy a new space ETF under the ARK investment bracket with enough diversification across the space industry to ensure its success.
№ 2. Procure Space ETF (UFO)
Price: $24.88
Expense ratio: 0.75%
Dividend yield: 1.00%
The Procure Space ETF tracks the S-Network Space Index, investing at least 80% of its total assets in the holdings of its composite index organizations that receive at least 50% of their revenue from space-related activities. This diversified fund exposes investors to the global companies involved in the aerospace and defense industries and spans several sectors.
The top three holdings of this ETF are:
Sirius XM Holdings, Inc. – 5.59%
Eutelsat Communications SA – 5.53%
SES SA FDR (Class A) – 5.46%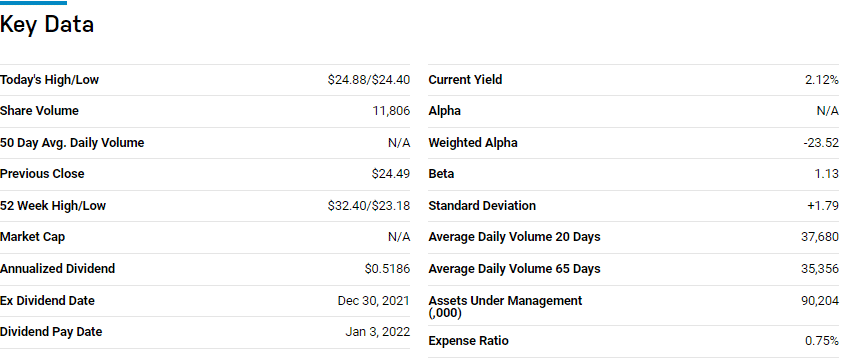 UFO ETF has $91.315.5 million in assets under management, with investors' parting with $75 annually for every $10000 invested. This ETF is the first global defense and aerospace fund despite such meager assets under management. Having launched in 2019, the first 12 months did not result in profits for this ETF. Still, its diversification across multiple industries ensured that it did not slide too much, even with the coronavirus. As such, it provides an excellent opportunity to buy the dip and soar when this ETF launches earnings season.
№ 3. iShares Edge MSCI Multifactor Intl ETF (INTF)
Price: $28.03
Expense ratio: 0.30%
Dividend yield: 3.00%
The iShares Edge MSCI Multifactor Intl ETF tracks the MSCI World ex USA Diversified Multiple-Factor Index, investing at least 80% of its total assets in the composite index holdings and investment assets of similar economic characteristics. It exposes investors to global developed market large and mid-cap equities, ex-US, offering momentum, quality, and value while maintaining an acceptable level of risk-matched to the composite index.
The top three holdings of this ETF are:
BHP Group Plc. – 2.60%
Rio Tinto Plc. – 2.16%
Investor AB Class B – 2.02%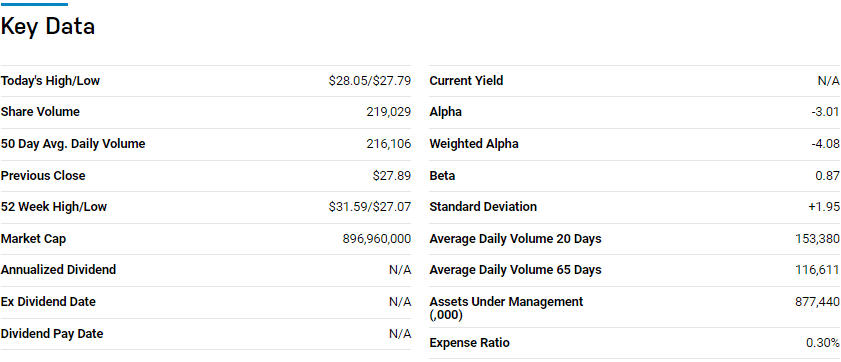 INTF ETF has $872 million in assets under management, with an expense ratio of 0.30%. This ETF is an indirect and diversified play on the space industry since it holds significant exposure to aerospace applications in its holdings. In addition, it offers exposure to ancillary services to the space industry, ensuring a stake in the entire space value chain.
It might not be a phenomenal returns generator, but it is consistent. With a dividend yield of 3%, investors can also enjoy regular returns; 5-year returns of 38.01%, 3- year returns of 20.25%, and 1-year returns of 8.73%.
Final thoughts
Since the successful launch of Apollo 2 into the moon, there have been five decades, but the space industry in terms of commercial viability and corporations is still in its infancy. It has been dubbed the final frontier due to its critical importance to security, human competence, and evolution. Historically it has not received the financial backing to accelerate its growth. Still, with the world billionaires now openly backing its growth, the ETFs above offer an early buy into this return rocket as it launches.