ETF full name: Ark Space Exploration & Innovation ETF
Segment: Space exploration industry
ETF provider: ARK ETF Trust
| | |
| --- | --- |
|                                ARKX key details | |
| Issuer | ARK ETF Trust |
| Dividend | n/a |
| Inception date | March 30, 2021 |
| Expense ratio | 0.75% |
| Management company | ARK Investment Management LLC |
| Investment objective | Long-term growth of capital |
| Investment geography | Worldwide |
| Benchmark | n/a |
| Leveraged | n/a |
| Median market capitalization | $30 billion |
| ESG rating | 4.92 out of 10 (ETF database) |
| Number of holdings | 40 |
| Weighting methodology  | Actively-managed |
About the ETF
Launched on March 30, 2021, by Cathie Wood's ARK ETF Trust, ARK Space Exploration & Innovation ETF (ARKX) is an actively managed exchange-traded fund (ETF). It aims to invest at least 80% of its assets in the US and foreign companies engaged in space exploration and innovation.
Very few publicly listed companies are directly engaged in space exploration. But there are hundreds of companies making products and services that support space exploration efforts.
Since the ETF invests primarily in disruptive innovation, it makes for a speculative and risky portfolio. The fund holds 40-55 stocks selected using a proprietary methodology.
ARKX FactSet analytics insight
The ETF gives investors exposure to the global space exploration and innovation industry. It invests in companies that make, launch or operate platforms in the orbital or suborbital space.
It also invests in companies that enable technologies used by space exploration-related enterprises. They include energy storage, materials, 3D printing, AI, and robotics. Companies that benefit from aerospace activities are also part of their portfolio.
Since it's an actively managed ETF, it doesn't track any benchmark index. Stocks are picked using ARK's proprietary methodology that combines the bottom-up analysis, top-down information, and ESG considerations.
Two of the world's leading companies in space exploration — SpaceX and Blue Origin — are not part of its portfolio because they are still privately held. Virgin Galactic (NYSE: SPCE) is one of the largest companies directly engaged in space exploration. But it accounts for merely 1.92% of ARKX.
ARKX annual performance analysis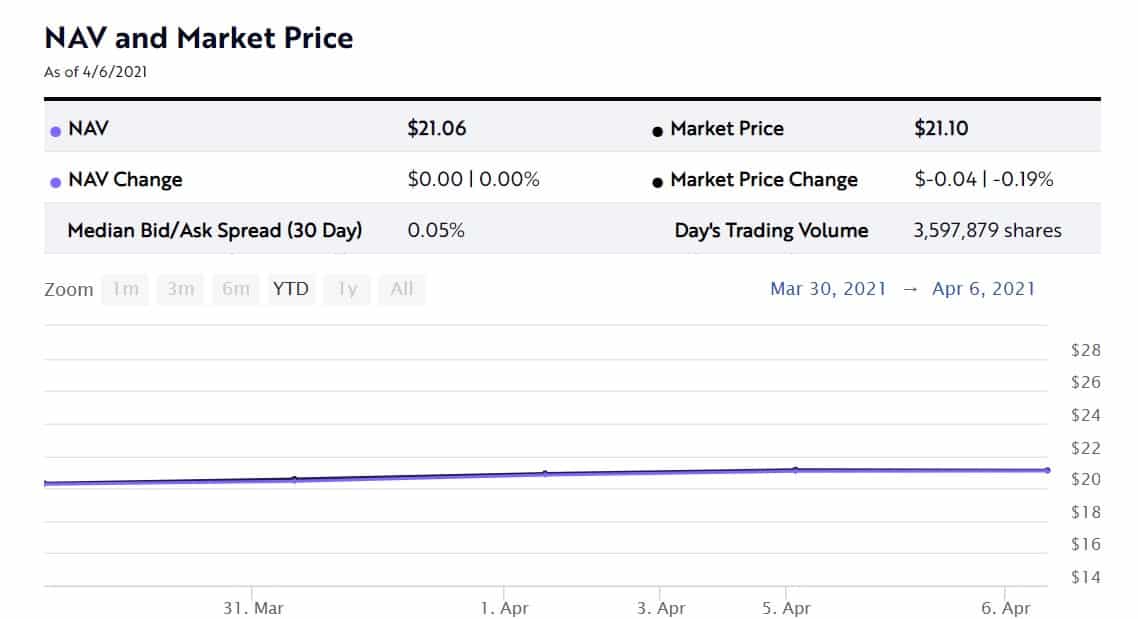 ARKX has launched only about a week ago. So it doesn't have a performance history yet. For now, it's riding on the hype around innovative and disruptive technologies. Its trading volume on the first day of launch was $300 million, and it remained an impressive $146 million on the second day.
Disruptive companies often trade at excessive valuations. Their current financial situations don't justify their valuations because it's all about the "future potential."
The US Federal Reserve's decision to put trillions of dollars directly in Americans' hands during the COVID-19 lockdown has fueled the stock market's rally.
Investors are optimistic about the ETF because of Cathie Wood's investing style and transparent communication. She has set new benchmarks for communicating with investors about her investment thesis, views, and strategies.
Cathie Wood likes to bet on disruptive technology companies that will bear fruit far into the future. Tesla is one such bet that paid off. She owned a large chunk of Tesla stock in her ARK Innovation ETF and bought more when Tesla shares pulled back in February 2021.
Experts and investment firms have been warning that high-growth tech stocks are trading at bubble valuations. A survey conducted by Deutsche Bank showed that most investors believe tech stocks are a bubble. If they indeed are, nobody can predict when a bubble would burst.
However, Cathie Wood firmly believes that the markets — including tech stocks — are not in a bubble. Since space exploration is still a nascent industry with tremendous growth potential in the years and decades to come, the industry and the ETF are an excellent long-term play.
ARK Space Exploration & Innovation ETF (ARKX)

Resource
ETF DATABASE
ETF.com
MarketWatch
Morningstar.com
ARKX
A+
—
—
—
ESG Rating
4.92/10
—
—
—
ARKX key holdings
The top two most significant holdings in ARKX are Trimble Inc (8.55%) and the ARK 3D Printing ETF (5.90%). Yes, people engaged in space exploration would need to 3D print components on demand. Most people miss that Trimble Inc. is already a constituent in the ARK 3D Printing ETF.
Kratos Defense & Security (5.71%) is ARKX's third-largest holding. The San Diego-based company develops satellite communications, directed-energy weapons, missile defense, and microwave electronics.
Defense contractor L3Harris Technologies (4.94%) is the fourth biggest holding. It's interesting to see the Chinese e-commerce behemoth JD.com (4.60%) among ARKX's top five most significant holdings. Even more perplexing is that Netflix (1.29%) is one of the ETF's 40 holdings. Maybe people would want to binge-watch Netflix shows on their journey to Mars.
These are the top 10 most extensive holdings of ARKX, 2021.

Industry outlook
The global space industry is overgrowing. According to Research and Markets, the space industry revenue is expected to grow from $360 billion in 2018 to $558 billion by 2026, reflecting a CAGR of 5.6%.
Morgan Stanley predicts that the worldwide space industry revenue will reach $1 trillion by 2040. Rapid advances in technology, growing interest from the public sector, and declining launch costs will ensure that the industry keeps growing at a healthy rate in the years to come.