After a great last week in May that saw S&P 500 close the week at $422, +1.02% compared to the previous week, the gains were eroded, with it trading at $416.22 at midweek. The decline was a mirror image of previous weeks that saw the S&P 500 flirt with the weekly support. However, true to recent behavior, the support integrity remains uncompromised, with prices bouncing back and operating in the $418.65-418.9 range on Friday. 
The midweek plunge and failure to reach last week's high saw the year-to-date returns drop from +12.47%  to +12.3%. Among the individual select sectors, there was a continuation of "musical chairs". 
The top three gainers were: energy select sector with +6.15%, real estate gaining +1.48%, and consumer staples recording +1.05% gain. 
The energy select sector surge is attributable to global crude oil prices taking off on OPEC, doubling down on its decision to ease global supply restrictions. 
On the other extreme, the top 3 losers were the information technology sector with -0.72%, the communication services with -0.78%, and the healthcare sector with -1.47%. 
Below is a breakdown of the S&P 500 underlying sectors and their performance over the week-May 31st to June 4th using their corresponding ETFs.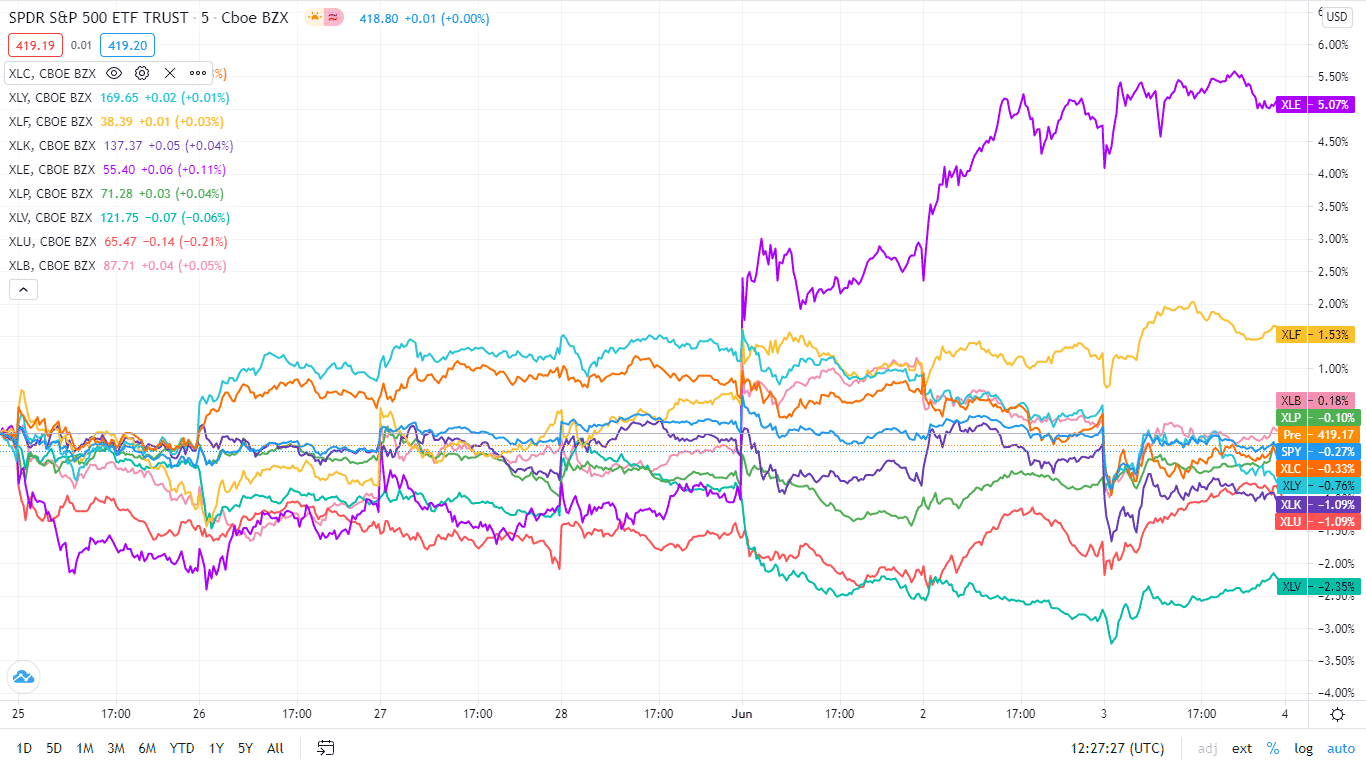 Here is a chart of the ten sectors' year-to-date performance and how they have fared against the S&P 500. 
S&P 500 industry sector weekly performance breakdown

1.

Energy

XLE

+6.06%

with the accompanying energy select sector ETF

2.

Real Estate

XLRE

+2.91%

 with the accompanying real estate select sector ETF

3.

Consumer Staples

XLP

+1.02%

 with the accompanying consumer staples select sector ETF 

4.

Financial Services

XLF

+1.02%

 with the accompanying financial services select sector ETF

5

.

Materials

XLB

+.042%

 with the accompanying materials select sector ETF

6.

Utilities

XLU

+.40%

with the accompanying consumer staples select sector ETF

7

.

Industrial

XLI

-0.12%

with the accompanying industrial select sector ETF

8

.

Information Technology

XLK

-0.72%

 with the accompanying information technology select sector ETF

9

.

Communication

Services

XLC

-0.78%

with the accompanying utilities select sector ETF

10.

Healthcare

XLV

-1.47%

with the accompanying health care select sector ETF