ETF full name: Consumer Staples Select Sector SPDR Fund
Segment: US consumer staples equities
ETF provider: State Street Global Advisors
| | |
| --- | --- |
| XLP key details | |
| Issuer | State Street Global Advisors |
| Dividend | 2.53% |
| Inception date | December 22, 1998 |
| Expense ratio | 0.12% |
| Management company | SSGA Funds Management |
| Investment objective | Track the investment results of the Consumer Staples Select Sector Index |
| Investment geography | US |
| Benchmark | Consumer Staples Select Sector Index |
| Leveraged | No |
| Weighted average market cap | $171.80 billion |
| MSCI ESG rating | 4.97 out of 10 |
| Number of holdings | 32 |
| Weighting methodology  | Market-cap-weighted |
About the ETF
The Consumer Staples Select Sector SPDR Fund (XLP) has been around for more than 22 years. It tracks the Consumer Staples Select Sector Index and has a reasonably low expense ratio of just 0.12%.
The ETF provides investors exposure to consumer staples stocks from the S&P 500 universe. Since the stocks are drawn from the S&P 500 rather than the broader market, it has a concentrated portfolio of only 32 stocks.
XLP has $10.56 billion of assets under management. The Consumer Staples Select Sector Index is market cap-weighted and is rebalanced every quarter.
XLP FactSet analytics insight
The Consumer Staples Select Sector SPDR Fund (XLP) gives investors exposure to food products, beverages, food and staples retailing, tobacco, household, and personal care products companies.
Since consumer staples stocks tend to be far less volatile than stocks in other industries, they attract conservative investors. The basket of consumer staples stocks holds well in times of crisis. Almost all constituents in the index are large-cap stocks whose names investors are familiar with.
Given the ETF focuses on a single category (consumer staples), it allows investors to take strategic positions in the class.
Beverages — 24.66% and Household Products — 24.66% sectors together have almost 50% weightage in the XLP exchange-traded fund. Food & Staples Retailing is the third-largest sector with 19.77% weightage. The Food Products sector has 17.94% weightage while tobacco accounts for 9.10%. Personal Products is the smallest sector with just 3.86% exposure.
XLP annual performance analysis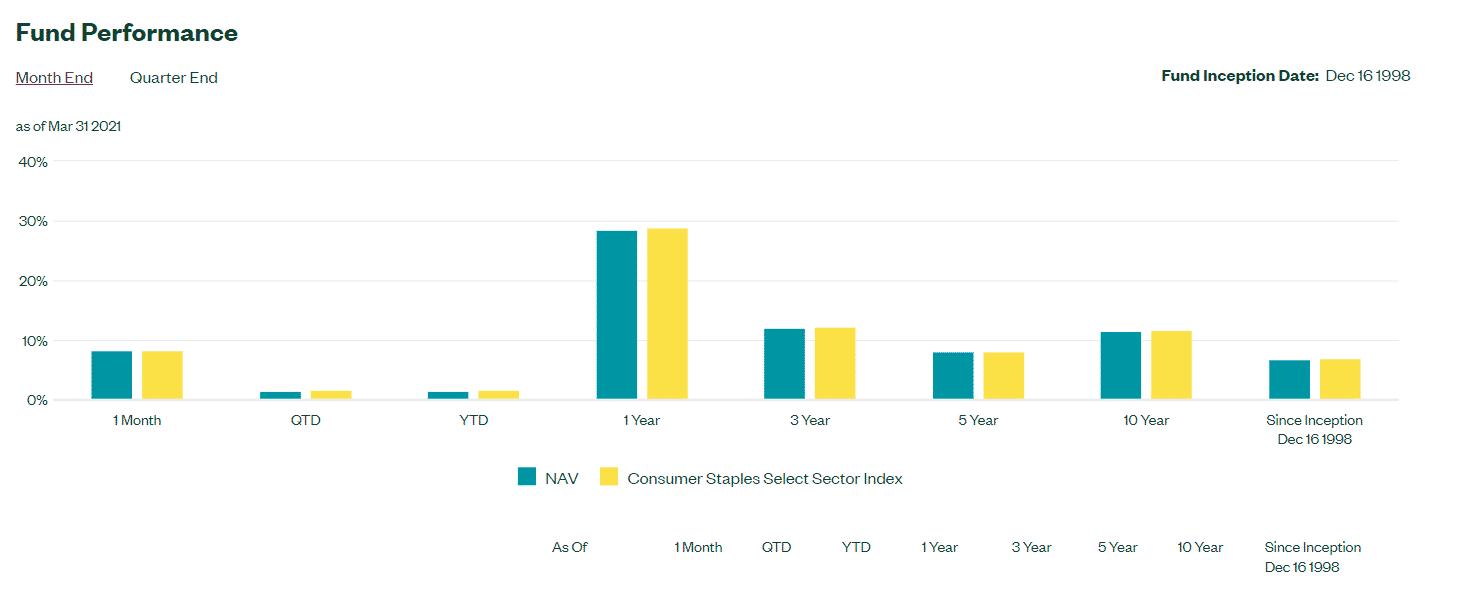 As shown in the performance chart above, the XLP ETF closely tracks its benchmark index with minimal tracking error. Over the last year, it has delivered an impressive 28.56% return. The three-year and five-year returns were 12.11% and 8.05%, respectively.
Last year during the COVID-19 pandemic, when most stocks took a beating in February and March, the consumer staples companies held up well. The Consumer Staples Select Sector SPDR Fund (XLP) has a relatively high and stable dividend yield of 2.53%.
The ETF has a concentrated portfolio of only 32 stocks from a specific category — Consumer Staples. It doesn't offer the diversification of a broad market index fund. But the XLP's beta over the last year was 0.92, suggesting it is less volatile than the overall market.
XLP ETF RATING

Resource
ETF DATABASE
ETF.com
MarketWatch
Morningstar.com
IWM
A+
A 75
5
3
MSCI ESG Rating
–
4.97/10
–
–
XLP key holdings
Consumer goods giant Procter & Gamble Company is the single largest constituent in the ETF with 15.96% weightage. A distant second is the Coca-Cola Company with 9.83%, and its arch-rival PepsiCo Inc. is close behind at 9.39%. Retail giant Walmart Inc. has a 9.20% weightage while Costco Wholesale Corporation accounts for 4.75% of the ETF.
Here are the ten most significant holdings in the Consumer Staples Select Sector SPDR Fund.
| | | | |
| --- | --- | --- | --- |
| Ticker | Holding name | % of assets | Shares held |
| PG | Procter & Gamble Company | 15.96% | 12,379,918 |
| KO | Coca-Cola Company | 9.83% | 19,498,252 |
| PEP | PepsiCo Inc. | 9.39% | 6,935,924 |
| WMT | Walmart Inc | 9.20% | 6,969,840 |
| COST | Costco Wholesale Corporation | 4.75% | 1,364,264 |
| MO | Altria Group Inc | 4.59% | 9,344,458 |
| PM | Philip Morris International Inc. | 4.49% | 5,150,127 |
| MDLZ | Mondelez International Inc. Class A | 4.46% | 8,088,113 |
| EL | Estee Lauder Companies Inc. Class A | 3.86% | 1,315,807 |
| CL | Colgate-Palmolive Company | 3.68% | 4,860,283 |
Industry outlook
Amid the global stock market rally, cyclical stocks are once again garnering the limelight. Defensive stocks such as consumer staples haven't performed spectacularly this year. According to Morgan Stanley, it allows conservative investors to load up on consumer staples. The category has always been seen as a slow-and-steady play.