After a disappointing week that had seen the S&P 500 close the week at -0.02%, Monday morning market opening aligned to significant weekly support, the opening price of $414.73 against the weekly support of $414.48.   
According to Yahoo finance analysts, the year-long run of the S&P 500 needs to take a rest. This sentiment echoes central banks who believe that the S&P 500 is long overdue for a pause.
Like previous weeks, the S&P 500 flirted with the weekly support and was buoyed to trade around the $417-$419 range. So far this week, it has defied all sentiments to trade at +1.02% compared to last week's closing price.
The week in week improvement takes the year-to-date returns for the S&P 500 to 12.47%. It is up from 11.33% as at the close of the market last week. The individual sectors have had mixed performance even though only three sectors closed in the red. 
The health sector took a –2.65% tumble from its +1.68% high of last week. Fortunately, the consumer discretionary offset this short selling by +3.27%, gaining from last week -0.81%. The other major gainer was the industrial sector, +3.21% gain from -1.19% last week.  
Find below the full summary of the S&P 500 underlying sectors and their performance over the week-May 24th to May 28th, and their corresponding sector ETF performances.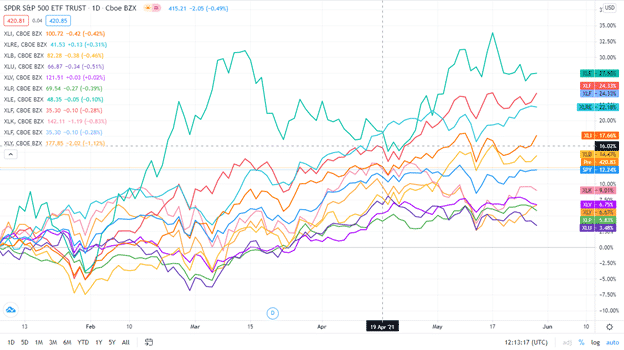 Here is a chart of the ten sectors' year-to-date performance and how they have fared against the S&P 500. 
S&P 500 industry sector weekly performance breakdown

1.

Communication Services

XLC

+2.79 with the accompanying utilities select sector ETF

2.

Consumer Discretionary

XLY

+2.46% with the accompanying consumer discretionary select sector ETF

3.

Industrial

XLI

+2.02% with the accompanying industrial select sector ETF

4.

Real Estate

XLRE

+1.43% with the accompanying real estate select sector ETF

5.

Information Technology

XLK

+1.27% with the accompanying information technology select sector ETF

6.

Financial Services

XLF

1.01% with the accompanying financial services select sector ETF

7.

Materials

XLB

0.75% with the accompanying materials select sector ETF

8.

Energy

XLE

-0.09% with the accompanying energy select sector ETF

9.

Consumer Staples

XLP

-0.39% with the accompanying consumer staples select sector ETF

10.

Healthcare

XLV

-0.97% with the accompanying health care select sector ETF