ELITE Automated Algorithm EA is a trading solution that was released in Spring 2021. The main label is a Fueled By Forex label. The main claim that should convince us is "Enhance Your Trading With Automation. Gain an edge in trading with our proven automated algorithm software the same type institutional traders use."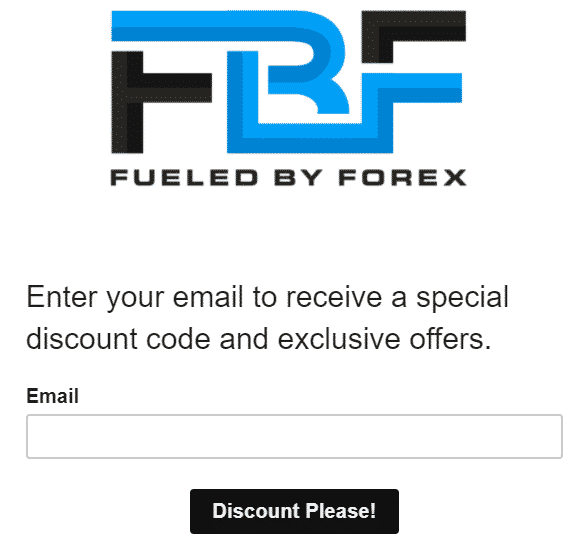 Fueled by Forex suggests we trade our email for their endless information letters. It's up to you to do it or not.
ELITE Automated Algorithm EA Review
There are many features explained:
ELITE Automated Algorithm EA works completely automatically for us. We have to do nothing.
We have to use the trading solution on a VPS service.
We don't know what strategies the system uses to make profits.
If we need a broker, the developers suggest we use a link to register on the LMFX broker.
The advisor chooses the best trading opportunities to get into a trade.
We are free to customize risks how we want
All orders receive the next: Entry Point, Stop Loss, and Take Profit.
We may be advised of the installation process.
The system will be consistently updated.
We have to run an account that has not less than $5000 on it.
We don't know what time frame we have to work.
Trading Strategies and Currency Pairs
We have no strategy details provided.
From trading results, we could note a Grid of orders with various lot sizes.
The robot works with five pairs: EUR/GBP, EUR/USD, AUD/USD, EUR/CAD, and USD/JPY.
ELITE Automated Algorithm EA Trading Statistics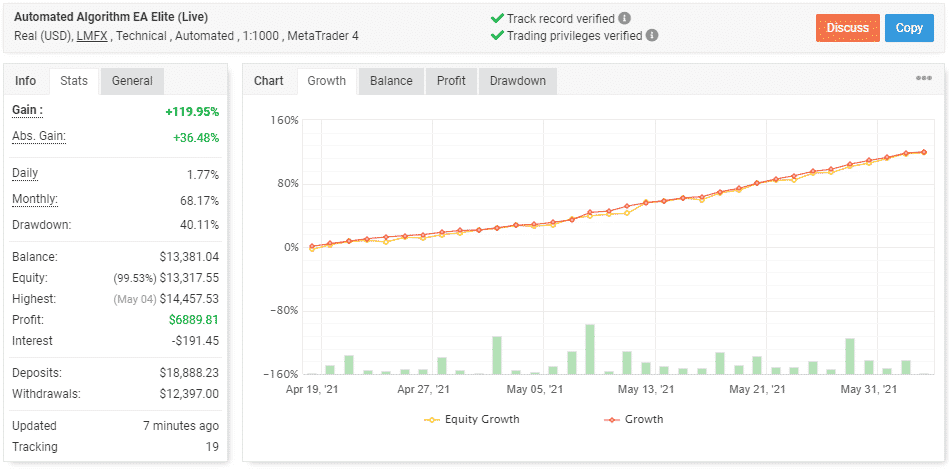 The system runs a real USD account on LMFX automatically. The leverage is sky-high – 1:1000. The platform was chosen – MetaTrader 4. The account has a verified track record and verified trading privileges at the same time. It was created on April 19, 2021. The deposit was $18,888. It was withdrawn at $12,397. Large withdrawals mean that the developers don't trust it to make even more money. Since then, the absolute gain has become +119.95%. An average monthly gain is 68.17%. The maximum drawdown is 40.11%.

The robot has traded 1044 deals with 2448 pips. An average win is 26.22 pips when an average loss is almost twice deeper -40.60 pips. The win rate is 64% for Longs and 64% for Shorts too. An average trade length is a day. The Profit Factor is 2.17.

The advisor works with only AUD/USD, EUR/CAD, EUR/GBP, EUR/USD, and USD/JPY pairs. The most traded currency pair is EUR/CAD, with 303 deals. The most profitable EUR/CAD, too – $1714.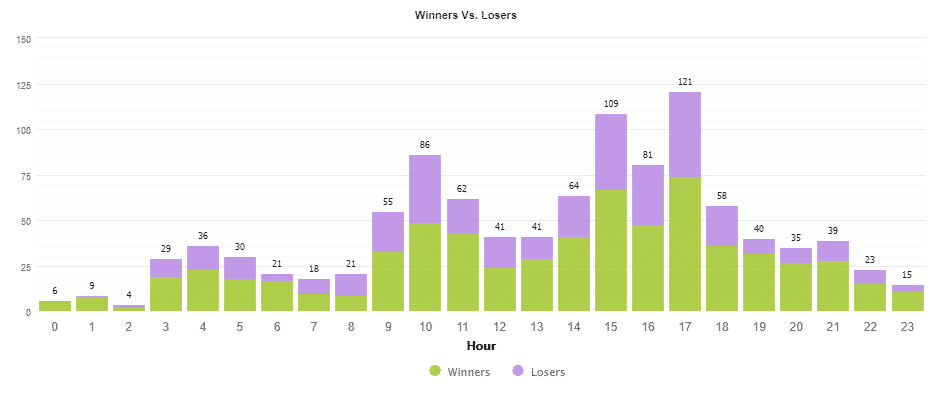 Most of the orders were traded during the European trading session.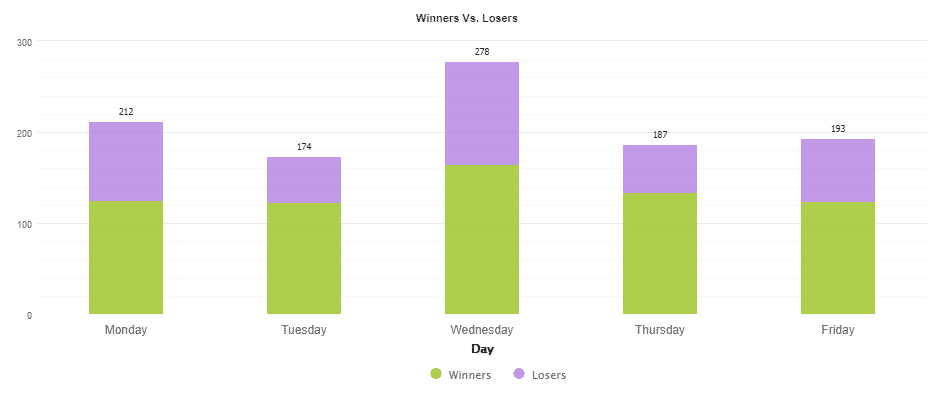 Wednesday is much ahead of trading activities over other days.

The advisor works with low risks. It has to lose 84 deals in a row to lose 10% of the account.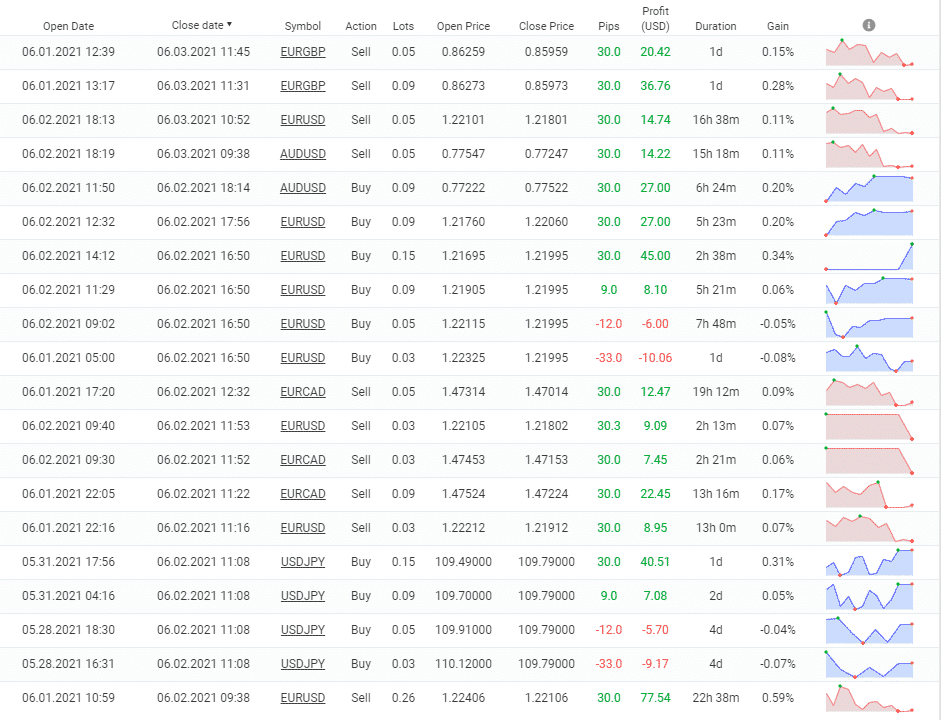 The system increases lot sizes from 0.03 to 0.25.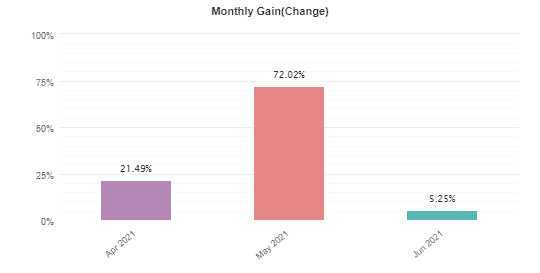 The profitability went down in June 2021.
Pricing and Refund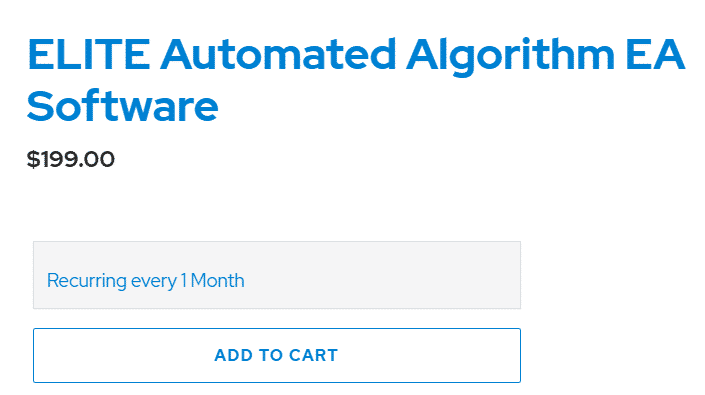 The advisor can be bought for $199 monthly. There are only subscription options available. We have no refund policy in addition.
What Else You Should Know About ELITE Automated Algorithm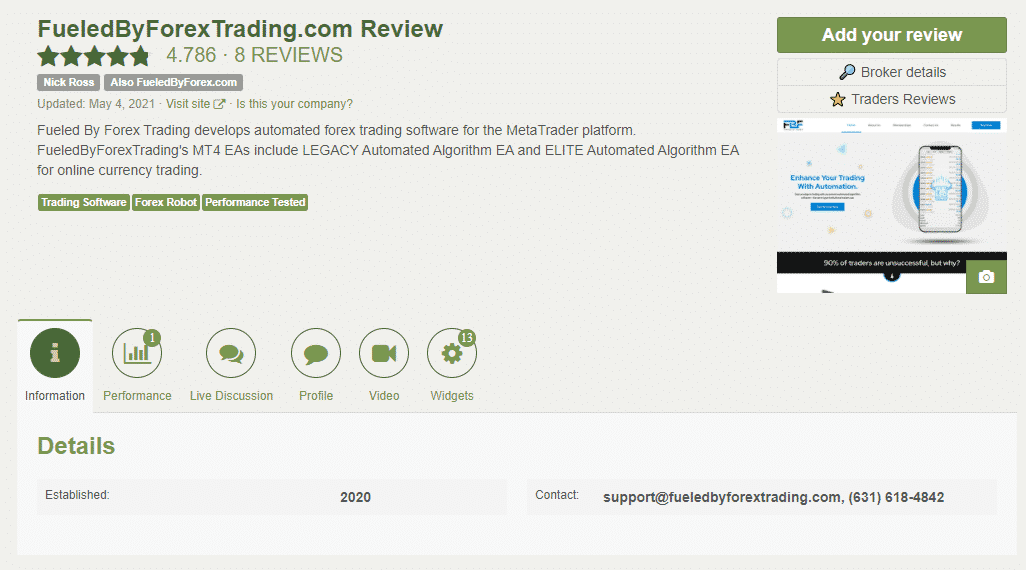 Fueled by Forex Trading has a page on Forex Peace Army without any account connected to it. There's a 4.7 rate based on 8 reviews.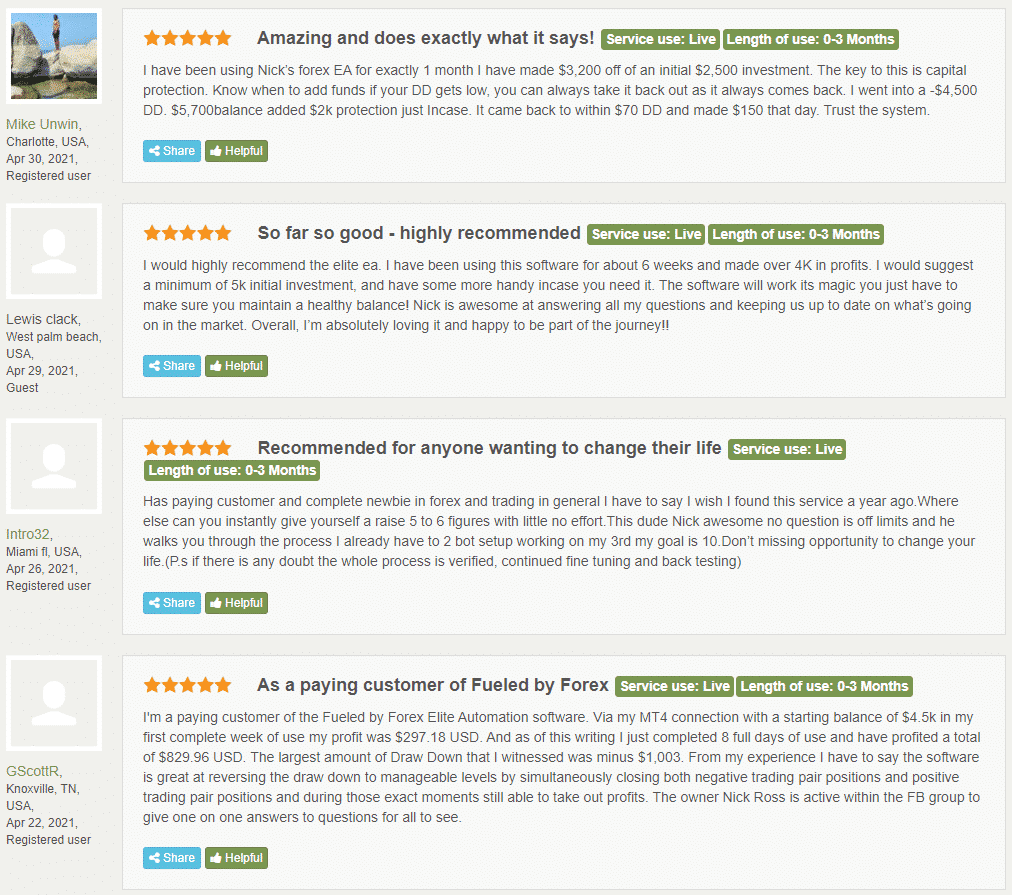 Most of them are positive but faceless and don't include details that would mark them like real ones.
Price – 2/10
Strategy – 2/10
Trading Results – 3/10
Vendor Transparency – 2/10
Customer Reviews – 3/10
Support – 3/10