The more the indicators have a significant impact on the value of an asset, the more the volatility of that investment asset. Currencies are in a constant state of flux due to the different economic and political indicators affecting a specific country, region, and globe. The result is a highly volatile corner of the investment market that accounts for upwards of 90% of the investment market losses.
Approximately 95% of the active market participants are on a losing streak at any given time. Is there then no way to gain returns from this market? The exchange-traded fund universe has provided a relatively cheaper and less volatile investment asset for this market, currency ETFs.
What are currency ETFs, and how do they work? 
In essence, exchange-traded funds combine several investments assets, of like economic characteristics, to mitigate against the downturn of individual assets while compounding the returns of the rest. They comprise either currency futures and futures contracts of a single spot forex pair or a basket of a futures contract of different currency pairs. Therefore, despite most currency ETFs racking a single spot forex pair, they follow the same principle.
Top currency ETFs to hedge against the chaotic forex markets
Except for countries such as China and Japan who constantly devalue their currency, currency exchange rates have proven highly unpredictable and volatile. Add to these attributes the global economic uncertainty and differing approaches to the post-pandemic economic recovery efforts. This corner of the investment market provides quite the problem on how to invest safely and still make a killing. The three currency ETFs below provide mitigation against not only this highly volatile market but also the potential to make considerable returns while providing currency exchange risk hedge against foreign investments.
№ 1. Invesco DB US Dollar Index Bullish Fund (UUP)
Price: $25.61
Expense ratio: 0.78%
Dividend yield: N/A
The US dollar is the globally accepted currency. Invesco DB US Dollar Index Bullish Fund tracks the ICE US Dollar index by investing in US-denominated futures contracts in the tracked index. Unlike most currency ETFs, the UUP exposes investors to a basket of some of the most popular currencies relative to the green buck. This currency fund tracks changes in dollar income markets, index treasuries income, and the long portfolio index positions in the Deutsche Bank Long USD Currency to achieve its objective.
The top holdings for this fund are:
Government & Agency Portfolio – 73.00%
The United States Treasury Bill – 16.19%
Invesco Treasury Collateral ETF – 10.80%
Invesco Treasury Collateral ETF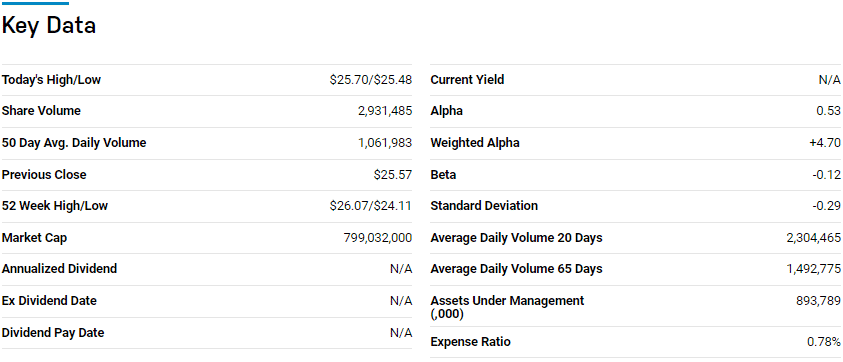 Invesco DB US Dollar Index Bullish Fund has $ 468 million in assets, with an expense ratio of 0.78%, to enjoy quarterly dividends of $0.53 to the share. One of the worst-hit countries by the coronavirus was the United States. It saw the UUP experience -10.64% decline but rebounded with the discovery of the coronavirus vaccine finish 2021 with returns of 4.84%.
The global economy is expected to accelerate its economic resurgence to post-pandemic levels. All the currencies making up the composite index are bound to benefit and push it further up; the British pound, the Swedish krona, Japanese yen, Swiss franc, and the Canadian dollar. The positive returns over the last half a decade also show that this currency ETF effectively hedges against currency exchange risk; 5-year returns of 1.78%, 3-year returns of 1.40%, and 1-year returns of 4.84%.
№ 2. ProShares Bitcoin Strategy ETF (BITO)
Price: $27.74
Expense ratio: 0.95%
Dividend yield: N/A
The world is changing at a tremendous pace. With central banks and FED working on incorporating cryptocurrencies into their regulatory framework, it is time to acknowledge blockchain-based currencies as part of our money markets. The ProShares Bitcoin Strategy ETF is an actively managed fund seeking capital appreciation by holding futures contracts of the most popular and liquid cryptocurrencies.
The top holdings for this fund are:
US Dollar – 35.07
FUTURES – 35.05%
The United States Treasury Bills 0.0% 19-MAY-2022 – 29.88%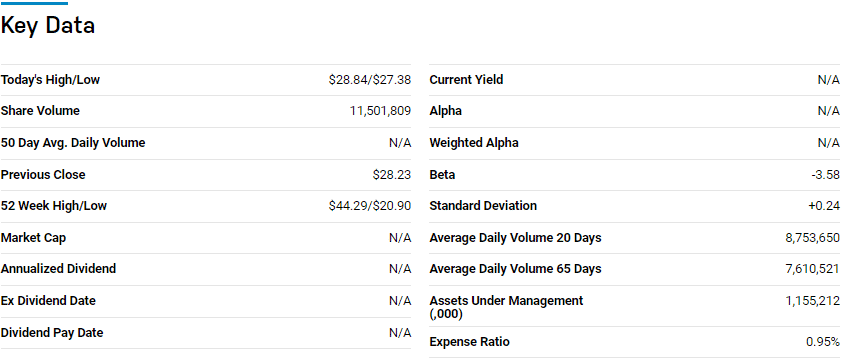 Despite launching in late 2021, this cryptocurrency ETF has already garnered $1.16 billion in assets under management, with investors having to part with $95 annually for a $10000 investment.
Since the pandemic's start, there is no single currency that has been as bullish as Bitcoin, with upwards of 300% gain in 2020 and 60% gain in 2021. With established financial powerhouses such as JPMorgan changing their tune regarding cryptocurrencies, it is time to invest in them, and BITO exposes investors to the most popular digital currencies.
№ 3. WisdomTree Chinese Yuan Strategy Fund (CYB)
Price: $27.685
Expense ratio: 0.45%
Dividend yield: 0.40%
To have controlled exposure in the Chinese money markets and rate changes to the yuan against the dollar, investors choose the WisdomTree Chinese Yuan Strategy Fund. This currency ETF invests at least 80% of its total assets in global currencies with significant economic exposure to the Chinese economy.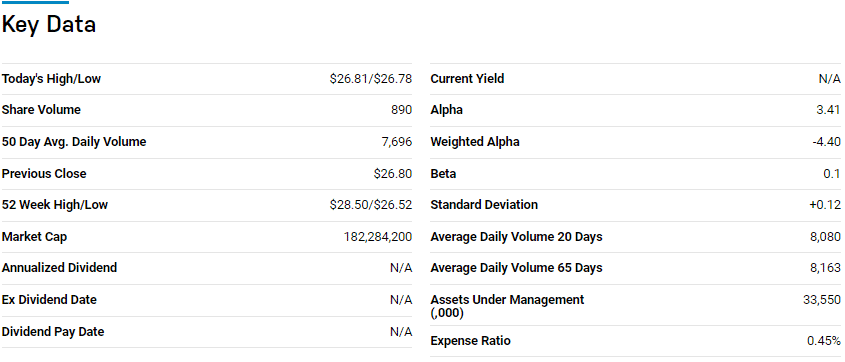 The CYB ETF has $33.5 million in assets under management, with a relatively low expense ratio for a currency ETF of 0.45%. Despite the coronavirus originating in China, it did not put a dump on the earnings of this ETF. This is a testament to its stability; 5-year returns of 22.81%, 3-year returns of 13.10%, and 1-year returns of 2.71%. With the massive sell-off of Chinese equities during the pandemic and the improving trade relations with the US, the government might finally allow the yuan to exhibit its actual value against the dollar. Structural policies have ensured the yuan value is low to fuel higher exports and a relaxing of these policies present significant upside potential.
Final thoughts
The most common investment objective for currencies in speculative trading, especially if dealing with spot currency pairs. However, with the availability of currency ETFs, investors cab hedge against foreign exchange risk for their overseas investments. The ETFs above are a great starting point to navigate the currency markets with reduced risks while providing the potential to make money and hedge against changing currency rates in the highly volatile post-pandemic environment.