ETF full name: ProShares Bitcoin Strategy ETF
Segment:  Currency: Pair Long Bitcoin, Short USD Derivative
ETF provider: ProShares
| | |
| --- | --- |
| BITO key details | |
| Issuer | ProShares |
| Dividend  | N/A |
| Inception date | 19 October 2021 |
| Expense ratio | 0.95% |
| Management company | ProShares Advisors |
| Average 3-5 EPS | N/A |
| Average Annualized Return | N/A |
| Investment objective | Capital exposure to Bitcoin futures contracts |
| Investment geography | USA |
| Benchmark | No underlying index |
| Leveraged | N/A |
| Median market capitalization | N/A |
| ESG rating | No ESG score |
| Number of holdings | 3 |
| Weighting methodology  | Proprietary |
About the BITO ETF
The ProShares Bitcoin Strategy ETF's inception was on 19 October 2021. The ETF does not invest in Bitcoin directly. However, the fund invests in Bitcoin futures contracts.
The strategy behind the fund is to hold Bitcoin futures contracts when the price of Bitcoin is flat, declining or when the value is rising. The fund will sell futures contracts when they are close to expiry and replace them with futures contracts with a later expiration date. The fund does not offer diversification.
The BITO fund has roughly 29,760,001 shares outstanding.
BITO Fact-set analytics insight
The BITO fund does not track any underlying index. The ProShares Bitcoin strategy ETF has a trading volume of $7,049,009 and net assets totaling $1.20 billion. In terms of management fees, the fund has a net expense ratio of 0.95%.
BITO performance analysis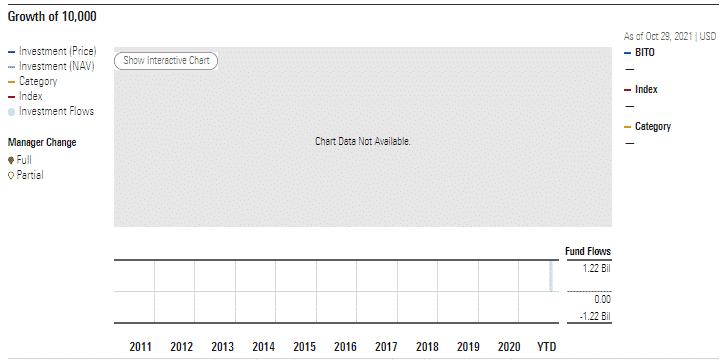 At the time of writing, the BITO fund was trading at $39.09 per share. The fund has no projected growth because it is relatively new. Furthermore, market capitalization data is not available.
The BITO fund does not have an ESG rating. Furthermore, the key financial websites have not ranked the fund since its inception is very recent.
BITO ETF RATING

Resource
ETF DATABASE
ETF.com
MarketWatch
Morningstar.com
Money.usnews.com
BITO Rating
A+
N/A
N/A
N/A
N/A
BITO ESG Rating
N/A
N/A
N/A
N/A
N/A
BITO key holdings
The ProShares Bitcoin Strategy ETF has three holdings. The fund invests in the US dollar and US Treasury bills.
| | | |
| --- | --- | --- |
| Ticker | Holding name | % of assets |
| N/A | US Dollar | 54.60% |
| N/A | US Treasury bills – 19 May 2022 | 44.55% |
| N/A | US Treasury bills – 27 Jan 2023 | 0.85% |
Industry outlook
The BITO fund is the first ETF that exposes investors to a single cryptocurrency instead of the broader crypto markets. The ETF reached a trading volume of $280 million within the first twenty minutes of trading.
The fund gained 3.2% during its first day of trading, but the rise in Bitcoin value also boosted this.
However, the BITO fund is still new, and it is too early to speculate future growth. The fund is gaining assets quickly. It reached trading volumes exceeding $200 million on its first day, which is a good sign. The fund is suited for investors looking to benefit from Bitcoin's value without buying the coin directly.