ETF full name: Vanguard Consumer Discretionary ETF
Segment: US Consumer Discretionary
ETF provider: Vanguard
VCR key details
Issuer
Vanguard
Inception date
January 26, 2004
Expense ratio
0.10%
Average Daily $ Volume
$35.27 M
Investment objective
Replication Strategy
Investment geography
US Consumer Discretionary Equities
Benchmark
MSCI US Investable Market Consumer Discretionary Index
Net assets under management
$6.1 billion
About the VCR ETF
There are those products essential to the everyday running of our chores, and there are those not necessary, commonly referred to as leisure products. Despite the latter group being optional, the consumer discretionary sector, the investment segment to which equities providing such products and services belong, has a history of outperforming the markets.
If considering an investment in this sector, you cannot overlook the Vanguard Consumer Discretionary ETF, an exchange-traded fund full of traditional brick and mortar equities and the new age of online equities.
VCR fact-set analytics insight
Vanguard Consumer Discretionary ETF tracks the yield performance and total returns of the MSCI US Investable Market Consumer Discretionary Index, net of expenses and fees. It invests all of its assets in the holdings of its composite index in the exact weighting, exposing investors to US large, small and mid-cap equities, preying their trade in the consumer discretionary sector; hotel operators, cruise line companies, apparel retailers, automakers.
VCR annual performance analysis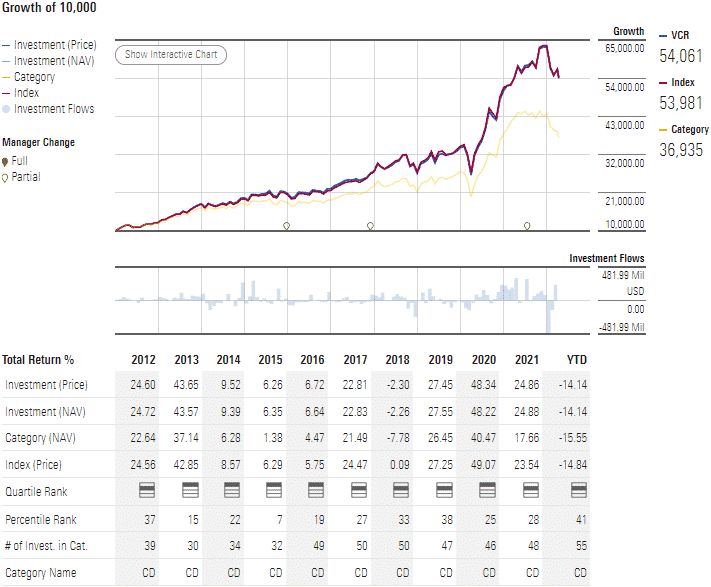 Having been in existence since 2004, the VCR ETF is a mainstay for investors seeking broad exposure to the consumer discretionary with a view of consistent returns. At its launch, an investment of $10000 would now be worth $54061, not even accounting for an annual dividend yield of 1.03%.
VCR ETF RATING

Resource
Etfdb.com
Etf.com
Marketwatch.vom
Morningstar.com
Money.usnews.com
IPO rating
A+
Quantile 3
Quantile 3
*****
Rank 1
IPO ESG rating
6.69/10
A
N/A
22.41/50
6.9/10
VCR key holdings
Vanguard Consumer Discretionary ETF comprises upwards of 200 equities in the consumer discretionary segment, making it one of the most diversified ETFs in the space. It tries to replicate its composite index by investing all of its assets in assets making up the tracked index in the same weighting.
The top ten holdings of this fund are.
| | | |
| --- | --- | --- |
| Ticker | Holding | % assets  |
| AMZN | Amazon.com, Inc. | 22.8% |
| TSLA | Tesla Inc. | 13.3% |
| HD | Home Depot, Inc. | 6.2% |
| MCD | McDonald's Corporation | 3.5% |
| NKE | NIKE, Inc. Class B | 3.3% |
| LOW | Lowe's Companies, Inc. | 2.8% |
| SBUX | Starbucks Corporation | 2.1% |
| TGT | Target Corporation | 1.8% |
| BKNG | Booking Holdings Inc. | 1.7% |
| TJX | TJX Companies Inc | 1.5% |
Industry outlook
A low expense ratio, Vanguard accounts that allow for zero commission trading, and a mix of traditional brick and mortar organizations and online consumer giants such as Amazon provide consistency. The result is a fund capable of withstanding market downturn and one that is relevant to the technological world we live in currently.
Despite rising inflation, the labor market wages are also on an upward trajectory. Consumers can still indulge despite the harsh economic times, setting the stage for the VCR ETF to keep churning returns for investors.