If the coronavirus revealed anything, it was the rise in the prevalence of mental depression and anxiety.  As a result, the off-label drugs market also expanded to deal with this phenomenon. It is no wonder then that the Psychedelic legal drug market is expected to grow from $2.8 billion in 2021 at a CAGR of 13.3% to upwards of $10.8 billion by 2027.
As global acceptance of psychedelics as the go-to drug for treating anxieties, addictions, and mental disorders gains global acceptance, the expectation is the accelerated growth of this pharmaceutical niche industry.
What is the composition of psychedelic ETFs? 
Before starting to try and understand the composition of psychedelic ETFs, we have first to define the term. Psychedelics refer to any natural or chemical substances resulting in an altered consciousness state or a highly intensified sensory perception state. For this article, psychedelic ETFs are made up of equities operating in synthetic and natural psychedelic value chains.
Psychedelic ETFs that will grow in value in 2022
The global community has become more and more aware of the underlying mental disorders people live with, making it no longer traumatic to seek professional help. As the awareness of the importance of mental health spreads further, it will be the main driver for the growth of the psychedelic market.
Having just started resuming normalcy post-Covid-19 pandemic, the expectation is for more of the global populace to seek mental health wellness to cope with associated losses, which will, in turn, drive the psychedelic market.
As such, the three psychedelics ETFs below stand to gain the most from the growth of this trippy pharmaceutical niche.
№ 1. Defiance Next Gen Altered Experience ETF (PSY)
Price: $14.11
Expense ratio: 0.75%
Dividend yield: N/A
Defiance Next Gen Altered Experience ETF tracks the BITA Medical Psychedelics, Cannabis, and Ketamine Index, investing all of its total assets in the securities of its composite index and its ADRs GDRs, apportioned per the index weighting.
PSY investors gain exposure to global organizations legally operating in the psychedelic, ketamine, medical marijuana, cannabidiol derivatives, and cannabis pharmaceutical spaces.
The top three holdings of this ETF are:
GH Research Plc. — 7.55%
COMPASS Pathways Plc Sponsored ADR — 6.65%
Aurora Cannabis Inc. — 5.83%
Having launched end of May of 2021, it is understandable that this ETF has just managed $9.0 million in assets under management, given that this is an infant industry. Investors have to part with $75 annually for an investment of $10000.
Research shows that mental disorders are rising, with conventional drugs being of no help to arrest this rise. However, all is not lost. Psychedelics have proven to be short-term and non-addictive interventions for enhanced mental wellbeing with minimal side effects. Offering exposure globally and positive mental health enhancement, PSY is an ETF worth a second look.
№ 2. AdvisorShares Psychedelic ETF (PSIL)
Price: $7.11
Expense ratio: 0.68%
Dividend yield: N/A
Psychedelic investors have an option in the Advisor Shares Psychedelic ETF from a powerhouse in active ETF management. This ETF seeks capital appreciation for investors. It invests at least 80% of its equities in organizations deriving not less than 50% revenues from psychedelics or has invested at least 50% of its resources in research and development.
The top three holdings of this ETF are:
COMPASS Pathways Plc Sponsored ADR — 12.75%
Field Trip Health Ltd — 10.36%
Cybin, Inc. — 9.80%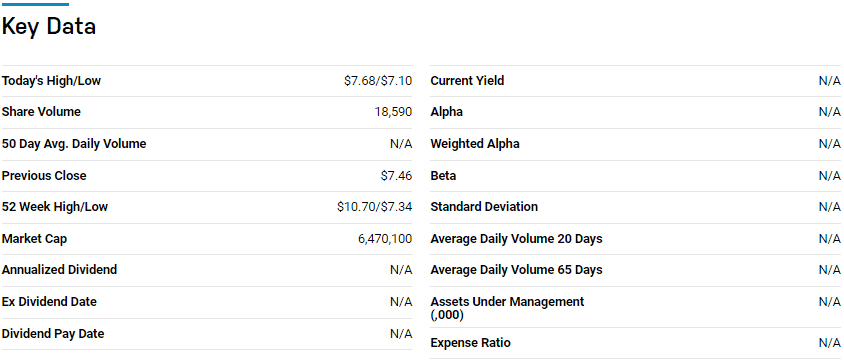 Having launched mid-September of 2021, PSIL has so far accrued $6.80 million in assets under management, with investors coughing up $68 annually for a $10000 investment. The beauty of having an actively managed ETF in a merging infant market is the flexibility of the management team to take advantage of arising opportunities in the market while taking the necessary steps to ensure merging issues don't drive the fund under.
The psychedelic market is expected to experience a similar growth curve as the cannabis market. Having a management team that faced the same situation before puts this ETF in pole position to benefit from the seismic shift in the mental health medical niche driven by psychedelics.
№ 3. Horizons Psychedelic stock index ETF (PSYK)
Price: $5.75
Expense ratio: 1.02%
Dividend yield: N/A
Horizons Psychedelic Stock Index ETF is the pioneer psychedelic pure-play ETF, having debuted in early January of 2021. It tracks the North American Psychedelics Index Invesco, exposing investors to the North American life sciences public-traded equities with significant exposure in the psychedelics space.
The top three holdings of this ETF are:
Compass Pathways Plc ADR — 13.15%
Field Trip Health Ltd. — 9.36%
Mind Medicine (Mindmed) Inc Sub VTG — 9.07%


PSYK ETF is the largest fund on this list, which is no surprise as the pioneer psychedelic ETF. It has $38.09 million in assets under management, with an expense ratio of 1.02%. This ETF is yet to be listed with the New York Stock Exchange, with investors only able to trade it through the Canadian Neo Exchange.
Being able to amass such assets under management, way above its counterparts, while not yet registered with the NYSE, shows that this ETF is worth having in the crosshairs if considering psychedelic investing.
Final thoughts
In the current mental health paradigm, there are a lot of disorders immune to the existing drugs calling for new solutions. Psychedelics have proven to be the solution for the hopeless when it comes to conditions that seem untreatable via conventional medicine. Following in the footsteps of cannabis, more research will go a long way in shifting the stigmatization coupled to psychedelics paving the way for an upward trip of this infant industry.
The psychedelic ETFs above are pioneers in this field and, like all other infant industries, stand to gain the most once this pharmaceutical niche takes off.