Canada is the cannabis legislation powerhouse, having developed a robust framework for selling and using marijuana. The US is hot on the heels of its northern border neighbor. 68% of all Americans are pro-pot legalization, with 50% of the populace using cannabis products.
Every pot-related ballot bill in 2020 passed. With the election of the Biden administration, cannabis legalization talks intensified as it is a matter now of when, not if it is going to happen. The same scenario is happening all over the globe as new research shows the benefits of cannabis attributable to the year-on-year growth of this budding emerging market.
Experts estimate that by 2022 the marijuana job landscape, direct marijuana exposure, will be 330k jobs compared to 268k jobs for steel and iron mills. Despite this phenomenal growth, there are many moving pieces in the industry, making it challenging to pick pure marijuana-winning equities.
This uncertainty has given rise to the cannabis ETF market. This market combines pure-play cannabis equities with ancillary marijuana stocks into an investment vehicle. It can take advantage of the opportunities in this industry while mitigating individual risks.
With billion-dollar market capitalization and more than average historical performance, these pot ETFs have the potential for portfolio diversification in Q4 2021 and a chance to blow up your returns.
What is a marijuana stock ETF? 
The evolution from a dangerous opioid to a multibillion-dollar industry has not been easy. Most pure-play cannabis equities are still trading in the OTC markets lacking the capital and corporate structures necessary to list significant stock exchanges. Thus the revolution of the cannabis industry is still in its infancy stage.
However, billion-dollar market capitalization firms are operating in the industry, both pure-play and ancillary cannabis services. The challenge is knowing which equity is on the verge of blowing up, given the challenges of emerging markets.
Warren Buffett advocates for investing in funds since they represent a section of the economy, which in the end has to grow. The same holds for emerging markets. Rather than try to time the cannabis market by picking individual winning stocks, there are marijuana stock ETFs made up of companies in the industry.
Marijuana ETFs comprise organizations involved in:
Cultivation
By-product production
Ancillary products and services
Research firms
Product consumer firms
They have global exposure since more countries globally are involved in cannabis research and medical marijuana use.
The best marijuana stock ETFs
With an estimated year-on-year growth of 21%, the marijuana industry is the fastest-growing emerging market globally. Industry statistics show that by 2025, the legal marijuana industry will be worth over $145 billion. The following marijuana ETFs have the potential not only for product diversification but to make a ton of money for investors when this budding industry blows up.
№ 1. Amplify Seymour Cannabis ETF (CNBS)
Price: $19.09
Expense ratio: 0.75%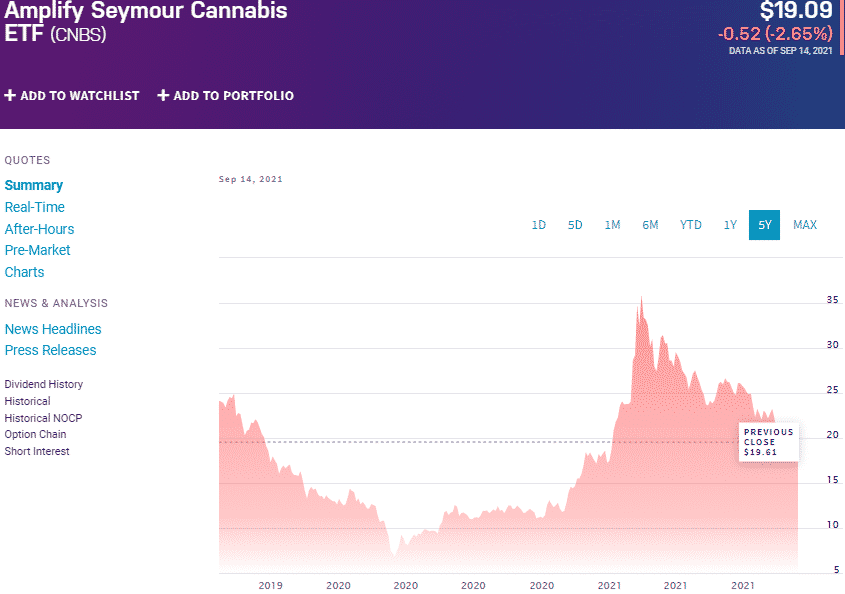 Amplify Seymour Cannabis ETF is a non-diversified fund that does not track any particular index. It is an actively managed fund whose objective is capital appreciation. It exposes investors to the global marijuana industry by investing 80% of its
assets in companies that generate at least 50% of their revenues from the cannabis and hemp ecosystems and derivatives of similar economic characteristics.
The top three holdings of this marijuana stock ETF are Tilray Inc. with 8.55% weighting, WM Technology Inc. Class A Shares with 7.69% weighting, and Canopy Growth Corporation with 6.01% weighting.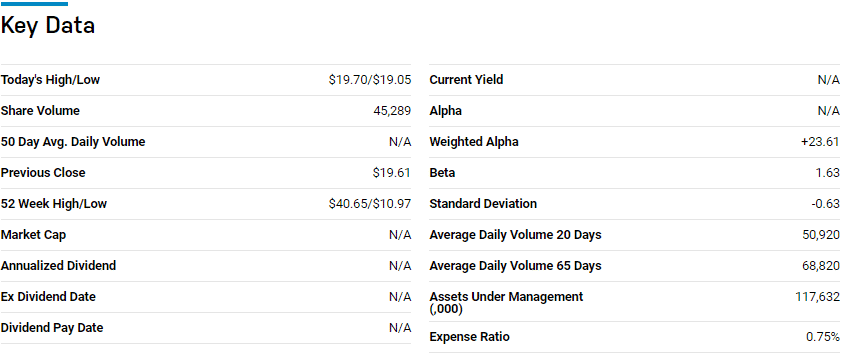 CNBS has 116.75 million in assets under management, with an expense ratio of 0.75%. Active management of this ETF means that it is always in a position to take advantage of marijuana market volatilities and all pot-related fundamentals-mergers and acquisitions, legislation, among others.
Its global reach rather than concentration on the North American cannabis market also means it is in pole position to benefit from pot legalization all over the globe. This ETF's one-year returns since its inception on 23rd July 2019 stand at 60.88%.
Coupling this performance with the year-to-date returns of 9.40%, argues for the holding of this ETF.
№ 2. ETFMG alternative harvest ETF (MJ)
Price: $14.96
Expense ratio: 0.75%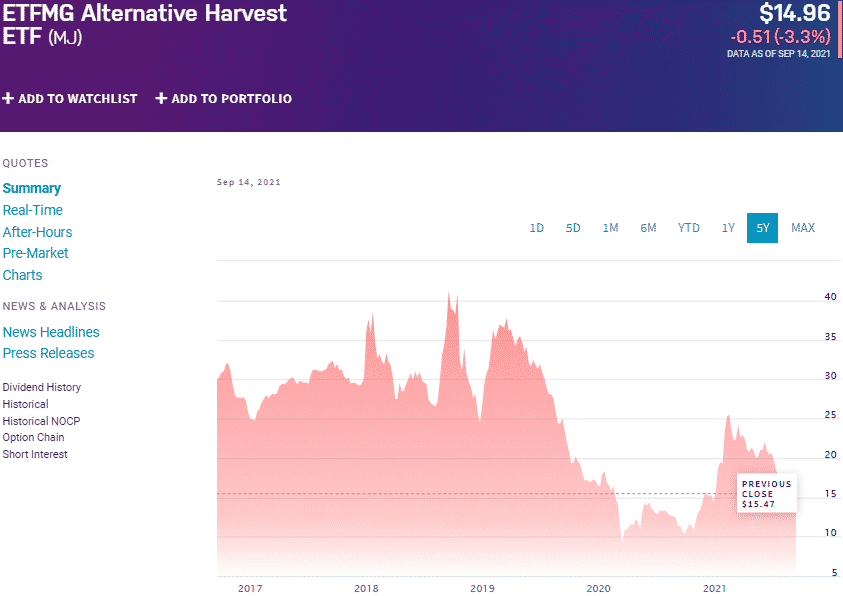 It would be a disservice to list marijuana stock ETFs and not include ETFMG Alternative Harvest ETF, MJ. This fund has been in existence since 2nd December 2015, making it the pioneer marijuana stock ETF.
Contrary to most marijuana ETFs' management, this is a passively managed fund tracking the Prime alternative Index Fund. Therefore, it is a non-diversified cannabis ETF investing at least 80% of its total assets in the underlying holdings of the tracked index in addition to the index ADRs and GDRs.
An analysis by US News has this ETF ranked №10 among 37 miscellaneous sector exchange-traded funds.  This ranking comes as no surprise given that in its arsenal, the top three holdings are Tilray Inc. — 7.34%, ETFMG Sit Ultra Short ETF — 7.31%, and Canopy Growth Corporation — 7.05%.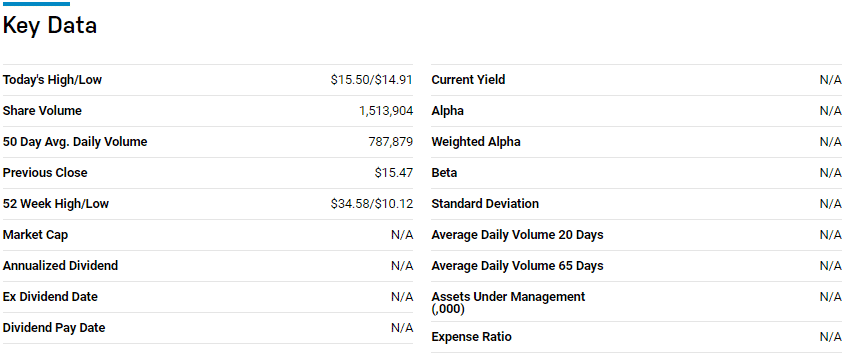 MJ is the largest pure-play cannabis ETF in market capitalization with $1.16 billion in assets under management, at an expense ratio of 0.75%.
The formative years of this cannabis ETF were not lucrative given that marijuana had not yet gained the current acceptance levels; 5-year returns of -37.76% and 3-year returns of -52.49%. However, with Canada showing its possibility to legalize marijuana and the US legalization picking pace, the one-year returns of 33.75% show that the MJ has started stretching its growth legs.
With a global reach and interests in pharmaceutical, biotechnology, cannabis consumer markets, and life science groups, this fund can only bud as the marijuana industry blossoms.
№ 3. Cannabis ETF (THCX)
Price: $13.34
Expense ratio: 0.75%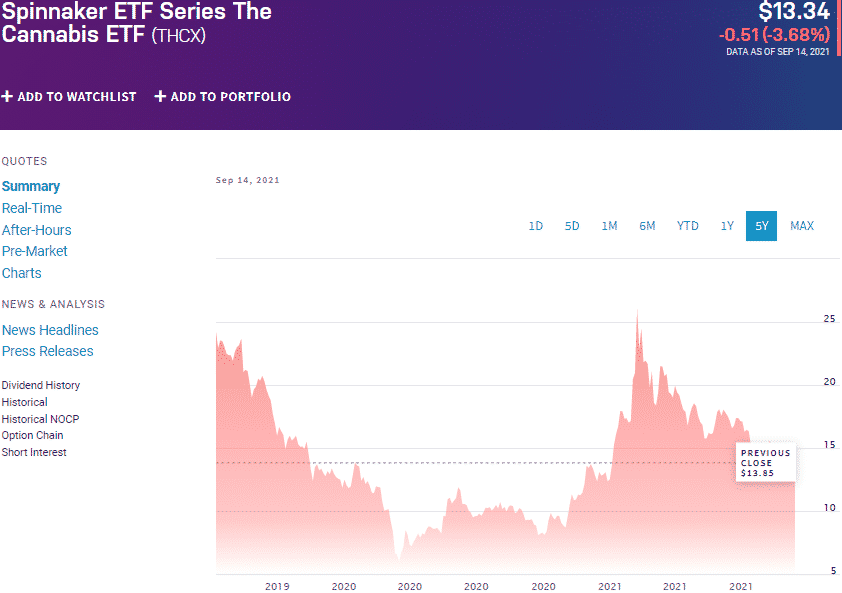 The Cannabis ETF is an actively managed monthly rebalanced fund that tracks the performance of the Innovation Labs Cannabis Index. It invests at least 80% of its net assets in holdings of its composite index and ADRs of cannabis companies. Therefore, it exposes investors to a portfolio of global marijuana equities involved in legal cannabis, marijuana consumer wellness and products, hemp derivatives, and CBD-based pharmaceuticals.
The top three holdings of this ETF are Village Firms International Inc. — 6.33%, Tilray Inc. — 5.40%, and Hydrofarm Holdings Group, Inc. — 5.28%.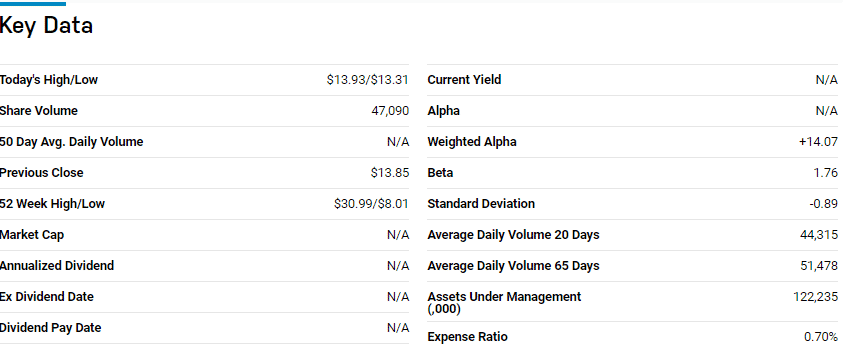 THCX has $120.47 million in assets under management, with an expense ratio of 0.75%. With global reach and interests in the different marijuana industry niches, this ETF is one to watch out for as the industry opens up recorded pandemic year returns of 46.50%, with year-to-date returns of 6.72%.
Final thoughts
The cannabis emerging market has been breaking records and all analysts' expectations. With a worst-case scenario year-on-year growth projection of 27%, this industry has the potential for portfolio diversification and makes a ton of money.
As marijuana gains more acceptance as a therapeutic drug and its healing abilities lead to a blow-up of the industry, the marijuana stock ETFs above are in pole position to give your portfolio a high.