For thousands of years, people have been using marijuana for medicinal and recreational uses. However, this drug was considered illegal in many countries throughout the world hundreds of years ago. It is only lately that marijuana use for medication and recreation has been legalized in many US states and other countries. This move of the governments paved the way for marijuana to become an investment vehicle.
Marijuana industry
As an investor, you can buy marijuana stocks and exchange-traded funds for portfolio diversification, as the marijuana industry is starting to build billions of dollars of market capitalization. As more and more companies bringing about marijuana products to the market go public, you will have plenty of options to choose from in your investment activities.
In 2020, the size of the global marijuana industry reached about $20.5 billion. The projected market value is $90.4 billion in 2026. While the biggest marijuana market in North America, the European market is catching up and is steadily growing at a fast rate.
What is marijuana ETF?
The term ETF stands for exchange-traded fund. When you buy an ETF, the fund combines your investment with those of other investors to invest in a group of stocks and other securities. When you invest in a marijuana ETF, you get shares in a group of companies operating in the marijuana industry.
Why invest in a marijuana ETF instead of buying individual marijuana stocks?
Buying a marijuana ETF allows you to own shares in a basket of marijuana companies with just one purchase. The purpose of this is to diversify your portfolio to lower the investment risk. If something goes wrong in the individual companies in the fund, this will have a minor adverse effect on the overall portfolio.
Are marijuana ETFs good investments?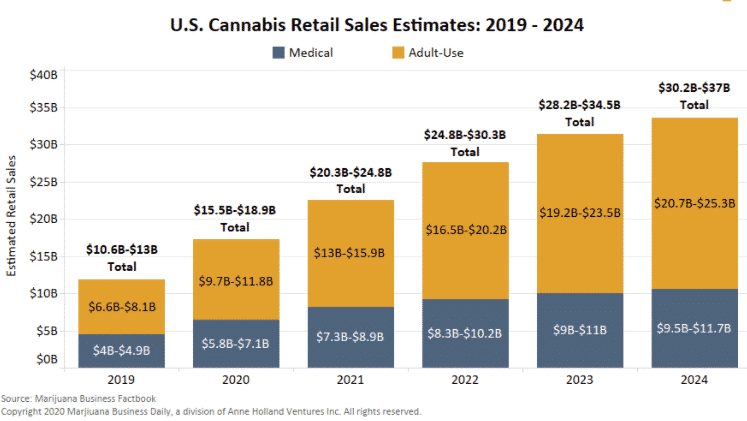 Be aware that the opportunities offered by the marijuana market are not similar to those provided by other common stocks. This is primarily due to the issue of the legality of marijuana usage. In general, using marijuana for treatment or recreation is illegal in America.
However, many states have made marijuana legal for either recreational or medicinal purposes. That is why state laws in the US are at loggerheads with federal laws. While some experts contend that federal laws should prevail over state laws, the issue is far from being resolved. This leaves the status of the marijuana industry hanging in terms of legality.
The position of the marijuana industry in the international scene is the same. Some countries legalize the use of marijuana, but others give consent only to specific benefits of the drug. For example, Canada legalizes the medicinal and recreational uses of marijuana, but it imposes several restrictions on this use. Meanwhile, the United Kingdom permits the use of marijuana for treatment only.
When to consider investing in marijuana ETFs?
If you think investing in marijuana ETFs is doomed to fail, this is not entirely true. There is hope that lies ahead for prospective investors. Be aware that several people use marijuana products, and this is where the opportunity lies.
Research shows that the marijuana industry will hit $73.6 billion market capitalization worldwide in 2027. That growth is more than 200 percent based on the 2020 figure. Any investor would get excited at the thought of an industry growing by more than 20 percent yearly over seven years.
Of course, if the US government relaxes the laws on cannabis, you can expect an even higher growth. Granting you buy a marijuana ETF whose array of companies performs well, the value of your investment will undoubtedly see exponential growth in the years to come.
Of course, this is a risk you have to come to terms with. There is no guarantee that the federal government would hold back the fangs of the law concerning marijuana. When you invest in marijuana ETF, as you do with other types of investment, make sure that you invest an amount that will not severely affect your livelihood if you lose it.
Advantage of active managed marijuana ETFs
Investing in marijuana ETFs is a good option if you do not like to monitor the performance of individual marijuana stocks or changes in the political and regulatory dynamics in the US states and government on this matter. The Securities and Exchange Commission in the US has approved some marijuana ETFs since 2019.
The marijuana market is volatile. If you want to reduce the risk, you can invest in actively managed ETFs or invest in an index of marijuana stocks. The advantage of investing in actively managed ETFs is that professionals closely monitor the stocks and the economics that could affect their valuations.
If news events come out and drive prices fast, then the investment manager can immediately react to protect the fund. Some of the market events that can cause price volatility in individual stocks are acquisitions, mergers, upgrades, downgrades, and companies going public.
Top 3 marijuana ETFs to consider
To get started on your ETF investment journey, you can use a list of top marijuana ETFs. Here we provide you with the top three marijuana ETFs for your consideration.
№ 1. Amplify Seymour Cannabis ETF (CNBS)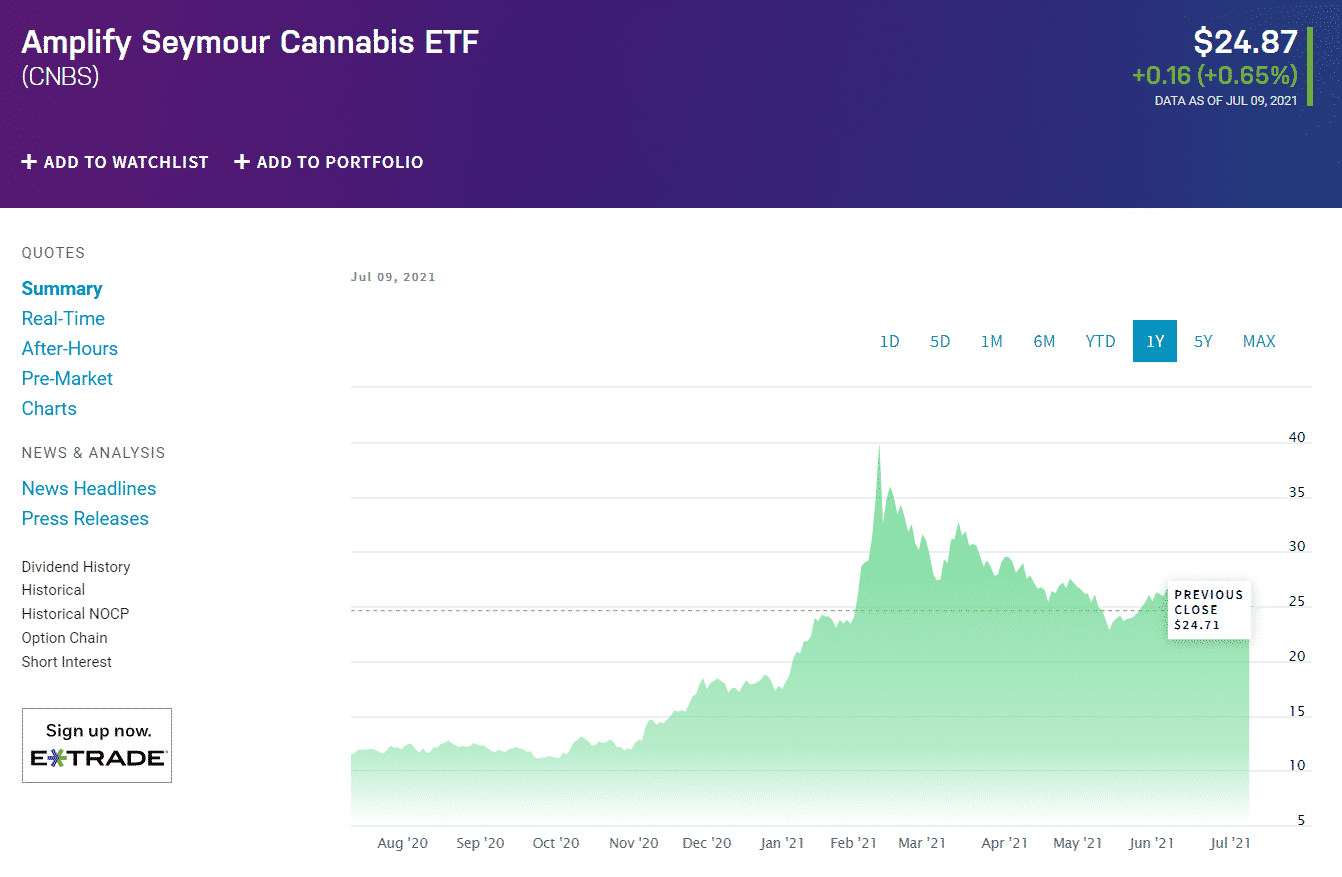 CNBS is an actively managed fund. Eighty percent of the stocks in this fund focuses on the cannabis business. The ETF grew by more than 130 percent from 2020.
№ 2. AdvisorShares Pure US Cannabis ETF (MSOS)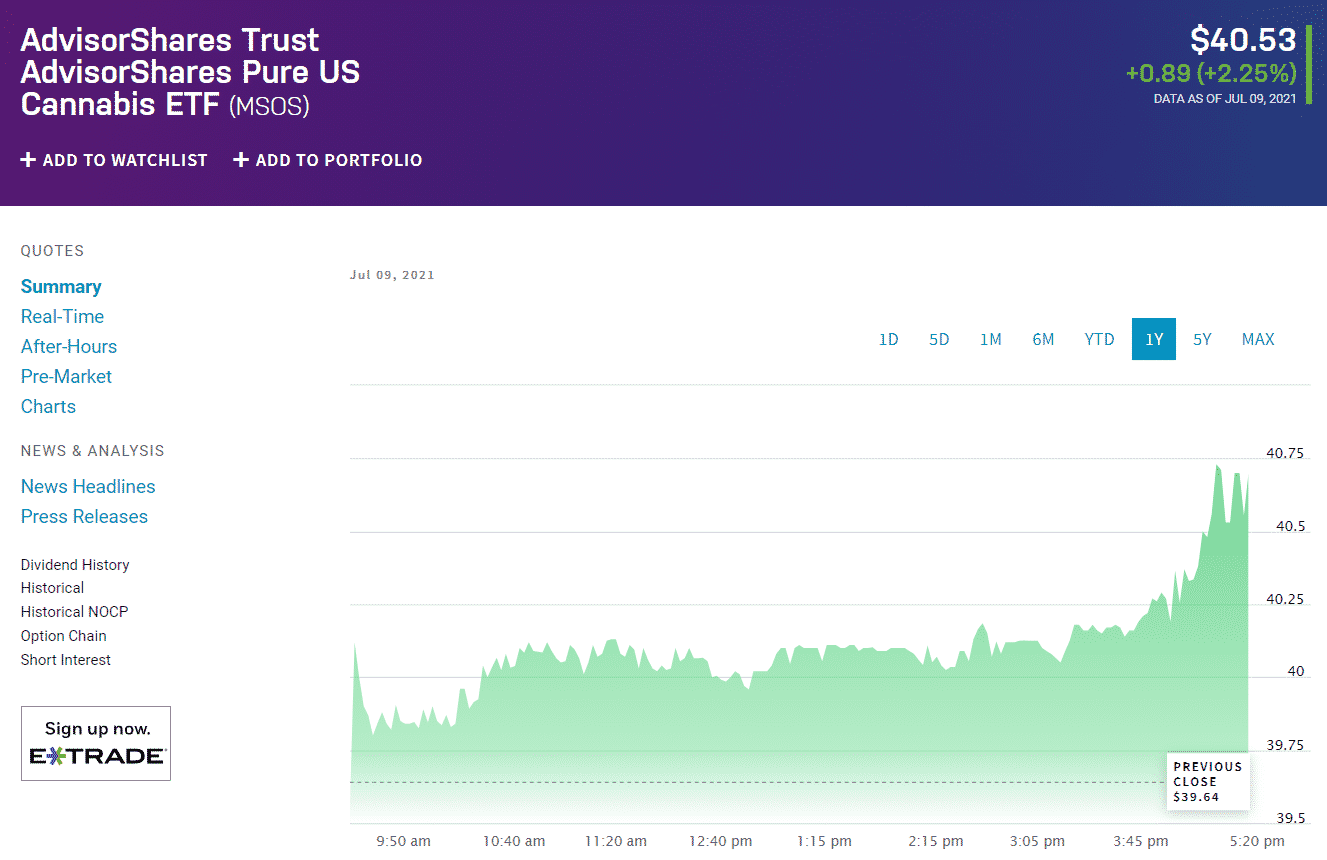 This ETF is another actively managed fund on this list. All stocks in its portfolio are US companies. It started trading only in September of 2020 but managed to reach the current share price of $40.53.
№ 3. The Cannabis ETF (THCX)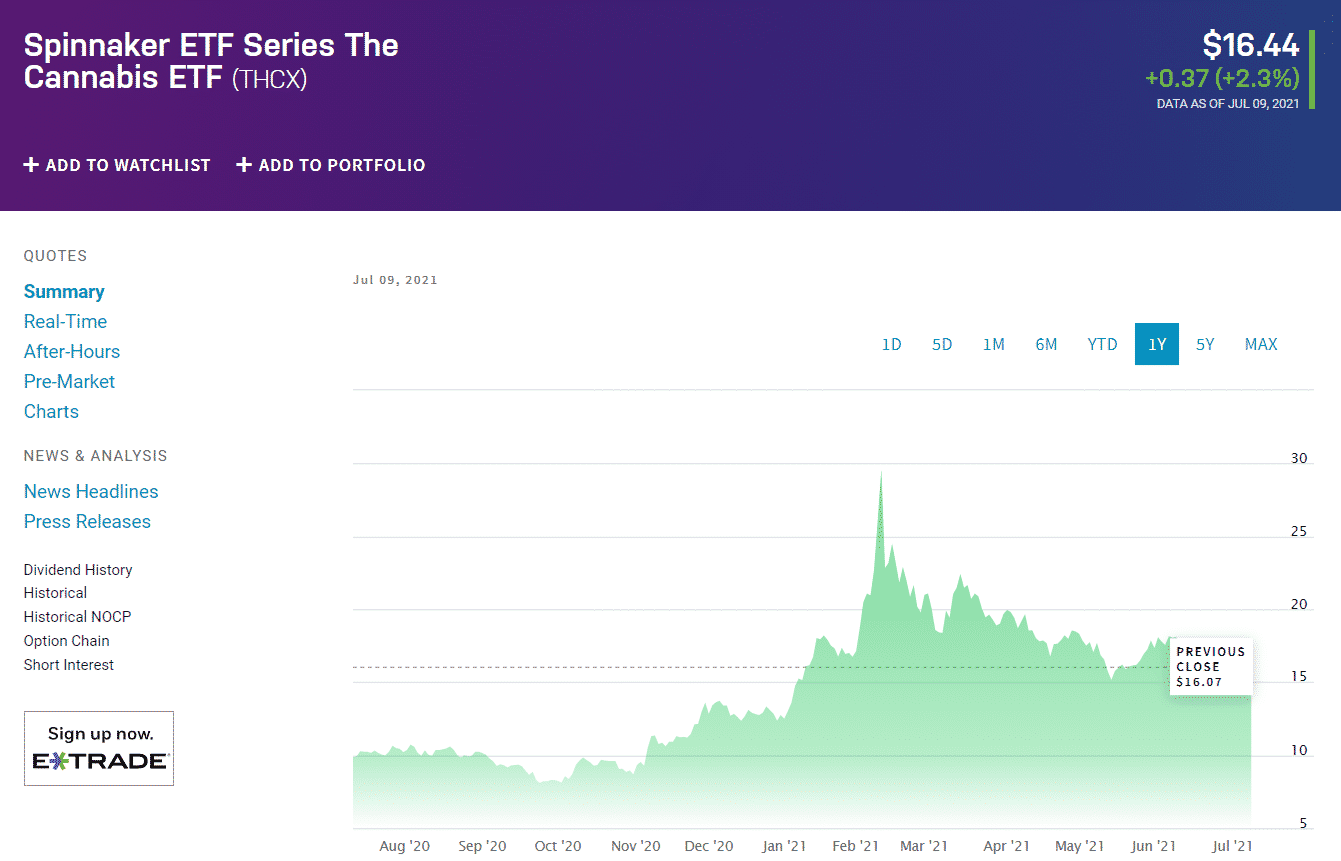 This ETF is passively managed and started trading only in July of 2019. It boasts an expense ratio of 0.7 percent and a dividend yield of 2.64 percent.
How to buy marijuana ETFs?
Investing in marijuana ETFs is relatively simple. It is the same process as investing in another ETF. Of course, you need to have an account with a stockbroker to be able to buy ETFs.
Next, find the ticker of your preferred ETF on your broker's website and then send an order to your broker. This is only the technical side of actually placing the order. Before that, you should have researched the marijuana ETFs you would like to buy, and you are sure of your investment decision.
What to look for in marijuana ETFs?
As a smart investor, you must scrutinize each marijuana stock in an investment portfolio of the marijuana ETF that interests you. Diversification is the key to success in every type of investment. See that the stocks do not belong in the same sector of the marijuana business. Other items of equal importance are daily trading volume, stock liquidity, and market capitalization. Investing in highly liquid marijuana stocks is crucial to the success of your fund.
Another consideration is the location of the marijuana stocks within the portfolio. If your research shows that there is great potential for the marijuana industry to bloom in Canada, for example, then you should choose a Canadian ETF. When considering US ETFs, check if the stock operates in a state where marijuana is legal. If not, see that the majority of stocks in the fund are in that kind of state.
Final thoughts
Although investing in marijuana ETFs carries a risk, the potential for an exponential return exists. If governments decide to legalize this drug, you could make a fortune if you invest in marijuana ETFs. However, if things do not go as you hoped for, you might lose your investment. Just be aware of this risk when you decide to engage in this business.