ETF full name: SPDR Gold Shares ETF
Segment: Precious metals
ETF provider: State Street Global Advisors
| | |
| --- | --- |
| GLD key details | |
| Issuer | State Street Global Advisors |
| Dividend  | N/A |
| Inception date | November 18, 2004 |
| Expense ratio | 0.40% |
| Management company | World Gold Trust Services LLC |
| Average 3-5 EPS | $6.37 |
| Average Annualized Return | -8.30% |
| Investment objective | Track the price of gold |
| Investment geography | Precious metals |
| Benchmark | LBMA Gold Price PM USD |
| Leveraged | N/A |
| Median market capitalization | $156.7  Million |
| ESG rating | N/A |
| Number of holdings | 1 |
| Weighting methodology  | Weighted Market capitalization |
About the GLD ETF
The SPDR Gold Shares ETF fund's inception was in November 2004. The objective of the fund is to track the price of gold. The LBMA PM Gold Price benchmark determines the fund's NAV. The fund has a market cap of $156.7 million and an average annual return of 8.30%.
GLD Fact-set analytics insight
The SPDR GLD fund has traded publicly on the New York Stock Exchange, Arca, Singapore, and Tokyo Stock Exchanges.  GLD consists of 1 holding, which is physical gold bars. The fund purchases physical gold bars securely kept in vaults in London. The GLD uses a single asset weighting scheme.
GLD performance analysis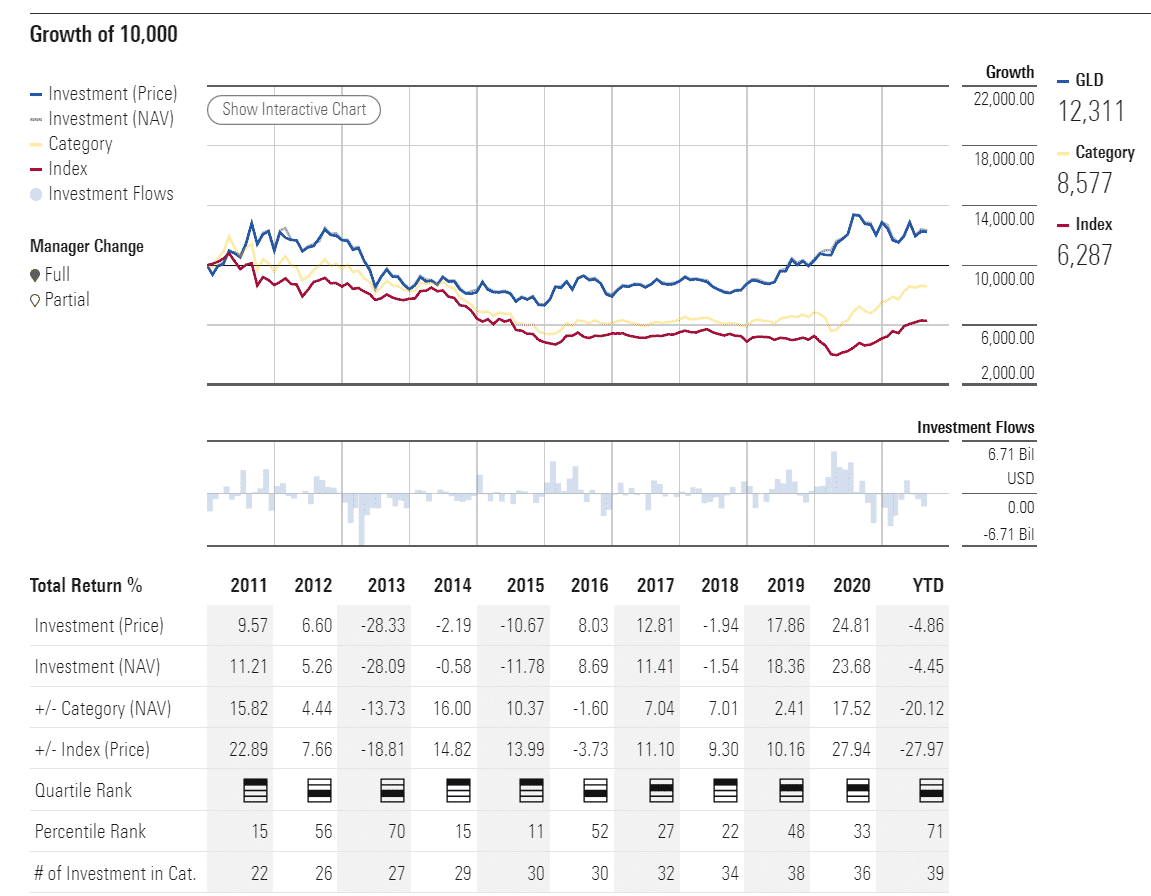 The SPDR GLD gold ETF allows investors to invest in physical gold, similar to investing in stocks. Since its inception in 2004, the fund has increased in value by over 200%.
As we can see from the chart, initially, the fund increased gradually until 2012, when it started to decline and traded stable until 2015, when global gold demand increased. Due to the haven that gold presents for investors and its robustness during a recession, many started putting their funds to hedge losses during the Covid-19 pandemic. This we can see by the rise in the value of the fund from 2020 until 2021.
Dividend payments are not available for the SPDR GLD ETF since it holds physical gold and does not invest in equities. Equity-based funds which invest in stocks of companies linked to the gold industry are eligible to pay dividends.
The year-to-date return is 6.43%. SPDR GLD ETF has an expense ratio of 0.40% and a PE ratio of 28.55.
GLD ETF RATING

Resource
ETF DATABASE
ETF.com
MarketWatch
Morningstar.com
Money.usnews.com
GLD Rating
A-
A
Quintile 2 (37th percentile)
N/A
N/A
GLD ESG Rating
N/A
N/A
N/A
N/A
N/A
Industry outlook
As we mentioned, gold is a preferred investment during times of economic downfall or recession. Gold does not correlate to the stock markets, and therefore investors use this as leverage to hedge their losses from stocks.
Historically, the SPDR GLD ETF has a stock score of 56, which is 12% above the median score of 50.
Investors interested in the SPDR GLD ETF should note that it is a mid to long-term hold, and this fund pays no dividends.
Furthermore, the rising inflation is putting corporate profit margins under pressure, so stock investors and hedge funds diversify into precious metals, making the SPDR GLD a favorable and low-risk investment.