You don't have to have visited Las Vegas to know it. Why? Because gambling and Vegas are part of a single sentence in most cases. From time immemorial, humankind has been fascinated by the allure of luck. Building on this, the gambling industry has grown to a multi-billion-dollar industry, $287.4 billion valuations at the end of 2021. With the adoption of technology worldwide, gambling is now global, mobile, and a click away.
For this reason, the gambling industry is expected to grow at an annual CAGR of over 55%, with 2022 expected to take the gambling industry valuation to $460 billion in regions. There are so many choices in gambling equities featuring traditional brick-and-mortar casinos and the new online-based casinos. Identifying the winning hand in this niche is a research nightmare. A better and hassle-free investment option is utilizing gambling ETFs, expanding the playing field, and banking on niche prosperity.
What is the composition of gambling ETFs? 
Not all gambling equities are created equal. Gambling ETFs comprise organizations along the value chain of this industry bit with a significant gambling involvement, ideally more than 20% involvement; equities running gambling operations and establishments, support services to the gambling industry, gambling licensing and ownership, and providing of gambling and gaming equipment.
The best 3 gambling ETFs to win fast
With the evolution of the internet of things and hand-held gadgets, gambling has gone digital and is available from the palm of your hand. The result has been an exponential expansion of this corner of the consumer discretionary sector as more and more organizations go online and virtual-based casinos obtain operating licenses easily. The three ETFs below provide exposure to this budding consumer discretionary niche on the cusp of evolution.
№ 1. Roundhill Sports Betting & iGaming ETF (BETZ)
Price: $15.20
Expense ratio: 0.75%
Dividend yield: 0.25%
The Roundhill Sports Betting & iGaming ETF is one of two pure-play gambling ETFs available to investors. It tracks the total return performance of the Roundhill Sports Betting & iGaming Index, net of expenses, and fees. It invests 80% of its net assets, including debt capital for investment purposes, in securities issued by sports betting and iGaming companies. Therefore, it exposes investors to global companies deriving significant revenues, 50%, from online gaming and gambling activities.
The top three holdings of this ETF are:
Kindred Group plc Shs Swedish Depository Receipts – 5.43%
Flutter Entertainment Plc – 5.17%
Penn National Gaming, Inc. – 5.86%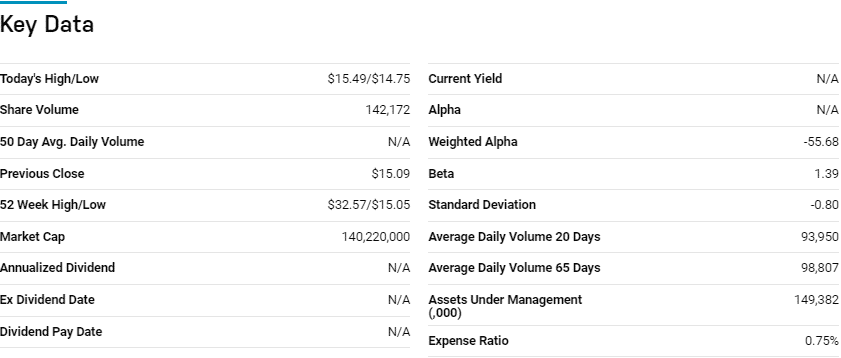 The BETZ ETF has only $144.3 million in assets under management, with investors having to cough up $75 annually for a $10000 investment. Coupling actual gambling operation equities with those providing gambling infrastructure ensure all opportunities within the gambling value chain can be captured. Since its launch in mid-2020, this ETF is yet to record positive returns, but as more gambling activities go online, it provides the best chance at reaping the resulting profits.
№ 2. Invesco Dynamic Leisure and Entertainment ETF (PEJ)
Price: $39.22
Expense ratio: 0.55%
Annual dividend yield: 0.73%
The Invesco Dynamic Leisure and Entertainment fund tries to replicate the performance of the Dynamic Leisure & Entertainment Intellidex Index as closely as possible, net of expenses and fees. It invests at least 90% of its total assets in the holdings of the tracked index, exposing investors to the US publicly traded companies involved in the design, production, and distribution of goods and services in the leisure and travel industry.
Among 37 cyclical consumer funds, PEJ is ranked No. 11 by USNews for long-term investing.
The top 3 holdings of this ETF as of now are:
Sysco Corporation – 6.06%
McDonald's Corporation – 5.77%
Marriott International, Inc. Class A – 5.76%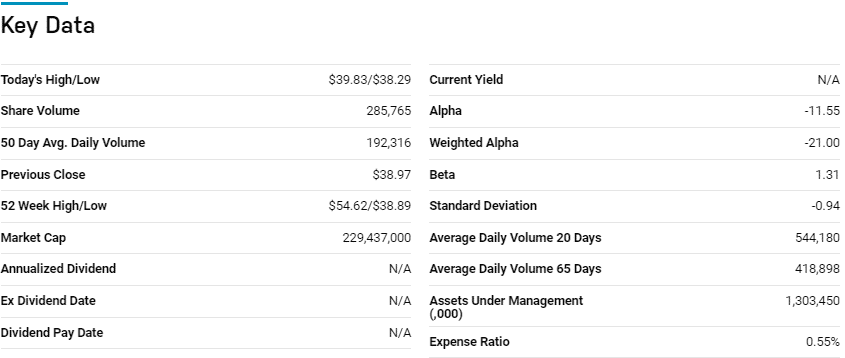 The PEJ ETF boasts of $1.30 billion in assets under management, with investors having to part with $55 annually for every $10000 investment. A rigorous holdings evaluation metric ensures that equities making up this ETF have a high probability of outperforming the broader market and segment their segments. This fund is a diversified play on the gambling industry by incorporating other leisure and entertainment equities. The result is a fund with the ability to withstand market downturns, especially given its even weighting.
№ 3. iBET Sports Betting and Gaming ETF (iBET)
Price: $8.84
Expense ratio: 0.79%
Dividend yield: N/A
Gambling as an industry is not in its infancy, but it is on the cusp of a major evolution in online gambling and gambling exchange-traded funds. As such, iBET Sports Betting and Gaming ETF is an actively managed fund that seeks capital appreciation by investing 80% of its total assets in global companies. It is involved in sports betting and online gaming activities, casino and gaming stock, sports betting and gaming stocks, REITs, electronic sports and gambling platforms, gambling and betting software, and gambling-related media content equities.
The top three holdings of this ETF are:
Flutter Entertainment Plc – 4.87%
Las Vegas Sands Corp. – 4.68%
Evolution AB – 4.66%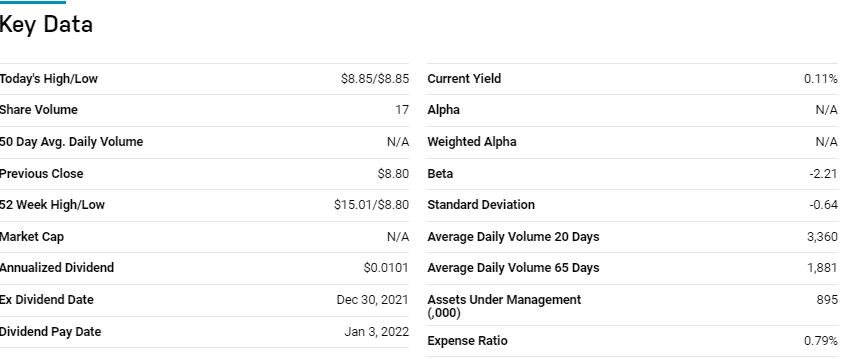 The iBET ETF, since its launch at the end of 2021, has managed to amass $0.9 million in assets under management, with an expense ratio of 0.79%. Active management, a pretty even weighting, and inclusion of equities across the cap divide provide a fund that is highly diversified but agile to take advantage of the current fast-paced gambling environment. This ETF provides investors with early investment options into the changing gambling landscape.
Final thoughts
Gambling has been demonized for the longest time. However, with the evolution of technology and tools that help one better self-manage any negative gambling behavioral changes, licensed brick-and-mortar, and online establishments have expanded.
The three gambling ETFs above provide investors a diversified play on this evolving industry and a chance to win returns fast from the allure of lady luck.