ETF full name: Roundhill Sports Betting & iGaming ETF BETZ
Segment: Sports betting and gaming
ETF provider: Roundhill
| | |
| --- | --- |
| BETZ key details | |
| Issuer | Roundhill Investments |
| Dividend  | $0.07 |
| Inception date | June 4, 2020 |
| Expense ratio | 0.75% |
| Management company | Roundhill Investments |
| Average 3-5 EPS | N/A |
| Average Annualized Return | 73.92% |
| Investment objective | Replication |
| Investment geography | Sports gaming and iGaming |
| Benchmark | Roundhill Sports Betting & iGaming Index |
| Leveraged | N/A |
| Median market capitalization | $8.53 billion |
| ESG rating | MSCI 5.63/10 |
| Number of holdings | 44 |
| Weighting methodology  | Tier-weighted market capitalization |
About the BETZ ETF
Roundhill Sports Betting & iGaming ETF BETZ is a tier-weighted index that exposes betting and online betting companies, also known as iGaming. It was initiated in June 2020, and it tracks the Roundhill Sports Betting & iGaming Index. Its market capitalization amounts to $8.53 billion, with an average yearly return of 73.92%.
BETZ Fact-set analytics insight
The BETZ ETF consists of 44 holdings, more than 76% of which are in the United States, the United Kingdom, Sweden, and Australia. The rest of the fund's holdings stretch over Malta, Canada, France, Greece, Japan, and Norway.
As far as the industries go, close to 75% of the fund's units are businesses revolving around casinos and gaming, with the rest focused on software and internet services. The BETZ ETF uses tier-weighted market capitalization for its methodology.
BETZ performance analysis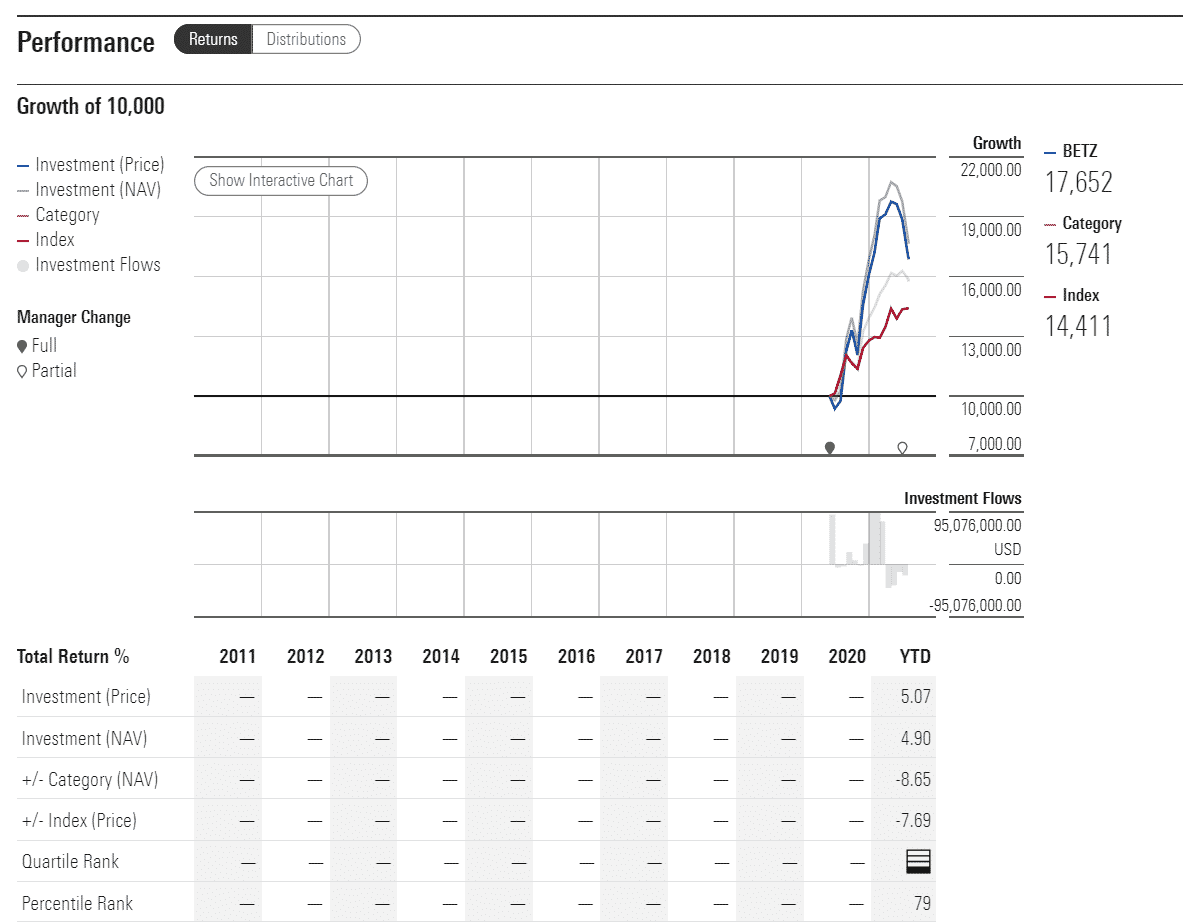 Joking aside, the ETF has shown remarkable resilience and defended its industry's status as ever-progressing. As seen from both the graph and the average annualized return, the house always seems to win. With minor hiccups, the BETZ fund seemed unaffected even in the Covid-19 crisis, probably due to the tendency of the players to bet online even more than before.
The BETZ ETF pays dividends quarterly. They amounted to $0.07 on the share at an expense ratio of 0.75% for the last quarter. On the MSCI ESG scale, the BETZ ETF has a 5.63/10 triple-B rating. The fund is of average resilience in terms of environmental, governmental, and social changes.
BETZ ETF RATING

Resource
ETF DATABASE
ETF.com
MarketWatch
Morningstar.com
Money.usnews.com
BETZ Rating
BBB
BBB
5
N/A
N/A
BETZ ESG Rating 
5.63/10
BBB
86th percentile
N/A
N/A
BETZ key holdings
The BETZ ETF relies on companies standing to benefit from the expansions in the betting and iGaming sectors. Its primary holdings include names such as DraftKings, FanDuel, Barstool Sports, and more. Investors will be putting their money into the companies either through direct investment or via investments in the parent companies.
Its other units consist of Evolution Gaming, based in Sweden, the United Kingdom's Entain, or Flutter Entertainment in Ireland. None of the holdings has a prevalent pull, as all from the fund's top ten list hover in the 3-4% range.
Here are the top 10 holdings making up the BETZ ETF.
| | | |
| --- | --- | --- |
| Ticker | Holding name | % of assets |
| DKNG | DraftKings Inc Class A | 4.38% |
| PENN | Penn National Gaming, Inc. | 4.36% |
| FLTR | Flutter Entertainment Plc | 4.34% |
| KIND | Kindred Group plc Shs Swedish Depository Receipts | 4.34% |
| ENT | Entain PLC | 4.32% |
| PBH | PointsBet Holdings Ltd. | 4.22% |
| KAMBI | Kambi Group plc Class B | 3.95% |
| RSI | Rush Street Interactive, Inc. Class A | 3.69% |
| EVO | Evolution AB | 3.22% |
| TAH | Tabcorp Holdings Ltd. | 2.99% |
Industry outlook
As stated earlier, it may be a cliche, but the house always seems to win. Based on predictions published by Statista, the online betting industry is likely to jump to as much as $100 billion by 2023. At the same time, Morgan Stanley forecasted that more than three-fourths of all betting revenue in the United States would come from online platforms.
Whether gaming and betting are ethical is a different issue, but you cannot deny that the betting platforms sure look like they might have prosperous years ahead. If you are looking to include the online-betting-oriented ETFs in your portfolio, the BETZ fund could be a solid place to start.