Forex Scalping EA is a robot that can perform a fully automated scalping of the Forex market. This EA works on the Metatrader 4 trading platform and is based on two decades' worth of backtesting data.
This robot has been developed by an unknown company. There is no information available about the vendor on the official website. We don't know the identities and traders and developers and neither do we know whether the company has manufactured other Forex automated systems in the past. The lack of vendor transparency is a bit off-putting, and it makes us wary about this robot from the get-go.
Forex Scalping EA Review
This Forex EA performs a thorough analysis of the Forex market in order to locate the entry and exit points for the trades. When you purchase the EA, you get access to a comprehensive manual where easy-to-follow instructions are provided. While trading with Forex Scalping EA, you are advised to use a broker with decent execution speed and tight spreads.
The trader has complete control over the trading and can modify the various parameters as per their trading style and profit goal. Customer support is provided on a 24/7 basis for this robot. As per vendor recommendation, you should initially use a demo account to get used to the workings of the system and the dangers of trading in currencies.
No manual intervention is needed for trading with this system. It is a simple matter of downloading the software and installing it. Following this, the robot starts auto-trading, and all you need to do is to check the results afterward.
Trading Strategies and Currency Pairs
Forex Scalping EA can be used for trading in all major and minor currency pairs. The scalping strategy involves finding the best entry points from where the minor market shifts can be taken advantage of. It is characterized by quick trades that typically last only a few minutes.
Although this gives you the opportunity to win small profits from multiple trades placed round the clock, it requires an extremely efficient system and stable internet connection to execute. Also, novice traders with little or no trading experience might find it hard to make steady profits using this scheme.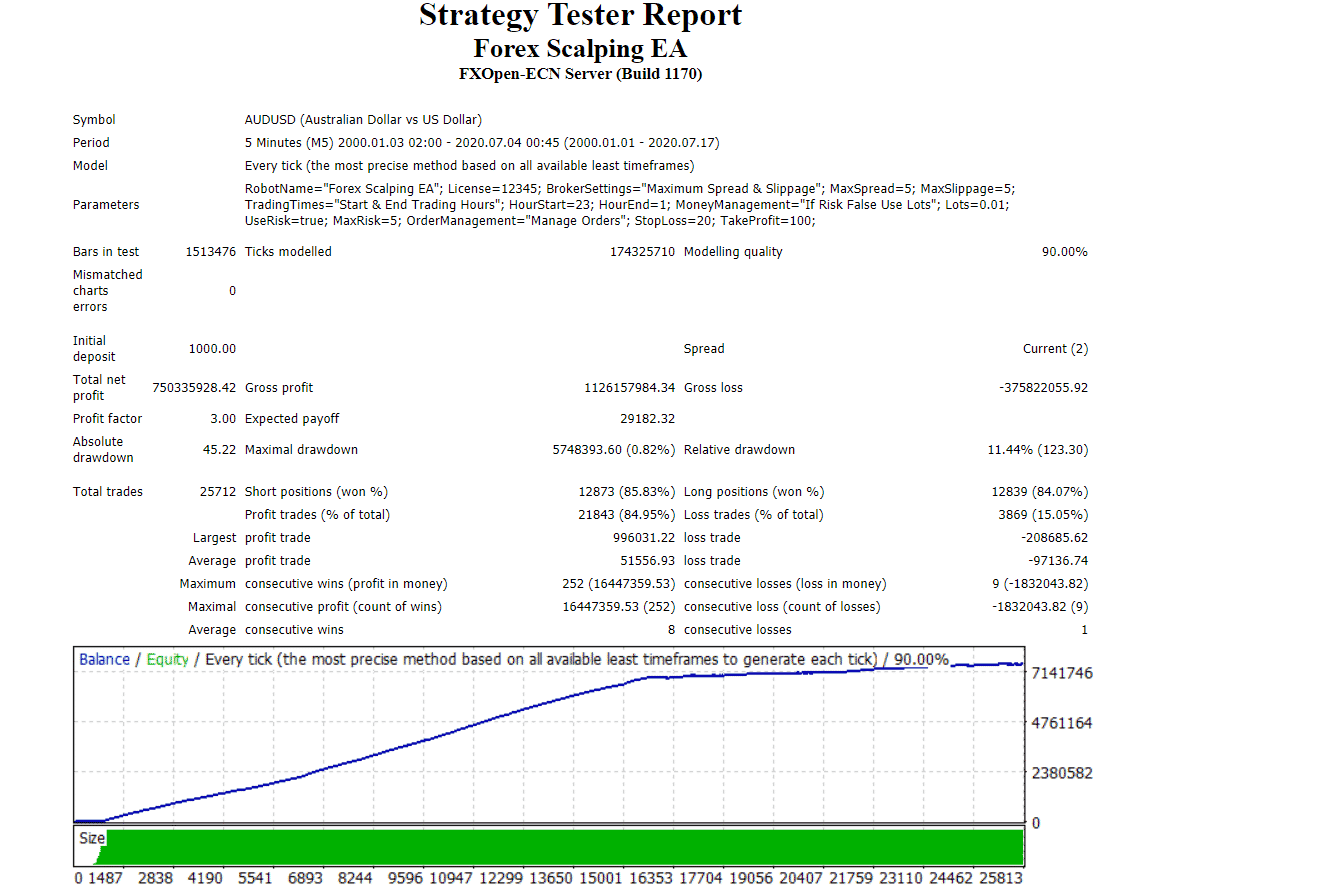 Here we have the backtesting data for Forex Scalping EA. It was conducted for the AUD/USD pair starting from January 2000 to July 2020 using every tick and modeling quality of 90.00%. Using an initial deposit of $1000, a total net profit of $5136818 93.64 was generated during this test.
A total of 18322 trades were placed during these 20 years, out of which 14742 were won, and this represents a win rate of 80.46%. The drawdown was relatively low at 12.19%, and the profit factor was quite satisfactory at 2.46. There were 87 maximum consecutive wins and 8 maximum consecutive wins for this backtest.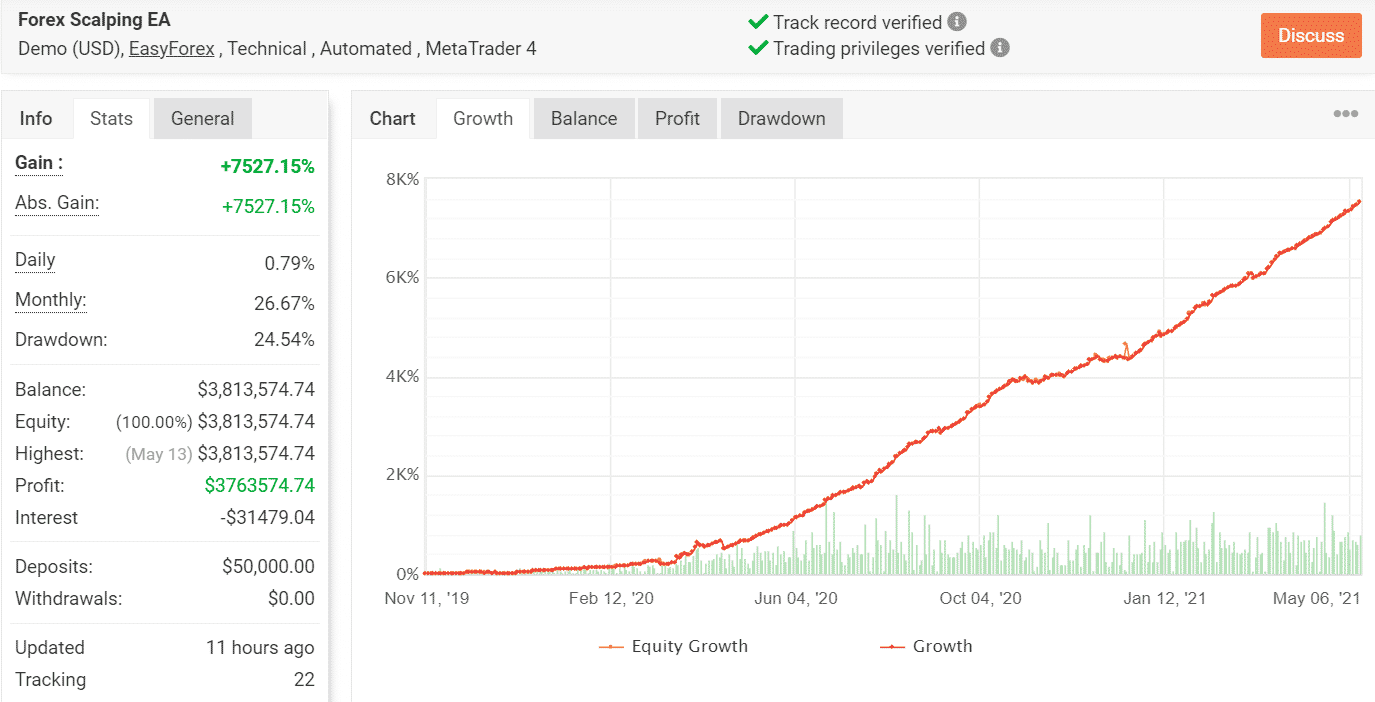 This is a live trading account for Forex Scalping EA has been active since 11th November 2019. Currently the daily and monthly gains are 0.79% and 26.67%, respectively. We can see that the drawdown is marginally high at 24.54%.
To date, 3745 trades have been placed through this account, and out of them, 3234 have been won. Although the wine rate of 86% is quite high, we can notice some consecutive losses in the trading history. A total profit of $3763574.74 has been made through this account, and the time-weighted generated is 7527.15%.
Pricing and Refund
Forex Scalping EA has four distinct pricing plans, namely Basic, Standard, Gold, and Premium. For these, you need to pay $99, $149, $199, and $249, respectively. The plans are different in the respect of the number of real account licenses they provide the trader. In the Premium plan, you can use both MT4 and JForex trading platforms. No refund is offered by the vendor, which is quite disappointing.
What Else You Should Know About Forex Scalping EA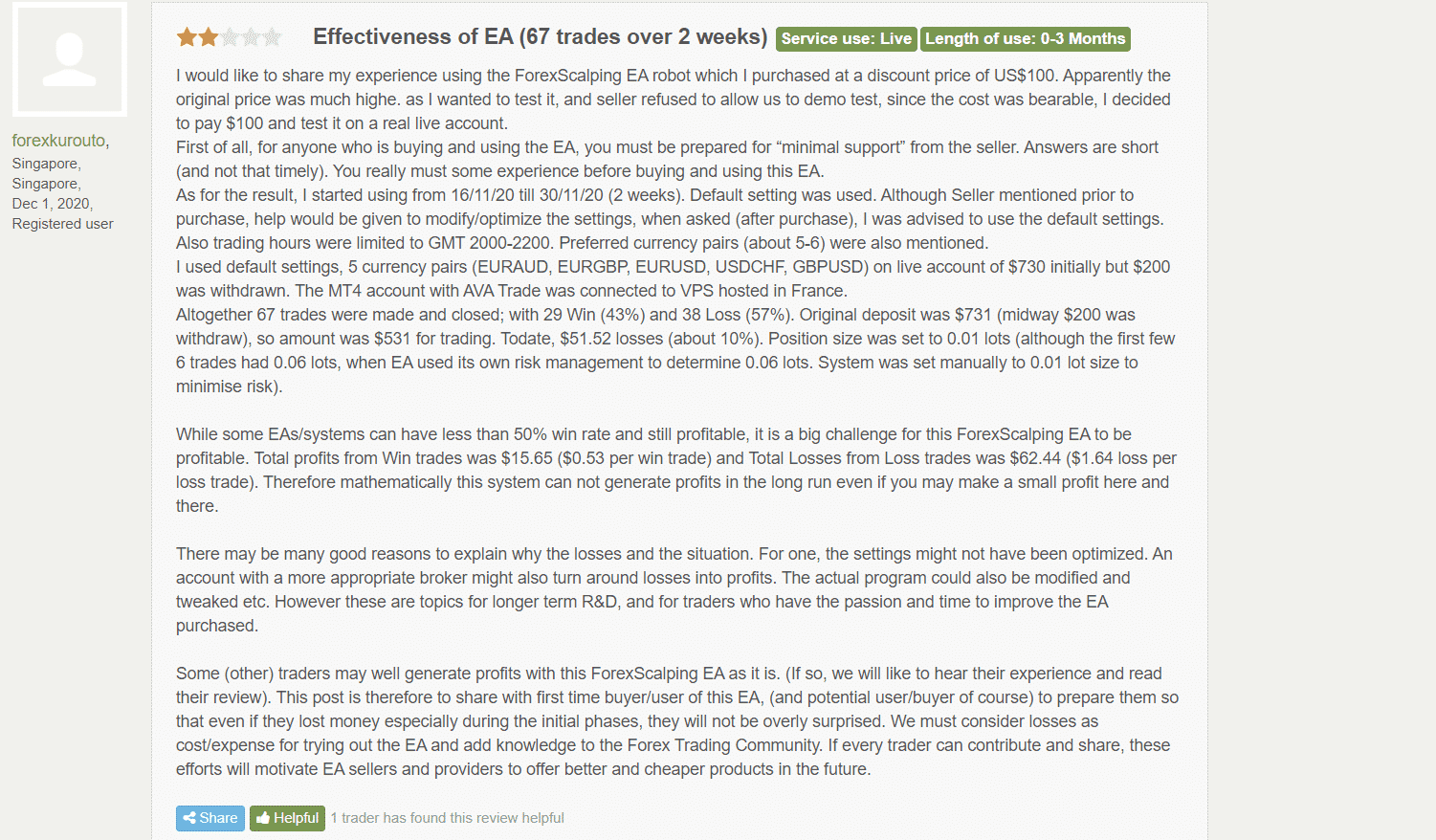 There is only a single review for Forex Scalping EA on the Forex Peace Army website. We were unable to find any more reviews for this robot on other websites. Here, the user has mentioned that the system has a win rate of less than 50% and that it is quite difficult to generate profits, in the long run, using it. It is quite clear to us that this robot does not have a good reputation as of now.
Forex Scalping EA Conclusion
Forex Scalping EA is not a system we can recommend to traders since there are some major red flags where it is concerned. First of all, we know nothing about the vendor and their reputation. Secondly, there is no money-back guarantee for this product. These two things, combined with the fact that the trading results show a high drawdown, cause us to think that it might be a scam service.
Price – 5/10
Strategy – 5/10
Trading Results – 4/10
Vendor Transparency – 1/10
Customer Reviews – 2/10
Support – 4/10