Euro Scalper Pro has a one-page presentation that looks like an iconic scam. Anyway, according to Forex Peace Army, there are many people who were scammed. The Euro Scalper Pro main statement is "Scalp Forex Like A Pro. 100% Automated Forex signals" and "Copy Trading On Our MT4." The vendor doesn't disclose information about itself. We couldn't find information about company registration.
Euro Scalper Pro Review
It is almost impossible to find something relevant that could describe this service or the system that generates the signals.
Euro Scalper Pro provides signals that can be copy traded from the master account to ours.
The software can be installed only on the MetaTrader 4 platform.
It works only with EUR/USD.
The developers claimed that the additional fees won't be charged.
The system doesn't require us to have previous trading experience.
As soon as free spaces are filled, the service won't be available for others to register. It sounds like a scam because forcing people to subscribe to the service in this way is not acceptable.
We can set the copy trading software really quick.
It can be used on the home PC or on the VPS service.
A copy trading solution can execute orders for us automatically.
We can get our questions answered through support within a day.

The site supports many languages because there's no text of the presentation to translate.
Trading Strategies and Currency Pairs
The main strategy is scalping.
It works with EUR/USD only.
The developers don't tell what time frames are used by the system.
The presentation doesn't include backtest reports. It's a huge con because, now, we can't be sure that the system was well-tested and handled past data for 2-20 years.
Euro Scalper Pro Trading Statistics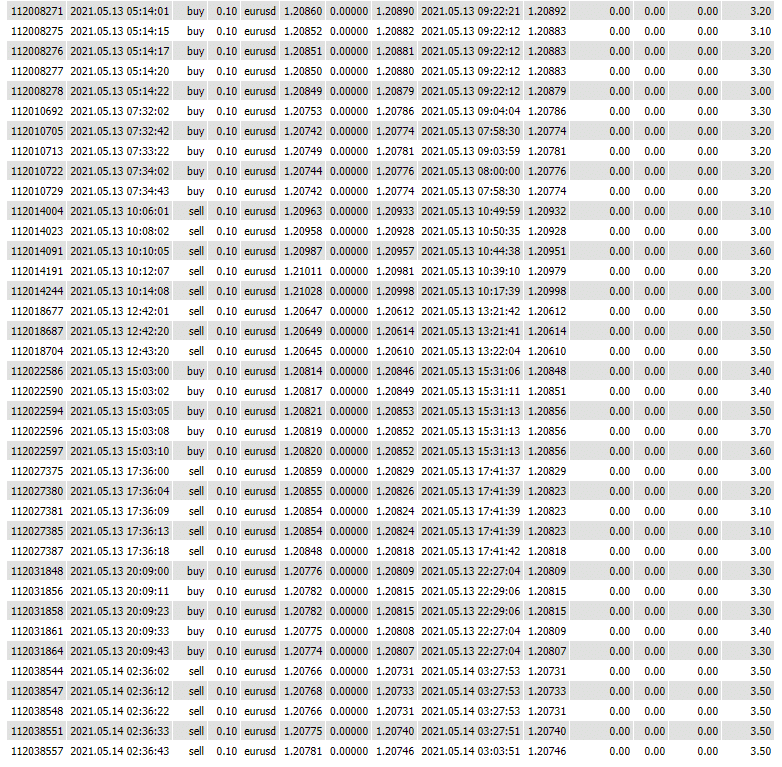 We have only a list of closed deals that is most likely a scam because the pre-last columns have no numbers at all like taxes, commissions, and swaps. It's mathematically impossible to trade without swaps because some of the deals are kept overnight. So, there should be positive or negative swap changes.
Most of the services that provide signals from the master account have these account trading results verified by Myfxbook or FXblue verificators. The data from a verified account can tell us much about trading results, absolute gain, monthly gain, drawdowns, leverage, broker, platform, average results, deals traded, lots traded, accuracy rate, trade length, profit factor, direction, risks, symbols, and so on. Without this info, it's hard to make a wise decision.
Pricing and Refund
There are two ways to get the signals: subscribing and registering using a referral link.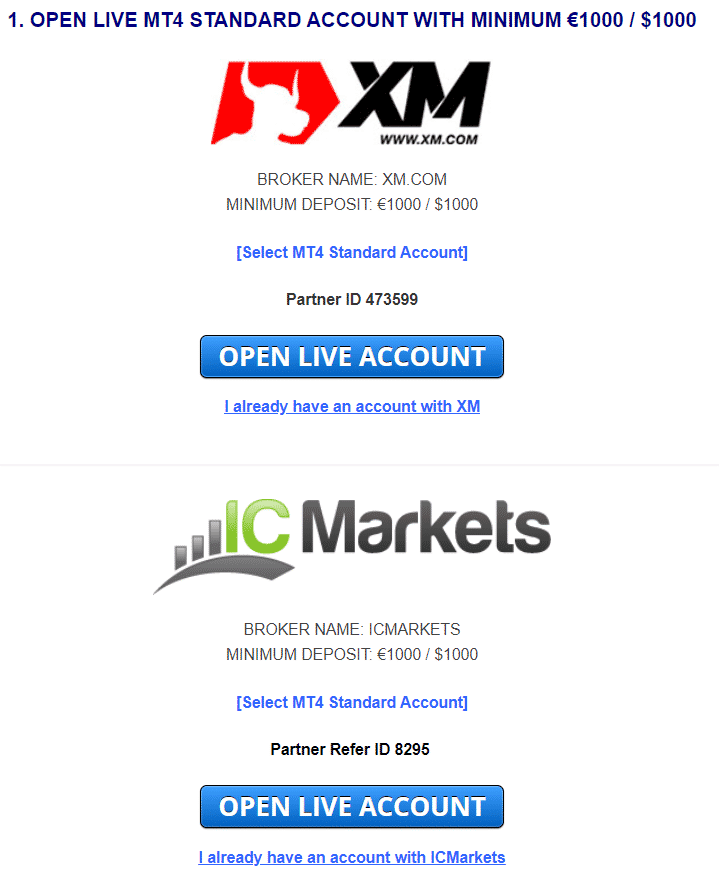 There are some steps that should be done by us:
We have to register an account on IC Markets or XM  using the referral link.
Both companies are veterans on the market.
We should fund the account at $1000 or €1000.
We have to provide the developers with our real account number.
We have to check that the referral ID is set correctly.

The second option is to subscribe directly to the signals. We have two subscription options. The monthly membership costs $197. The annual membership costs $1,997. It allows us to save 15$. The original price was $2,364. We have no idea why these signals can cost that much. There are no even trading results to be sure they are profitable. The MQL5 community has many signal subscription plans that vary from $30 to $150 monthly.
What Else You Should Know about Euro Scalper Pro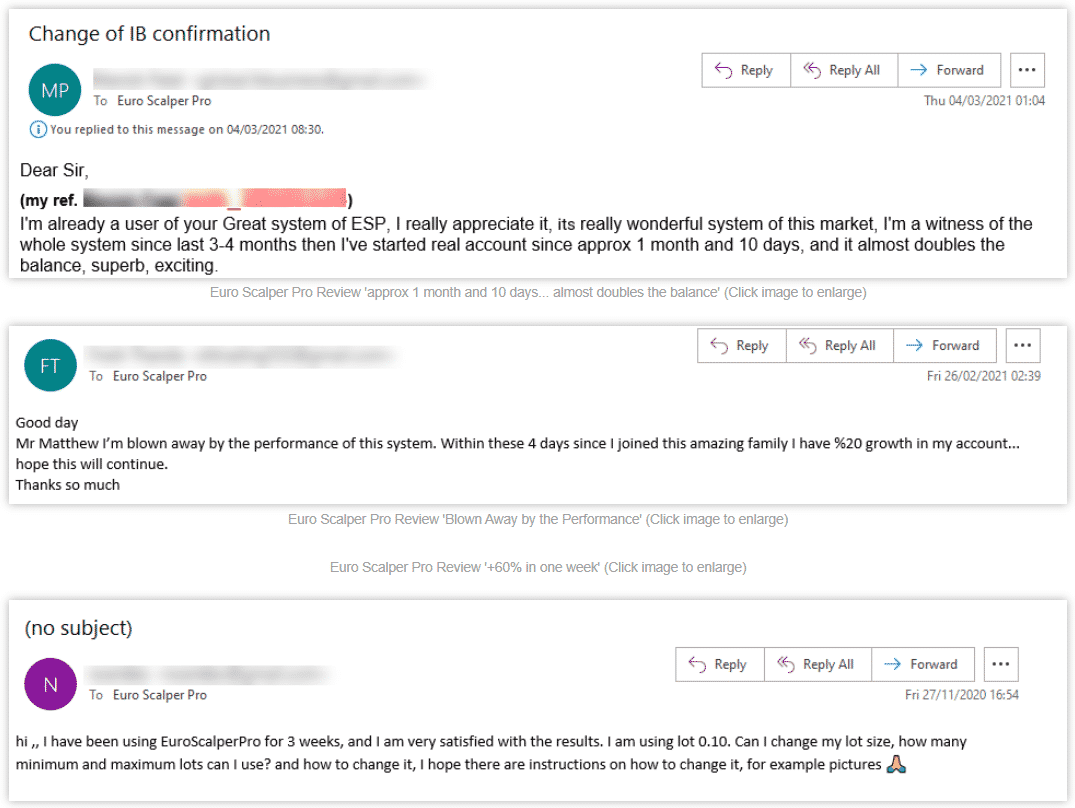 There's much feedback from no names. Of course, they can't be real.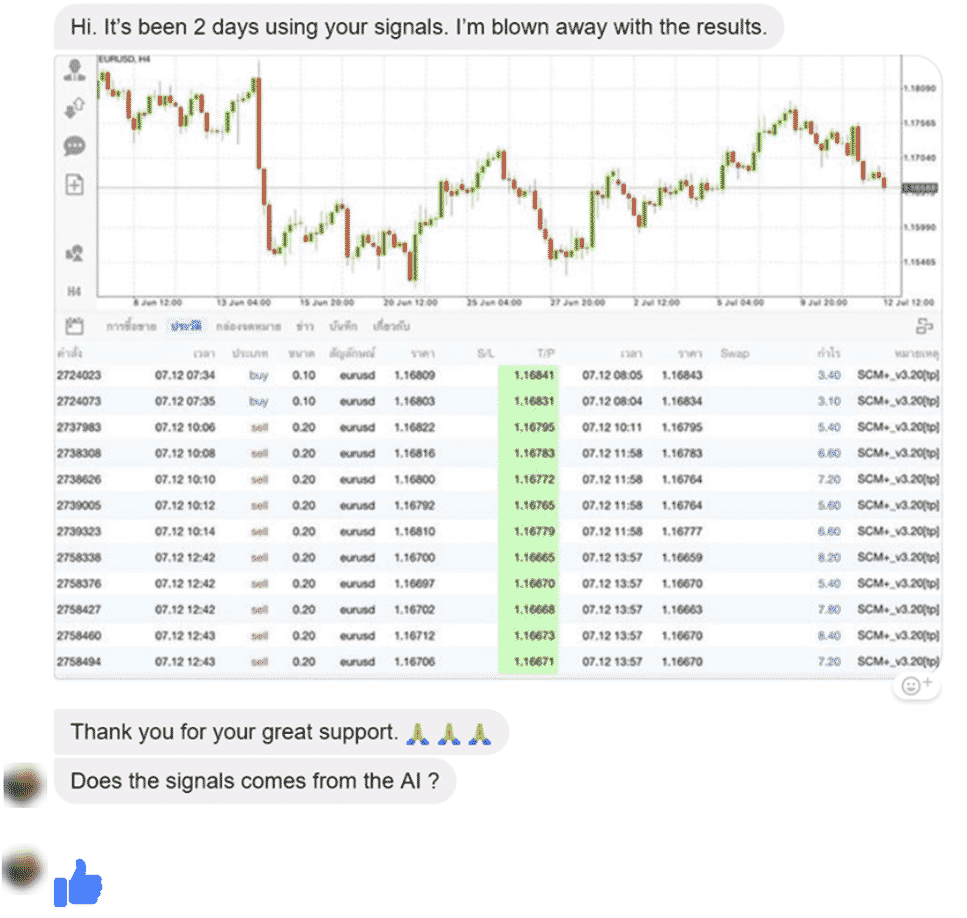 There's a screenshot with a positive trading experience.

We can find some onsite comments, but they look like a scam even more.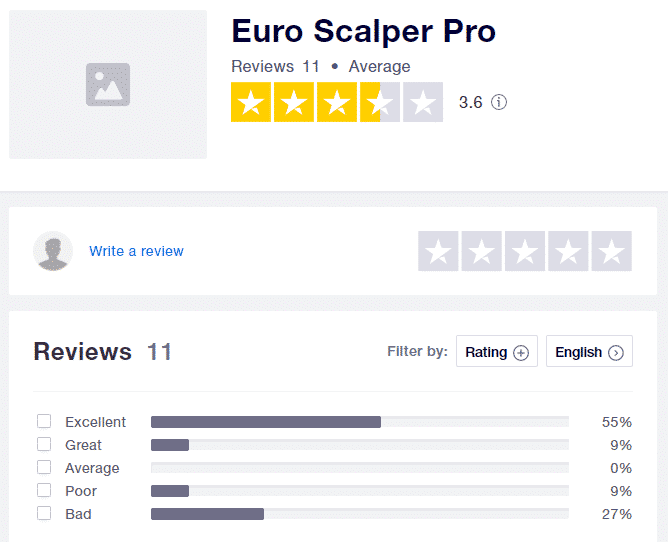 Euro Scalper Pro has a page on Trustpilot created. An average rate is 3.4 based on eleven reviews.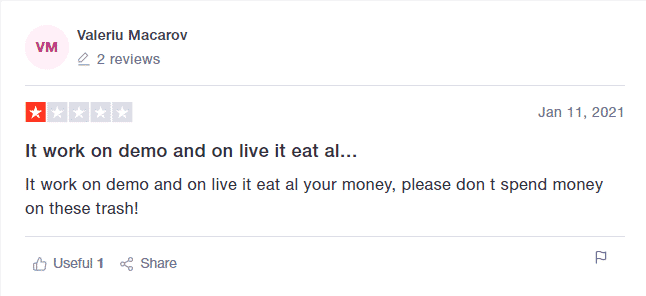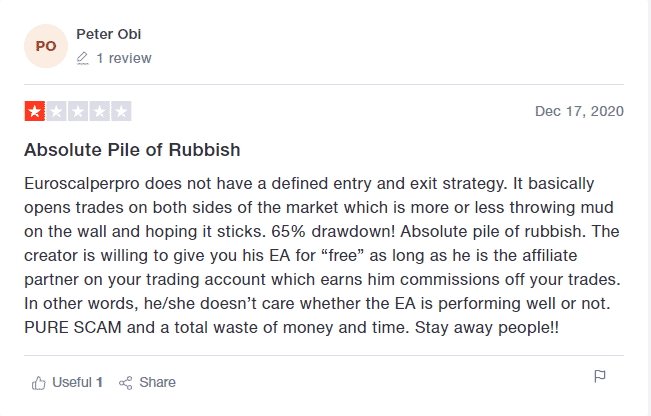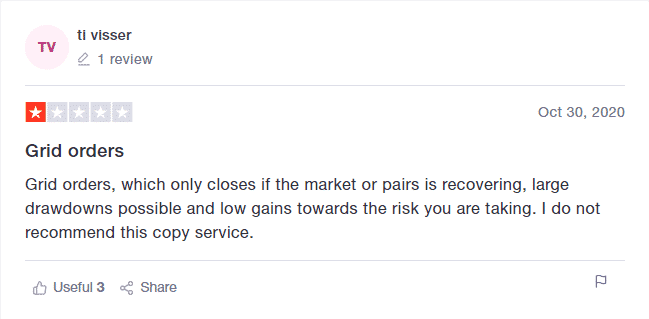 As we can note, there are many negative testimonials. We're not surprised that a service without a verified account couldn't make people rich.
Euro Scalper Pro Conclusion
Summary
Euro Scalper Pro is a scam service that takes people's money for subscriptions without refunds. The service can't be trustworthy because there are no trading results provided. As MQL5 experience shows, any master account has verified trading results. It's the way to find a good copy trading service to follow.
Price – 4/10
Strategy – 3/10
Trading Results – 2/10
Vendor Transparency – 3/10
Customer Reviews – 2/10
Support – 2/10