Redshift is a Forex EA launched on 31st December 2020 that is sold on the MQL5 website. It works on both Metatrader 4 and 5 trading platforms, and according to the vendor, is able to achieve an extremely high win rate with its trades. Working on multiple currency pairs, this robot was built based on high-quality backtests carried out with 99.90% accuracy.
Redshift is sold on the MQL5 website by an Italian trader called Marco Solito. He has a dedicated trading channel on Telegram where trading advice and tips are provided for the users. Apart from Redshift, he has developed other systems in the past, like Dark Titan, Dark Breakout, Dark Oscillator, Dark Absolute, Dark Mimas, Dark Venus, etc.
Redshift Robot Review
This is a 100% automated Forex EA that is specially built for Intraday Trading. It is not a broker sensitive system, but the vendor mentions that better results can be achieved with an ECN broker.
The vendor further recommends running this robot on a low latency VPS and to use minimum leverage of 1:10. You can use a minimum deposit of $100 while starting out with this EA. It has advanced money management settings that let you adjust the trading lots and the amount of risk you are willing to take with each trade.
There are different indicator settings for this Forex EA, and you have the option of choosing a fast or slow EMA period for the MACD indicator. The signal period, applied price, and timeframe can also be adjusted by the user. Additionally, it has a time filter that you can enable to modify the start hour, start minute, stop hours, stop minute, etc.
All the different trading parameters like trailing stop, take profit, and broker commission are adjustable. You can also program the lot size to be increased and multiplied after the occurrence of a loss.
Trading Strategies and Currency Pairs 
Redshift trades in pairs like USD/JPY, AUD/USD, USD/CAD, GBP/USD, and EUR/USD on the M15 timeframe. It uses the MACD indicator for analyzing the trading charts. The strategy is based on Market order in trend following and counter-trend. We don't think this information is adequate when it comes to the trading strategy, and that the vendor should have revealed some technical details about the same.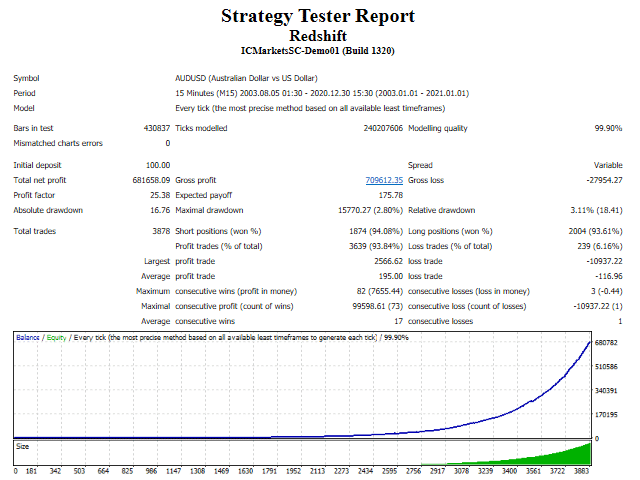 This backtest for the Redshift EA was conducted from 2003 to 2020, with a modeling quality of 99.90% and every tick data. A total of 3878 trades were placed on the AUD/USD pair, and out of these, 3639 were won by the robot. This represents an extremely high win rate of 93.84%.
Initially, a deposit of $100 was made for this test, and from this, a total net profit of $681658.09 was generated. There were 82 maximum consecutive wins and only 3 maximum consecutive losses. The relative drawdown was quite low at 3.11%, which means the system follows a relatively safe trading approach.
Redshift Trading Statistics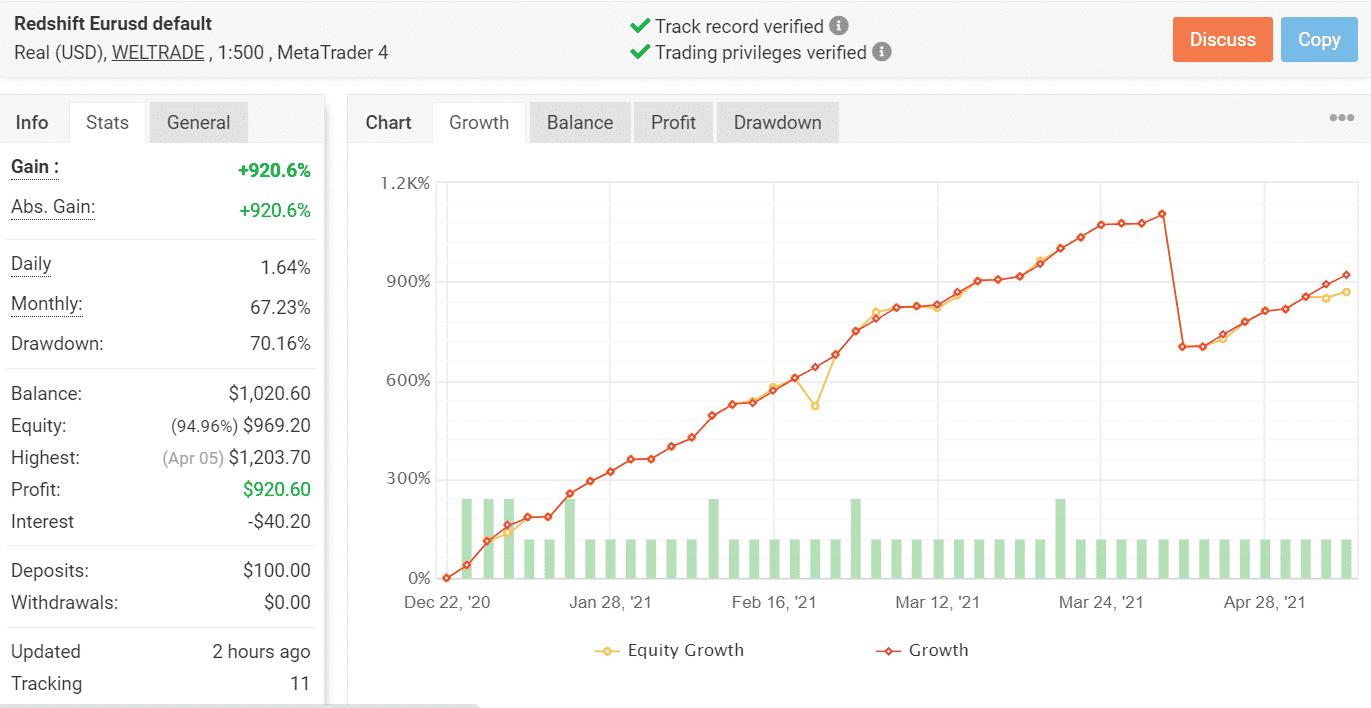 This is a live trading account for Redshift that has been verified by the Myfxbook website. It has been up and running since 22nd December 2020, but to date, only 51 trades have been placed through it. This makes it difficult for us to assess the system's profitability in an objective manner since the unpredictability of the Forex market can cause unexpected losses at any time.
The daily and monthly gains for this account are currently 1.64% and 67.23%, respectively. However, the drawdown is extremely high at 70.16%, which makes us wary about investing in this robot. Although the robot has won 98% of the trades placed through this account, we cannot put too much weight on it, due to the short trading history.
Pricing and Refund
Redshift is available for $399, which is an exorbitant price for a recently launched Forex EA with short trading history. You have the option of renting the robot for 1 month for $348. A free demo version of the system is available for those who wish to test its performance before using it for live trading. There is no mention of a money-back guarantee.
What Else You Should Know About Redshift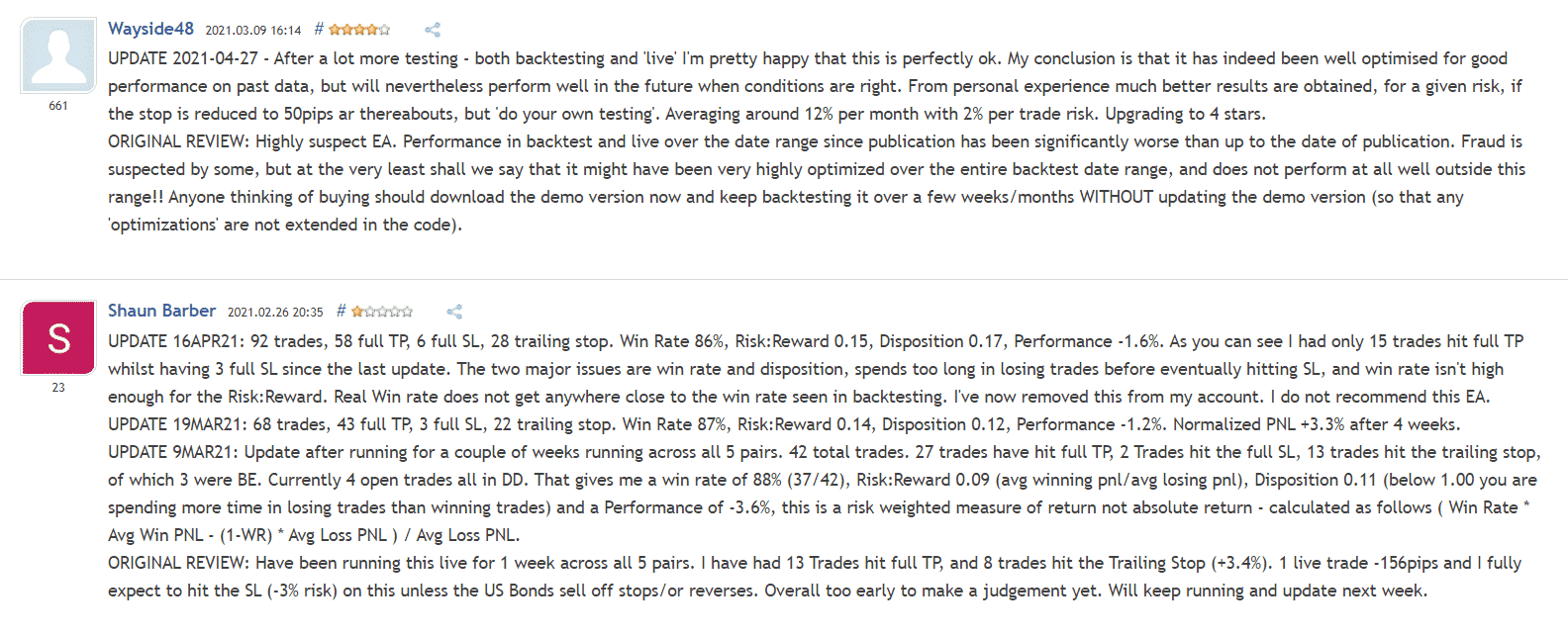 There are several customer reviews for Redshift on the MQL5 website, but we cannot consider these as authentic, since they are not verified by a third party. The vendor could have paid the users to write these favorable reviews, so we cannot take them into account while evaluating the system's trustworthiness.
Redshift Conclusion
We cannot in good conscience recommend traders to invest in Redshift. It is an overpriced system with a short trading history that offers limited strategy insight. This makes it extremely risky to purchase this robot, as you can easily suffer from some unprecedented losses while trading with it. The high drawdown is yet another reason you should stay away from this EA.
Price – 2/10
Strategy – 2/10
Trading Results – 4/10
Vendor Transparency – 4/10
Customer Reviews – 3/10
Support – 2/10