100% Monthly EA is a Forex robot that claims to provide a super accurate and reliable automated trading solution for new and experienced traders. As per vendor claims, you can make a profit of 100% every month while using this system. This is such a bold claim that it almost feels unrealistic, so a thorough analysis of the various performance aspects needs to be conducted before a verdict is reached about this EA.
We don't know much about the parent company, except for the fact that it is located in Cyprus and possesses industry experience of 3-5 years. The identities of the team members are not known and it is not clear whether there have been any other robots launched by this company.
100% Monthly EA Robot Review 
This Forex EA is backed by quality backtesting data and verified live trading statistics. It is capable of generating unlimited profit with a single setup. The vendor claims that you don't need any trading knowledge to be successful with this robot. It follows a multi-pattern trading approach and deals in major pairs and stable cross pairs.
100% Monthly EA sends daily signals with accurate entry points. It trades in all sessions on a 24/7 basis and also provides regular trade modification updates. It has automated risk management functionalities that prevent your account from getting drained. You can use this robot with both MT4 and MT5 trading platforms.
According to the vendor, the drawdown exhibited by the system depends on the targeted ROI for the month. For a 100% ROI, a 35% drawdown can be expected. The user has the option of reducing the drawdown by adjusting the ROI. 
You are recommended to start with a minimum balance of $500. For this deposit, you should use the leverage of 500:1. Furthermore, you are advised to trade with brokers based out of the USA, but the vendor mentions having special settings files especially for US clients. 
Trading Strategies and Currency Pairs
You can use this Forex EA for trading in pairs like GBP/CAD, NZD/USD, NZD/CAD, GBP/USD, EUR/JPY, AUD/JPY, and EUR/USD. On the official website, the seller does not provide any explanation for the trading strategy used by this system. 
Most traders look for some sort of strategy insight before investing in a robot, since it reveals some important details about the system's profit-making capability. Thus, the lack of trading strategy insight  might deter these people from purchasing the EA.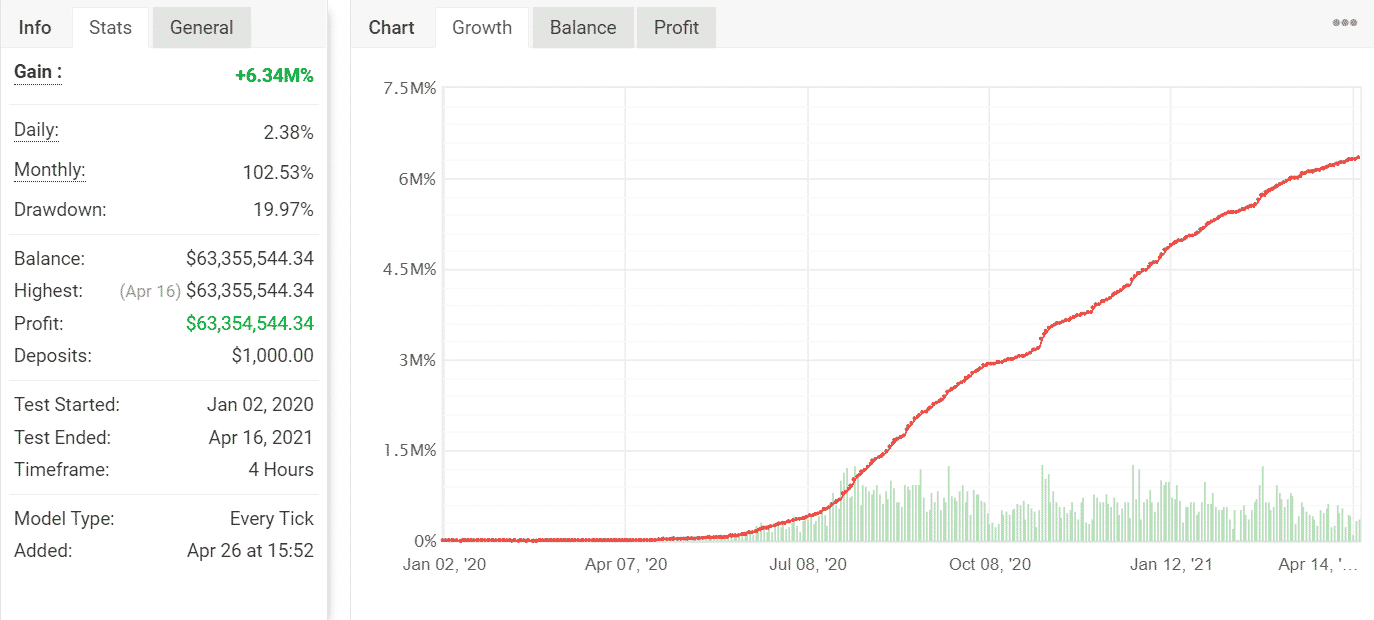 Here we have the backtesting result for 100% Monthly EA, conducted from 2nd January 2020 to 16th April 2021. During this period, the robot generated a total profit of $63,354,544.34 using an initial deposit of $1000. The daily and monthly profits were 2.38% and 102.53% respectively, while the drawdown was 19.97%, which is not too high.
For this backtest, the robot had a decent win rate of 63%. Even the profit factor was quite satisfactory at 4.64.
100% Monthly EA Trading Statistics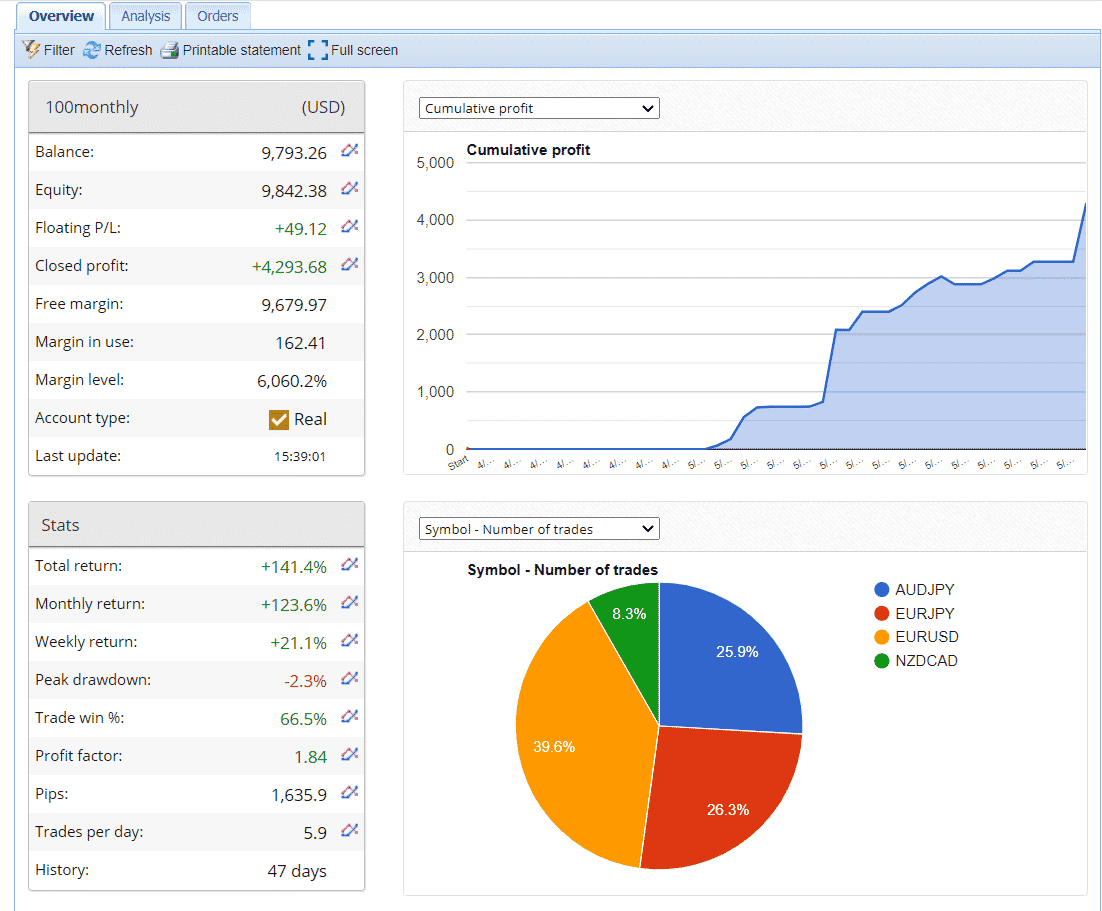 This is a live trading account of 100% Monthly EA that has a trading history of just 47 days. It is difficult to trust in a robot that has such a short trading history, no matter how great the results may be. We can see that a total profit of $4293.68 has been generated after winning 66.5% of all the trades placed.
Currently, the daily, weekly, and monthly returns for this account are 3.91%, 21.12%, and 123.58%, respectively. It also has a decent profit factor of 1.84, but these impressive figures don't mean much since the system hasn't been trading live for too long.
Pricing and Refund
Instead of buying or renting this EA, you can choose to get the trading signals, which would cost you $35/month. The rent option for the automated trading system costs $79 per month, while the full version is priced at $1399. 
We think this is an exorbitant price for a Forex EA, especially considering it doesn't have many years of live trading experience. Refunds are provided by the vendor on request.
What Else You Should Know About 100% Monthly EA

On the Forex Peace Army website, we came across some customer reviews for this Forex EA. This particular user talks about suffering a noticeable decline while trading with this robot. 
100% Monthly EA Conclusion
After analyzing the various system aspects, we have reached the verdict that this is an overpriced robot that cannot be trusted. Although the backtesting and live trading results show a high monthly profit, we can see that the trading history is much too short. Furthermore, there is a lack of strategy insight and vendor transparency when it comes to this EA.
Price – 2/10
Strategy – 2/10
Trading Results – 3/10
Vendor Transparency – 3/10
Customer Reviews – 3/10
Support – 4/10