FX Deal Club focuses on the money-management picking account under their management. This is the main service they provide.

The developers are the professionals who have been on the Forex market since 2001. Of course, it's a lie. If it was true, they would be millionaires even from a $100 account. Understanding this, you can simply skip the rest of the written info.
FX Deal Club System Review
There's just this schema of how everything works.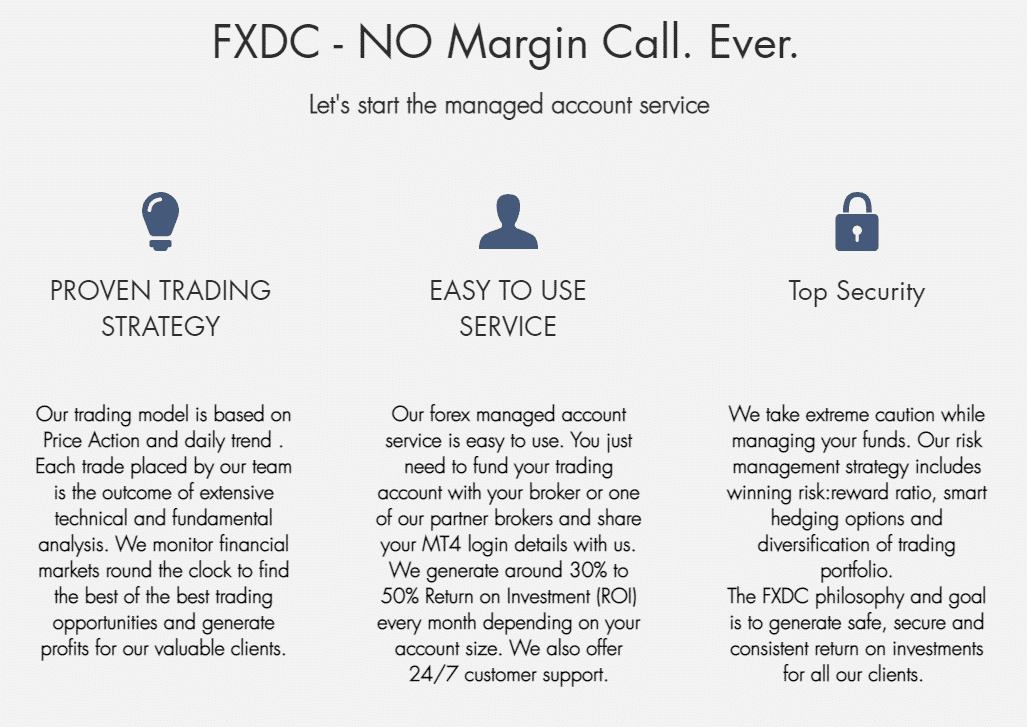 There is a well-designed strategy behind the system.

The company has over 20 years of experience.

The system can work with 18 cross pairs.

The strategy is based on technical and fundamental analysis.

It looks for the precise Entry Points being 24/5 on the market.

We have to provide login and password from our account to be managed.

The RIO can be from 30% to 50%.

The support is 24/7.

We may pay for the service by Bitocin and the next paid systems: PayPal and Skrill.

The account should be not less than $1000 to be managed.

The optimal balance between managing is $5000 or higher.

The developers can suggest we change a broker if needed.

We have to pay $250 in advance.

We have to pay 35% of the commission for each winning trade.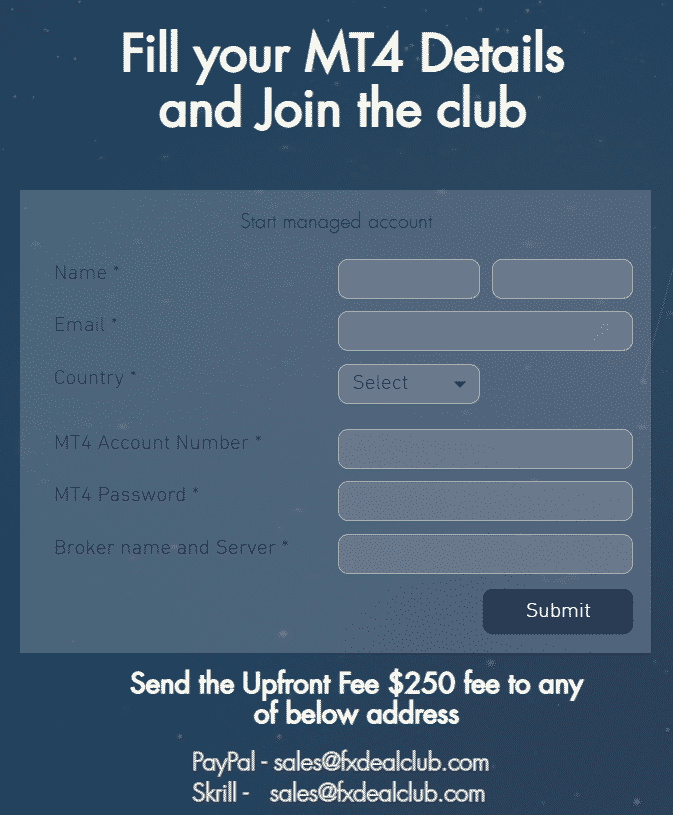 This form should be filled in to start using their service.
Trading Strategies and Currency Pairs
The main strategy combo is Hedge with aggressive Martingale. The devs told nothing about this.

There are support strategies like Price Action and Support and Resistance levels trading.

We don't know what time frame the system works on.
FX Deal Club Trading Statistics
The presentation doesn't include backtest reports because there was something wrong. It is a red flag for the FX Deal Club system.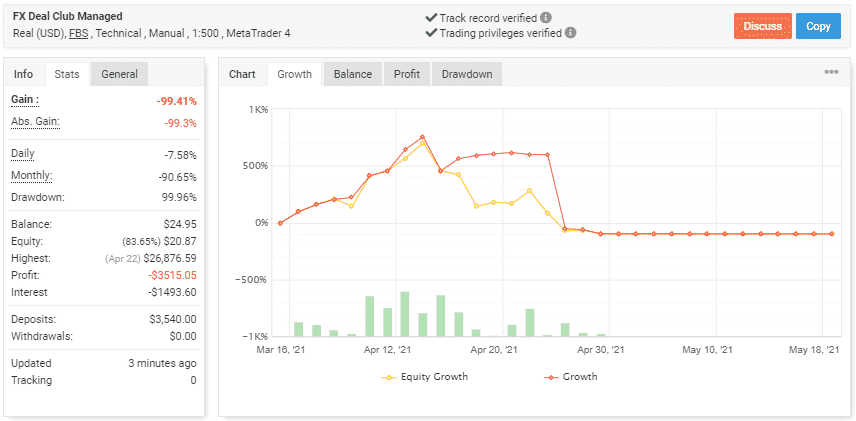 It's how the previous account of the company looked like. As soon as the losses occurred, it was removed from the site. In a week, it was removed from Myfxbook as well.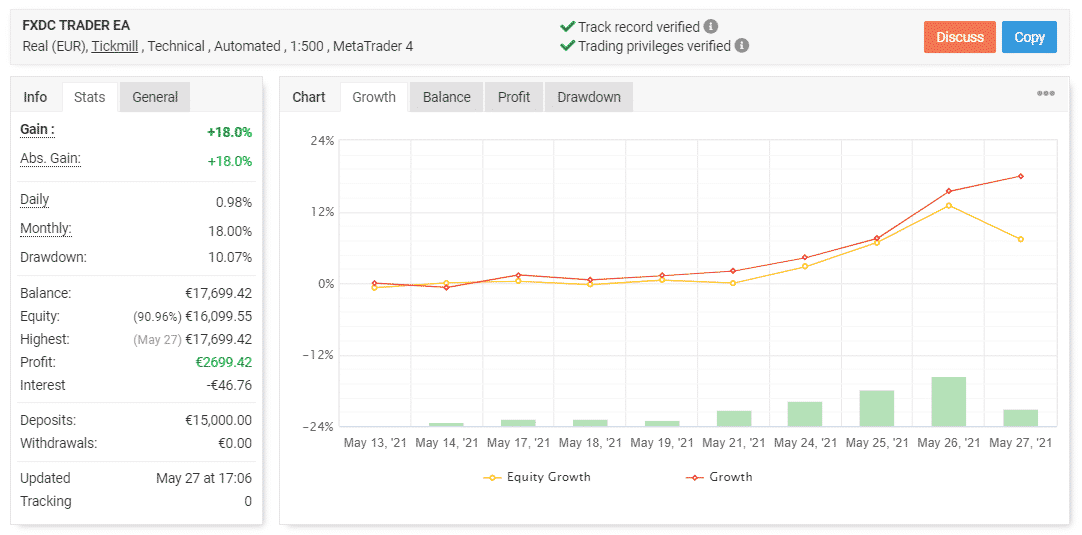 We have an all-new unblown real EUR account on TickMill. The system works automatically, trading technical data from the MT4 platform with 1:500 leverage. The account has a verified track record, and trading privileges verified badges. It was created on May 13, 2021, and deposited at 15,000 EUR. Since then, the absolute gain has become +18.0%. An average monthly gain is 18.00%. The maximum drawdown is 10.07%.

The robot closed 80 deals with 854 pips. An average win is 15.36 pips when an average loss is -22.06 pips. The win rate is 91% for Longs and 84% for Shorts. An average trade length is 17 hours 22 minutes. The profit factor is 5.43.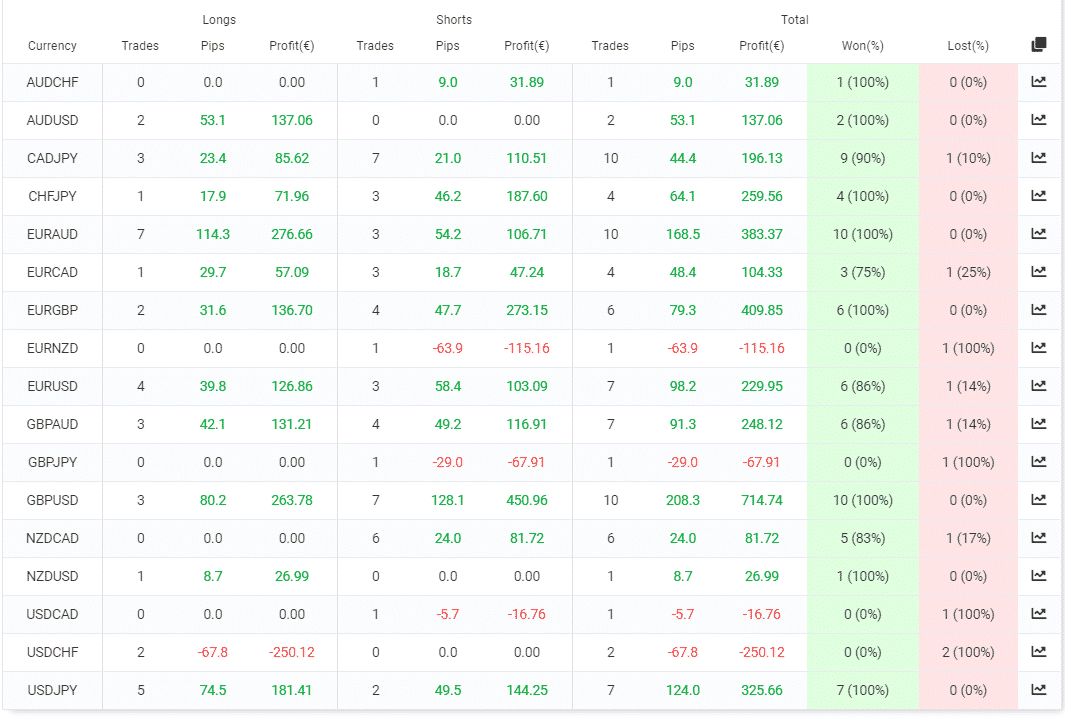 As we may note, there are many currency pairs traded. The most-traded (10 deals) and at the same time the most profitable is GBP/USD with $714.74.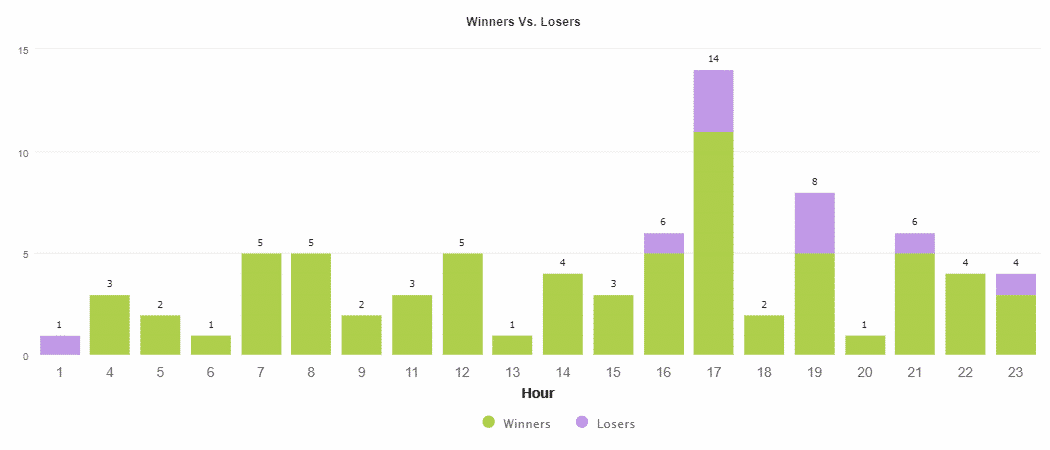 It focuses on trading high-impact news during the American session.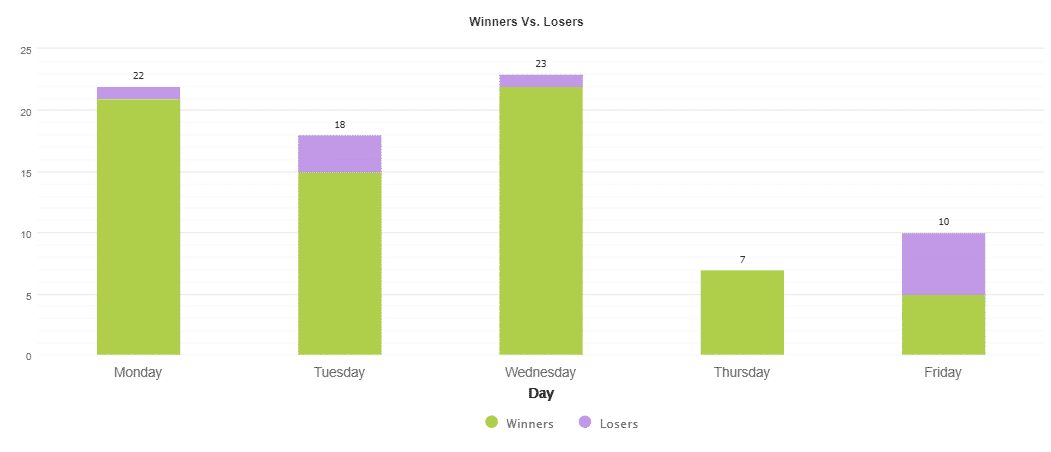 There were little deals traded to say something for sure.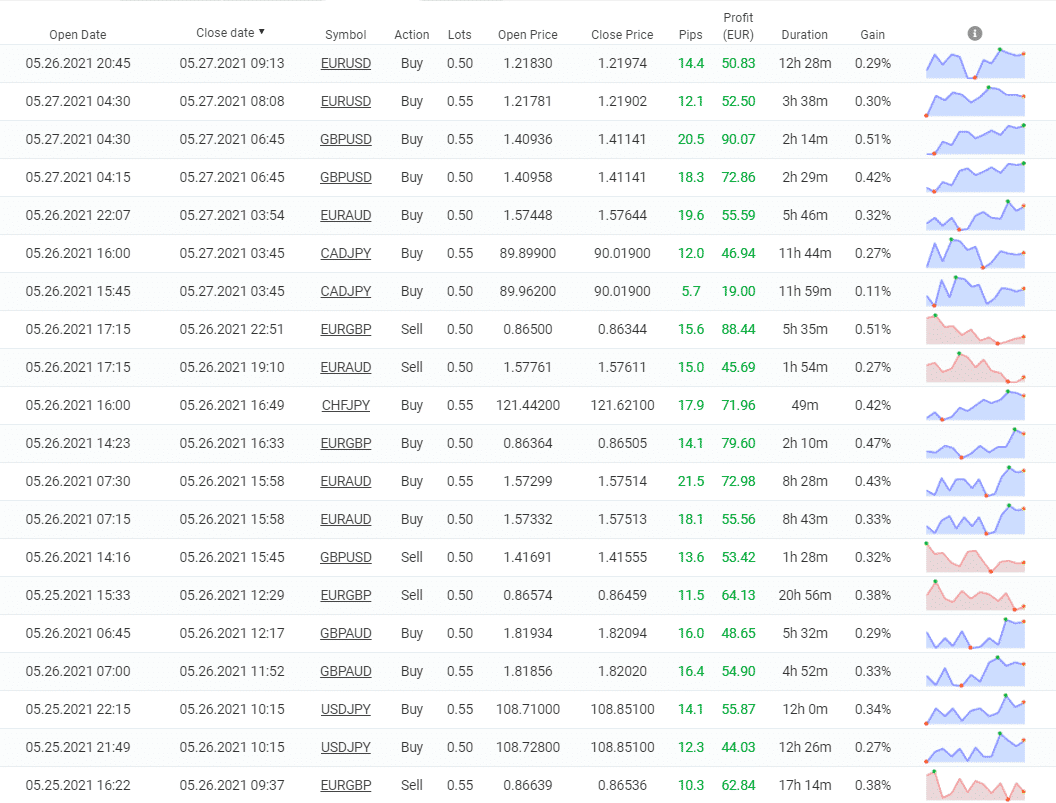 The last twenty deals were profitable.

The system trades Grid with Martingale instead of Hedge with Martingale like it was before.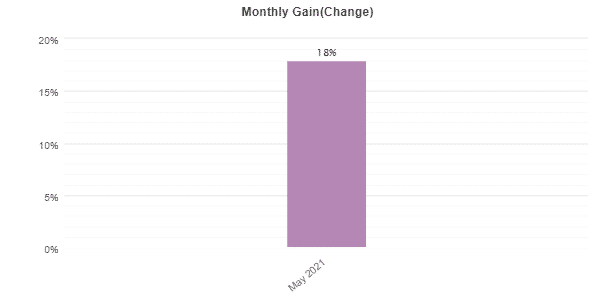 The first month is going to close with profits.
Pricing and Refund
We have to pay $250 in advance.

We will be charged a 35$ commission for won trades.

The offer doesn't include a refund policy. 
What Else You Should Know About FX Deal Club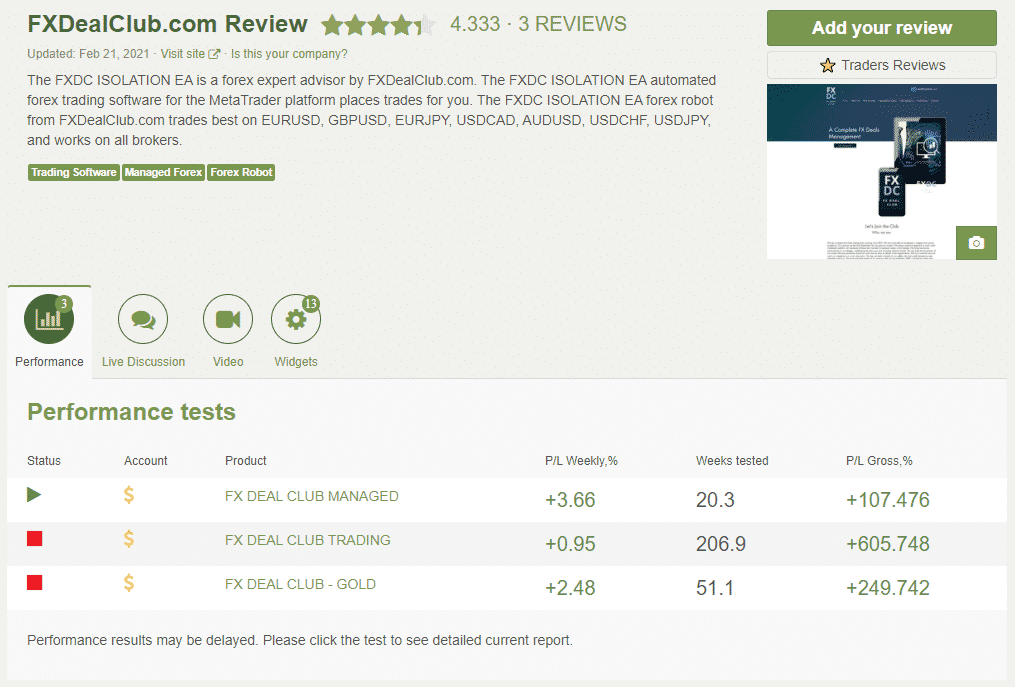 From an FX Deal Club page on Forex Peace Army, it's noticeable that the new account wasn't connected yet to the profile. There are three reviews and a 4.333 based on them.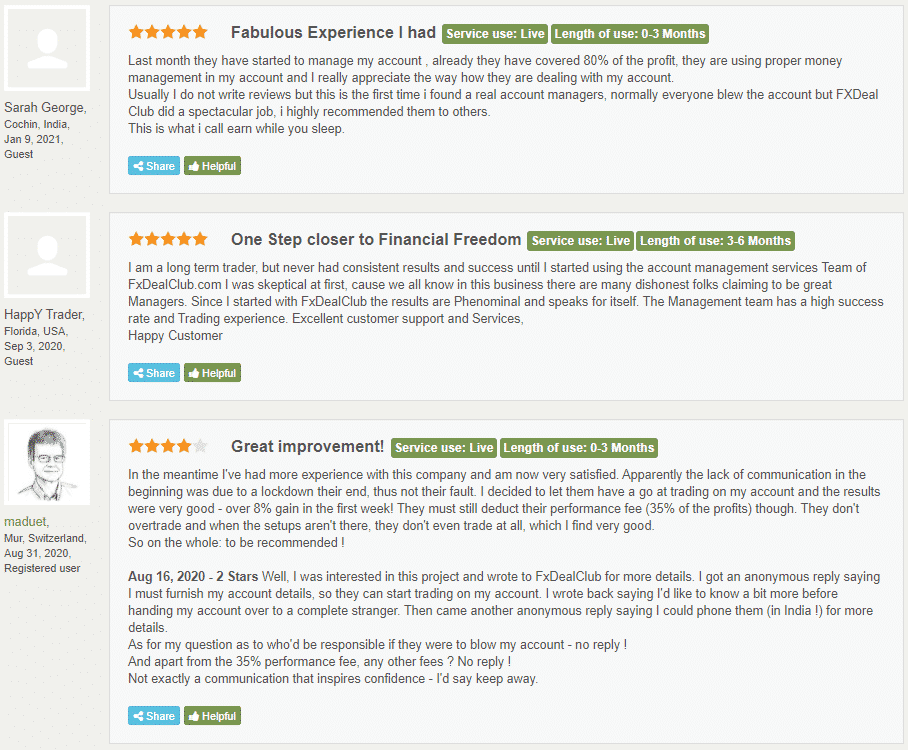 The positive feedback looks awkward after the previous account was blown.
FX Deal Club Conclusion
Summary
FX Deal Club is a PAMM service that has one blown, and two stopped accounts behind it. We've got a new one. Will it be able to survive? We don't know. Now, the service looks like a scam. We are surprised how easily they find free 15,000 EUR after losing $26,000 on the previous account. It's suspicious. Let them trade for half a year on their real account, and we will be watching this.
Price – 2/10
Strategy – 2/10
Trading Results – 3/10
Vendor Transparency – 2/10
Customer Reviews – 2/10
Support – 2/10