Trend Spider is a cutting-edge technical analysis software designed to help traders of all experience levels to automate their trading strategies and processes. In this review, we will delve into an in-depth analysis of its features, benefits, and potential downsides, providing a comprehensive overview of what Trend Spider brings to the bustling world of trading. Whether you're a novice trader just starting or a seasoned pro seeking to streamline your operations, this review aims to provide valuable insights to help you make an informed decision.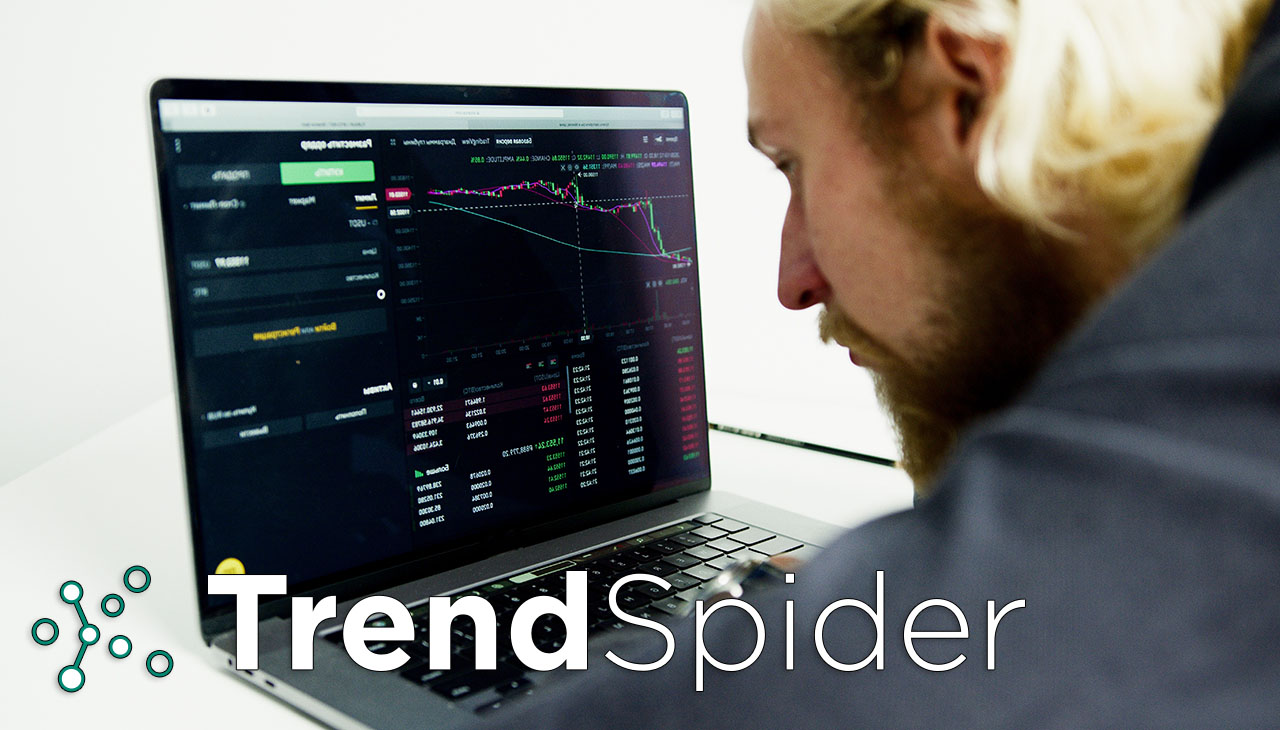 Features
TrendSpider is loaded with numerous features designed to aid traders in their trading journey. Key among them:
Automated Technical Analysis:

TrendSpider automatically identifies trendlines and patterns such as wedges, pennants, and channels in your chart, saving you time and effort in manual analysis.

Dynamic Price Alerts:

The platform allows you to set dynamic price alerts that notify you of significant market movements based on various technical conditions.

Multi-Timeframe Analysis:

This feature enables you to analyze and compare multiple timeframes simultaneously, providing a broader perspective on market trends.

Backtesting:

TrendSpider allows you to backtest your trading strategies using historical market data to determine their potential effectiveness.

Market Scanner:

This tool helps you scan across multiple assets for specific technical patterns and conditions, a quick way of identifying potential trading opportunities.
Each of these features is designed to simplify, automate, and improve the trading process, making TrendSpider a compelling choice for any trader wanting to enhance their trading performance.
Usability
In terms of usability, TrendSpider scores highly for its intuitive and user-friendly interface. The platform is designed to be accessible for beginners while remaining robust enough for experienced traders. Features are well-organized, and navigation through the various tools is seamless, meaning you can quickly switch between tasks without the need for extensive searching or clicking. Furthermore, the platform offers a comprehensive tutorial section, ensuring users can readily understand and utilize its features to their full potential. In all, TrendSpider's focus on usability demonstrates its commitment to providing a streamlined and efficient trading experience for its users.
Pricing
TrendSpider operates on a subscription-based model and offers different pricing tiers to cater to different needs. The Basic plan, suitable for novice traders, is priced at $33 per month (when billed annually), providing access to standard features like automated analysis and dynamic price alerts. The Premium plan, designed for more experienced traders, costs $57 per month (billed annually) and includes additional features such as multi-timeframe analysis and strategy backtesting. For professional traders, the Elite package is available at $97 per month (when billed annually), offering full access to all features, including the Market Scanner and priority customer support. Overall, TrendSpider's flexible pricing structure ensures that traders of all levels can find a package that suits their needs and budget.
Advantages
TrendSpider boasts a myriad of advantages that make it a top choice in its category:
Automation:

One of TrendSpider's most significant strengths is its automation capability. It eliminates the need for manual charting, saving traders substantial time and effort. It's also less prone to human error, ensuring accurate and reliable technical analysis.

Dynamic Price Alerts:

TrendSpider's dynamic price alerts keep traders in the loop with significant market movements. These real-time notifications can be instrumental in making timely and informed decisions.

Multi-Timeframe Analysis:

The ability to analyze and compare multiple timeframes simultaneously provides traders with a holistic view of the market, essential for making strategic decisions.

Backtesting:

With TrendSpider's backtesting feature, traders can evaluate their strategies against historical data, helping them fine-tune their approach before committing real money.

User-friendly Interface:

The platform scores high on usability, catering to both beginners and seasoned traders. Its intuitive design, coupled with comprehensive tutorials, makes the learning curve significantly manageable.

Flexible Pricing:

TrendSpider offers flexible pricing plans that cater to traders with different needs and budgets, making it accessible to a broad user base.
Drawbacks
Despite its numerous advantages, TrendSpider is not without its drawbacks:
Limited Asset Coverage: While TrendSpider covers a wide range of markets, there are certain asset classes and markets it doesn't cover. Traders interested in these areas might find the platform less useful.

Learning Curve: While TrendSpider has an intuitive interface and provides comprehensive tutorials, the sheer number of features and tools can still be somewhat overwhelming for beginners. It may take some time to get the hang of all the functionalities.

Price Point: For some traders, especially those who are just starting out, the cost of the subscription can be a significant deterrent. Despite the flexibility in pricing options, TrendSpider may still be considered an expensive tool compared to other options in the market.

No Mobile App: Currently, TrendSpider does not offer a mobile application. This lack of mobile accessibility may be a disadvantage for traders who prefer to monitor their trades and the market on the go.
In conclusion, while TrendSpider has many favorable features that can enhance the trading process, it is important to consider these potential drawbacks when making a decision.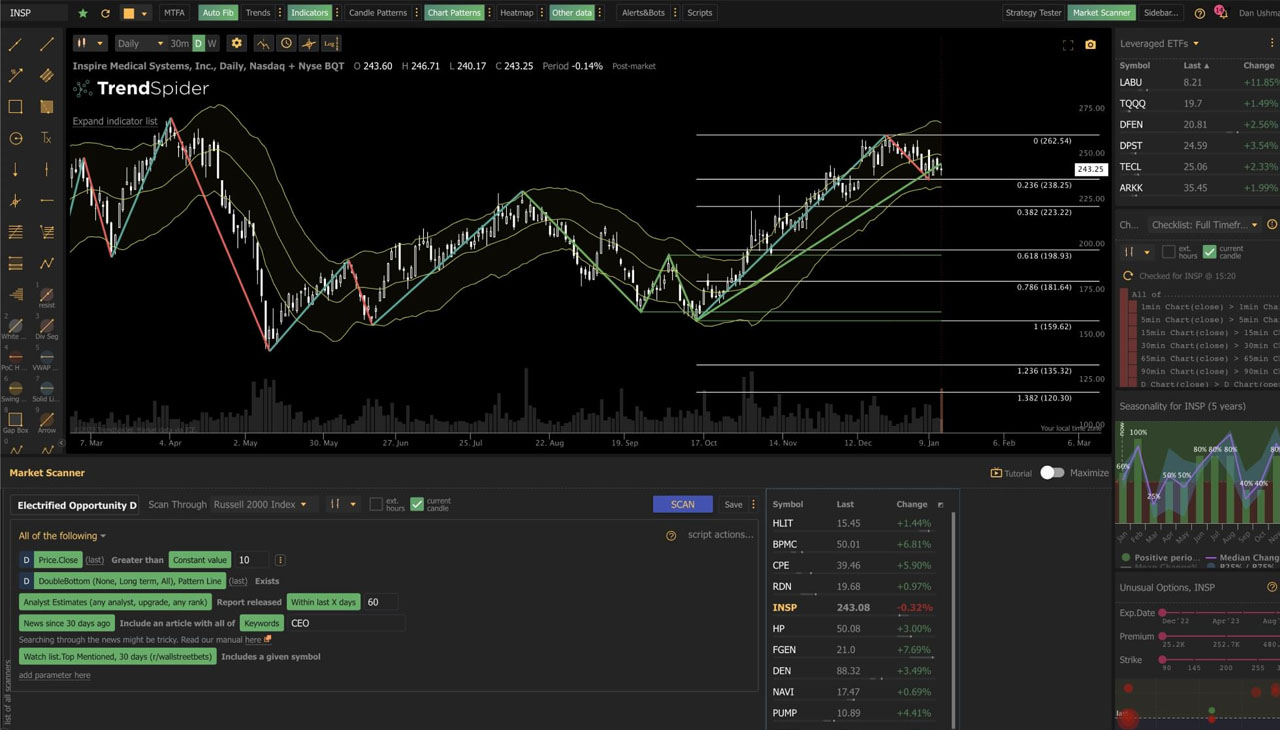 Target Audience
TrendSpider is aimed at a wide spectrum of traders ranging from beginners to professionals. Novice traders who are in the early stages of their trading journey can greatly benefit from the platform's automation capabilities and user-friendly interface, which can significantly simplify their trading process. Experienced traders, on the other hand, would find value in advanced features such as multi-timeframe analysis, strategy backtesting, and dynamic price alerts that can provide them with deeper market insights and enhance their decision-making. Furthermore, TrendSpider can also be a valuable tool for professional traders seeking a comprehensive, all-in-one platform that offers sophisticated analysis tools, efficient market scanning, and real-time alerts. Therefore, it caters to a broad user base, making it a versatile trading platform suitable for varying trading styles and levels of expertise.
Review
Automation: 10

Dynamic Price Alerts: 8

Multi-Timeframe Analysis: 10

Backtesting: 8

User-friendly Interface: 6

Flexible Pricing: 8