Trend Signal is a firm with educational materials and a teaching process that lasts half a year to be a professional trader. We couldn't find proof that they are real traders with profitable trading results. The main claim is that we should "Learn a powerful trading strategy – LIVE. Attend our FREE webinar & learn exactly how to use our Sniper trading Strategy to trade FX, Indices, Commodities & Shares."
It was a great challenge to gather all intel about them in the same place. Please, take a look at the following lots.
We may note open trades all day long.
We have to trade for just 20 minutes daily.
They know "rule-based strategies." It sounds ridiculous.
We can expect to get an indicator from them.
It works based on a Sniper strategy. We don't know what they mean.
They "consistently work to improve the strategy."
The indicator was tested on "Forex, indices, Commodities, and Shares to suit a variety of lifestyles and trading styles."
The presentation doesn't include any sign of backtests. So, we can't trust them blindly.
We can expect that the teachers will provide one-to-one sessions to help us be convinced.
They help us in every way we need. The support is 24/7.
The educational program lasts half a year or so if we don't skip classes.
There is information provided in a news feed about what updates we've got on the plate.

We can trade on any type of account and expect to get extra help from professionals.
The company unites a team of "highly experienced analysts, and professional traders have created our own exclusive indicators and expert scanning tools for you to use anywhere in the world. This gives all Trendsignal Plus users the unique edge they need to compete and, more importantly, to succeed."
They provide us with interaction workshops, "including live trades, analysis, and interactive Q&A. These interactive sessions give us the unique opportunity to interact live with professional traders, asking questions and learning first hand, with all session recordings available to review in your own time."
We can come back anytime we want and watch past classes.
The developers publish a "Complete Trading Course" pack.
Trading strategies and currency pairs
The strategy is called Bullet.
The time frame and currency pairs aren't revealed. If it's an indicator, we can probably use it on any.
As we mentioned before, the presentation doesn't include backtests about which the developer talked. It's a solid con because every system should be tested before it becomes something viable like an indicator, advisor, or both. So, we have no idea how the system worked on the past data.
Trend Signal trading statistics
The same con we have when we are looking for demo or real account trading results. The presentation includes neither of them. The developer noted that they had got an outstanding experience on Forex. If so, there should be many accounts where they made or keep making profits. Without numbers proven by Myfxbook, Fxblue, and FXStat, or at least MQL5, we don't trust them blindly.
Pricing and refund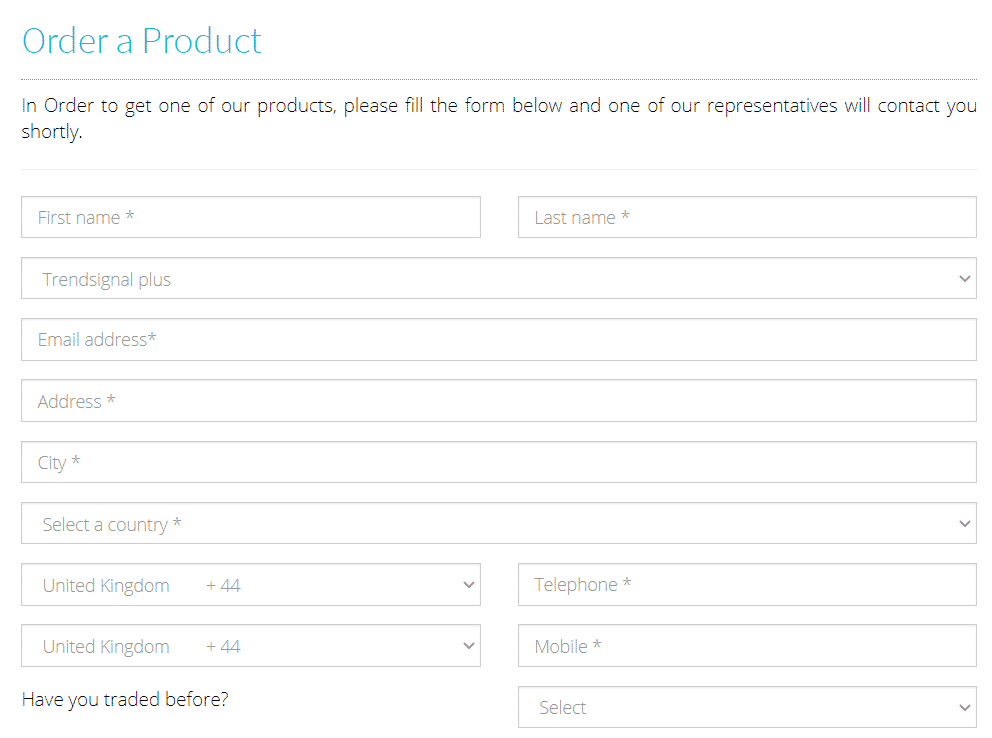 The developers force us to register here and how and provide all our private information. We don't know why they need it. It's hard to understand why just not to show pricing.
What else you should know about Trend Signal
The developers don't have the proper experience, and they hide their personalities. So, no links on MQL5 or Facebook were provided.
People feedback
We have some positive feedback on the site.
The developers run a page on Forex Peace Army with a 2.61 rate based on 33 reviews. There are no trading results as well.
There are so many negative testimonials written. People couldn't be profitable with the provided indicator, and the teachers are scammers.