Coinrule wants to take full charge of your crypto trading activities and fight back hedge funds using automated bots. You can create an account for free and start getting free trading templates to formulate your own strategies as well as manage your portfolio. However, for more advanced features, it is recommended that you subscribe to one of the available paid plans. Coinrule is user-friendly and doesn't require you to have trading skills to operate it.
Highlights
These are the features incorporated into the bot:
Coinrule has more than 150 templates, consisting of rules traders can use to develop strategies for trading.
New indicators are added to the platform every week so as to help you execute your trading rules more effectively.
The software supports 10+ of the most popular exchanges like Okex, HitBTC, Kraken, and more.
Verdict: a bot that features many preset strategies to help automate trades.
How to start with Coinrule
Registering with Coinrule is an easy process. All that is needed from you is to strictly follow the steps listed below:
Click on the "Get Started" icon available on the Coinrule's official page
Fill out your name, email, and password
A code will be sent to your inbox. Copy it on the platform
You will then be directed to press the button "Create account"
Now, connect the bot to your favorite exchange to begin configuring your strategies
Coinrule pricing
Coinrule features 4 different pricing plans, and they include Starter, Hobbyist, Trader, and Pro packs. The starter plan is free, while the paid packages cost between $29.99/month and $499.99/month if billed annually. The packages include demo/live rules, template strategies, connected exchanges, and a certain monthly trade volume. More advanced features such as leverage strategies, live Telegram notifications, access to the trading community, a dedicated server, etc., are available. Notably, working with some of the most expensive packages will give you access to more advanced features.
Minimum deposit to use with Coinrule
The devs don't divulge info on the minimum deposit amount you need to have in your account for the bot to place orders.
Withdrawal process
Coinrule doesn't have a withdrawal policy, given that your funds are not kept here. Money can only be withdrawn through your exchange account.
What about subscription fees and commissions?
The platform does not charge fees or commissions on trades or profits.
Coinrule review: user interface
The user interface is friendly. Anyone can easily understand the info presented and navigate through the app in an effective manner.
Customer feedback
Coinrule has received positive customer feedback so far. Clients love the library of information, the preset templates, and the customizable strategies the platform offers. However, you are warned that the company may take your money without your consent.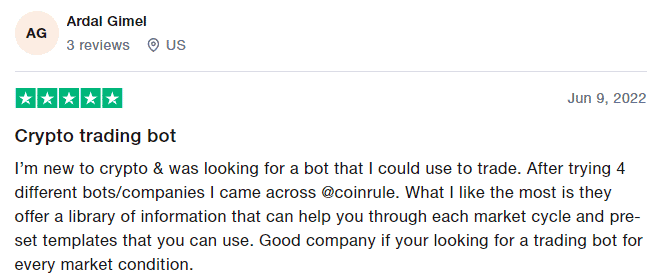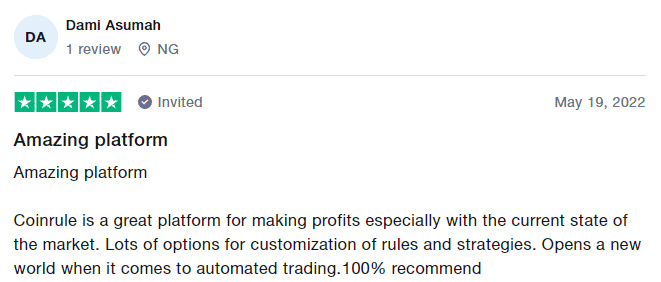 Coinrule team
The team behind this product consists of 17 professionals. Gabriel Musella is the CEO, and he has worked as a Mentor at Google and Zilliqa Accelerator. Oleg Giberstein (COO, growth) and Zdenek Hofler (CIO, architecture) are also part of the company. Coinrule is happy to inform us that they also work with great advisors with varied backgrounds.
What exchanges does Coinrule support?
Coinrule works with a variety of exchanges, including:
Binance
Bitpanda pro
Kraken
Poloniex
BitMEX
Coinbase pro
Okex
HitBTC
Bitstamp
Supported languages
The platform uses the English language only. Users not conversant with this language may thus be restricted from benefitting from the features offered.
Is Coinrule secure?
Sophisticated procedures are used to keep your account, and consequently, your funds safe. For example, Coinrule stores your API keys in an encrypted format. Data encryption is also used in transit, maximizing the security of your info and money. For additional protection, the platform supports 2FA and has a Cloudflare CDN to protect against DDoS attacks.
Is it a regulated crypto trading platform?
Activities on the platform are governed by English law.