Cosmonaut FX EA is a fully autonomous expert adviser created by Cash Maker, the company behind other notable bots such as Aurum and Machine EA. However, from their website, there is no way to tell who the developers behind Cosmonaut are. This robot promises monthly profits of up to 100% acquired completely autonomously. It is compatible with both MT4 and MT5, which are the most popular platforms for most traders.
Cosmonaut robot review
The Cosmonaut robot is compatible with both MT4 and MT5, the most popular platforms for forex traders. It is capable of concurrently trading more than 10 currency pairs. This way, it ensures excellent diversification of your asset portfolio. The vendor recommends using it on the M5 timeframe for best results. By subscribing to this EA, you will enjoy features such as:
 Concurrently trading more than 10 currency pairs.
 100% automation.
 Smart money management algorithms.
 User-friendly interface.
 Lifetime access with purchase.
Trading strategies and currency pairs
This EA works by scanning price channels to find out when a currency pair's price deviates significantly from its average value. It then selects the best conditions for trading on the M5 timeframe. Its developers claim that it can scan more than 12 charts concurrently, though their website sometimes mentions 10 currency pairs. Regardless of the number of pairs, this strategy achieves true diversification, thus serving to reduce the user's risk exposure.
This bot uses two strategies namely Mars and Jupiter. However, the vendor does not clearly outline what each of them entails. It also uses a smart money management system to keep drawdown as low as possible. Notably, it does not engage in risky strategies like the Martingale. Below are illustrations of the aforementioned two strategies, and the pairs they are best suited for.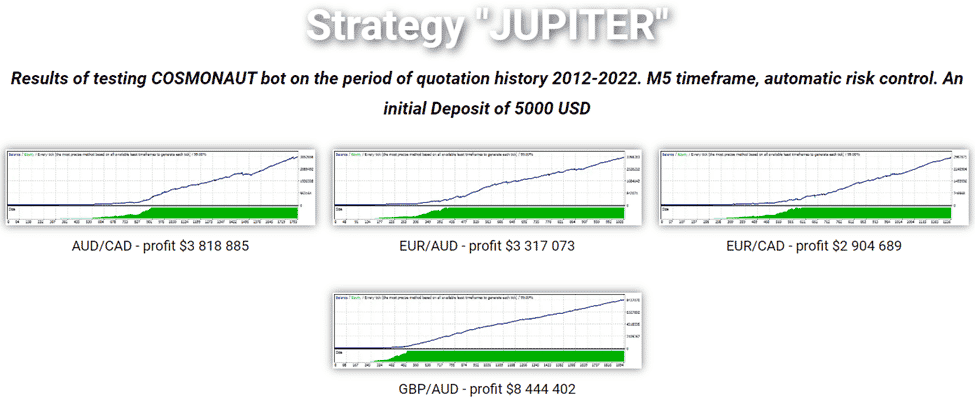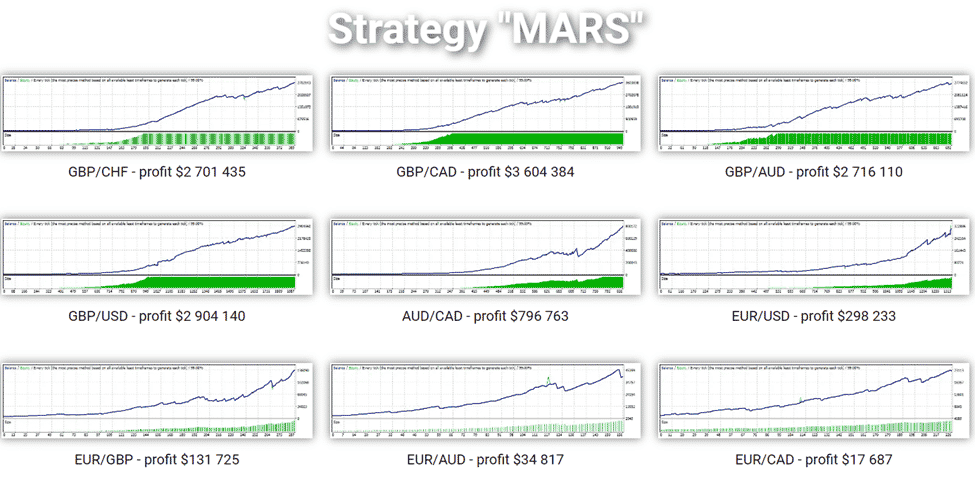 Cosmonaut EA trading statistics
The website presents numerous back test results in downloadable zip files. However, there are none posted on trusted third-party websites such as MyFxBook and Trustpilot. This raises concerns about the legitimacy of the provided data.
We analyzed one of the provided results on the EURAUD pair, following the Jupiter strategy. This back test ran from 2012 to 2022. Over this 10-year period, the modeling quality was 99%. It began with an initial deposit of $5000, which yielded a net profit of $3,818,885.05. This was a profit factor of 2.50, obtained from a total of 1791 trades. In this period, the relative drawdown was 28.41%.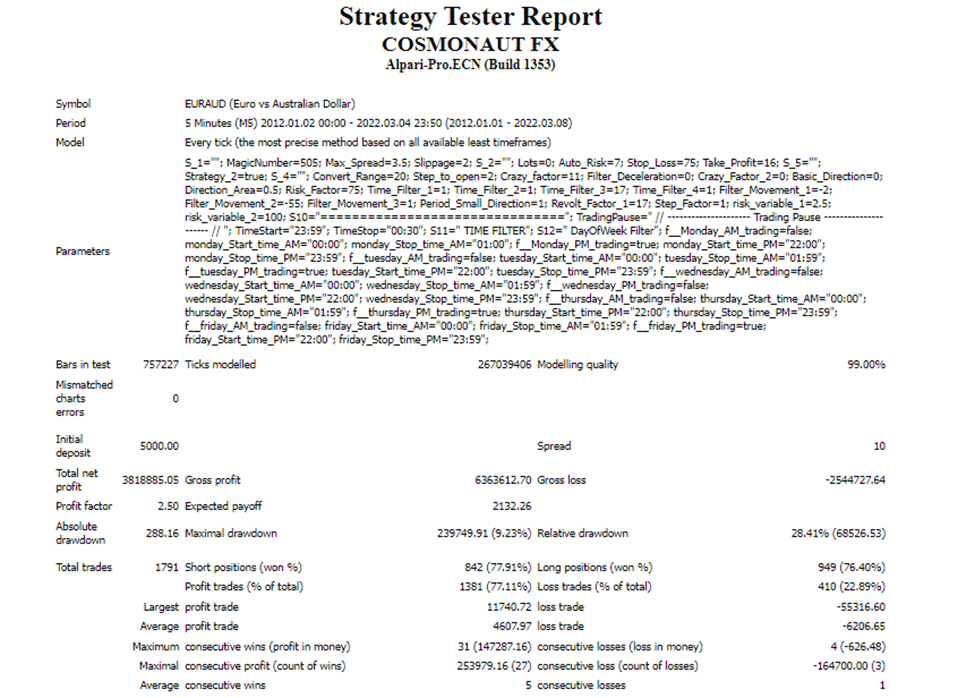 There are also a few screenshots of what appears to be live trading results on Cosmonaut's official website. Try as we did, we couldn't find any such results on authoritative third-party websites like ForexPeaceArmy and MyFxBook. This means we only have the word of the EA's developers to go by, which is very unsettling.
Analyzing one of these screenshots, we found a live test running from April 4, 2016 to January 21, 2022. This test yielded a net profit of $12,029 from an initial deposit of $500. This was a monthly gain of 4.64%, translating to a daily gain of 0.15%. Over this period, the maximum drawdown was 13.26%. This screenshot seems to be lifted from MyFxBook, but since it does not contain their logo, we cannot tell for sure.

Pricing and refund
There are two subscription packages to this bot. One is the Optimal package that goes for 299 Euro. With this, you get an unlimited number of lifetime account licenses. The other is the Economy package, which is priced at $249 Euro. This option affords you one lifetime license to the bot. Regardless of the subscription tier you choose, you get a 14-day money back guarantee. This is in accordance with European standards.
What else you should know about Cosmonaut EA
Unfortunately, we couldn't find any customer reviews on impartial third-party websites. The Cosmonaut website, however, had numerous glowing reviews of the EA, but it's possible these have been cherry picked to paint it as a great product. Here are some such reviews.

Price: 5/10.
Strategy – 5/10
Trading results – 8/10
Vendor transparency – 6/10
Customer reviews – 6/10
Support – 7/10