ETF full name: iShares MSCI Hong Kong ETF EWH
Segment: Hong Kong Stock Exchange
ETF provider: iShares
| | |
| --- | --- |
| EWH key details | |
| Issuer | iShares |
| Dividend  | $0.38 |
| Inception date | March 12, 1996 |
| Expense ratio | 0.51% |
| Management company | iShares |
| Average 3-5 EPS | N/A |
| Average Annualized Return | 24.6% |
| Investment objective | Replication |
| Investment geography | Hong Kong-listed companies |
| Benchmark | MSCI Global Environment Select Index |
| Leveraged | N/A |
| Median market capitalization | $61.88 billion |
| ESG rating | MSCI 6.9/10 |
| Number of holdings | 37 |
| Weighting methodology  | Weighted Market capitalization |
About the EWH ETF
The iShares MSCI Hong Kong ETF EWH came to be in March 1996, and it tracks MSCI Hong Kong 25/50 Index, a modified market-cap-weighted benchmark of firms listed on the Hong Kong Stock Exchange.
Its market capitalization stands at $61.88 billion, with an average annual return of 24.6%.
EWH Fact-set analytics insight
The EWH looks to provide investors with exposure to companies listed on the Hong Kong Stock Exchange. While more than 2,500 firms are listed in the Hong Kong Special Administrative Region, this fund focuses on companies with larger market capitalizations geared more towards the financial industry.
Almost all listings are in Hong Kong, which makes sense, while just over 3% of the units have headquarters in Singapore. EWH uses weighted market capitalization for its methodology.
EWH performance analysis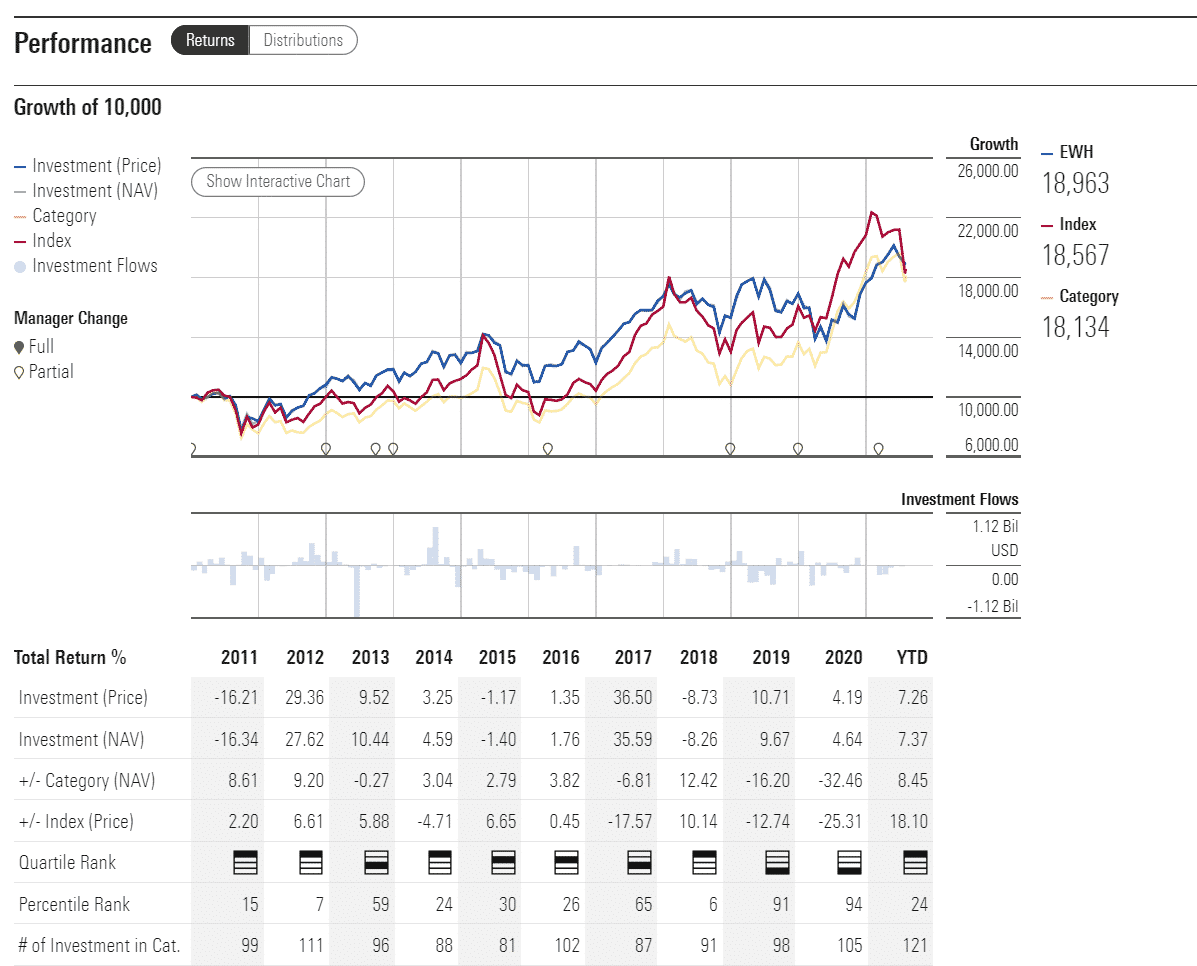 As the graph goes to show, the EWH ETF has had its ups and downs, and rightfully so. Founded more than 25 years ago, it makes for one of the oldest single-country ETFs to date. As such, it followed the fluctuations in the fund that it mimics.
The major dip seen in March 2020 was caused by the arrival of the Covid-19 pandemic, while the recent dip can be viewed as a result of the China crackdown on the companies seeking a secondary listing in the United States. It was caused by the announced tougher regulations for domestic filings as well.
The EWH ETF pays dividends every quarter. In the last trimester, the dividend came in at $0.38 on the share at an expense ratio of 0.51%.
On the MSCI ESG scale, EWH ETF has a 6.9/10 A rating. The fund was declared to be of somewhat lower-than-average resilience in terms of environmental, governmental, and social changes.
EWH ETF RATING

Resource
ETF DATABASE
ETF.com
MarketWatch
Morningstar.com
Money.usnews.com
EWH Rating
A
A
Quintile 1
***
N/A
EWH ESG Rating 
6.9/10
A
13th percentile
N/A
N/A
EWH key holdings
The EWH fund looks to give investors a chance to invest in middle-size and large companies in Hong Kong. The two main holdings that it focuses on are AIA Group Limited and Hong Kong Exchanges &Clearing Ltd.
The first one is a US-founded largest public listed life insurance and securities group in Asia-Pacific. The latter one doesn't need many introductions, as it was the largest exchange in terms of market capitalization in 2020. If you are looking for a fund that exposes you to Hong Kong equities, there is little need to look further from EWH.
Here are the top 10 holdings making up the EWH ETF.
| | | |
| --- | --- | --- |
| Ticker | Holding name | % of assets |
| 1299 | AIA Group Limited | 20.47% |
| 388 | Hong Kong Exchanges & Clearing Ltd. | 14.26% |
| 669 | Techtronic Industries Co., Ltd. | 4.81% |
| 16 | Sun Hung Kai Properties Limited | 4.12% |
| 1 | CK Hutchison Holdings Ltd. | 3.97% |
| 823 | Link Real Estate Investment Trust | 3.96% |
| 3 | Hong Kong & China Gas Co. Ltd. | 3.62% |
| 2 | CLP Holdings Ltd. | 3.36% |
| 11 | Hang Seng Bank Ltd. | 3% |
| 1113 | CK Asset Holdings Ltd. | 2.98% |
Industry outlook
Unlike some other funds that depend mainly on the pandemic, the EWH relies more on the ties between Hong Kong and China, Hong Kong and the United States, and Beijing and Washington.
The latest crackdown showed just how potent political turmoil could be when it comes to movements of stocks. Some estimate that the tumult between countries and the regulatory clampdown resulted in $1.2 trillion worth of damages. After the problem got resolved, the stocks bounced back. That's why it's essential to have an ear out for the US and Beijing's important news.