FXCONSTANT is a fully automated Forex expert advisor that deals in the EUR/USD currency pair. It is compatible with MetaTrader 4 and MetaTrader 5 platforms. FXCONSTANT has verified live trading results and backtesting results of over 9 years.
The vendor claims the software executes orders quickly and safeguards your funds against severe losses, thus providing steady profits. Plus, as per the developer, you can use this software with other systems, which keeps its drawdown very low.
FXCONSTANT EA Review

On the official website of FXCONSTANT, you can see the live trading results at the top and after that, a brief explanation of the system's functionality is provided. Then, there is the backtesting data for normal and aggressive modes and the system's price.
At the end, there is a contact form, wherein you can provide your name, email address, and a message for the customer support team. Apart from this, there is no information about the developer of FXCONSTANT and its physical address.
When it comes to the trading strategy, there is very little info about it. The vendor just claims to use 20 independent patterns. This is a major drawback for Forex traders who want a detailed explanation of the trading strategy.
Trading Strategies and Currency Pairs
FXCONSTANT employs advanced principles for evaluating the market so as to find profitable trading conditions. The developer claims that the EA does not utilize any indicators. Rather, it uses an advanced algorithm to scrutinize the price movement patterns.
It deals in the EUR/USD currency pair at any time frame. The normal backtest report of FXCONSTANT uses EUR/USD pair with an H1 timeframe. This backtest was started in January 2012 and finished in March 2021 with a modeling quality of 90.00% and two pip spreads.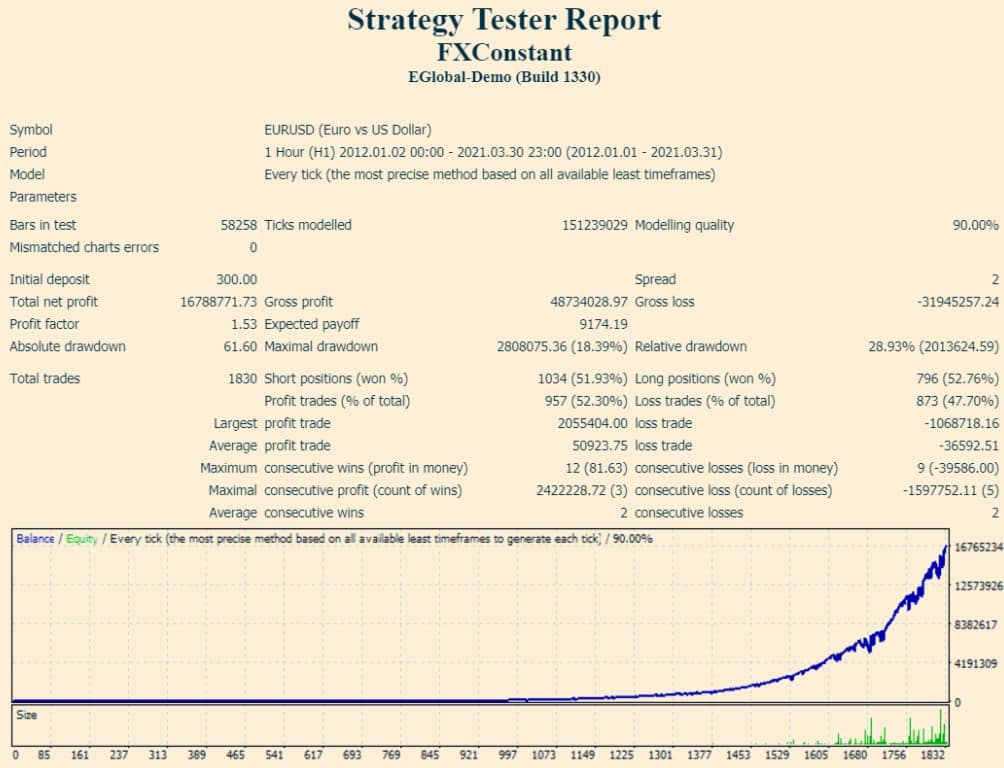 The initial deposit was $300 and the total net profit was $16,788,771.73 with 1.53 as the profit factor. There were 1830 trades carried out in total, out of which 957 were won with a win rate of 52.30%. The win rate for short positions was 51.93% and the win rate for long positions was 52.76%. This is not as impressive as other EAs out there.
The maximum drawdown was $2,808,075.36 or 18.39% and the relative drawdown was 28.93%, which is quite high. This means there is a high risk of losses when using this software.
FXCONSTANT Trading Statistics

FXCONSTANT has an automated Real (USD) account on FXOpen. It uses technical indicator data and works on the MetaTrader 4 platform at a leverage of 1:500. The track record and trading privileges of the account are verified. This account was made in July 2019 with an initial deposit of $1000.

It has 367.26% as absolute gain, 6.97% as average monthly gain, and 17.76% as the maximum drawdown. A total of only 159 trades have been carried out, which is quite low, with 583.3 pips. The average win is 44.74 pips and the average loss is -43.51 pips.
Furthermore, the win rate for longs is 56% and the win rate for shorts is 51%. The profit factor is 1.54 with an average trade length of 24 hours. The trading history reveals that the lot sizes are high from 0.10 to 0.79.
Pricing and Refund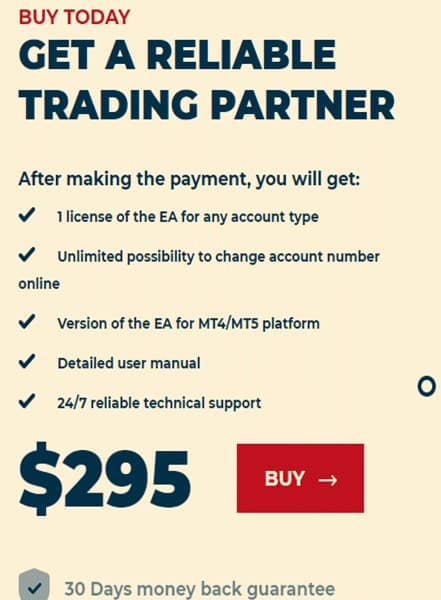 FXCONSTANT is offered at $295, which comes with one license for both MT4 and MT5 account types. Plus, you receive a detailed user manual and 24/7 reliable technical support. You can also change the account number online whenever you want with no limits. This is a high price as compared to other Forex robots. There is also a money refund policy of 30 days, which means if you are not satisfied with the outcome, then you can get your money back.
What Else You Should Know about FXCONSTANT

There is no customer feedback of FXCONSTANT on its official website and third-party websites like Forexpeacearmy and Trustpilot. The robot is given a rating of 8.5 out of 10 on Forex Store. It seems like not many people have used this system due to its short trading history, but it still should have some customer testimonials for two years of its trading. Moreover, the EA did not trade in April 2021, which is quite suspicious.
FXCONSTANT Conclusion
Price – 4/10
Strategy – 3/10
Trading Results – 6/10
Vendor Transparency – 5/10
Customer Reviews – 3/10
Support – 4/10