To many, the terms blockchain and Bitcoin are interchangeable. It might be due to the most popular blockchain-powered cryptocurrency on the globe being BTC, and its recent bullish run to a record high did not help this case. The truth is that cryptocurrencies are just a blip in the enormous technology known as the blockchain.
What are blockchain exchange-traded funds? 
Before getting into the composition of blockchain ETFs, we first need to answer, what is the technology? Blockchain refers to chunks of data stored centrally and then interlinked with other secured data chunks to form a decentralized but highly secure digital information depository. Therefore, blockchain technology solved the old age problem of efficient data exchange by providing an incorruptible and real-time method of recording transactions in the public domain, ensuring transparency and trust among participants.
With the adoption and investment backing of leading global blue-chip companies such as Oracle, JPMorgan, Baidu, IBM, among others, this technology is transforming lives and businesses in the financial sector, health care, supply chain, and many more.
As such, this emerging market faces the challenges of volatility and liquidity as other emerging niches. Like the industries before it, this niche has solved these challenges by pooling together companies that either operate via blockchain technology or benefit significantly from its use into funds whose objective is profitability at reduced risks.
Why invest in blockchain ETFs?
What do investors stand to gain from this world-altering technology? Investing in blockchain technology exposes investors to:
The highly dynamic emerging market of blockchain technology.
A cost-effective yet low-risk investment method in an emerging market, with some established global blue-chip organizations at the forefront.
How to invest in the blockchain market?
Being an emerging market with few blockchain ETFs to choose from, it might be a bit of a tall order finding traditional call brokerage firms offering these funds. Nevertheless, investors have the luxury of choosing online brokerage firms that provide all sorts of investment assets under one roof, and they are your best bet for finding an ideal blockchain ETF.
Once a viable broker is identified, investors decide whether to own shares of these ETFs or speculate on their price changes due to volatility via contract for differences. The rest is as easy as ABC.
| | | |
| --- | --- | --- |
| Step 1 | Step 2 | Step 2 |
| Deposit capital with the chosen broker | Screen the available blockchain ETF for desired portfolio risk and return requirements | Trade or invest in the blockchain ETF of choice |
Blockchain ETFs to hedge against cryptocurrency volatility
Invest in exchange-traded funds made up of companies utilizing blockchain technology, which powers crypto. There are very few pure-play cryptocurrency ETFs already available to investors and in the pipeline to be launched. Therefore, a backdoor is the best way to invest in the crypto space while eliminating the high risk and uncertainty associated with the market.
As we await the explosion of pure-play crypto ETFs, the blockchain ETFs below are the best bet to being part of this market and possibly making a ton of money.
№ 1. Global X FinTech ETF (FINX)
Price: $48.31
Expense ratio: 0.14%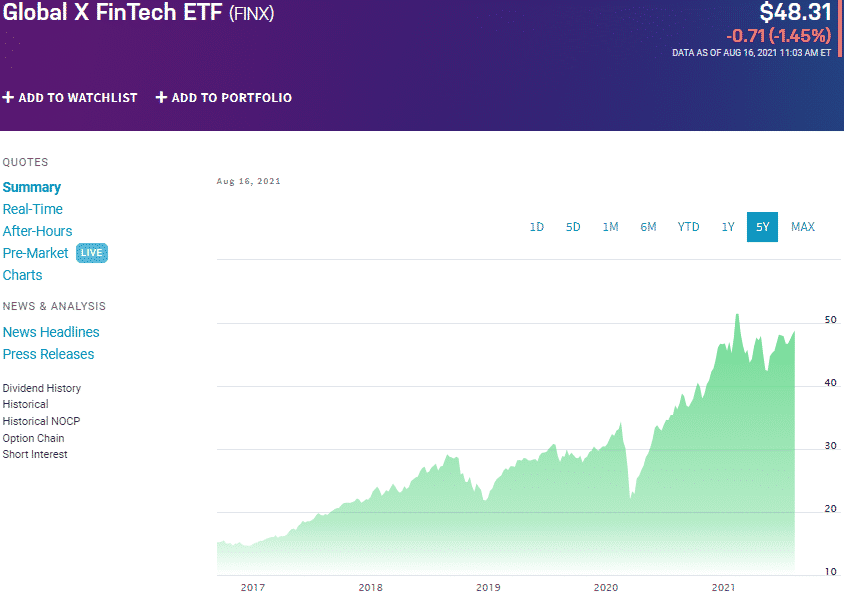 The FINX is a non-diversified fund that tracks the Indxx Global Fintech Thematic Index. Its holdings are companies involved in alternative currencies, financial services technology, P2P payments and loans, mobile payments, and financial analytics, all niches currently experiencing widespread blockchain adoption.
The top holdings for this fund are:
Square Inc.
Intuit Inc.
Fiserv Inc.
This fintech ETF has managed returns of 22.39% in the last three years, recording a whopping 43.48% return for investors in the pandemic year. It has $1.3 billion in assets under management, with an expense ratio of 0.68%.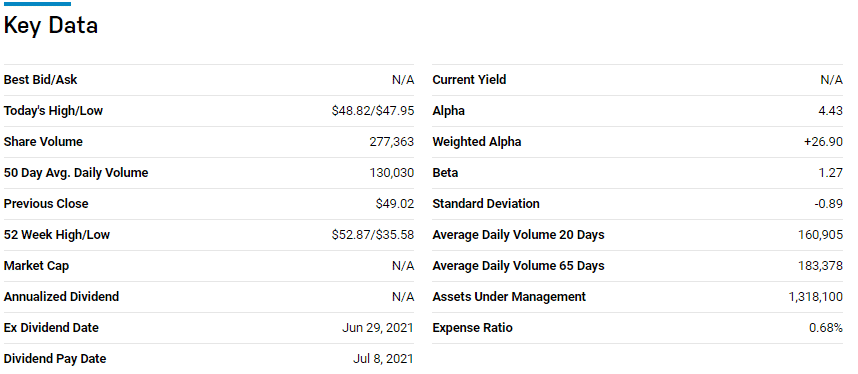 As the mainstream financial services sector follows in the footsteps of fintech's in blockchain technology adoption, this ETF has much legroom for growth.
№ 2. ARK Next Generation Internet ETF (ARKW) 
Price: $145.84
Expense ratio: 0.79%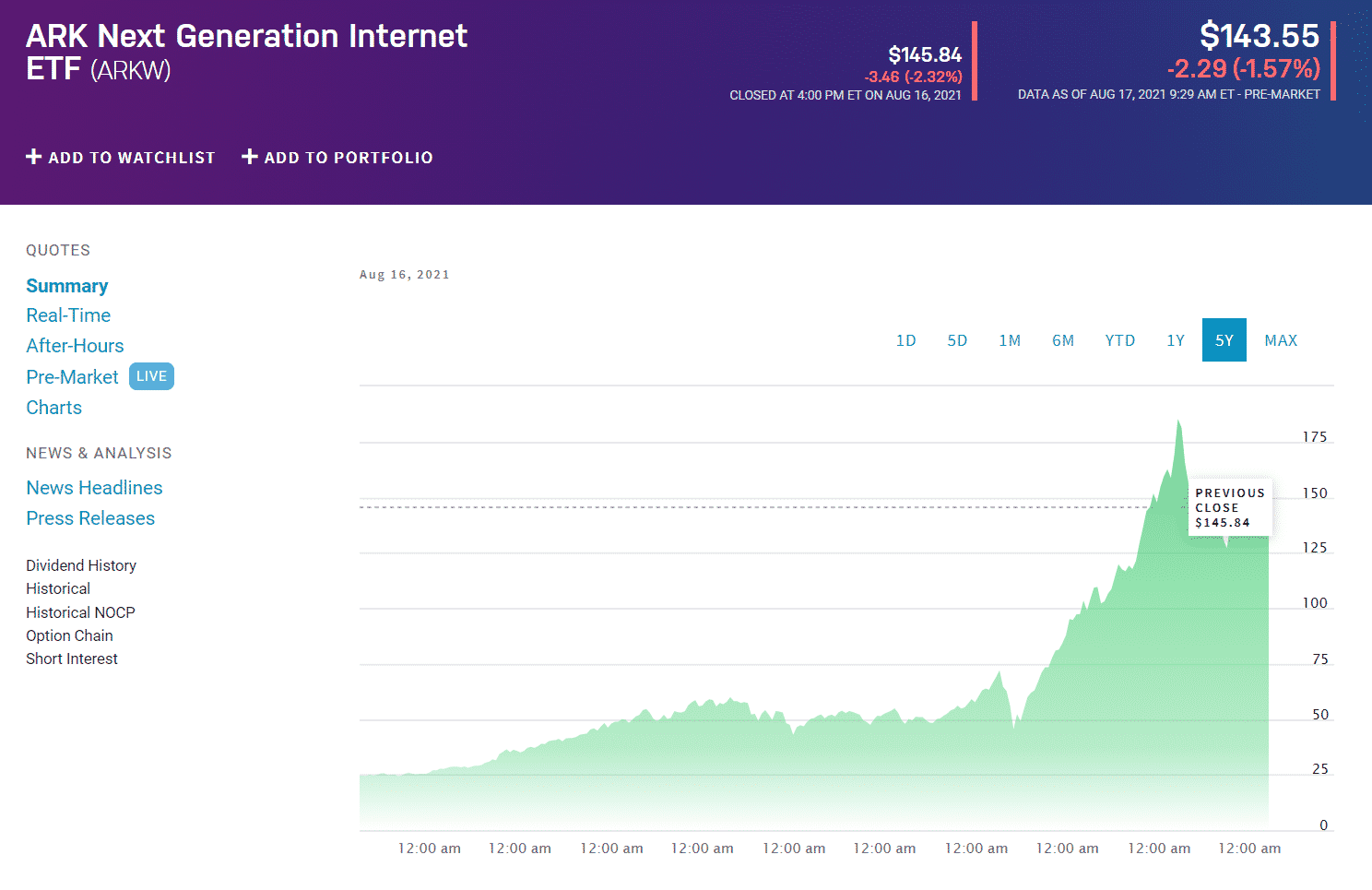 Like most ETFs from Cathy Wood, the ARK Next Generation Internet ETF is an actively managed exchange-traded fund. It is a non-diversified fund seeking capital appreciation by investing in global firms interested in the next internet-driven technology. It is therefore rebalanced and reconstituted regularly to ensure all opportunities in the online space are explored.
The top holdings for this fund are:
At present, this blockchain ETF has $5.67 billion in assets under management, with an expense ratio of 0.79%. Investors in the pandemic year enjoyed returns of 49.08%, with the declared quarterly dividends being $1.89 to the share.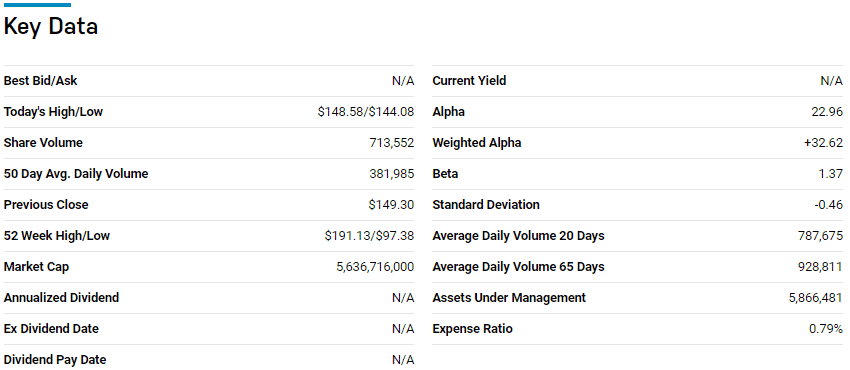 Despite the recent whiplash of Wood's ETFs, her team has a track record of beating the market, making this ETF one for serious consideration. Couple those as mentioned above with the fund's objective to invest in next-generation internet-based technology. You are sure it will be at the forefront of blockchain and cryptocurrency niches.
№ 3. Amplify Transformational Data Sharing ETF (BLOK)
Price: $47.9
Expense ratio: 0.71%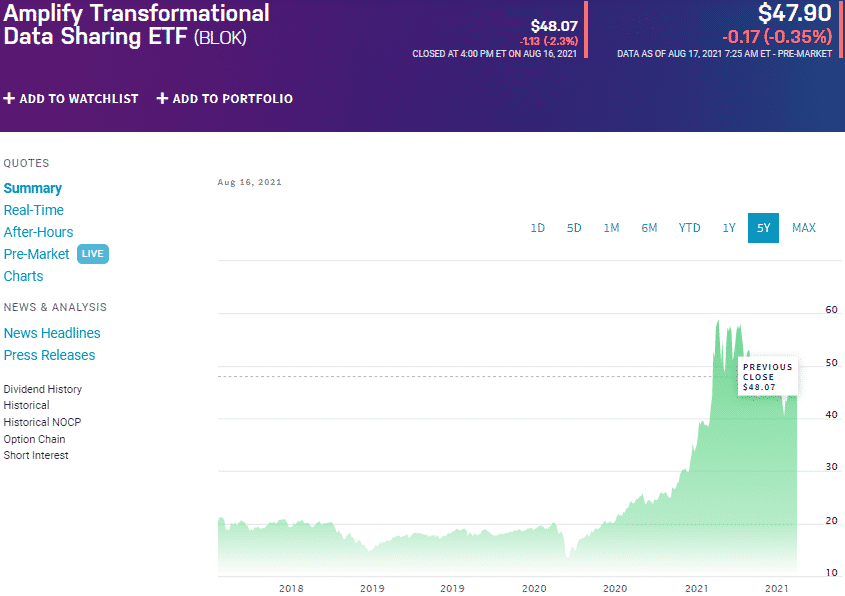 It would be quite a disservice to talk about blockchain ETFs and not mention the Amplify Transformational Data, BLOK, the pioneer blockchain ETF having launched on 16th January 2018. BLOK is an actively managed non-diversified fund comprising holdings that develop and use transformational data sharing technology by either developing and profiting from this technology or being in partnership with companies in direct utilization of the technology; a 7:3 ratio composition.
The top holdings for this fund are:
MicroStrategy Inc.
Square Inc.
Hut 8 Mining Corp.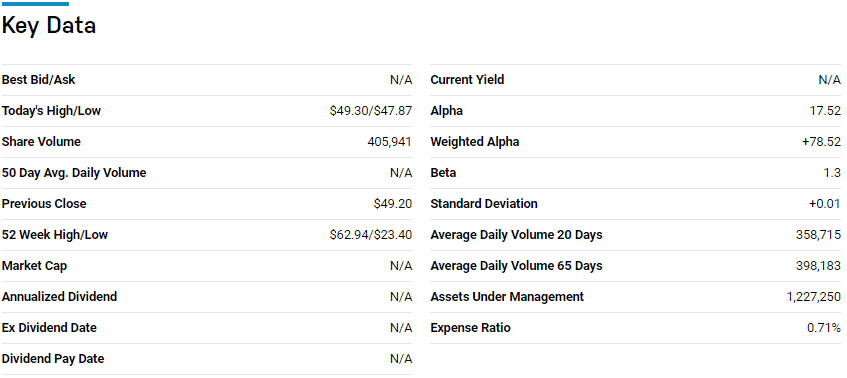 Don't fret if there are no recognizable names in this fund's top three or even ten holdings. It has proven to be the top dog blockchain ETF garnering its investors 3-year returns of 161.31%, with the pandemic year recording 112.98% returns in the last three years.
It is the largest pure-play blockchain technology ETF with $1.2 billion in assets under management. For a relatively low expense ratio of 0.71%, investors get to enjoy not only phenomenal total returns but annual dividends of $0.66 to the share. With 46 holdings but an evenly distributed weighting, this ETF can absorb the cryptocurrency market volatility while providing money-making opportunities.