The ARK Innovation ETF is Cathie Wood's tech-focused fund with a disruptive investment objective. Its recent gains eroded in the first hours of trading on Monday — a 5.2% drop in making a new six months low. This is double the loss accrued by the Nasdaq 100 index and marks a 34% dip in three months, February to May, for this ETF.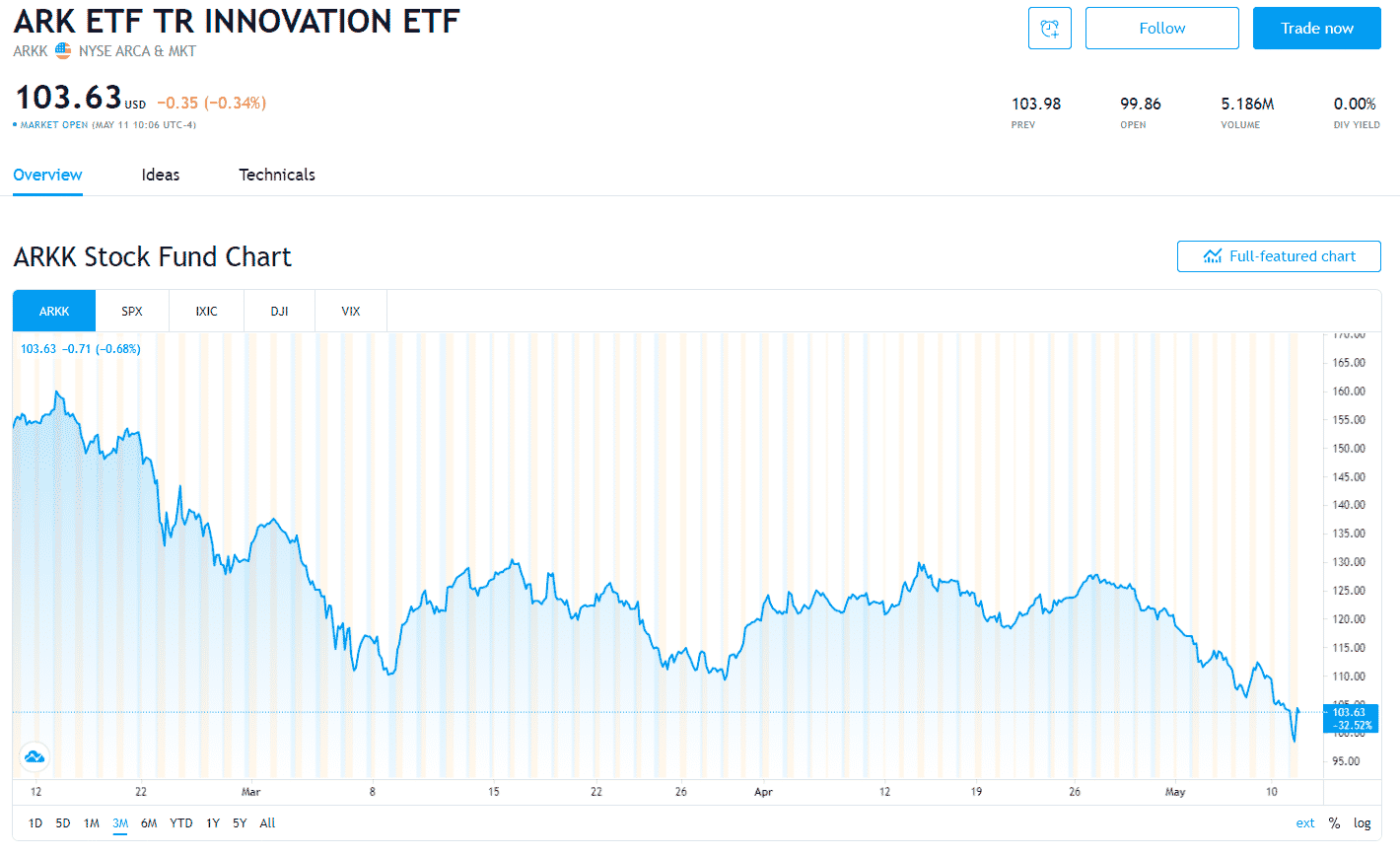 Tuesday trading promises to continue hammering this embattled ETF given that of its 63 tech holdings, 58 are bearish since markets reopened after the weekend. Moreover, the graph shows that the fund has declined for the better part of this year. Despite saying in a recent interview that the massive tech selloff is only setting the ARK Innovation ETF up for a gigantic bullish rally, Cathie, in the meantime, has been doubling down on her core bets-bought Twitter only three out of the five trading days last week.
What happened?
It might not be time for investors to panic, but this flagship Cathie Wood's ETF has tongues wagging. ARKK had a great bullish rally in 2020, resulting in 150% gains. Its recent high topped this rally in February at $ 159.7. However, in just seven weeks, the fund has fallen from this high to $103.98, a 34.89% drop. 
Data shows that the Monday drop was a result of the ARKK top holdings taking a beating. To start the downward spiral was its top holding, Tesla Inc., which dropped 6.4%. Fortunately, Tesla did not match the Twist Bioscience plunge of +17%. Next on the decline list, we have NanoString Technologies Inc. that had a 12% dip, Square at — 7.3%, DraftKings at — 6.4%, Teladoc Health at — 6.6%, Zillow at — 5.1%, and Roku at — 4.9%.
The only sunshine to an otherwise dark trading day for ARK Investment Management and Cathie was an additional 33,300 Coinbase shares, based on Bloomberg Calculations, and their subsequent 11.3% gain. Coinbase Global accounts for 3% of the total ARKK weight and the best day of trading since its listing in mid-April, helped mitigate against the downward spiral of the other holdings. The fund's asset manager also managed to sell off 30.4% of its holdings in Apple Inc.
What to expect?
Despite all of Wood's ETFs being in the red for this year, she maintains that her strategies will result in a 25% to 30% annualized return for the year. Investors closely monitor the ARK Innovation ETF, especially now that it has broken its 200-day moving average, a key technical indicator watched by most investors and traders. 
A climb back over the 200-day moving average would have investors breathing more efficiently since the next support is at $89.39 if prices continue moving downwards. It not only needs to climb back above this technical indicator but a significant follow-through to discourage investors from short-selling. All the top holdings also need to recover from their recent bearish rallies. 
Close monitoring of the Nasdaq 100 should inform on the direction of the ARK Innovation ETF.