Despite the inherent volatility of cryptos, 2021 was a phenomenal year that saw the crypto space grow exponentially and overtake silver's market capitalization to close the gap on the most widely traded precious metal, gold.
With more institutions adopting cryptocurrencies and several governments exploring the adoption of the existing crypto coins and their form of digital currency, the market capitalization of $3 trillion achieved in 2021 might just be a launchpad for this infant industry.
Nevertheless, volatility is expected to continue being a thorn for crypto investors, necessitating the need for nuanced investing as a mitigation strategy and long-term gains. One wise way to invest in the crypto space is indirect, through crypto mining exchange-traded funds.
What are crypto mining exchange-traded funds? 
To understand the composition of crypto mining ETFs we need first to understand what crypto mining is. Cryptos are not a figment of imagination but a digital asset with an origin. Crypto mining is a process through which blockchain transactions are validated, and the token received for this validation is a crypto coin. Crypto mining ETFs comprise organizations involved in crypto mining, crypto foundries, public mining rig manufacturers, and equities that derive significant revenues from providing ancillary services to the organizations above.
Crypto mining ETFs to help you invest wisely in cryptos 
In the universe, the only constant is evolution and change. This is the same for industries, and the cryptocurrency niche is no different. Right now, the most significant challenge that crypto miners face is the fixed costs associated with crypto mining, whether crypto sales are high or low. However, as technology is evolving very fast, computational power is expected to grow exponentially, resulting in a doubling of hash rate and mining speed per second, reducing the crypto mining power needs, resulting in this niche's conformity to ESG standards.
These three ETFs give investors exposure to this evolution of the crypto mining niche and diversified exposure to the cryptocurrency market.
№ 1. Amplify Transformational Data Sharing ETF (BLOK)
Price: $27.34
Expense ratio: 0.71%
Dividend yield: 1.09%
Any list that talks about blockchain technology or cryptocurrencies and does not include the Amplify Transformational Data ETF is a disservice to this fund. Launched at the height of the crypto craze on 16th January 2018, BLOK ETF is an actively managed fund that seeks capital appreciation by investing in equities that develop and utilize blockchain technology, including crypto miners.
The top holdings for this fund are:
Silvergate Capital Corp. Class A – 4.97%
CME Group Inc. Class A – 4.81%
SBI Holdings, Inc. – 4.66%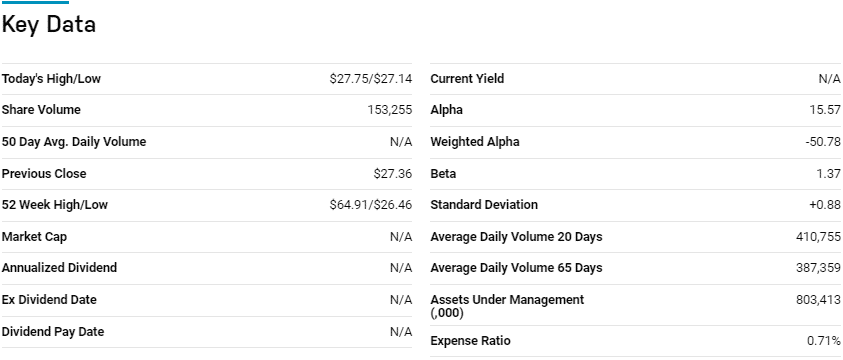 The BLOK ETF has $833.9 million in assets under management, with an expense ratio of 0.71%. Being a pioneer ETF in the cryptocurrency space, this ETF has enjoyed some stellar performance. In addition, concentrating on the firms that develop and utilize blockchain rather than the crypto itself mitigates the inherent volatility of the former.
It also means that this fund has both established funds, such as Microsoft, and pureplay crypto mining equities providing both value and growth attributes, 3-year returns of 81.84%, and a dividend yield of 1.09%. Given the previous prices, the current price presents an opportunity to buy the deep and ride the next crypto bullish run.
№ 2. Viridi Cleaner Energy Crypto-Mining and Semiconductor ETF (RIGZ)
Price: $16.24
Expense ratio: 0.90%
Dividend yield: N/A
One of the most significant disadvantages of crypto mining is the massive need for power and the subsequent detriment to the environment. The Viridi Cleaner Energy Crypto-Mining and Semiconductor fund brings green technology to the crypto space with an increased appetite for sustainable technologies and conscious investing.
This fund is actively managed and exposes investors to global equities operating in the crypto mining and semi-conductor niches committed to green energy use in their activities.
The top three holdings for this fund are:
Bitfarms Ltd. – 10.94%
Core Scientific, Inc. – 10.19%
Argo Blockchain Plc –7.56%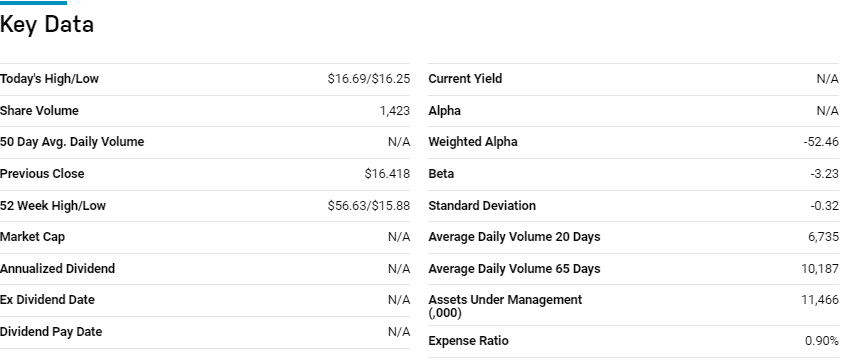 The RIGZ ETF has $11.1 million in assets under management, with an expense ratio of 0.90%. It uses a multi-indicator selection methodology for its holdings to ensure it stays true to its green technology theme. In addition, holdings go through financial screening, management team screening, and hardware quality screening to ensure they are the following disruptive equities in the semi-conductor and crypto mining space.
The result is a fund that provides diversified exposure to crypto mining and cryptocurrencies and the semi-conductor niche by including computer chip producers and computer hardware manufacturers as part of its holdings' portfolio. Since its launch in mid-2021, this ETF is yet to post positive returns, but it offers early investment into a corner of the investment market, gaining quite the traction in conscious investing.
№ 3. Global X Blockchain ETF (BKCH)
Price: $11.86
Expense ratio: 0.50%
Dividend yield: N/A
Our third list features yet another ETF that debuted in 2021. The Global X Blockchain is an actively managed fund that seeks capital appreciation by investing in equities operating within the entire blockchain and cryptocurrency value chain; Digital Asset Mining, Blockchain & Digital Asset Integration, Blockchain Applications, Blockchain & Digital Asset Hardware, and Blockchain & Digital Asset Transactions.
The top three holdings of this blockchain fund are:
Coinbase Global, Inc. Class A – 11.24%
Riot Blockchain Inc – 10.19%
Marathon Digital Holdings Inc – 8.93%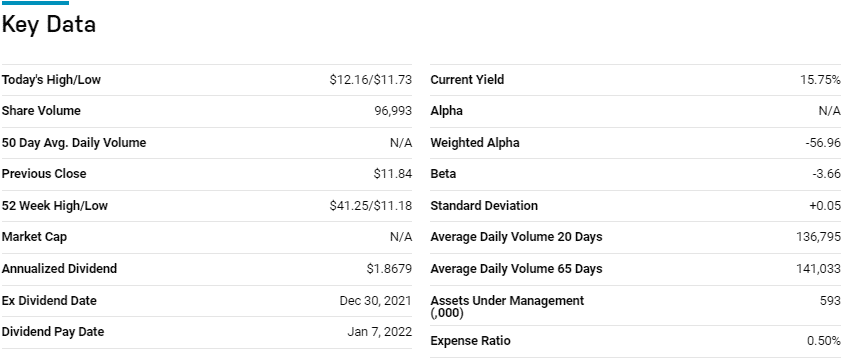 The BKCH ETF has $85.7 million in assets under management, with an expense ratio of 0.50%, making it the cheapest option. Despite having a narrow holding base of 40 equities, diversification across the entire blockchain and crypto value chain means mitigation against the volatile crypto coin market.
As more and more organizations adopt blockchain technology for its efficiency and crypto coins gain global acceptance, this ETF has the potential to be the go-to investment asset for these niches.
Final thoughts
Analysts forecast that crypto revenues in 2022, despite a slow start, will reach the $20 billion mark by December. This means a lot of volatility between now and the end of the year. However, you can bet that crypto mining will be working in overdrive to accommodate the accelerated adoption of crypto coins globally, providing an indirect play on the cryptocurrency space.
As the number of crypto-assets grows, the three crypto mining ETFs offer a wise investment avenue into this space and a chance at phenomenal returns.