Cairo is a Forex robot that claims to be based on a dynamic and fast algorithm. According to the vendor, this EA has won more than 99% of the trades placed during a backtest. To us, this claim seems to be unrealistic, and such a high win rate indicates data manipulation.
This robot is sold on the MQL5 website by Ruben Octavio Gonzalez Aviles, a trader based in Switzerland. We don't have any other information on this person, so we don't know whether they have the required expertise to build a reliable automated trading system. Apart from Cairo, this person has developed systems like Paris, Kyoto, Tokyo, and Miami Static.
Cairo EA Review 
This is an EA that opens several trades on a weekly basis. These trades are generally closed on the same day, which means that Cairo follows a short-term approach. It does not use dangerous strategies like averaging, grid trading, smart recovery, or martingale.
All of the trades are fitted with stop loss and take profit. You can modify these values if you want, but the vendor recommends using the default values for optimum performance. Only trade is executed by the system at a time.
The dynamic lot feature lets the EA calculate the lot size based on how much money you have in your account. You have the option of modifying input parameters like maximum spread, maximum lot, take profit, and stop loss. It is also possible to set the level and period of the Commodity Channel Index as you see fit.
If you wish to trade with a fixed lot, you can set the Max Lot equal to Dynamic Lot. The vendor recommends using this EA with the Vantage Fx broker. They also maintain a Telegram group where you can know more about the system and interact with other traders.
Trading Strategies and Currency Pairs
While the default EA settings are suitable for trading in the EUR/USD pair, you can also use them for other pairs. There are no restrictions when it comes to the trading timeframe. Now, we know the robot uses the Commodity Channel Index as a part of its trading scheme, but the vendor has not clearly explained how the strategy works.
It is not uncommon for experienced Forex traders to judge a system based on the trading strategy it uses. In the absence of strategy insight, many of them would think twice before investing in this robot.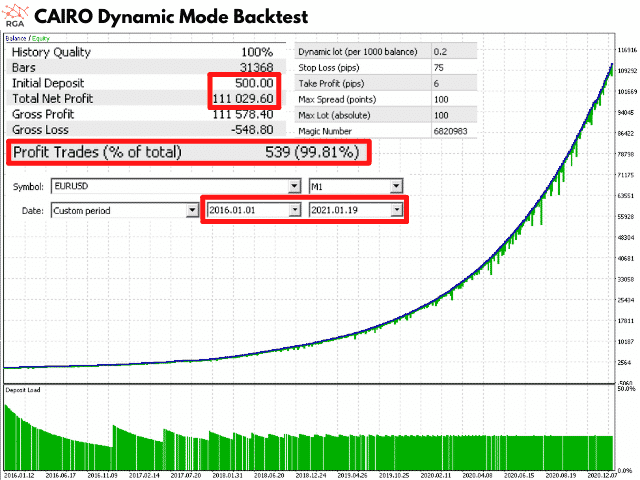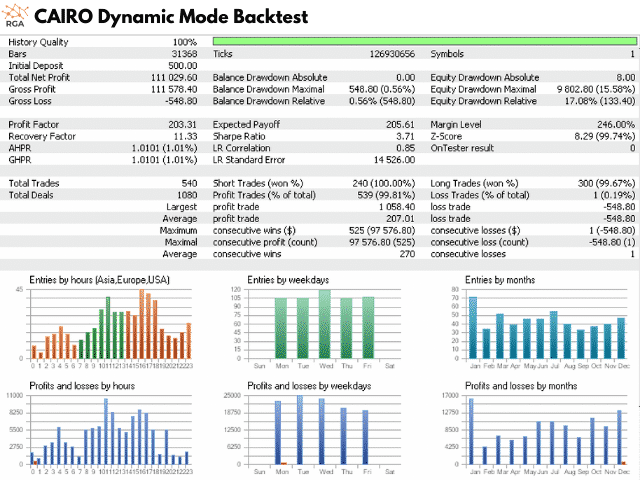 Here, you can see the screenshots for the backtest conducted with 100% history quality. In this test, an initial deposit of $500 was used to generate a total net profit of $111,029.60. The robot placed a total of 540 trades, winning 539 out of them. This represents profitability of 99.81%.
These results do not look genuine to us, and it is possible that the vendor has manipulated the results. It is not possible for a Forex EA to have such a high win rate, even if it's a backtest we are talking about.
Cairo Trading Statistics
On the MQL5 page of the EA, the vendor has provided a link where the live performance is supposedly published. However, we can see that they have deleted these results on the MQL5 website, which is quite odd. This tells us that either the vendor is not confident enough in their system, or they wish to hide the dismal trading performance.
In the absence of live trading results, we have no way to gauge the profitability of the EA. This vendor clearly does not wish to reveal the true performance of their system, so we have no reason to consider it reliable.
Pricing and Refund
Cairo has a hefty price tag of $399. This is unreasonably expensive, considering the EA was launched on 19th January 2021. You can rent the system at $249 for 1 month. The vendor does not offer a money-back guarantee for this product.
What Else You Should Know About Cairo

There are no user reviews for Cairo on trusted third-party websites. There are a few on the MQL5 website, where the customers have complained about the results being unsatisfactory. It seems that the robot does not have much of a reputation in the industry.
Price – 2/10
Strategy – 3/10
Trading Results – 2/10
Vendor Transparency – 3/10
Customer Reviews – 2/10
Support – 3/10