BlackBoxStocks is a financial technology company that provides an innovative stock market analytical platform for both novice and experienced traders. This platform provides real-time information, analysis, and alerts which are designed to help users make informed decisions in the fast-paced world of stock trading. Whether you're a day trader looking for quick turnarounds or an investor seeking long-term gains, BlackBoxStocks offers tools and insights that can cater to your trading strategy.
Key Features of BlackBoxStocks
BlackBoxStocks is a financial technology company that offers investors real-time stock market insights and analysis. Here are some key features of BlackBoxStocks:
Insightful Options Positioning: BlackBoxStocks provides valuable insight into bullish and bearish options positioning. This feature helps investors make informed decisions regarding their options trades.

Earnings Release Metrics and Expectations: The platform offers key metrics and expectations for earnings releases. This feature enables users to stay updated on important financial announcements and make trading decisions accordingly.

End-of-Day Overviews and Metrics: Users can access comprehensive end-of-day overviews and metrics, allowing them to analyze the market's performance and identify potential trading opportunities.

Advanced Charting Tools: BlackBoxStocks offers advanced charting tools that help users visualize and analyze stock price movements. These tools enable users to spot trends and patterns in the market.

Options Flow Scanner: The platform includes an intelligent option scanner that uses advanced logic to identify stocks with significant options activity. This feature helps users identify potential trading opportunities in the options market.

Dark Pool Scanner: BlackBoxStocks provides a dark pool scanner, which allows users to monitor trading activity that occurs outside of public exchanges. This feature provides insights into institutional trading and can be useful for identifying market trends.

News Feed: Users can access a news feed within the platform, keeping them updated on the latest market news, company updates, and economic events. This feature helps users stay informed and make informed trading decisions.

Watchlists: BlackBoxStocks allows users to create and customize watchlists to monitor specific stocks or sectors. This feature helps users stay organized and track the performance of their preferred assets.

Members Chatroom: The platform offers a members' chatroom where users can interact with fellow traders, share insights, and discuss market trends. This feature facilitates collaboration and knowledge-sharing among the BlackBoxStocks community.

Educational Resources: BlackBoxStocks provides educational webinars and resources to help users improve their trading skills and knowledge. This feature is beneficial for both beginner and experienced traders.
It's important to note that the information provided is based on the sources mentioned, and users are encouraged to visit the official BlackBoxStocks website for the most up-to-date and accurate information.
Pricing and Subscription Options
BlackBoxStocks offers both monthly and annual subscription options to cater to the varied needs of users. The monthly subscription is priced at $99.97, providing users with full access to all features and tools. For those looking for a long-term commitment, the annual subscription is available at $959.40, offering a significant discount compared to the monthly option. It's crucial to note that these prices are subject to change, and users should refer to the official BlackBoxStocks website for the most accurate and current pricing details. Additionally, BlackBoxStocks offers a 7-day free trial, allowing potential users to explore the platform and its features before committing to a subscription.
User Experience
BlackBoxStocks is lauded for its user-friendly interface and intuitive design, making it accessible for both novice and seasoned traders. The dashboard displays real-time data and trends in a visually appealing and easy-to-understand manner. Users appreciate the options flow scanner and dark pool scanner, citing these tools as invaluable for their trading strategies. The news feed, watchlists, and end-of-day overviews are praised for their functionality and timeliness. The members' chatroom is highlighted as a beneficial feature, fostering a collaborative environment where users can share insights and discuss market trends. However, some users have expressed a desire for a more detailed tutorial or walkthrough upon first using the platform. Overall, the consensus among users is that BlackBoxStocks successfully combines an array of powerful features within a simple and easy-to-navigate platform.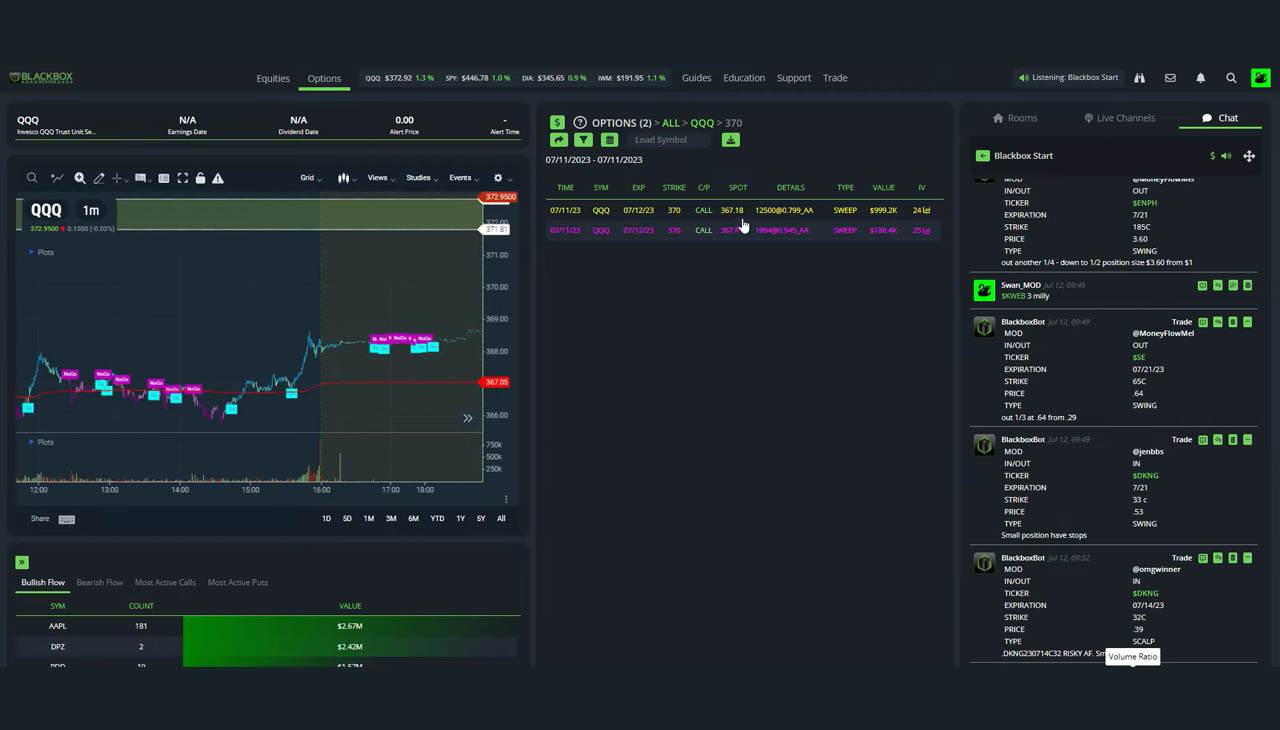 Customer Support
BlackBoxStocks provides robust customer support to its users. The support team can be reached through email, and they are known for their prompt and helpful responses to queries. In addition to direct interaction with the support team, BlackBoxStocks also offers a comprehensive FAQ section on its website which addresses common questions and concerns. The platform's commitment to customer service and user support is evident in the positive feedback received from users, affirming the company's responsiveness and eagerness to assist. However, it's important to note that currently, live chat or phone support options are not available.
Review
Accessibility: 10

User Experience: 7

Feature Availability: 9

Pricing: 7

Customer Support: 9