Sirius EA is a Forex expert advisor launched by the Celestial Trading Tools team. According to the seller, this system has decent upside potential and is backed by verified statistics. The vendor also claims that this robot can deliver an ROI of 36.29%.
Celestial Trading Tools is a company based in the UK. We don't know anything about its background and history, and the vendor has not shared the identities of any of the team members. Apart from Sirius EA, this company has developed another system known as Dynamic EA.
This is a 100% automated system that trades 24 hours a day, 5 days a week. It has an in-built money management system that modifies the size of the trading lots according to your account balance and the market conditions. Using this EA, you can trade in multiple currency pairs simultaneously.
The company provides dedicated customer support for all traders. Each trade is accompanied by an auto stop loss, take profit, and trailing stop. As per vendor claims, you don't need any prior experience to trade with this robot, but we know this can't be entirely true because it is essential to have some market knowledge even while using an automated system.
To get started with this system, you need a minimum deposit of £2000. The vendor recommends using a lot size of 0.01 for every £2000 and leverage of 1:500.
Trading Strategies and Currency Pairs 
We don't have any explanation for the strategy used by Sirius EA. On the official website, the vendor has not mentioned the indicators used by this system, so we have no idea how it identifies profitable opportunities. Seasoned Forex traders look for some strategy insight since it helps them gauge the profitability of EA, to a certain extent.
For expert advisors, backtests are an important factor. These tests are carried out over several years, thus pitting the robot against different market conditions. A robot with decent backtesting results is considered robust and reliable. Unfortunately, the vendor has not shared the historical performance of Sirius EA.
This robot mainly trades in currency pairs like AUD/JPY, AUD/USD, EUR/AUD, EUR/GBP, EUR/JPY, EUR/USD, GBP/JPY, GBP/USD, NZD/JPY, NZD/USD, USD/CAD, and USD/CHF.
Sirius EA Trading Statistics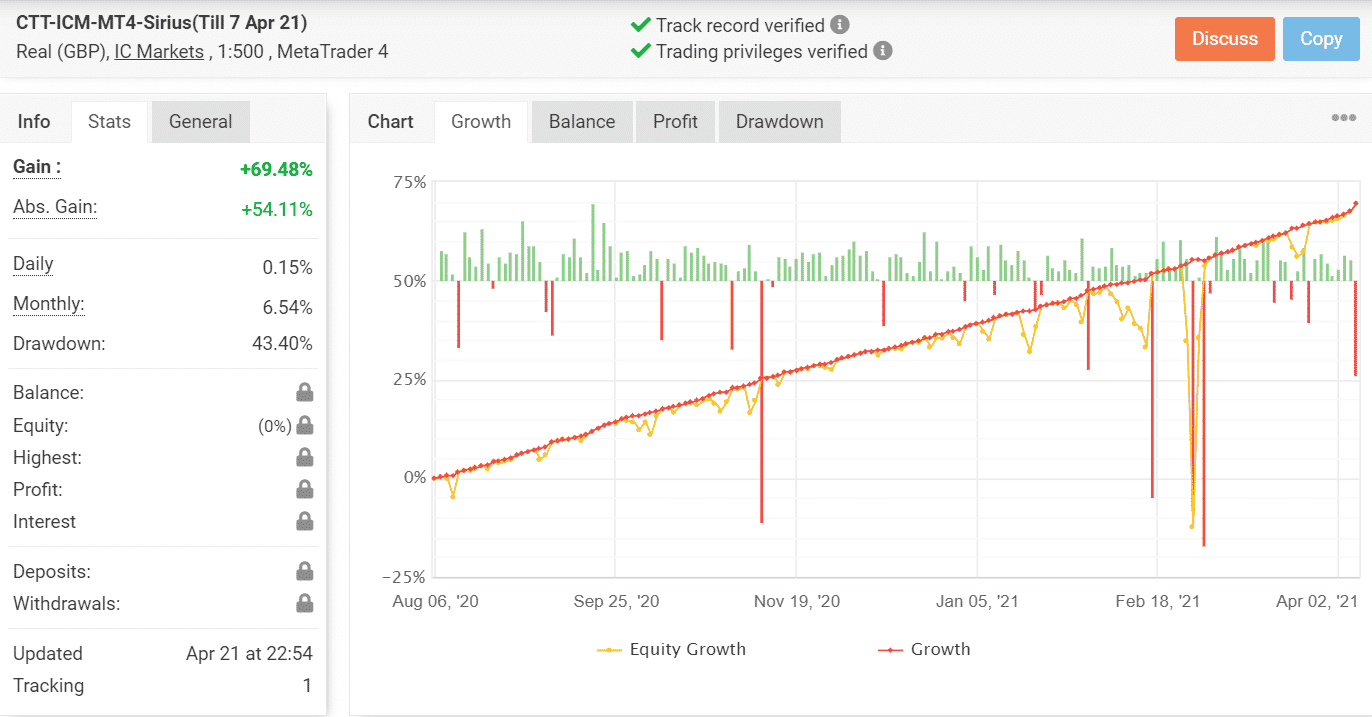 Here we have the live trading results for Sirius EA published on a real money account on Myfxbook. It should be noted that the vendor has chosen to hide some of the important parameters like balance, equity, profit, interest, deposits, and withdrawals. Moreover, the recent trading history is also kept hidden.
Sirius EA has placed a total of 2280 trades through this account, winning only 59% of them. This is a pretty low win rate compared to other EAs on the market. Currently, the daily and monthly gains for this account are 0.15% and 6.54%, respectively. The drawdown for this account is 43.40%, which tells us that the EA is using a high-risk strategy that can lead to large losses.
Pricing and Refund 
The monthly fee for using Sirius EA is £15. This will give you access to a Raw account in the GBP currency. Unfortunately, the vendor does not offer a money-back guarantee for this product. The monthly fee is comparable to the current market average.
What Else You Should Know about Sirius EA

We were unable to find any customer reviews for Sirius EA on websites like Trustpilot, Quora, Myfxbook, and Forexpeacearmy. On the official website, the vendor has shared some customer testimonials, but there is no way to determine whether these are from people who have traded with the EA. It is possible that the vendor manufactured these reviews. Thus, we can safely assume that Sirius EA does not have much of a reputation in the current Forex automated systems industry.
Sirius EA has an affiliate program through which you can earn monthly commissions for each successful referral. To join this program, you can apply through the website or book a call with the head of the program.