ETF full name: iShares Virtual Work and Life Mltsct ETF (IWFH)
Segment:  Equity: Global Remote Work
ETF provider: iShares
| | |
| --- | --- |
| IWFH key details | |
| Issuer | BlackRock |
| Dividend  | $0.05 |
| Inception date | 29 September 2020 |
| Expense ratio | 0.47% |
| Management company | BlackRock Fund Advisors |
| Average 3-5 EPS | N/A |
| Average Annualized Return | 4.12% |
| Investment objective | The iShares Virtual Work and Life Multisector ETF seek to track the investment results of an index composed of U.S. and non-U.S. companies that provide products, services, and technologies that empower individuals to work remotely. |
| Investment geography | Global |
| Benchmark | NYSE FactSet Global Virtual Work and Life Index |
| Leveraged | N/A |
| Median market capitalization | $98.30 billion |
| ESG rating | BBB (6.22 / 10) |
| Number of holdings | 75 |
| Weighting methodology  | Tiered |
About the IWFH ETF
The IWFH fund's inception was on 29 September 2020. The fund issuer is BlackRock, and it trades on the NYSE Arca under the ticker symbol IWFH. BlackRock Fund Advisors manage the fund.
The iShares Virtual Work and Life Multisector ETF seeks to track the investment results of an index composed of U.S. and non-U.S. companies that provide products, services, and technologies that empower individuals to work remotely.
IWFH Fact-set analytics insight
The IWFH fund has a total of $4.86 million assets under management. Furthermore, the fund has an expense ratio of 0.47%. The WFH ETF follows a tiered weighting methodology, and it has a median market cap of $98.30 billion.  The WFH fund has an average spread of 0.21%.
IWFH performance analysis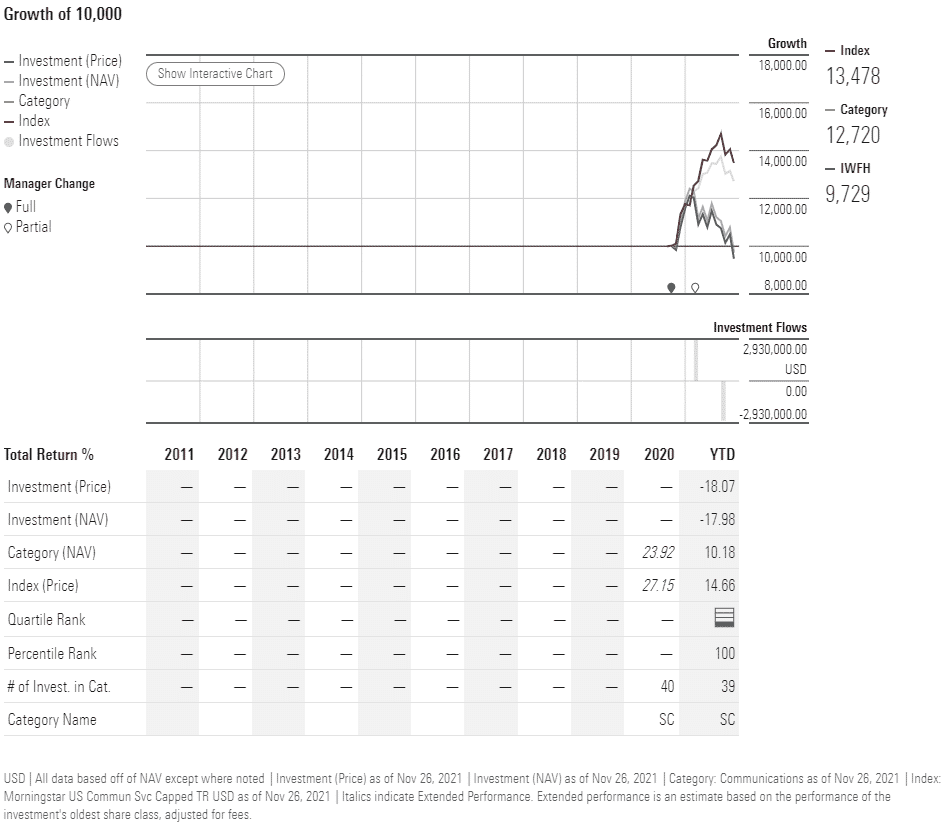 Regarding performance, the IWFH ETF generated a year-to-date return of -18.07%. However, it has an annual return of 4.12%. IWFH has a price per earnings ratio of -704.25. The fund has an annual dividend of $0.05.
IWFH ETF RATING

Resource
ETF DATABASE
ETF.com
MarketWatch
Morningstar.com
Money.usnews.com
IWFH Rating
A+
N/A
Quintile 5 (96th percentile)
N/A
N/A
IWFH ESG Rating
6.22 / 10
BBB

(6.22 / 10)

N/A
N/A
N/A
IWFH key holdings
The IWFH ETF has 75 holdings. The fund invests 65.22% of its assets in North America, 19.16% in the Asia Pacific, 12.89% in Europe, and 2.72% in the Middle East and Africa. The top ten holdings contribute 30.53% to the overall weighting.
Below is the list of the IWFH fund's top ten holding companies.
| | | |
| --- | --- | --- |
| Ticker | Holding name | % Of assets |
| NET | Cloudflare Inc Class A | 5.17% |
| TEAM | Atlassian Corp. Plc Class A | 4.02% |
| MSFT | Microsoft Corporation | 3.10% |
| NICE | NICE Ltd | 3.05% |
| NFLX | Netflix, Inc. | 3.04% |
| SE | Sea Ltd. (Singapore) Sponsored ADR Class A | 2.79% |
| DOCU | DocuSign, Inc. | 2.43% |
| SPOT | Spotify Technology SA | 2.37% |
| DHER | Delivery Hero SE | 2.29% |
| SMAR | Smartsheet, Inc. Class A | 2.28% |
Industry outlook
The iShares Virtual work and life ETF is a multisector fund. The fund's objective is to invest in industries with ties to the work-from-home sector. Its competitor Direxion Work from Home ETF, was also recently launched; however, the Direxion fund's performance is better.
The IWFH also has a higher expense ratio of 0.47%. Furthermore, the fund's annualized returns are running in the red, mainly due to the losses in the technology sector. However, analysts predict that the dip in the technology shares was due to the re-election of Jerome Powell as Fed chair and foresee stocks to increase during the holiday season.