Happy Power is a product from the Happy Forex team. It is a fully automated system capable of operating on both Metatrader 4 and 5 trading platforms. This Forex EA is backed by high-quality backtesting data and live trading results.
The Happy Forex team has been in the industry for more than 5 years. This Germany-based company is known for manufacturing Forex automated systems like Happy Neuron and Happy Breakout. We don't have any information related to the company's exact location and the identities of the team members are not revealed by the vendor.
Happy Power EA Review 
This is a Forex robot that supports ECN brokers and is capable of performing Autodetection of 4 or 5 digit quotes. It is a 100% automated system that is easy to install and is compatible with all brokers. You can use it with different operating systems like Windows 7, 8, 10, Linux, and Mac OS.
When you purchase this EA, you get a license for the first month only. After this duration, the license will be renewed automatically for free on your email. You only need to pay for the license once. 
Trading Strategies and Currency Pairs
Happy Power trades in the EUR/CHF pair on the M30 timeframe. You are recommended to start with a minimum deposit of $1000. The market analysis performed by this system is based on artificial intelligence and is used for finding suitable entry points. The EA has a market algorithm that adapts to changing conditions and has reinforced learning elements that do not require the presence of labeled input or output pairs.
On the official website, the vendor does not provide a proper explanation for the trading strategy used by the robot. Many traders look for technical details pertaining to a strategy because it allows them to gauge the system's profitability. The absence of proper strategy insight may deter many traders from investing in Happy Power.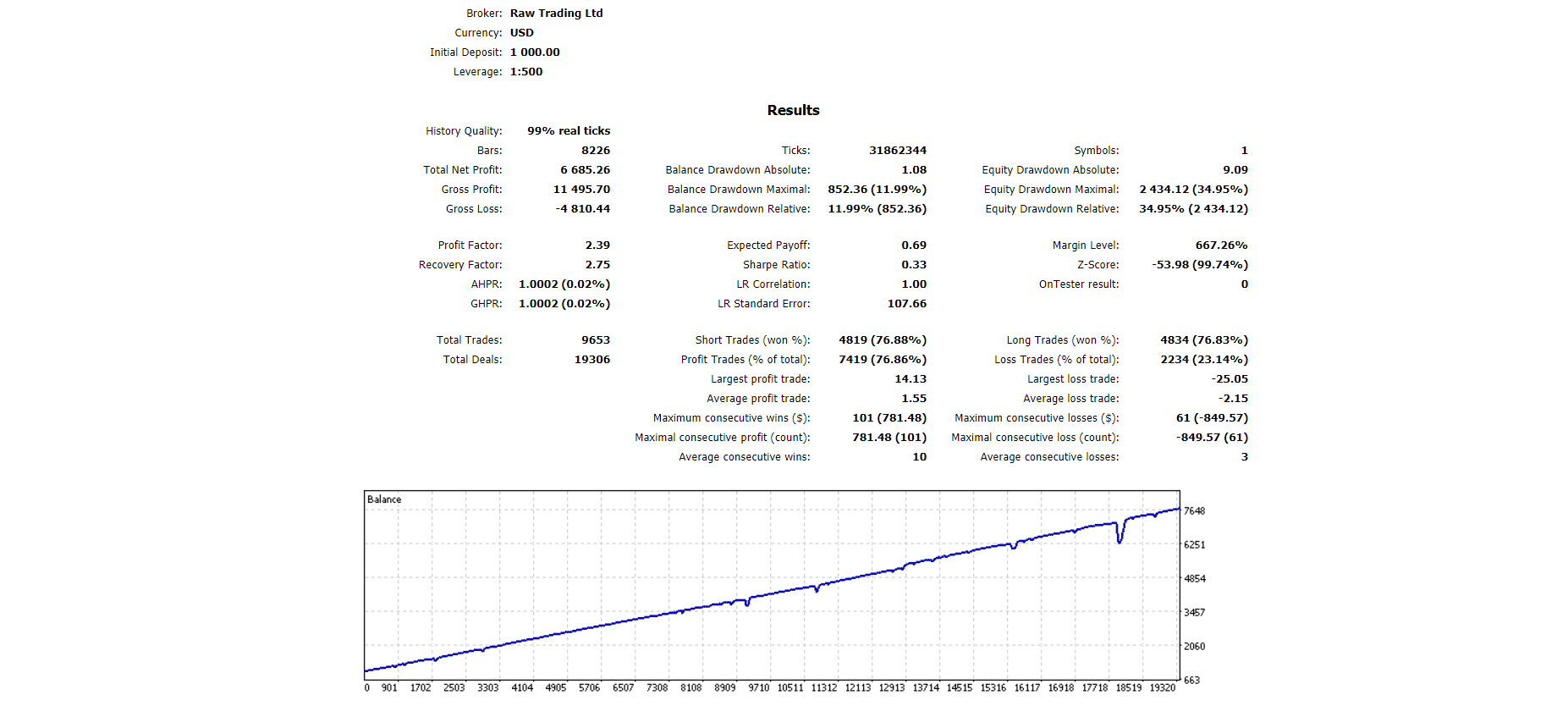 Here we have the backtesting data for the Happy Power robot conducted from January 2020 to April 2021 with 99% real ticks. As we can see, a total profit of $6685.26 was generated during this test, using an initial deposit of $1000. A total of 9653 trades were placed during this time period, out of which 7419 were won. This represents a high win rate of 76.86%.
The relative drawdown for this backtest was a little bit high at 34.95%. There were 101 maximum consecutive wins and 61 maximum consecutive losses for this EA.
Happy Power Trading Statistics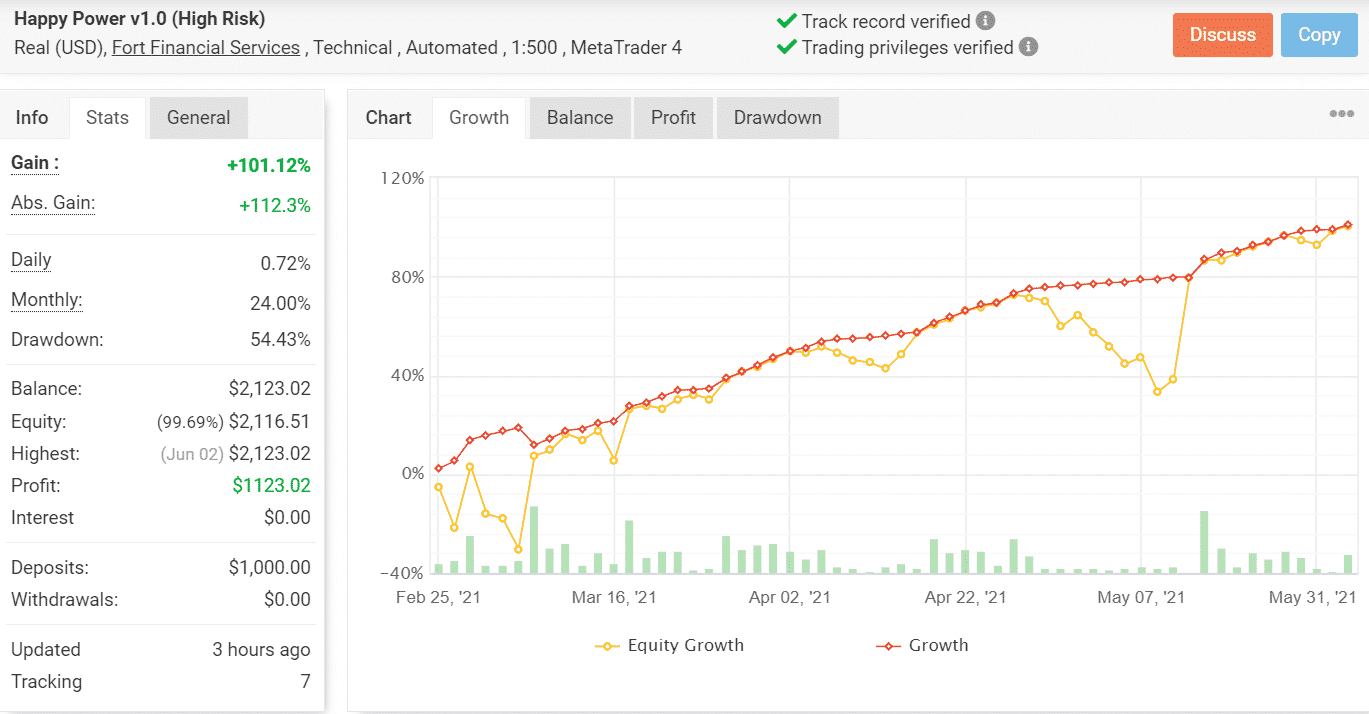 This is a live trading account for Happy Power that has been live since February 25th, 2021. To date, it has managed to generate a profit of $1123 with a win rate of 76%. It has a high profit factor of 2.68, which is a sign of a profitable system, but then again the drawdown is quite high at 54.43%. This tells us that the EA is following a risky strategy that carries a sizable amount of risk.
Currently, the daily and monthly gains for this system are 0.72% and 24%, respectively. Using a total deposit of $1000, it has managed to generate a time-weighted return of 101.12%. 
Pricing and Refund 
You can purchase Happy Forex for 325 Euros. This gives you access to an unlimited number of demo accounts and both MT4 and MT5 versions of the system. Additionally, you will also get the Happy Forex Full Pack containing 10 EAs for free. 
In case you have already purchased the Full Pack EAs, you will get a discount of 30% on this product. The vendor also provides a 30-day money-back guarantee, so in case the drawdown is too high and the robot fails to make profits, you can get a full refund. 
What Else You Should Know About Happy Power
There are no customer reviews for Happy Power anywhere on the web, which is a bit disappointing. It tells us that not many people know about this Forex EA and it does not have much of a reputation as of now. 
Happy Power Conclusion
Happy Power is an automated Forex trading system that has too many downfalls for us to recommend it. It uses some unspecified strategy that results in a high drawdown and leaves you open to huge losses. Besides, it has not been trading live for too long, so you never know what kind of performance it is going to deliver. Our advice would be to stay away from this robot and invest in one that has a long track record.
Price – 5/10
Strategy – 2/10
Trading Results – 4/10
Vendor Transparency – 3/10
Customer Reviews – 2/10
Support – 3/10