Forex Trend Detector was released after being updated several weeks ago. The system belongs to the FXAutomater portfolio. The developers claim that it's "The Only EA on The Market Used by Professional Traders and Money Managers" to "Follow The Smart Money Like A Pro." Let's check it out.

We have many features, and various details explained, as usual.
The system works like a fully automated trading solution for us.
We don't have to do anything in addition.
The robot calculates a proper level for Entry Point.
The EA works with a High Risk to Reward ratio.
The system works only with tight Stop Loss levels.
The robot can handle various levels of slippage and spreads.
There are both MT4 and MT5 versions provided.
There's a well-designed money-management system.
We have a drawdown compensating algorithm and high-spread and high-slippage protection.
There's a "State-of-the-art" protection system. We don't know what it is.
An expert advisor uses dynamic trading logic.
One of the features is advanced time management.
Trading Strategies and Currency Pairs
There's a trend strategy behind the system.
It works with five pairs focusing on EURUSD, Gold, and Silver.
The time frame, according to a backtest report, is M5.
Forex Trend Detector Trading Statistics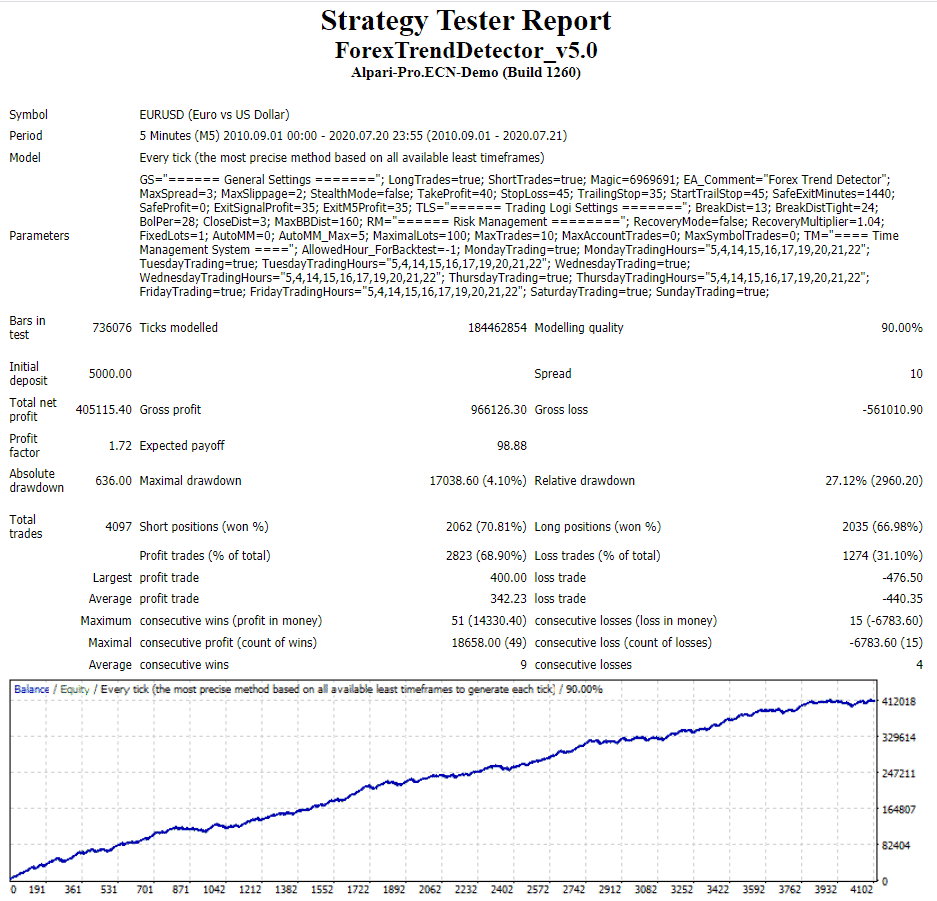 The presentation includes a EUR/USD backtest report on the M5 time frame. The data was chosen from 2010 to 2020. The modeling quality was 90.00% with 10 pips spreads. An initial deposit of $5,000 has turned into $405,115 of the total net profit. The profit factor was 1.72. The maximum drawdown was low – 4.10% ($17,038). The advisor has closed 4097 deals traded with a 70% win rate for shorts and 66.98% for longs.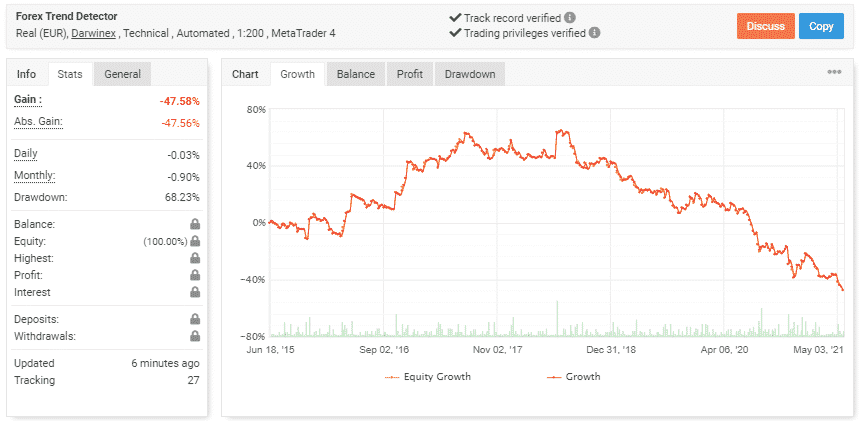 Six years of trading activities have ended with halving the balance.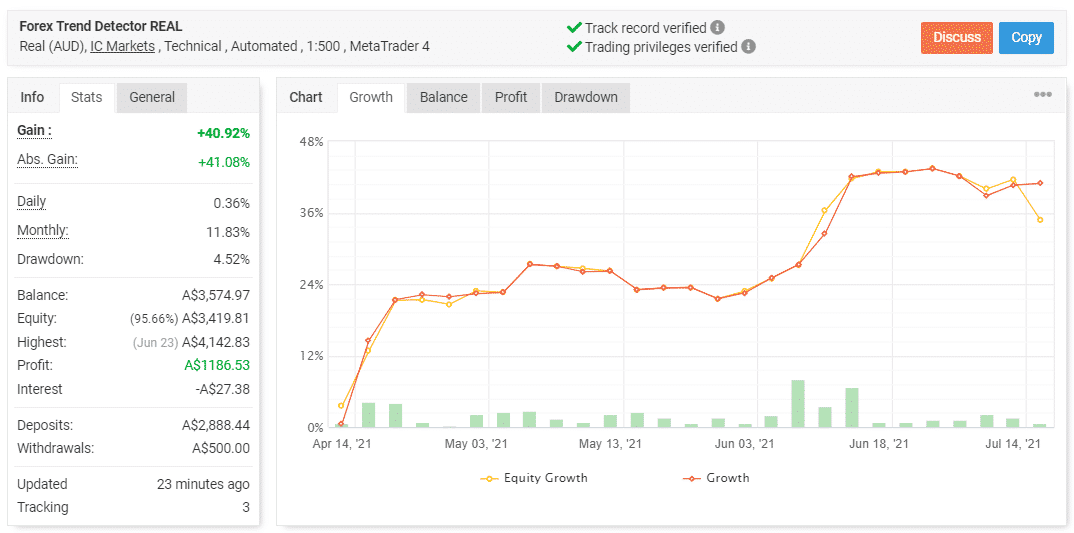 This is a new trading account that is run by  the Forex Trend Detector EA. The robot works on the brand-new account on IC Markets automatically with 1:500 leverage on MT4. It has a verified track record. So, the data should be relevant. It was created on April 14, 2021, deposited at 2,888.44 AUD, and withdrawn at 500 AUD.  Since then, the absolute gain has become 40.92%. An average monthly gain is 11.83%. The maximum drawdown is 4.52%.

The expert advisor closed 109 orders, having traded  10,840 pips. An average win is 152.92 pips when an average loss is -35.09 pips. The win rate is 86% for longs and 62% for shorts. An average trade length is two days. The profit factor is 4.32.

The system actively trades three pairs. The most-traded is EURUSD – 95 orders and $473.24 when the most profitable is Gold – $520.50.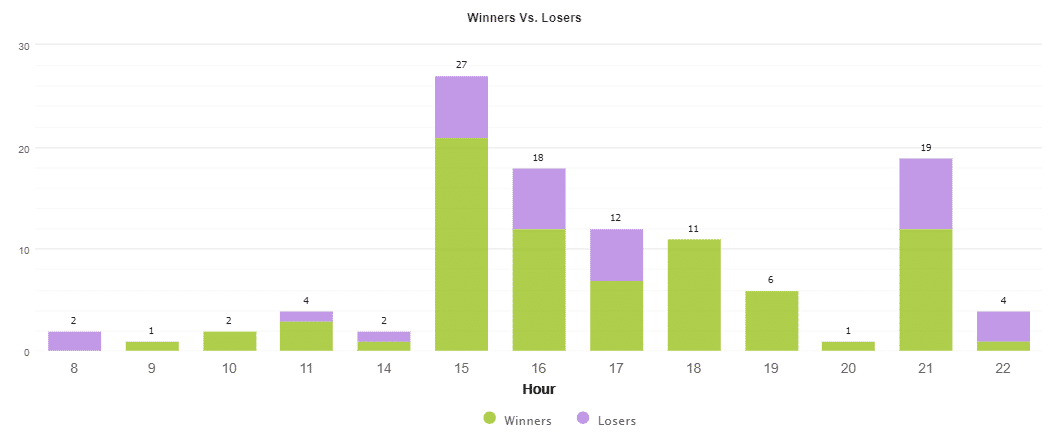 The advisor opens orders during proper hours.

The robot has to lose 30 deals to lose 10% of the balance.

There are two deals experiencing mid-range drawdowns.
The robot increases profitability using Grids of orders.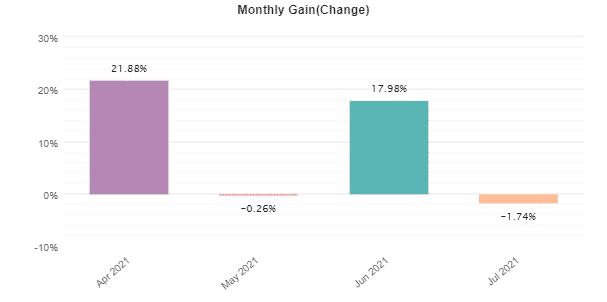 July 2021 doesn't look great at all.
Pricing and Refund

The vendor usually provides discounts for everyone who visits the site. It's typical for FXAutomater.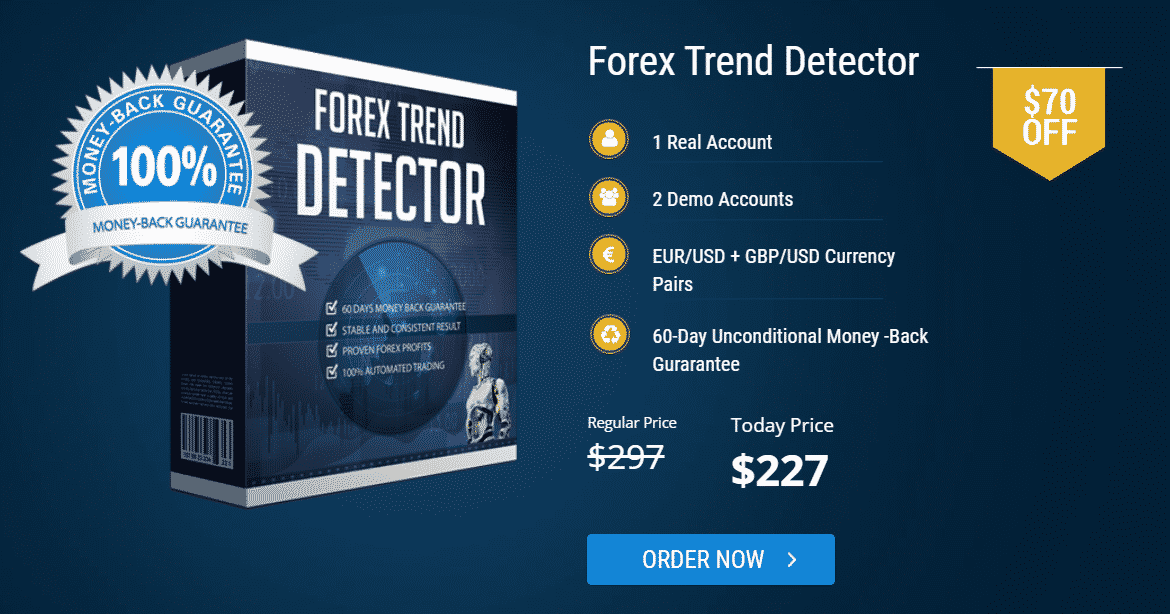 Forex Trend Detector is available for $227 with a $70 discount instead of the original price which they have never used. It's featured by a  real account license, two demo account licenses, EUR/USD and GBP/USD pairs trading, and an extended 60-day money-back guarantee.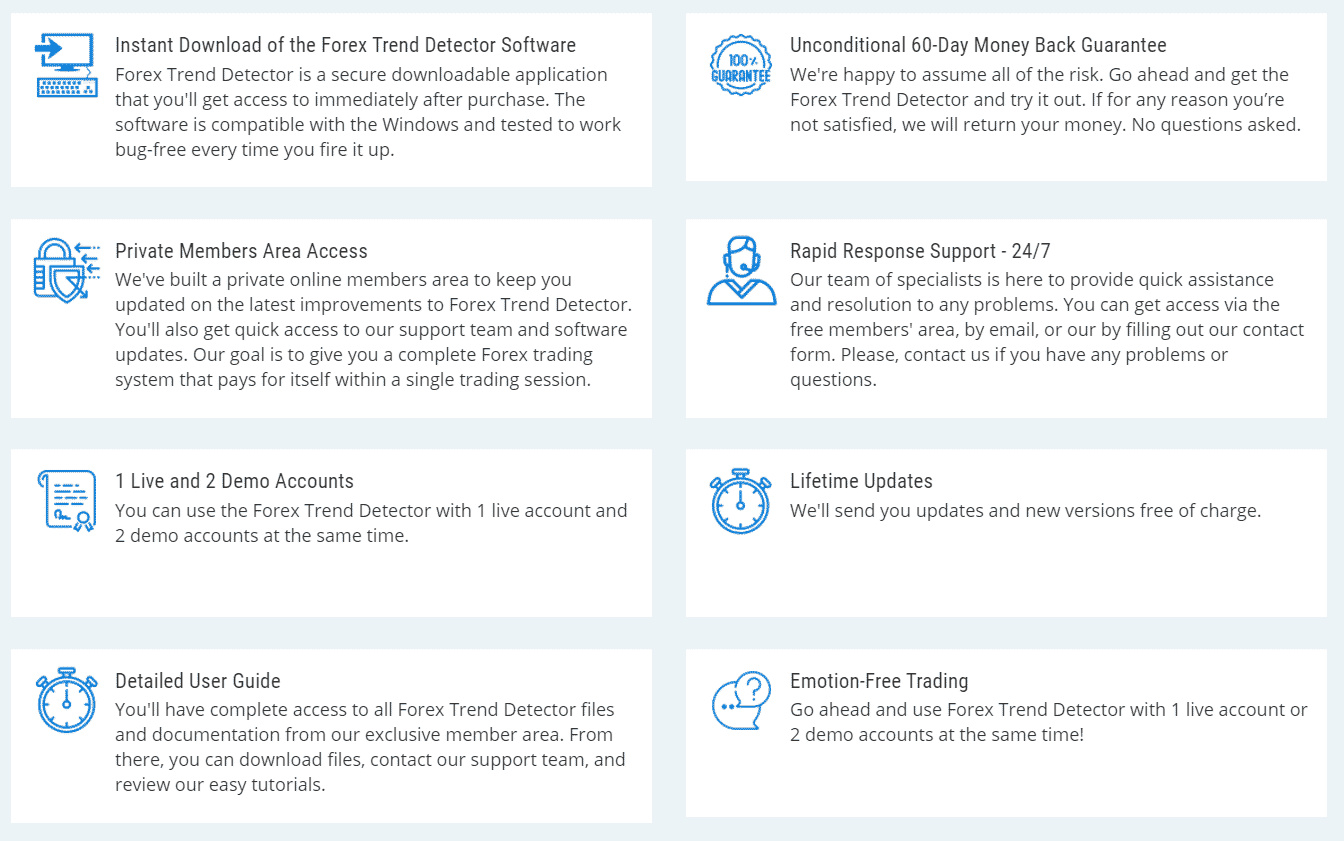 We can rely on access to the member area, free updates, and upgrades.
What Else You Should Know About Forex Trend Detector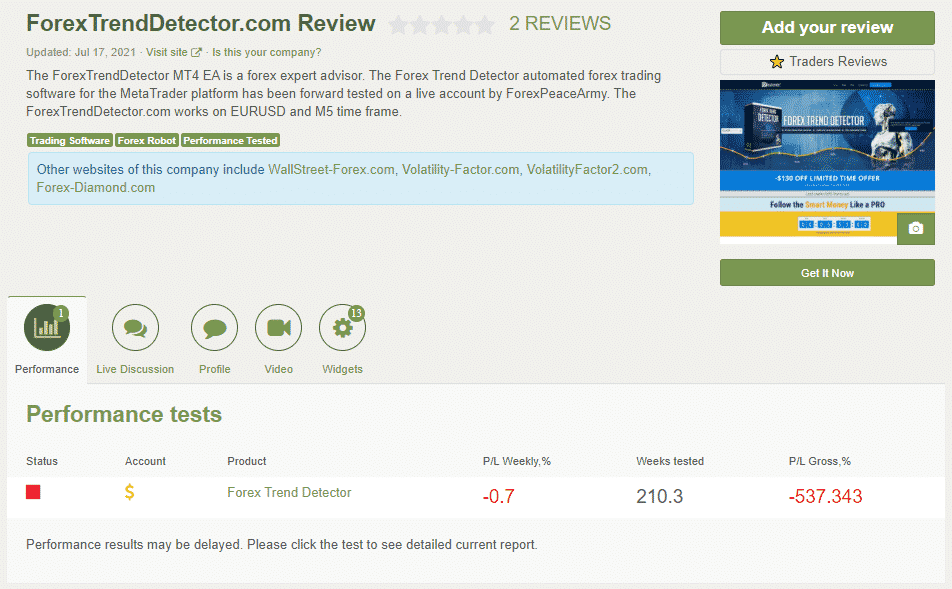 The developers created a profile for Forex Trend Detector on Forex Peace Army. However, there are previous system trading results connected. They still didn't change them.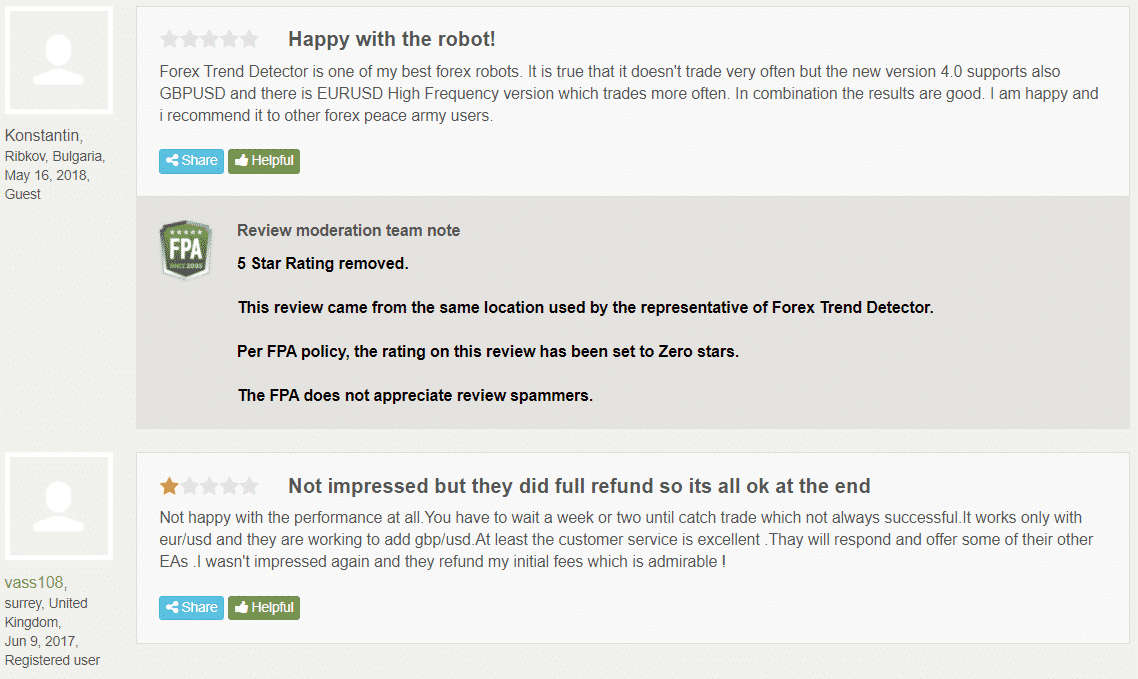 The page includes a negative testimonial from an angry client that couldn't be profitable.