Forex Astrobot is a fully automated Forex expert advisor that promises a maximum monthly profit of $16,000. According to the vendor, the robot accurately analyzes the market conditions to maximize the gains. However, since most EA vendors make these sorts of claims, we need to assess the various performance aspects of the system to judge whether it's reliable or not.
This robot is sold by Rita Lasker and the Green Forex Group. Now, this group is known for manufacturing several Forex EAs over the years, but there are many traders who claim that they are running a scam. We don't know where this company is located or when it was founded. Other EAs from Rita Lasker include Forex Progress Bot, Forex Avia Robot, Forex NonStop Robot, Forex Anti Robot, etc.
Forex Astrobot EA Review 
This robot uses the trailing stop feature for risk management. It also has a money management functionality that tries to reduce losses by diminishing the size of the trading lot in case the market turns unstable. The vendor provides support or installation, trading outcomes, or any other queries.
You can use Forex Astrobot with M15, M30, and H1 charts. To get started, you need to make a small deposit of $200. As per vendor recommendation, you should not risk too much capital until you get used to how the system functions.
Every trader receives a detailed user guide where the system settings are explained. If required, you can also ask for remote assistance from the support team. This EA calculates the success rate for each trade and decides whether to make an entry based on that information. If it is less than 25%, the robot does not trade. When the success rate is between 25%-75%, standard lot size is used. For a greater than 75% success rate, the EA multiplies the lot size by 1.3.
Trading Strategies and Currency Pairs 
Forex Astrobot can trade in all currency pairs. On the official website, there is no explanation provided for the trading strategy that this EA uses. This comes as a disappointment since the trading strategy is something that reveals, to some extent, the profit-making capability of the robot. The vendor should at least have mentioned what indicators this system uses, if any, and how it gauges the strength of a trend. In the absence of strategy insight, most Forex traders would think twice before investing in this EA.
It seems that the seller has not tested this system with historical data before releasing it on the market. There are no backtesting results available on the website, which means that the EA has no track record of successfully dealing with different market conditions.
Forex Astrobot Trading Statistics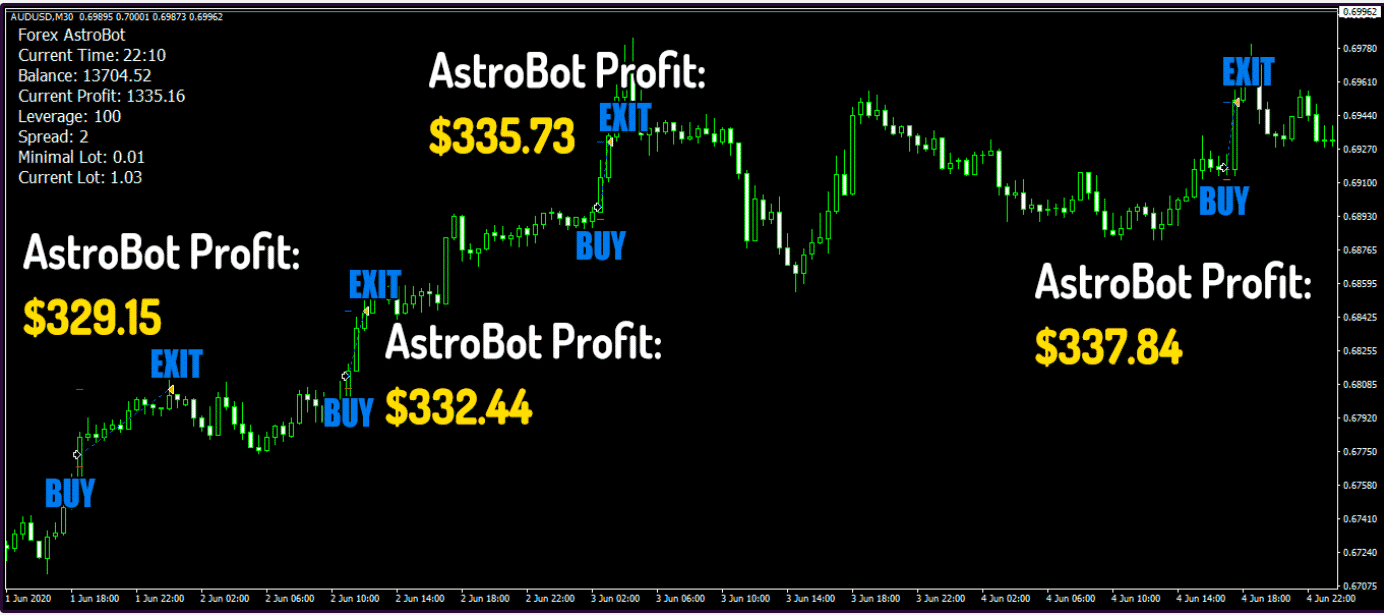 On the official webpage of Forex Astrobot, the vendor has shared some screenshots of profits made by the robot. Here, we can see the entry and exit points, leverage, spread, and lot size. Now, since these results are not verified by a trusted third-party website, we cannot consider them authentic.
Any vendor worth their salt has a live trading account for their system on websites like Myfxbook, FxBlue, and FXStat. This is a mark of authenticity in the Forex robot industry since the seller cannot manipulate the results in these accounts. Without verified statistics, there is no way a serious Forex trader would consider purchasing this EA.
Pricing and Refund
You can purchase Forex Astrobot for the price of $99. For $228, you can get the ultimate version of the EA that uses an additional algorithm and has a profit-multiplication mode. Additionally, you can get 24/7 support for the ultimate version, whereas only remote assistance is provided in the basic package. The vendor offers a 30-day money-back guarantee for this product. We don't think it is worth spending this much money on an unproven trading system.
What Else You Should Know about Forex Astrobot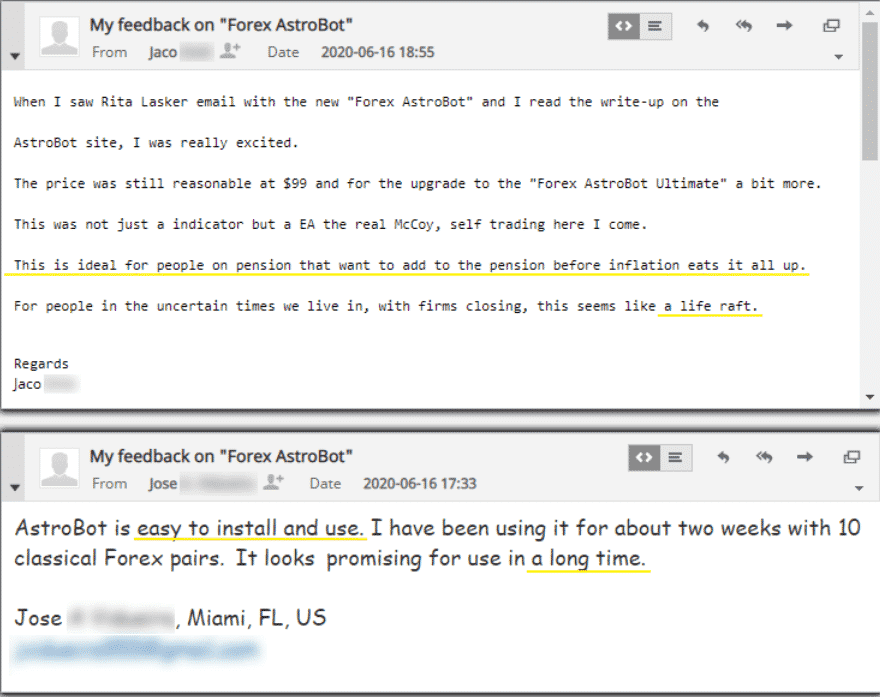 We were unable to find any customer reviews for Forex Astrobot on websites like Quora, Trustpilot, Forexpeacearmy, and Myfxbook. There are some screenshots of user testimonials on the official website, but they do not look authentic. Thus, we can say that this Forex EA does not have much of a reputation as of now.