After a midweek scare that saw the S&P 500 slump 2%, the market recollected on Friday on quelling inflation jitters. It opened at $416.61 and traded to a high of $418.72, finishing the week at -0.02% as it ended the week at $414.97.
Come Monday market opening, and the S&P 500 opened at $414.73. This means that it is still flirting with the weekly support at $414.48. Despite Wall Street maintaining that the market is bullish, Yahoo finance analysts worry that if the market doesn't take a pause, the S&P 500 is in for a bubble burst.
In recent weeks, the S&P 500 has tended to make weekly lows and then rallying off to finish the week strongly. The expectation is for the same to happen this week.
SPDR S&P 500 Trust ETF thus closed the week at 11.33% YTD. Below is a breakdown of its underlying sectors and their performance over the week-May 17th to May 21st, and their corresponding sector ETF performances.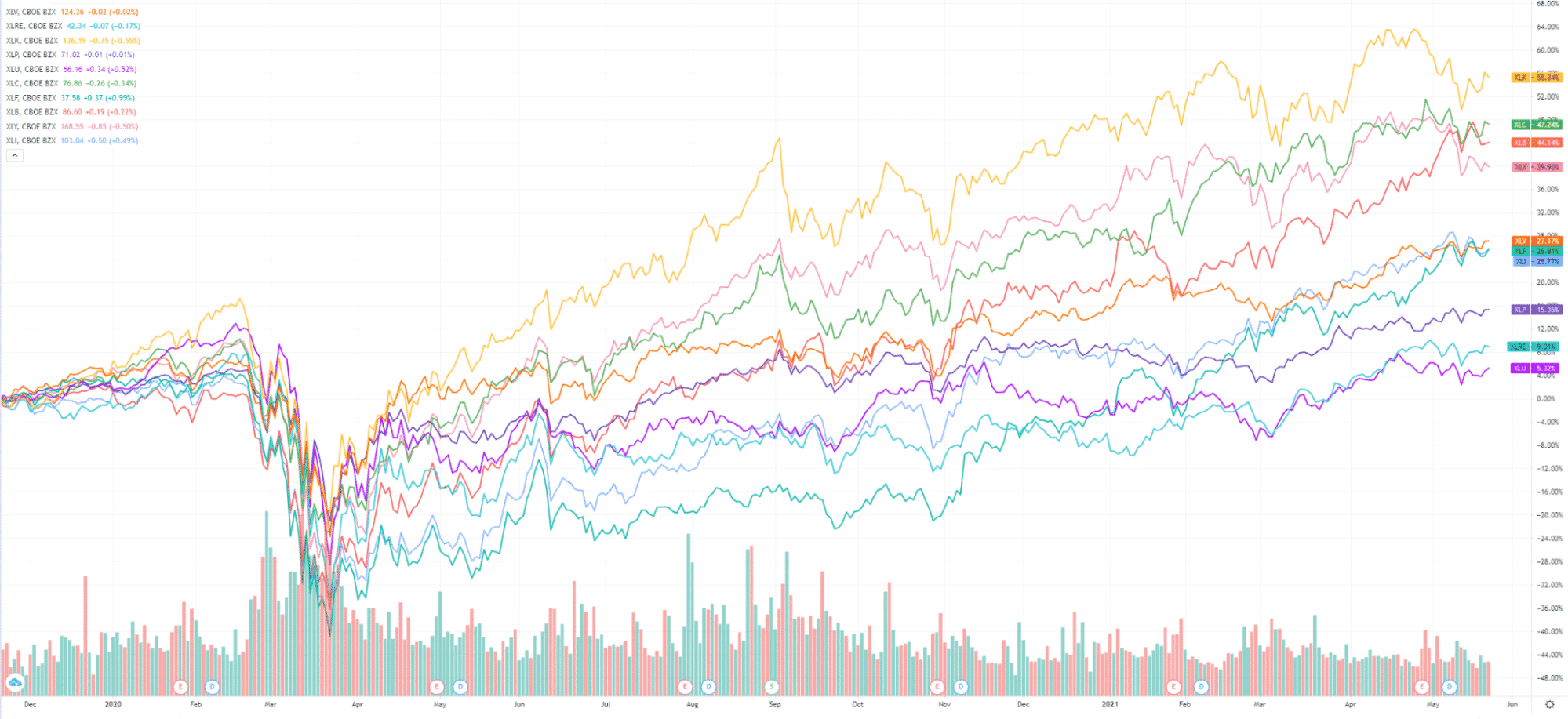 Here is a chart of the ten sectors' year-to-date performance and how they have fared against the S&P 500.
S&P 500 industry sector weekly performance breakdown

1.
Healthcare
XLV
+1.68%  with the accompanying health care select sector ETF
2.
Real Estate
XLRE
+1.21%  with the accompanying real estate select sector ETF
3.
Information Technology
XLK
+0.69%  with the accompanying information technology select sector ETF
4.
Consumer Staples
XLP
+0.28%  with the accompanying consumer staples select sector ETF
5.
Utilities
XLU
+0.11%  with the accompanying utilities  select sector ETF
6.
Communication Services
XLC
-0.05%  with the accompanying communication services select sector ETF
7.
Financial Services
XLF
-0.51%  with the accompanying financial services select sector ETF
8.
Materials
XLB
0.76%  with the accompanying materials select sector ETF
9.
Consumer Discretionary
XLY
-0.81%  with the accompanying consumer discretionary select sector ETF
10.
Industrial
XLI
-1.19%  with the accompanying industrial select sector ETF