ETF full name: Direxion Work From Home ETF (WFH)
Segment:  Equity: US Remote work
ETF provider: Direxion
| | |
| --- | --- |
| WFH key details | |
| Issuer | Direxion |
| Dividend  | $0.05 |
| Inception date | 25 June 2020 |
| Expense ratio | 0.45% |
| Management company | Rafferty Asset Management, LLC |
| Average 3-5 EPS | N/A |
| Average Annualized Return | 11.26% |
| Investment objective | WFH seeks investment results, before fees and expenses, that track the Solactive Remote Work Index |
| Investment geography | USA, UK, China, Mexico |
| Benchmark | Solactive Remote Work Index |
| Leveraged | N/A |
| Median market capitalization | $268.18 billion |
| ESG rating | A (5.57 / 10) |
| Number of holdings | 44 |
| Weighting methodology  | Equal |
About the WFH ETF
The WFH is the world's first work from home ETF. The fund's inception was on 25 June 2020, and Direxion is the issuer of the fund. Furthermore, Rafferty Asset Management manages the fund.
The Direxion Work from Home ETF seeks investment results, before fees and expenses, that track the Solactive Remote Work Index. The fund invests in remote communications, cyber security, online project and document management, and cloud computing technologies.
WFH Fact-set analytics insight
The WFH fund has a total of $108.41 million assets under management. Furthermore, the fund has an expense ratio of 0.45%.
The WFH ETF follows an equal weighting methodology, and it has a median market cap of $268.18 billion.  The WFH fund has an average spread of 0.10%.
WFH performance analysis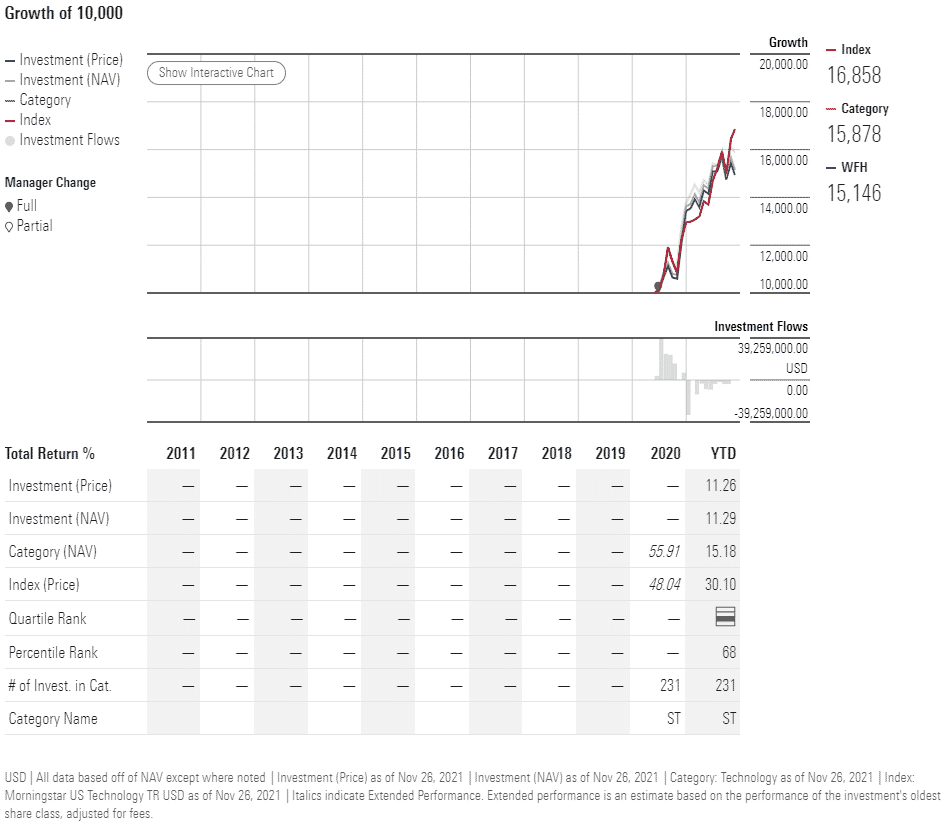 In terms of performance, the WFH ETF generated an annualized return of 11.26%. WFH has a price per earnings ratio of 160.46.  The fund has a quarterly dividend of $0.05.
WFH ETF RATING

Resource
ETF DATABASE
ETF.com
MarketWatch
Morningstar.com
Money.usnews.com
WFH Rating
A+
N/A
Quintile 4 (78th percentile)
N/A
N/A
WFH ESG Rating
A (5.57 / 10)
A (5.57 / 10)
N/A
N/A
N/A
WFH key holdings
The WFH ETF has 44 holdings. The fund has 94.18% of its securities invested in the USA, 3.31% in Mexico, 1.68% in Hong Kong, and 0.82% in China. The fund invests 30.35% of its assets in the top ten holdings.
Below is the list of the WFH fund's top ten holding companies.
| | | |
| --- | --- | --- |
| Ticker | Holding name | % Of assets |
| VG | Vonage Holdings Corp. | 3.75% |
| ZS | Zscaler, Inc. | 3.23% |
| MRVL | Marvell Technology, Inc. | 3.18% |
| PANW | Palo Alto Networks, Inc. | 3.12% |
| AVGO | Broadcom Inc. | 2.96% |
| MSFT | Microsoft Corporation | 2.92% |
| PRGS | Progress Software Corporation | 2.84% |
| FTNT | Fortinet, Inc. | 2.82% |
| AVYA | Avaya Holdings Corp. | 2.77% |
| TEAM | Atlassian Corp. Plc Class A | 2.76% |
Industry outlook
The Covid-19 pandemic has resulted in many US citizens having to work from home. This brought about the launch of the world's first work from home ETF by Direxion.
The fund invests in companies that specialize in video conferencing, cloud computing, software, and cybersecurity. All of which supply much-needed resources and products to companies who set up their staff at home.
With the Direxion WFH fund, investors have the opportunity to diversify. Direxion's investors can gain exposure to established growth tech titans like Amazon and Alphabet and more targeted companies tied explicitly to the work-from-home niche.