ETF full name: North Shore Uranium Mining ETF (URNM)
Segment: Global Nuclear Energy
ETF provider: Exchange Traded Concepts
URNM key details
Issuer
Exchange-Traded Concepts
Dividend
1.41%
Inception date
3rd December 2019
Expense ratio
0.85%
Average Daily $ volume
$29.25 million
Investment objective
Replication Strategy
Investment geography
Global Nuclear Energy Equities
Benchmark
DAXGlobal Nuclear Energy Index
Weighted Average Market Cap
$2.97 billion
Net Assets under Management
$637.05 million
Number of holdings
36
Weighting methodology 
Weighted average market cap
About the UNNM ETF
The spot price of uranium has been in a sideways market since the Fukushima Nuclear disaster of 2011. However, in the last year, the investment world has started taking note of the mineral uranium and the uranium value chain.
With the announcement by Barclays that technological and scientific advancements can result in sustainable, scalable, and relatively cheaper nuclear energy, the global community shift in regards to nuclear energy as a green energy technology has picked up. For example, France is already a nuclear-based country, with 70% of the power grid supply being nuclear energy.
The Northshore Global Uranium Mining ETF exposes investors to various opportunities within the uranium value chain. Like all emerging markets, the nuclear energy niche is still in its infancy, relying on many fundamentals to reach a point where volatility is within acceptable ranges. With uranium mining concentrated in only a few countries and organizations, picking a single stock or a pool of individual stocks that will blossom into a uranium powerhouse is a tall order. The prudent thing as an investor is to bet on the whole niche to grow in light of the IAEA announcement that by 2050 nuclear energy supply globally will have doubled, worst-case scenario.
URNM fact-set analytics insight
The Northshore Global Uranium Mining fund tracks the North Shore Global Uranium Mining Index. This non-diversified fund invests at least 80% of its assets in the underlying holdings of the composite index. The underlying holdings either explore, mine, process uranium, own uranium-based royalties, provide services to the uranium value chain, or hold physical uranium in stock.
These organizations must devote 50% of their resources or derive 50% of their total revenues from uranium-related activities. In addition, the holdings are categorized into either miners, holding 82.5% weight of the ETF, and holders, representing 17.5% of the ETF weight.
URNM performance analysis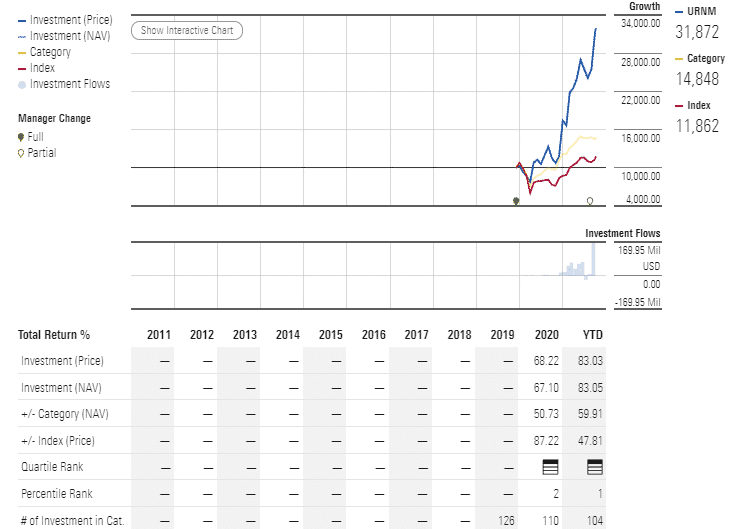 With a launch date of the end of 2019, the URNM ETF is either a brainchild of genius or extreme luck. With just a few months in operation before Coronavirus hit, URNM managed launch year returns of 177.94%. This performance has followed up with a phenomenal follow-up year, with the year-to-date returns at 83.03%. Anyone in the ETF world will agree that this is out of this world, and URNM investors hope that this is just the beginning, not beginner's luck.
URNM ETF RATING

Resource
ETF DATABASE
ETF.com
MarketWatch.com
Morningstar.com
Money.usnews.com
IPO Rating
A+
N/A
Quantile 1
N/A
N/A
IPO ESG Rating
N/A
N/A
N/A
N/A
N/A
URNM key holdings
URNM's holding base comprises 36 organizations and assets under management of $637.05 million in just over a year. The expectation is for more organizations to come on board as the niche evolves and more firms fit within the selection criteria. At present, holdings are market cap-weighted, with maximum and minimum caps attached to holdings as per the two categories.
The top ten uranium and nuclear energy equities comprising the URNM are as below.
| | | |
| --- | --- | --- |
| Ticker | Holding name | % of assets |
| KAP | National Atomic Company Kazatomprom JSC Sponsored GDR RegS | 16.91% |
| CCO | Cameco Corporation | 16.30% |
| PSLV | Sprott Physical Silver Trust | 8.31% |
| YCA | Yellow Cake Plc | 6.33% |
| NXE | NexGen Energy Ltd. | 4.84% |
| EFR | Energy Fuels Inc. | 4.81% |
| DML | Denison Mines Corp. | 4.76% |
| PDN | Paladin Energy Ltd | 4.05% |
| 1164 | CGN Mining Co. Ltd | 4.02% |
| UEC | Uranium Energy Corp. | 3.67% |
URNM reconstitutes its holding base quarterly to ensure it stays true to its investment objectives.
Industry outlook
France and China's nuclear reliance has already revolutionized the way people view nuclear energy. The global community, led by developed economies, is very mindful of the environmental detriment of fossil fuels, accelerating the search for scalable and cost-efficient energy sources with minimal greenhouse gas emissions.
ETF.com analysts believe that with its strategic launch date, quick assets under management ramp up, and an ever-growing appetite for clean energy, URNM is in pole position not only to mint money for investors but create waves in the ETF universe and energy sectors.