Happy Neuron is a trading advisor that is a part of the big Happy Forex family. The company is quite known among other Forex-related developers. The presentation includes two accounts with trading results at once. It's a positive sign. The rate of the system has increased from 4.7 to 6 from 10 points possible.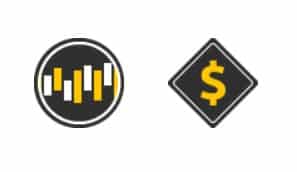 We have two badges published that we can rely on one. The system has verified and run live trading results, and we can rely on the standard 30-day  Forex Store refund policy. 
Happy Neuron Robot Review
As usual for Happy Forex's product, the presentation doesn't include all required information about the system and what we have to expect from the robot ruining on real or demo account:
Happy Neuron is one of the last Happy products that they rely the most on. 

The robot can execute orders automatically. 

It works only on the MT4 platform. 

We can trade 25 cross pairs. 

We have to use it on an ECN account only. 

The robot follows NFA rules. 

We can use it on 4 or 5-digit brokers. 

The installation process won't take much time. 

We don't need previous trading experience to get started. 

We can use the system on our PC or VPS. 

It can work on Windows 7, 8, 10, Mac OS, and Linux systems.

Various risks require different margin levels:

Conservative risk needs to have $5000 on balance ($500 for micro and $50 for cent accounts).

Normal risk needs to have $3500 on balance ($350 for micro and $35 for cent accounts).

Aggressive risk needs to have $2000 on balance ($200 for micro and $20 for cent accounts).
Trading Strategies and Currency Pairs
The main trading strategy was explained as "modules that work on recurrent neural networks to determine market sentiment analysis with news filters." It sounds like a joke. 

We can work with a huge list of currency pairs: AUD/CHF, AUD/JPY, AUD/NZD, AUD/USD, CAD/CHF, CAD/JPY, CHF/JPY, EUR/AUD, EUR/CAD, EUR/CHF, EUR/GBP, EUR/JPY, EUR/USD, NZD/USD, GBP/AUD, GBP/CAD, GBP/CHF, GBP/JPY, GBP/USD, NZD/CHF, NZD/JPY, AUD/CAD, USD/CAD, USD/CHF, and USD/JPY.

The main time frame to trade is H4. 

There are no backtest reports as usual. It's a con because we don't know how the system worked on the past data. 
Happy Neuron Trading Statistics
Happy Neuron has been running a real USD account on Fort Financial Services automatically. The leverage is 1:500. The account was created on November 27, 2020, and deposited at $5000. Since then, the absolute gain is +53.2%. An average monthly gain is 6.59%. The maximum drawdown is 45.94%. Two investors track the account.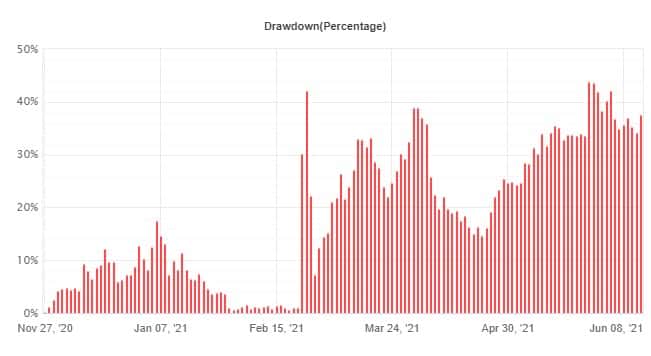 As we could note, the system requires to be updated ASAP because it consistently sits in huge drawdowns.

The advisor closed 3886 trades with 18977, 8 pips. An average win is 16.34 pips when an average loss is -55.22 pips. The win rate is 85% for Longs and 82% for Shorts. An average trade length is two days. The Profit Factor is 1.80.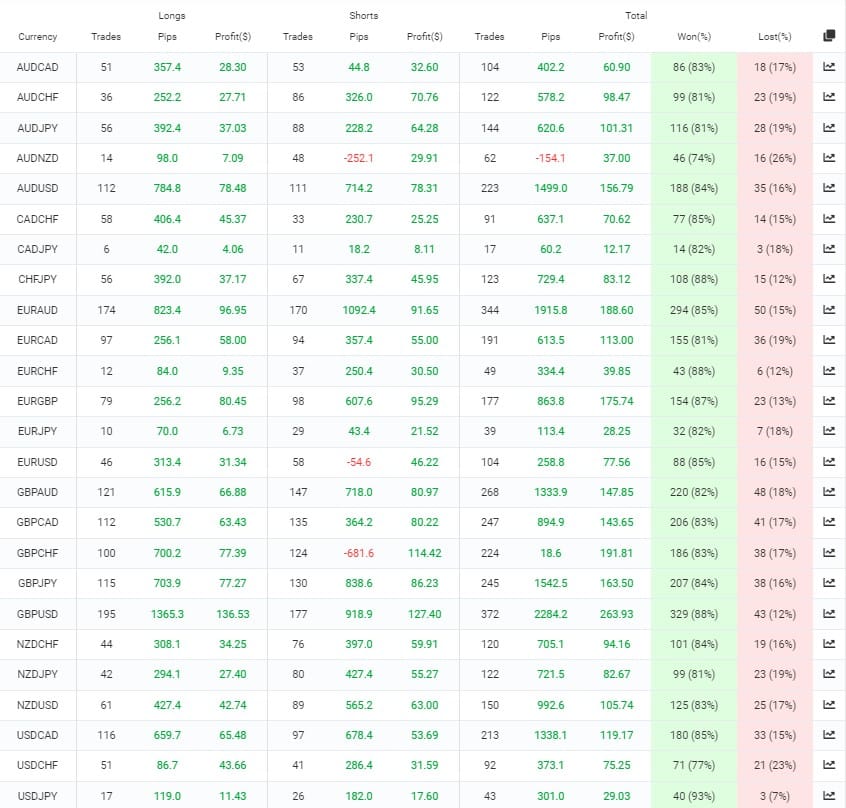 The robot works with many symbols. GBPUSD is still the most traded currency pair, with 372 deals and $263.93.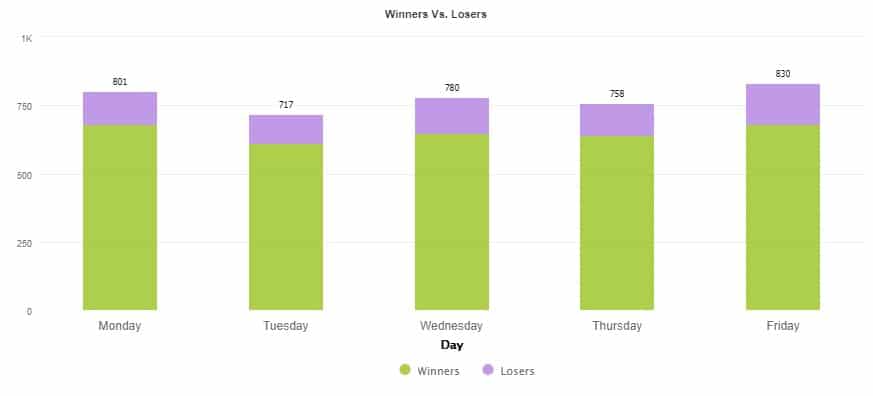 The advisor trades equally during a week.

It works with low risks to the account balance. The system has to lose 90 orders to lose 10% of the balance.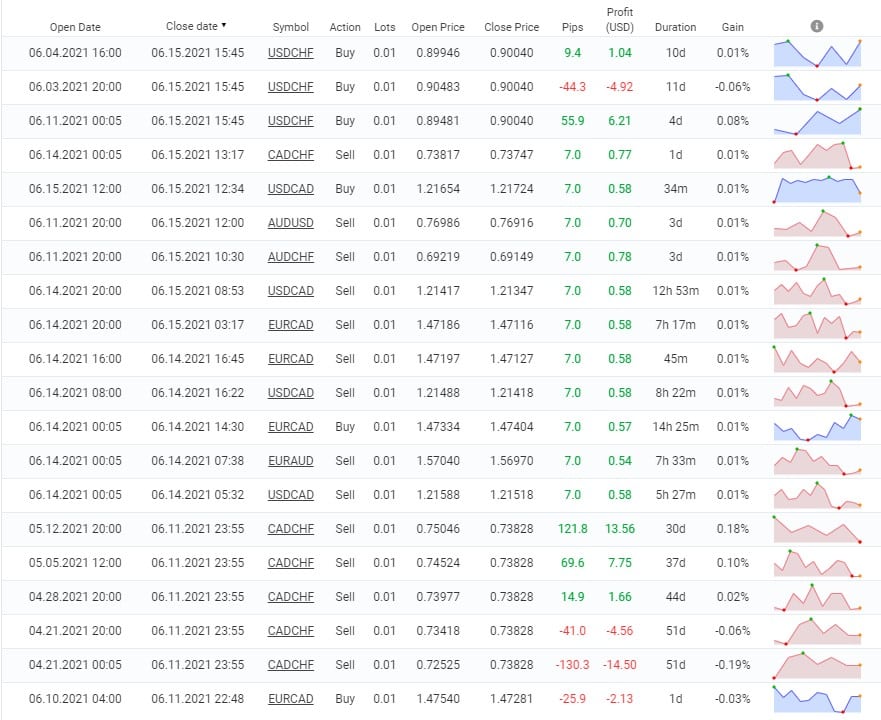 The advisor uses a short Grid of orders to catch all market moves.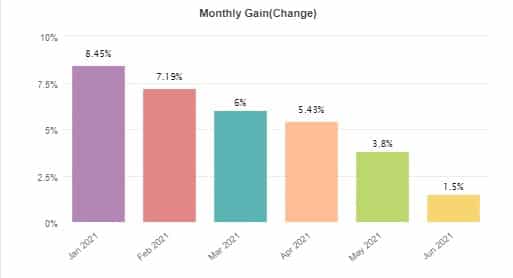 The profitability has been going down since January 2021. 
Pricing and Refund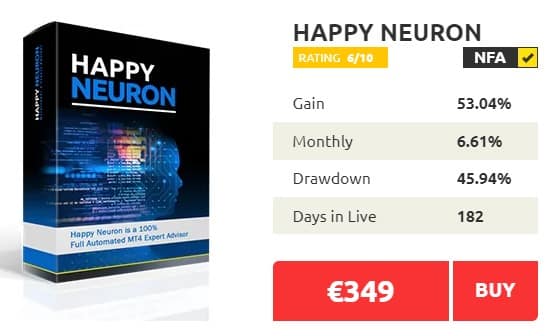 The robot costs 349 EUR for a digital product copy. The rating is 6 from 10. The Forex Store supports all deals with a 30-day refund policy. The package allows us to change a real account as many times as we need. "The license is for the first month and will be automatically free renewed for a lifetime on your email. You will pay for the license once only." It's a weird option. 
What Else You Should Know About Happy Neuron
We've got a page on Forex Peace Army with a 3.5 rate based on five reviews. There's a list of the robots from the past.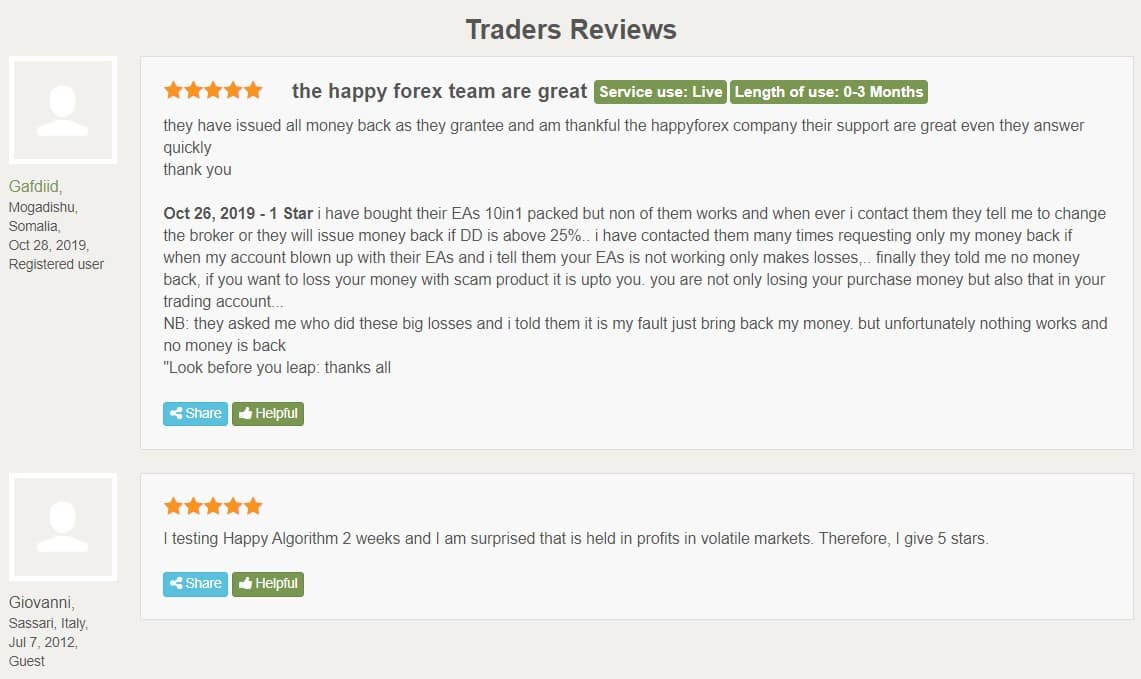 We have some comments left, but they are not about Happy Neuron.