Happy Neuron is a trading advisor that can be used for making profits on Forex. Happy Forex is a company that has a decent reputation among the Forex traders. Their portfolio amounts over 12 trading systems, including Happy Forex, Happy Gold, Happy Power, and more.
Happy Neuron robot review
The system can work profitably under various market conditions. The developers provide us with all required explanations about the system. We decided to systemize the most important claims in the following list.
The robot can be a completely automatic trading advisor that opens and closes deals on our account.
The core terminal to work with is MT4.
It works based on recurrent neural networks to check where the market goes.
There are news filters applied.
We can trade all of them on the H4 time frame.
An ECN account is the core one to trade.
The system allows our account to follow NFA rules.
We are allowed to use it on 4 and 5 digits brokers.
It's possible to start working in several minutes after purchasing the robot.
The system lets us work without trading experience.
It seeks trading opportunities 24/7.
The operational systems to set the robot are Windows 7, 8, 10, Mac OS, and Linux.
Working with different risks requires a various level of margin.
We need $5000 on the account to work with conservative risks.
The Standard risks require $3500 on the balance.
The Aggressive risks need from us to work on the account of $2000 or higher.
Trading strategies and currency pairs
The robot trades using the Price Action strategy.
It suuports over 25 currency pairs: AUDCHF, AUDJPY, AUDNZD, AUDUSD, CADCHF, CADJPY, CHFJPY, EURAUD, EURCAD, EURCHF, EURGBP, EURJPY, EURUSD, NZDUSD, GBPAUD, GBPCAD, GBPCHF, GBPJPY, and more.
Happy Neuron trading statistics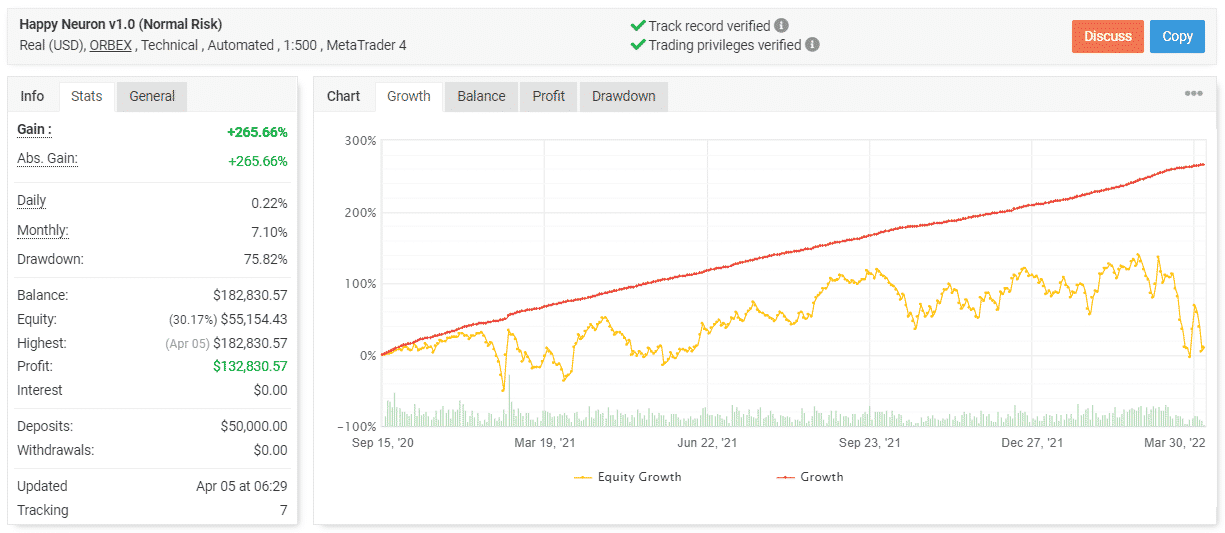 So, we have the robot running a real account nominated in USD on ORBEX. It works automatically on the MetaTrader 4 platform with 1:500 leverage. The sccount was created on September 15, 2020, and deposited at $50,000. So, the developers trust the system all the way. Since then, the total gain has grown to 265.66%. An average monthly gain is 7.10%. Although the peak drawdown was  75.82%, we can see that the robot closes winning positions and minimizes the losing ones.

There were 10,744 orders performed and 74,121.7 pips gained. An average win is 15.64 pips when an average loss is -53.60 pips. An approximate accuracy is 87% for longs and 86% for shorts. An average trade length is two days. The profit factor is high as well–1.98.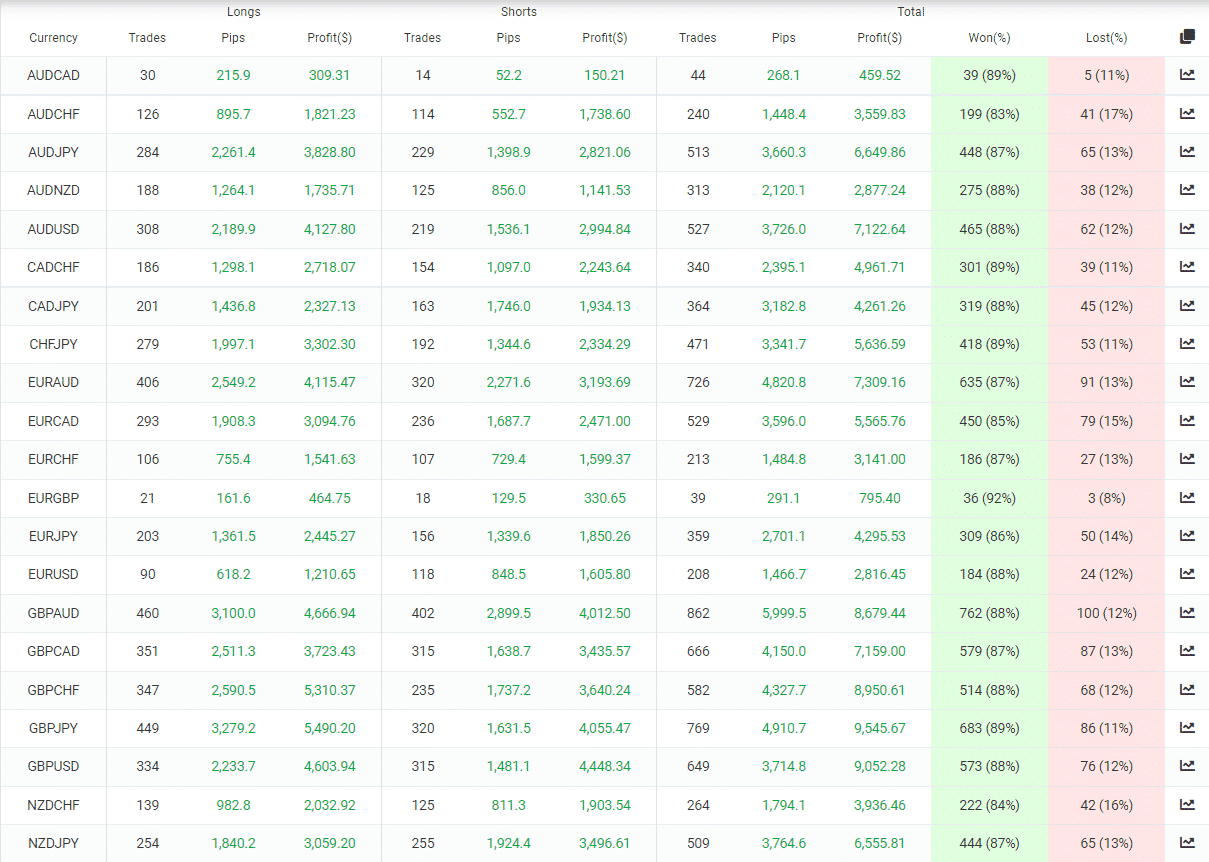 There are many pairs traded and all of them are profitable. GBPJPY is the most profitable one with $9545.67.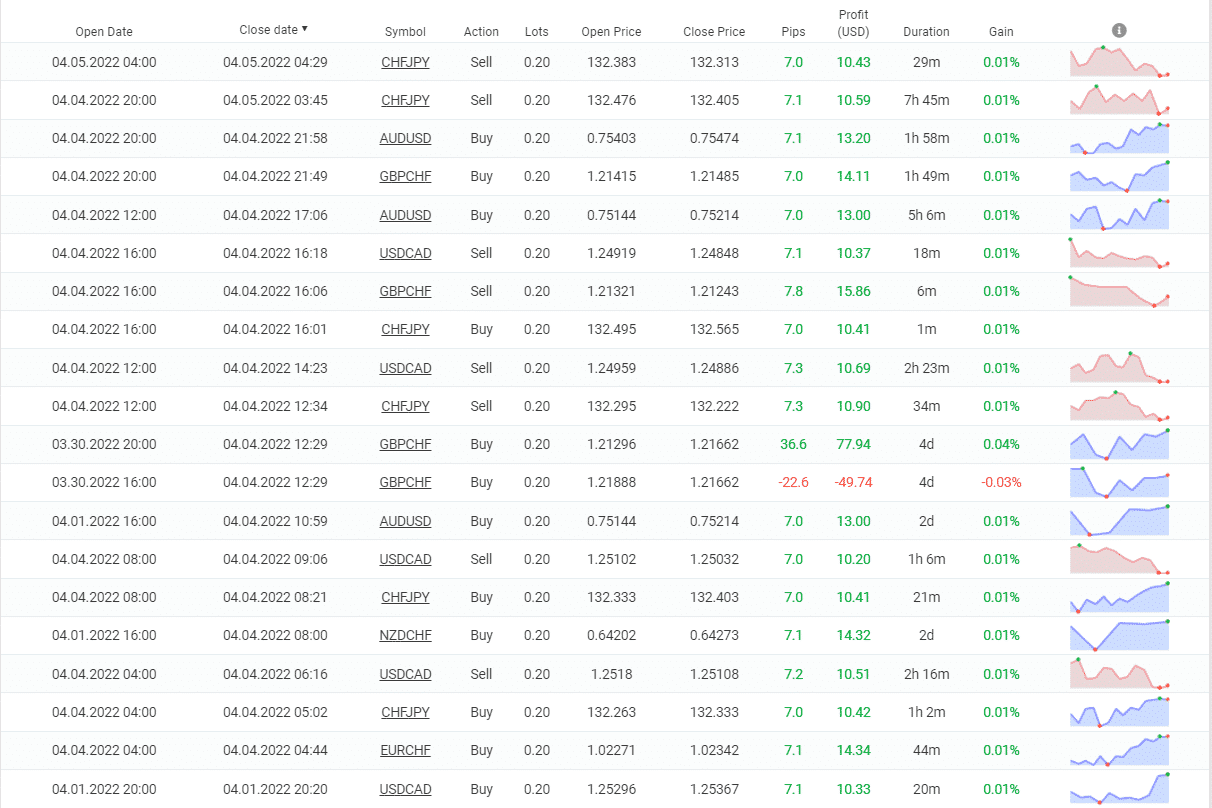 The win rate on the last 20 orders is 95%.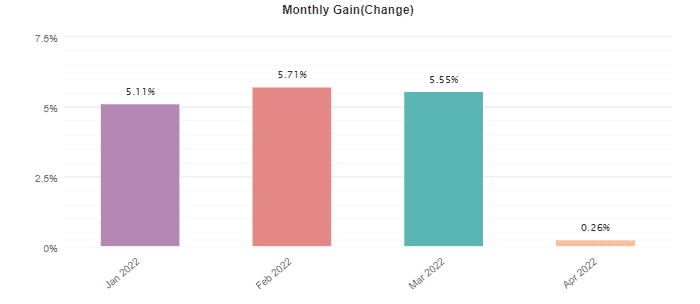 The first three months of 2022 were closed with solid and equal profits.
Pricing and refund
The developer has a single price for a robot of €349. We can expect to receive a copy of the system that allows us to trade on a real and many demo accounts, support, free updates and upgrades. We can get 10 extra robots and one indicator completely for free. It's possible to switch account numbers as many time as we want. There's a 30-day refund policy applied.
What else you should know about Happy Neuron
The most important is that the developers run an over $182,000 account. It's huge money in trading. So, the system has to be truly well-designed.
What else you should know about Happy Neuron
The most important is that the developers runs an over $182,000 account. It's huge money in trading. So, the system has to be a truly well-designed.
People feedback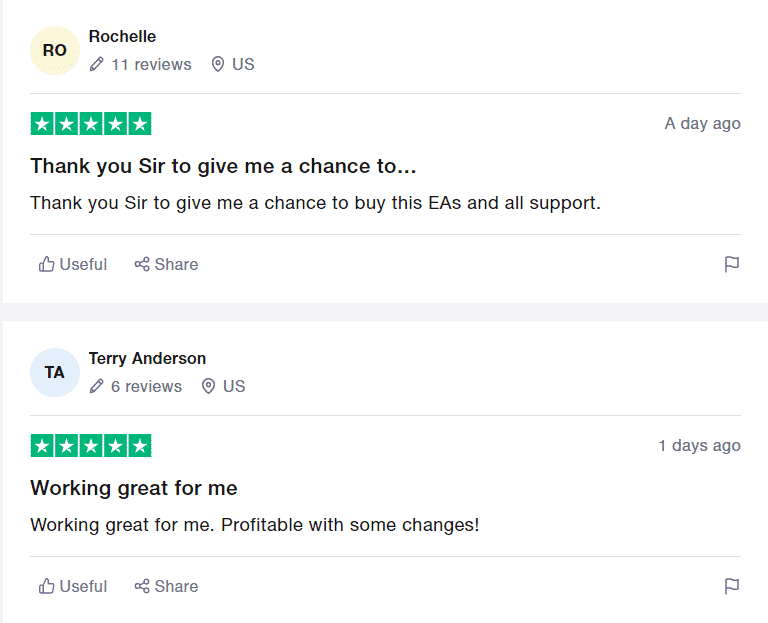 On Trustpilot we can find many positive testimonials, most of them mentioned are positive, claiming that the trding tools develped by this company have a good service quality.