Growex is an expert monitored auto trading service promising daily profits of 0.4% and free VPS service. According to the seller, using this system for trading leads to the dynamic growth of your trading account. This is a claim we need to verify independently by analyzing the different performance aspects.
The Growex team is based in London and Cape Town. We don't know much about their service history or industry experience. The principal trader working on the team is a person by the name of Val who is based in the UK. Client service is handled by Ed, who is from Cape Town. Now, we have no way to verify whether these people are truly experienced in Forex trading. Also, we don't know if this team has built other robots in the past.
Val, the expert trader, placed the trades and sent updates on the official Telegram group regarding open positions. He analyzes the market conditions, and if the situation demands it, he manually intervenes to make modifications as needed. Growex hosts the master account in the same local server. You can copy trades to your own brokers without any restrictions.
The vendor recommends signing up with the IC Markets broker since it is well-regulated and offers high liquidity. There are three different investment plans for this system, namely Stabilitas, Low-Risk Combo, and Progressive. The projected monthly profits for these plans are 4%, 6%, and 8%, respectively. Stabilitas is a low-risk plan with a maximum drawdown of 10% and a required minimum balance of $330.
The next two plans are considerably riskier and require you to invest a larger balance. For instance, the safety stop is set at 5% for the Stabilitas plan and 35% for the Progressive plan.
Trading Strategies and Currency Pairs 
This EA follows a conservative counter-trend strategy. It only executes long trades on the Stabilitas plan and automates entries when the GBP/CAD pair moves out of its price range. In case it is not able to secure a profit, it opens another position of the same size.
In case breakeven does not occur, and the price makes an unfavorable movement, the EA opens a position with 3 times the original size. You can use Growex to trade in pairs like AUD/USD, EUR/CHF, EUR/CHF, EUR/GBP, EUR/JPY, EUR/USD, GBP/USD, NZD/USD, USD/CAD, USD/CHF, and USD/JPY.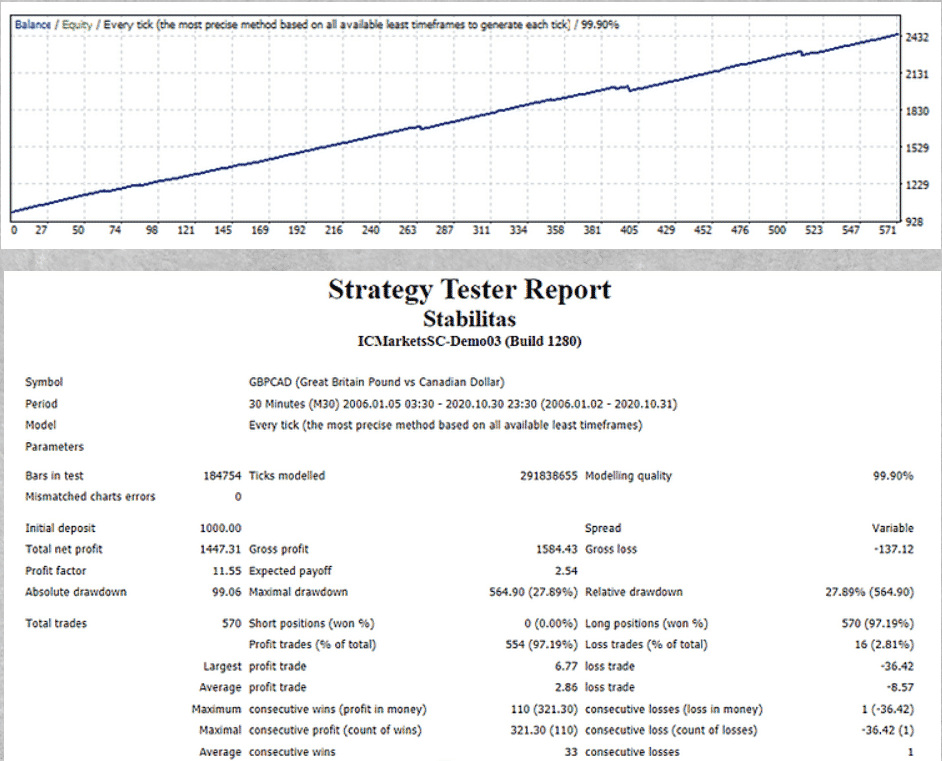 Here we have the backtesting results for the Stabilitas plan, carried out between 2006 and 2020. Growex used an initial deposit of $1000 for this test, using which it generated a total net profit of $1447.31. It placed a total of 570 trades during this test, winning 554 out of them. Therefore, it had a profitability of 97.19%.
Growex Trading Statistics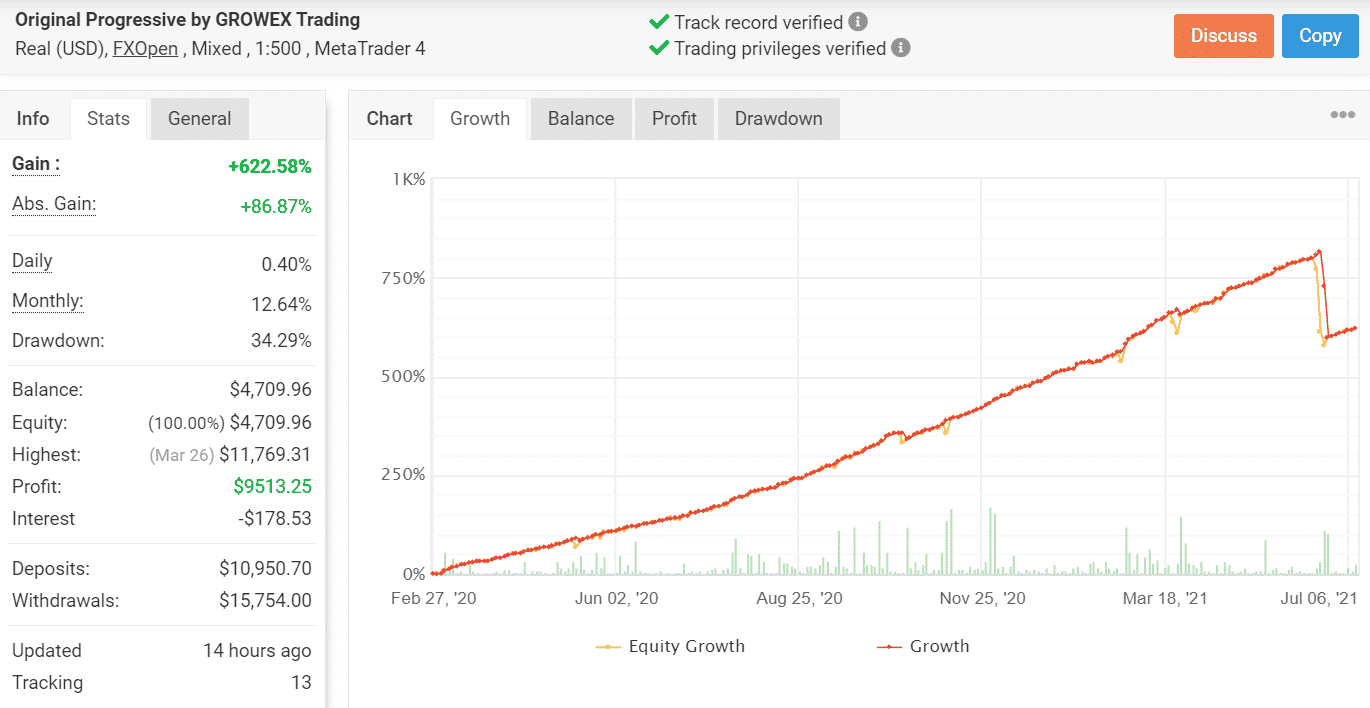 This is a live trading account for Growex on the Myfxbook website that has been active since February 27, 2020. To date, the EA has placed 973 trades through this account, and it has managed to win 671 out of them. Thus, it has a win rate of 69% with 70% for long trades and 67% for short trades.
Currently, the daily and monthly profits generated through this account are 0.40% and 12.64%, respectively. The drawdown is however quite high at 34.29%. This tells us that the EA is following a high-risk trading approach.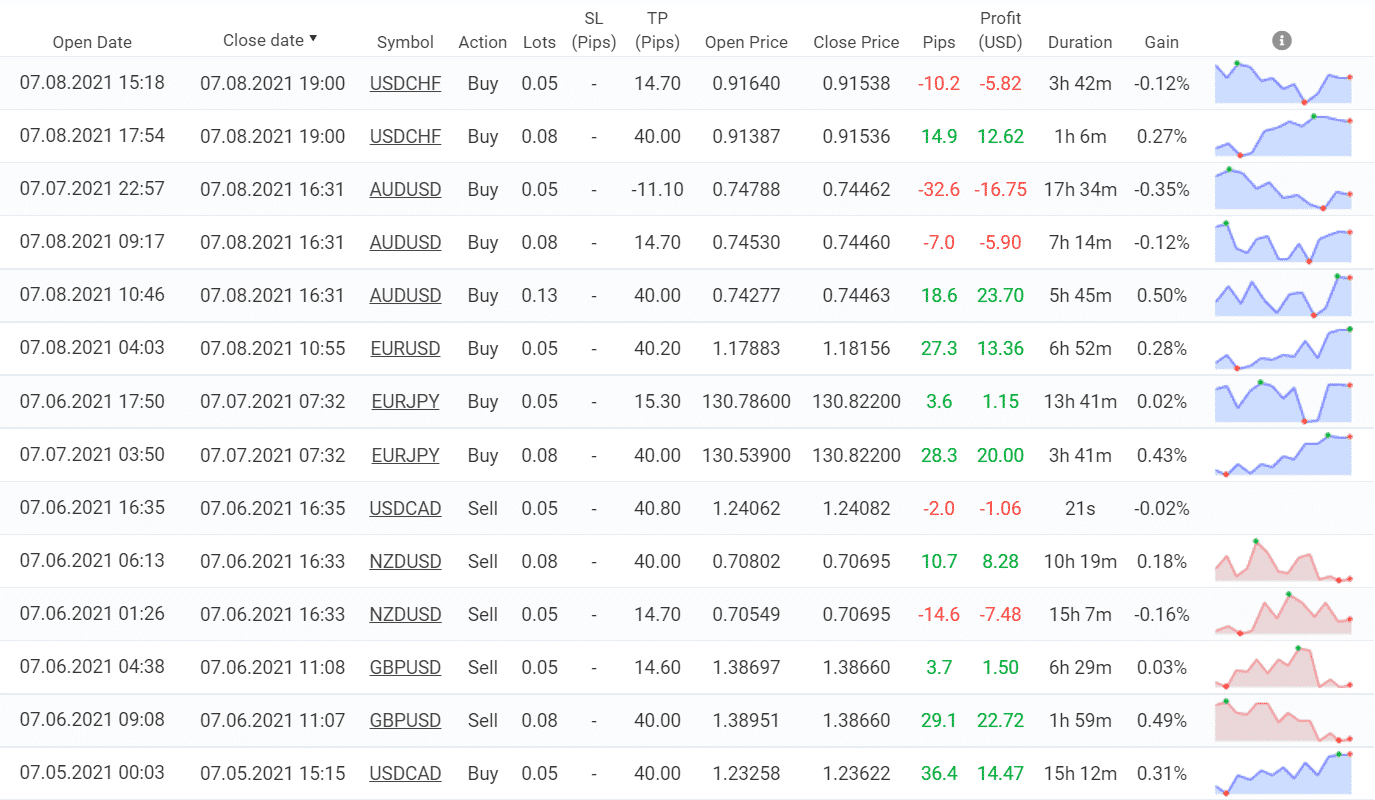 By checking the trading history, we can see that the EA executes a grid of orders using Martingale. This is a risky strategy that can lead to huge losses. Moreover, you can only win small profits using this strategy, so it is not suitable for long-term traders.
Pricing and Refund  
You can use Growex free of cost for the first week. If you sign up with the IC Markets broker, you get a 2-week free trial. After that, you need to pay $39 per month. The vendor does not provide any refunds for this system.
What Else You Should Know About Growex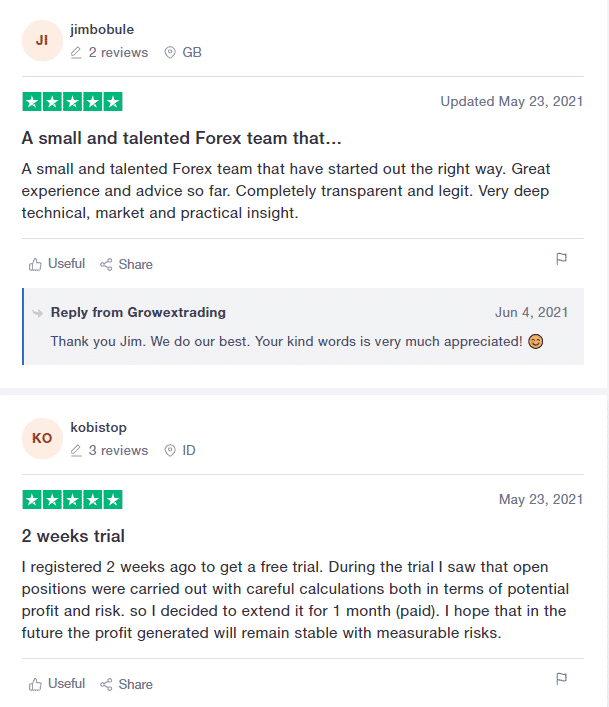 There are several user reviews for Growex on the Trustpilot website, with most of them being positive. Customers have praised the market insight provided by the system as well as the transparency.