Forex Steam is a fully automated robot that boasts of having 6,000+ clients in more than 100 countries. The vendor says that it is the longest running EA of its kind, having existed in the market for over 10 years. It has allegedly outlived all other robots in the industry, and this is thanks to the developers' effort of improving the system regularly. However, we are skeptical about this assertion as we have come across other EAs purporting to have been in the market longer.
The team behind the Forex Steam EA is said to have more than 25 years experience in the Forex market. The team leaders are: Paul Demonde, Dmitri Kozlov, Julie Zhang, and Allan Brisebois.

We could not ascertain the name of the company this team works under because such info is missing. Therefore, we do not know its profile including its mission, vision, year of foundation, service offered or their other products. However, the developers indicate that they are mostly virtual meaning that they are situated all over the globe. One of the team members' offices acts as the corporate headquarters of their services.
Forex Steam has the following features:
Offers step-by-step video guides
Provides free updates regularly
Comes with 4 licenses which make it possible for the trader to run the system on 4 accounts simultaneously
Has an advanced retrace technology that enable users to lock wins, and minimize losses
Has an advanced holiday filter, spread filter and trailing stop and break even
Runs on the MT4 platform
The minimum recommended deposit is $300-$500
Like many other EAs out there, Forex Steam performs trades automatically for the user. Therefore, if you buy it, you will get a unique link through your email. You can then click on it to create your membership. This enables you to gain access to the members' area to obtain all the software and materials.
Trading Strategies and Currency Pairs
Forex Steam mainly trades with the EURUSD currency pair. There is nothing much to tell about the system's trading strategy. The Forex Steam team just mentions that it applies a low risk trading approach. This is unfortunate since many traders now rely on trading strategies to decide whether to purchase a trading system or not.
The team has not provided us with backtest results. So, we cannot gauge the system's past performance considering it has been around for 10+ years.
Forex Steam Trading Statistics
The vendor has provided us with unverified trading results in a table format. Therefore, we had to visit myfxbook.com to see if we could find verified data for this EA. There are only 4 trading accounts on myfxbook.com and all of them are inactive which raises questions around the system's validity.

We have evaluated the results from one of the accounts below: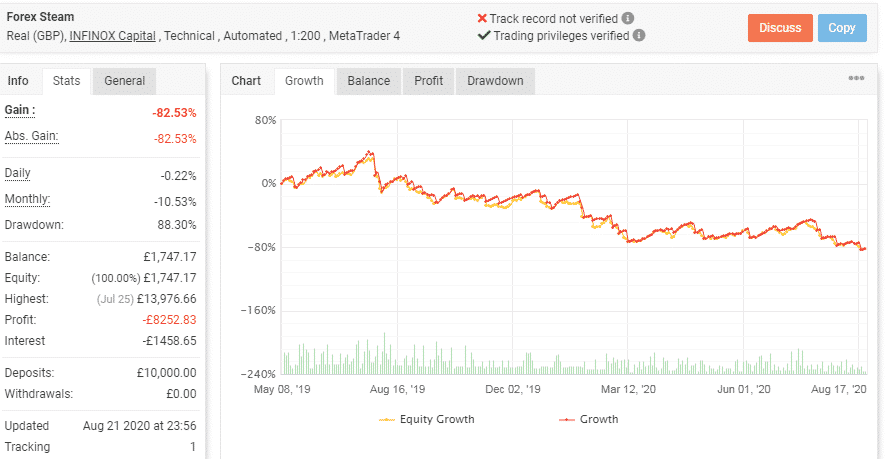 We can say that the account is currently inactive. A close look at the screenshot above shows that the EA traded on a real account from May 2019 to August 2020. A deposit of €10,000 was put into the account and it generated a loss of -€8,252.83. Therefore, the account balance reduced to €1,747.17. The total gain loss was -82.53%. The software also made daily and monthly losses of -0.22% and -10.53% respectively. The drawdown was very huge (88.30%), a further illustration of the software's losing streak.

The EA managed to conduct 533 trades and attained win rates of 83% and 82% for longs and shorts respectively. The profit factor of 0.82 was below average. The pips made were -728.6 pips. The average loss (-62.63 pips) was almost 6 times higher than the average win (11.41 pips). The system traded with 492.44 lots, which was very high. They increased the account's risk of incurring losses.

The account's risk of ruin was very high, and it is possible the system blew up this account.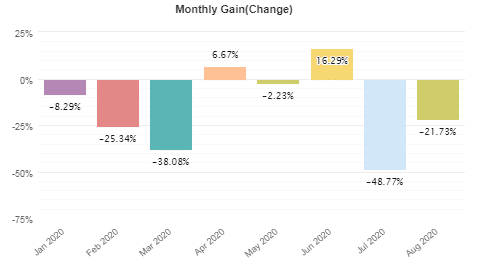 Obviously, the account mainly made losses on a monthly basis. It only had 2 profitable months.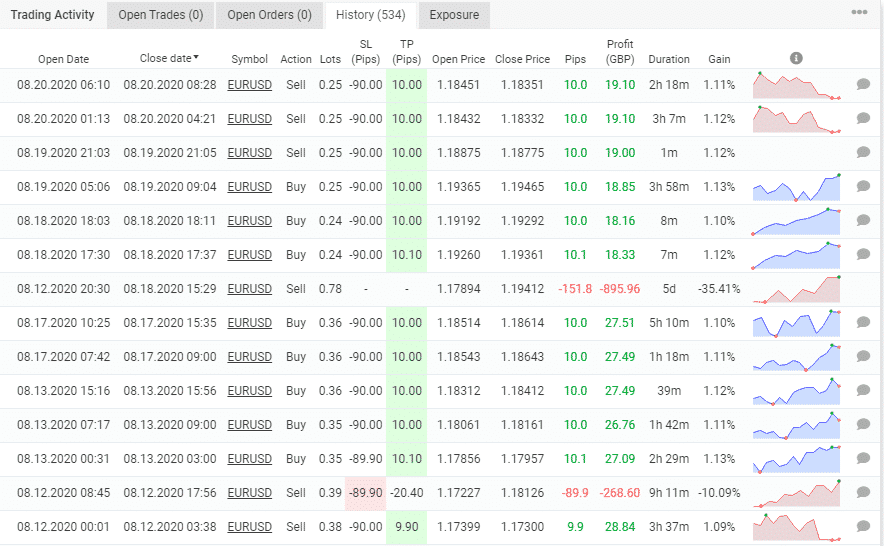 The trading history shows that the account made very small gains. It also traded with large lot sizes. It applied trailing stop losses and take profits. Notably, most SL and TP levels were fixed.
Pricing and Refund
Forex Steam is available at a one-time payment of $117.99. At this price, you will get instant access to all versions of the software, free upgrades for life, 4 licenses, free installation, and lifetime membership. However, there is no mention of any money-back guarantee. So, we assume that it is not offered.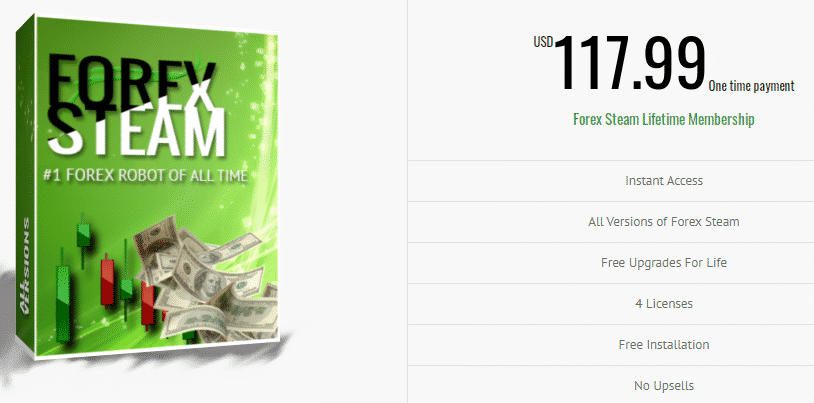 What Else You Should Know about Forex Steam
There are several customer reviews for this EA on its official website and as expected, many of them are positive. As usual, we cannot rely on such testimonials. It is highly likely that these reviews are manipulated, and we lack the means to verify their authenticity.
Therefore, we decided to search for more reviews on Forex Peace Army. We discovered that there are 201 mixed reviews on this site. Customers have given this EA a rating of 2.929 out of 5. We are thus convinced that the performance of the robot is not that great. A look at the negative reviews shows that some users are not too thrilled with the system. According to them, it does not generate big profits as claimed and makes significant losses. Other traders are warned to beware of it.