Today's robot review will be about Forex Robotron, a Forex trading system that was created and became accessible to the public 8 years ago. The latest update of the system to V30 was released in April 2021. The dev decided to add a new option to 'choose close type, set trade aggressive to default, updated licensing system'.
This Forex expert advisor was built to work on the MT4 terminal on EURAUD, EURCAD, EURCHF, EURGBP, and EURUSD currency pairs on M5 timeframe. According to the product presentation, this robot is a result of a long period of programming, testing, and trading experience. According to our WHOIS research, the website was created on February 19, 2013. The website design looks poor as it seems that the devs do not care to update it and make it more user-friendly and easier to navigate.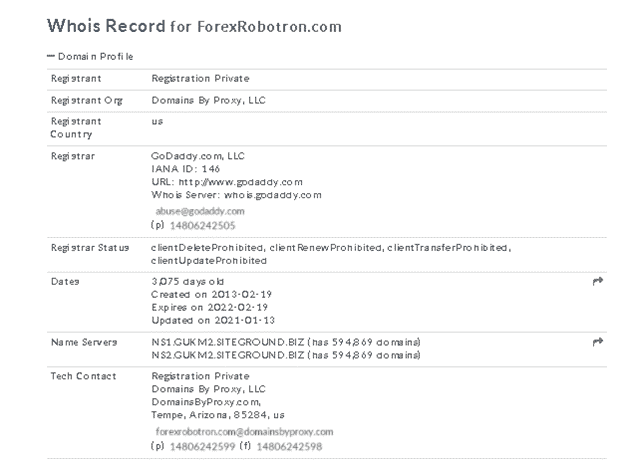 Unfortunately, there is no information about the developers that are responsible for this product. It looks odd as for the devs that are in the FX for over a decade.
We have analyzed the product presentation and key features of this MT4 tool:
Forex Robotron is built to work on MetaTrader 4 platform on M5 timeframe
It is optimized for trading EURAUD, EURCAD, EURCHF, EURGBP, and EURUSD currency pairs
The latest update to V30 was released in April 2021
The system can perform up to 600 deals per year
The dev also points out that the trading results can vary depending on brokers liquidity, spreads, slippage, commission, and market conditions
The highest trading activity of this EA is between 9-11 pm GMT
There is an 'option for no trades open over the weekend'
It was tested with real tick data with a 99% modeling quality
The EA was tested with real variable spreads and real slippage
It was tested Including trade commissions of $7 per lot
It is compatible with STP/ECN brokers, making it suitable for beginner and veteran traders alike
Traders can run the Ea with ana deposit and any leverage
The dev claims that the system does not use any martingale money management strategies or grid trading
Each package comes with a detailed user manual of how to set up the system
There is no trial version for this EA
Customer support is provided via email only
Trading Strategies and Currency Pairs
The trading strategy behind this EA is known as the Scalping strategy. It monitors the FX market and then gives trading signals that result in M5 charts. This way, they are in and out of the market before its state changes and they can maximize profit. This EA trades towards the end of the NY trading session up until the Asian trading session. The GMT trading hours are automatically calculated for traders within the code.
The system comes with default settings and traders can easily start trading with no attritional settings or optimizations. However, according to the dev, if you want to experiment, you can experiment with the settings on demo accounts, not a real one, as it is risky, or in the MT4 strategy tester. The dev points out that the system does not use Hedging, Martingale, Grids, or Arbitrage. Frankly, without real trading results analysis we cannot trust vendor's claims blindly.
Lets' analyze the backtesting report for the EURUSD currency pair: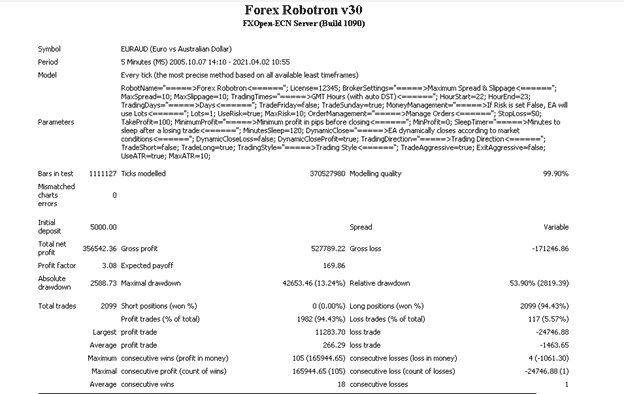 The historical results show the backtesting results based on 6 years' data. These backtests were conducted in the MT4 terminal using every tick model, variable spreads, and slippage. The account was deposited at $5K and for over 6 years of trading activity with a profit factor of 3, 08 the system could generate $356542, 36% of the total net profit. The relative drawdown was 53, 90% indicating a risky trading approach applied. Out of 2099 trades performed, 982 were winning ones, indicating a high win rate of 94, 43%. The average loss trade result is x5 times higher than the average loss, meaning the risk-reward ratio is 5:1. It is not good for trading.
Forex Robotron Trading Statistics
The live trading results represented on the dev's website are verified by a reputable third-party website myfxbook. This account was created on July 23, 2018, and was deposited at A$1,435.28. Its total gain has grown to 487, 78% with an average monthly gain of 6, 51%.  This Real (AUD) account shows us a high drawdown the system trades – 57,  21%.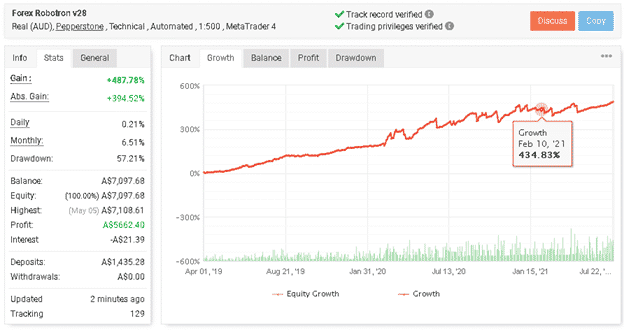 The win rate is 81% based on 1078 trades performed. The average loss is x3 times higher than the average win: -A$54.17 and  A$19.55 respectively. The profit factor of this EA is 1.50 and the average trade length is 1hour and 21minutes, meaning that the system uses Scalping to generate profit. This can be proved by the trading history of Forex Robotron: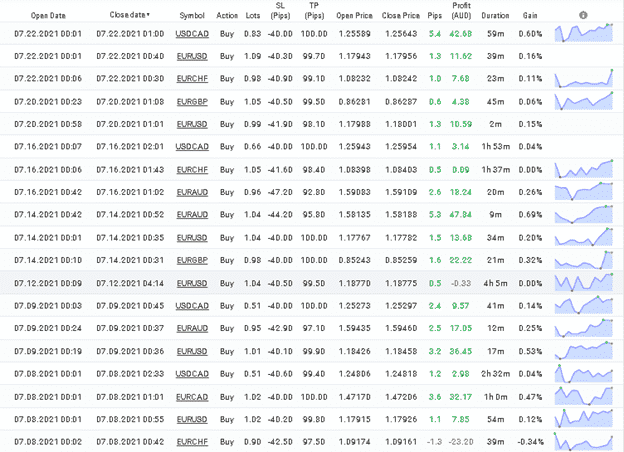 As you can see, the EA uses a Grid of orders to place trades mostly at midnight. It does not trade with a fixed Lot size, which is risky.
It is a night Scalper: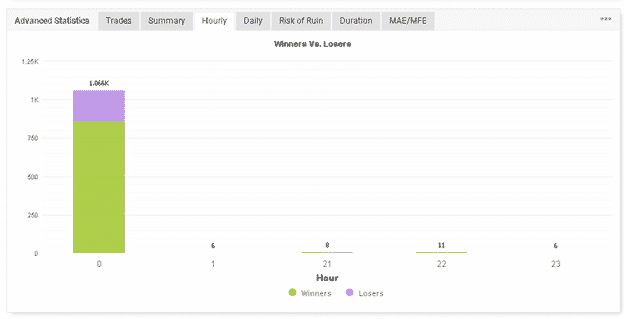 Four out of 7 months are unprofitable ones, meaning that the system is not as good as the dev claims: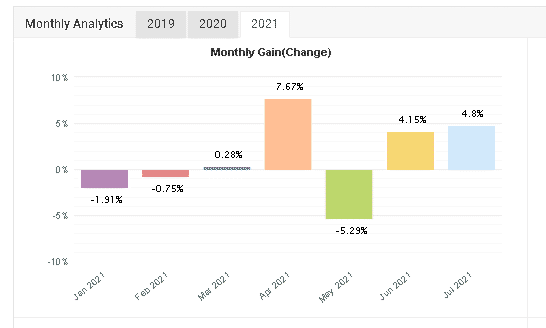 Pricing and Refund
There are 4 packages offered: Basic, Standard, Gold, and Premium. With their packages, they provide an unlimited number of Demo licenses, dedicated lifetime support, access to free updates, and the ability to trade all currency pairs. The price difference between their packages is because of the number of real licenses provided. So, Basic offers 1 real account license, Standard – 2, Gold – 3 and Premium guarantees an unlimited number of real account licenses.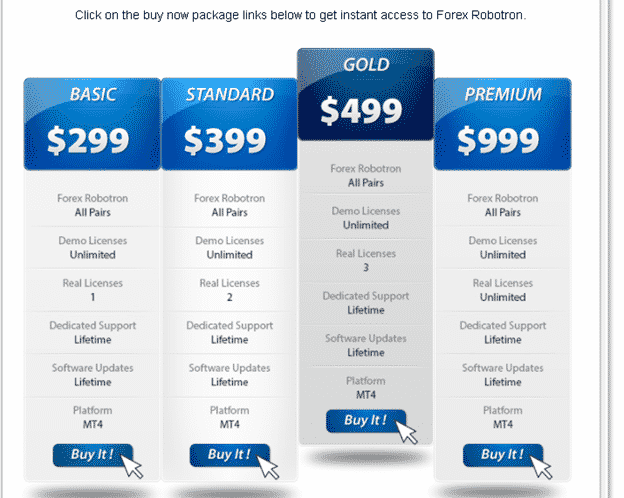 Paying $299- $999 you won't obtain a money-back guarantee from the vendor. It is a huge con.

What Else You Should Know about Forex Robotron
Forex Robotron has a page on the Forex Peace Army created.

There is only one 3 star review from their customer written:

The trader claims that the robot is the 'same as other EAs'. We have no review written in 2021, which looks odd.