DynaScalp is developed by an institutional trader for performing analysis on multiple currency pairs. The algorithm has a built-in news filter to avoid trading in unfavorable market conditions. It is fully automated and has both live records and detailed backtesting reports that we will analyze in our review to understand its performance.
Chris Bernell is the author of the EA. The copyright mark on the website suggests that the company has been in the market since 2018. They have multiple other systems including Stealth Trader, Automic Trader, Funnel Trader, and AX Trader.
DynaScalp robot review
The robot has the following features:
It comes with a news filter.
A detailed backtesting report is available for multiple currency pairs.
There is no involvement of grid and martingale.
The developers provide a 30-day money-back guarantee.
It's available for the MT4 platform.
Traders with no market experience can use it easily.
Trading strategies and currency pairs
The developer states that the robot does not use martingale or grid strategies. It closes its positions on the same trading day and has a news filter to avoid volatile price movements. The EA employs a night scalping strategy with an asset weight management system to tackle favorable currency pairs.
From the history on Myfxbook records, we can see that it trades at the end of the New York session. The lot size for each currency pair can vary according to the stop loss and take profit ensuring proper risk management. There is some element of averaging involved in recovering losing trades. While this can increase the chances of a high drawdown it helps in maintaining a straight upward balance curve.
Backtesting records have been provided for the robot for the AUDUSD currency pair. The timeframe for this is M15. With a modeling quality of 99.9%, the testing was done for 11 years, from 2010 to 2011.
From these records, it can be seen that the initial deposit of $1000 was converted into a total net profit of $984.07. The profit factor stood at 1.25, with the drawdown lurking at 32.79%.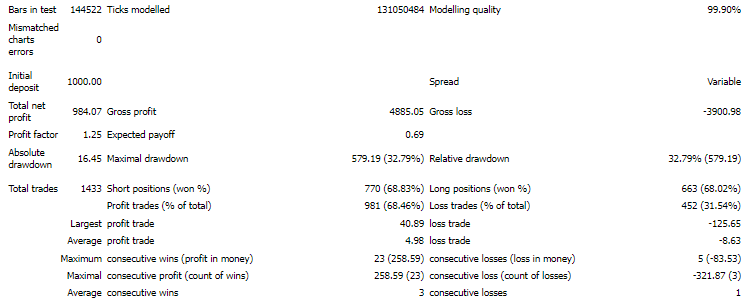 DynaScalp trading statistics
Live trading results have been verified by Myfxbook, where the algorithm trades on AUD. Performance can be tracked from June 30, 2020 till the current date. It can be inferred the system generates a monthly return of 11.17% with a profit factor of 1.64. The balance stands at $2541.96.
This live trading account has a total profit of $1283.14, with a drawdown percentage of 17.31%. The low drawdown percentage provides us evidence that the system is using proper risk management techniques.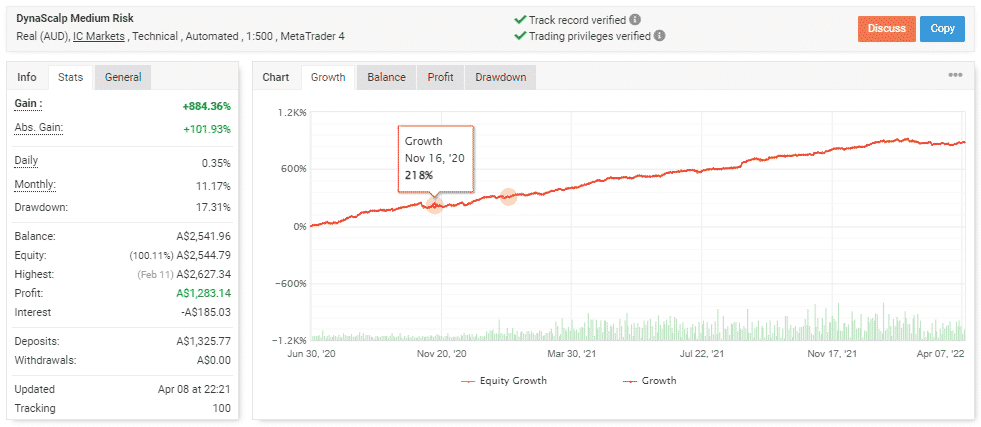 Pricing and refund
The system is sold in two packages: one year and a lifetime. The first one comes at an asking price of $247, while the latter is $397.
Both packages come with a 30-day money-back guarantee, best settings, and recommendations. The developers are also keen to offer customer support.
What else you should know about DynaScalp
The company LeapFX has a total rating of 3.197 for 17 reviews on Forex Peace Army. While there are no comments available for DynaScalp, a trader comments on the authors and their other algorithms, X-Ray and Trader Explorer. They state that the authors are honest with their approach, and the current trading account is growing with profits. Investors should not let their emotions get in current live trades.