ETF full name: The Sprott Physical Silver Trust
Segment: Precious metals — silver
ETF provider: Sprott Asset Management LP
| | |
| --- | --- |
| PSLV key details | |
| Issuer | Sprott Asset Management |
| Dividend  | N/A |
| Inception date | October 27, 2010 |
| Expense ratio | 0.67% |
| Management company | Sprott Asset Management LP |
| Average 3-5 EPS | N/A |
| Average Annualized Return | 54.15% |
| Investment objective | Silver trading alternative |
| Investment geography | Canada, the US |
| Benchmark | Spot silver price |
| Leveraged | N/A |
| Median market capitalization | N/A |
| ESG rating | N/A |
| Number of holdings | N/A |
| Weighting methodology  | N/A |
About the PSLV
The Sprott Physical Silver Trust started on October 27, 2010, as a closed-ended trust that invests in "London Good Delivery" (LGD) silver bars. The trust providers tout it as a "convenient investment alternative" for traders who desire to hold physical silver.
PSLV Fact-set analytics insight
The PSLV trust was designed to track the market movements of spot silver, and it does so with a 4% margin for error. It operates under the laws of the Ontario Province in Canada.
The trust anticipates no regular withdrawals by the unitholders. It deals mainly in unencumbered, physical silver bullion, with no such aim as to dabble in short-term changes in spot silver prices.
PSLV performance analysis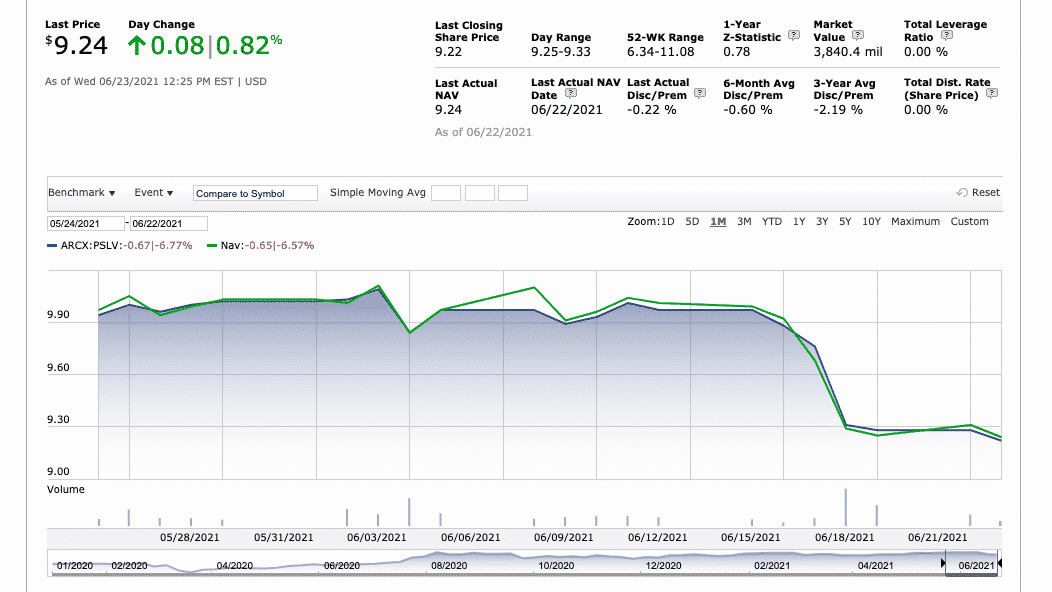 With the trust investing in spot silver only, the performance is mostly tied to the precious metal. This is because silver, and other precious metals, save for maybe palladium, are viewed by the traders as so-called safe-haven assets and become wildly popular during crises.
With the virus outbreak, and the economic turmoil that came with it, the investors saw silver as one of the top choices for weathering the pandemic. So it came as no surprise when the precious metal soared to the levels last seen in 2013 and even briefly climbed above the $30-per-ounce threshold.
Considering that silver did rather well throughout the pandemic, the trust's performance followed a similar path.
PSLV key holdings
While the trust consists of spot silver alone, its units can be traded on any day that the New York Stock Exchange, or its Toronto counterpart, operate. The metal held by the trust is in the custody of the Royal Canadian Mint, which is the government of Canada's federal crown corporation.
Due to that fact, there is no risk of financial loss in the financial institution's bankruptcy. However, depending on the general market scenario and the duration of the assets' holding time, the fund projected a range of 87% loss to 25.7% profit in a 1-5 year span. The recommended holding time, provided on the trust's website, is five years.
Industry outlook
According to TD Securities commodity strategist Daniel Ghali, depending on the movements of the United States dollar and the general tone of the US Federal Reserve, the precious metals are generally expected to rise throughout 2021.
Given that the silver doesn't only serve as a "safe haven" asset but is also in demand in industry, the BullionVault's prediction of silver hitting $30 by the end of 2022 stands to reason. An additional trait that could propel the metal price is silver usage to fight against Covid-19 for diagnostic and therapeutic purposes.