ETF full name: First Trust Global Wind Energy ETF
Segment: Energy Sector
ETF provider: First Trust
FAN key details
Issuer
First Trust
Management
First Trust Advisors L.P.
Quarterly Dividend 
$0.05
Inception date
June 16, 2008
Expense ratio
0.62%
Average 3-Year Return
19.69%
Average Annualized Return Since Inception
0.03%
Investment objective
Replication Strategy
Investment geography
Alternative Energy Equities
Benchmark
Thomas Reuters Global Renewable Energy
Leveraged
N/A
Median market capitalization
Yes
ESG rating
A: 7.95 out of 10
Number of holdings
53
Weighting methodology 
Market capitalization
About the FAN ETF
The First Trust Global Wind Energy ETF, FAN, was the only good news in a dark period for investors, the market crash of 2008. While grappling with the unprecedented wall street meltdown, investors got an avenue to hedge against the markets through the FAN ETF on June 16, an alternative energy exchange-traded fund.
It tracks the performance of the ISE Clean Edge Global Wind Energy Index, intending to replicate the index performance before expenses. It has $399.21 million in assets under management and a 10-year average annualized return of 11%.
FAN Fact-set analytics insight
Coupling investing and a clean conscience are not accessible. However, the FAN ETF provides investors exposure to 53 energy companies interested in green energy and associated technologies.
This ETF is, therefore, an industry-specific fund with a focus on the global wind energy industry. It is a fund more suitable to investors seeking technical investment in the wind as a renewable and alternative source of energy-green energy.
FAN performance analysis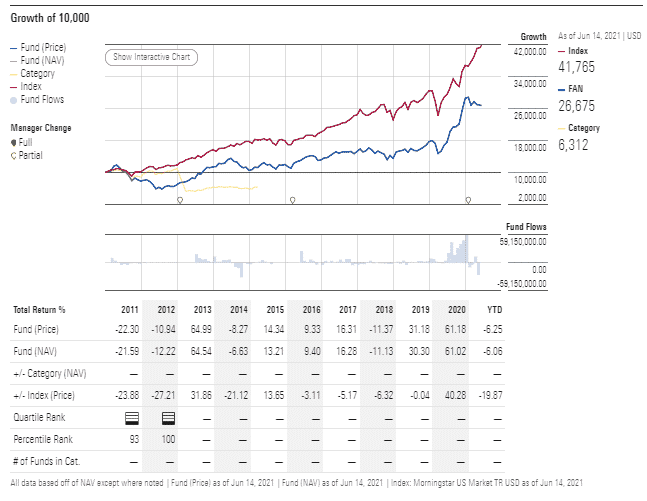 FAN fund experience in the first four years of trading was heartbreaking. In its existence, investors in this ETF would love to wipe the 2011 trading year from their memory; -21.59 returns.
However, the acceleration of the global shift regarding clean and renewable energy saw a change in fortune for this ETF. From 2013, 64.51% annual returns, this ETF has been on a bullish run, with investors enjoying average annualized 10-year returns of 11%.
In a world dealing with the Covid-19 pandemic and a downturn in economic activity, the appetite for clean energy seems to have kicked into a higher gear given FAN's 2020 returns of 61%. The management of the FAN ETF rebalances and reconstitutes it semi-annually.
FAN ETF RATING

Resource
ETF DATABASE
ETF.com
MarketWatch
Morningstar.com
Money.usnews.com
FAN Rating
A+
C 11
N/A
N/A
Rank №7 in miscellaneous sector
FAN ESG Rating
AA: 7.95 out of 10
AA: 7.95 out of 10
N/A
N/A
B: 2.4 out of 10
FAN key holdings
FAN ETF has a global reach but concentrates on wind energy. As a result, 60% of its composition is pure wind play companies, with the remaining 40% being diversified sector companies with interests in wind energy. The top FAN holding is Siemens Gamesa Renewable Energy S.A. This Spanish company runs wind turbines and wind energy operations maintenance, both in Spain and abroad.
In the number two berth sits Vestas Wind Systems A/S. It operates through its service and power solutions segment to develop, manufacture, sell, and maintain wind harnessing power plants. In addition, this Danish company also sells spare parts and all associated wind-based after-sales services.
Rounding up the top three big-boys of the FAN ETF is Ørsted A/S, another Denmark-based company. It interests the broader wind industry than the other top three companies and ensures efficiency through three segments, distribution, customer solutions, bioenergy and thermal power, and wind power. In addition, the company has interests across three continents through its segments, the U.S., Europe, and Asia.
The top 10 holdings of FAN are.
| | | |
| --- | --- | --- |
| Ticker | Holding name | % of assets |
| GCTAF | Siemens Gamesa Renewable Energy S.A. | 8.95% |
| VWSYF | Vestas Wind Systems A/S | 8.25% |
| DOGEF | Ørsted A/S | 7.84% |
| NPIFF | Northland Power Inc. | 7.65% |
| CLPXF | China Longyuan Power Group Corp. Ltd. | 6.79% |
| BRLXF | Boralex Inc. Cl A | 5.64% |
| INGXF | Innergex Renewable Energy Inc. | 3.88% |
| TPIC | TPI Composites Inc. | 3.40% |
| XJNGF | Xinjiang Goldwind Science & Technology Co. Ltd. | 2.68% |
| GE | General Electric Co. | 2.46% |
Industry outlook
One of the first announcements of the Biden administration was the expansion of U.S. offshore wind energy projects to create jobs and start the climate reclamation process. Such initiatives coupled with the G7 countries' push for a greener-based worldview are the driving force propelling renewable energy stocks to new highs.
In addition, ESG-based ETFs have a history of high resilience during massive sell-offs, as is expected in the markets given FEDs stance on letting inflation rates go unchecked for the foreseeable future.