ETF full name: SPDR S&P 500 ETF
Segment: Large-cap growth equities
ETF provider: State Street Bank and Trust Company
| | |
| --- | --- |
| SPY key details | |
| Issuer | State Street Global Advisors |
| Dividend | $1.28 |
| Inception date | February 22, 1993 |
| Expense ratio | 0.09% |
| Management company | State Street Global Advisors Funds Distributors, LLC |
| 1 Year Return | 51.31% |
| YTD Return | 9.51% |
| Investment objective | Growth |
| Investment geography | The US top 500 companies |
| Benchmark | S&P 500 Index |
| Leveraged | N/A |
| Median market capitalization | N/A |
| ESG rating | BBB: 5.48 out of 10 |
| Number of holdings | 507 |
| Weighting methodology  | Market capitalization |
About the ETF
The acronym SPDR in full is Standard & Poor's Depositary Receipts. Therefore, the actual full name of the exchange-traded fund listed in the NYSE by the ticker name SPY is the Standard & Poor's Depositary Receipts S&P 500 ETF. Unlike modern ETFs, SPY ETF is a Unit Investment Trust tracking the S&P 500 index.
From its inception in January of 1993, SPY is among the oldest and most traded ETFs globally. Since its inception, the SPDR S&P 500 ETF average annual returns are recorded at 9.96%.
SPY Fact-set analytics insight
The S&P 500 index comprises 500 large and mid-cap companies across the economic sector, but with the majority being in information technology, approximately 27%. The range of industries making up this ETF exposes investors to a diversified portfolio. It is one of the chief reasons why it is such a popular ETF among investors with a massive asset under management value of $355.84 billion.
Being one of the oldest ETFs, the SPDR S&P 500 ETF adopts the market capitalization weighting methodology. The market capitalization of individual companies is arrived at by multiplying its share price by its outstanding shares. Then all these unique market caps are summed up to find the ETF market capitalization weight. To find the company's market weight making up an index, divide that company's market cap with the total sum of all the companies making up that index.
SPY annual performance analysis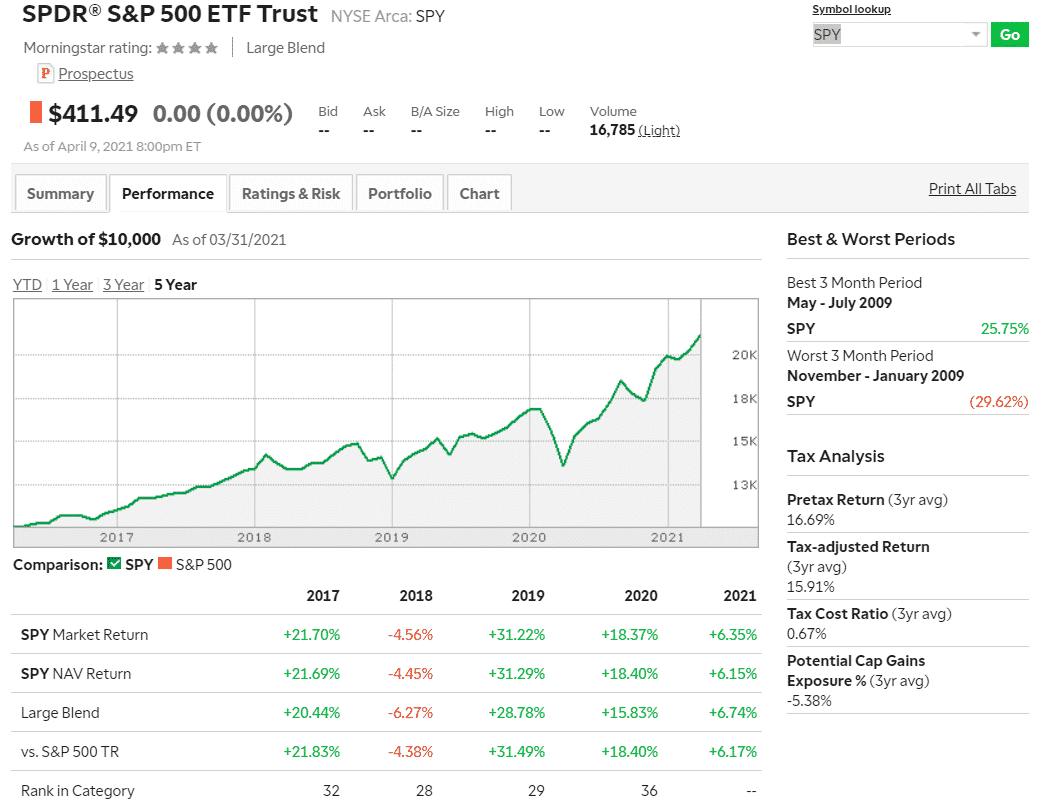 The global economy has taken a beating from the novel coronavirus over the last year. However, lockdown globally and the restriction of face-to-face interaction has resulted in widespread adoption of information technology and communication services that facilitate electronic exchange.
By having most of its member companies operating in the two sectors, it is no wonder that the SPY ETF yields an average 3-year return of 13.35% to its investors. The addition of Tesla to this ETF also was a contributing factor and will prove quite an asset as the global community adopts clean energy and electric vehicles.
The bullish trend of this ETF seems to have picked up from last year, as evidenced by the year-to-date YTD return of 9.51%. The expectation is for the trend to continue as the effects of the Covid19 vaccine spread globally, leading to the resumption of economic activities to normal operations in the other sectors of the economy.
SPDR S&P 500 ETF pays quarterly dividends, and its investors enjoyed dividends of $1.28 in the last quarter against an expense ratio of 0.09%. It costs $9 to invest $10,000 in the SPY.
On the MSCI scale, SPY ETF has a rating of BBB. This scale seeks to analyze investment portfolios' responsiveness to the governmental, environmental, and social risks and opportunities.
SPY ETF RATING
Resource
ETF DATABASE
ETF.com
MarketWatch
Morningstar.com
Money.usnews.com
SPY
A
A 95
5
****
39 in large blend ETFs
ESG Rating
BBB: 5.48 out of 10
BBB: 5.48 out of 10
N/A
BBB: 22.08 out of 50
A: 6.9 out of 10
SPY key holdings
The top three holdings in SPY are Apple Inc. — 6.01%, Microsoft Corporation — 5.52%, and Amazon.com, Inc. — 4.13. The global appetite for smartphones, cloud computing, streaming services, and e-commerce in light of the Covid19 lockdown has only grown. These three companies are pioneers in the fields mentioned above and are expected to drive the SPY ETF's bullish trend.
To round off the top 5 spots of SPY ETF is Facebook Inc. Class A — 2.15% and Alphabet Inc. Class A — 1.95%. Alphabet, formerly Google, can only soar higher as more Android-based smartphone market grows. As more and more companies take on the global consumer market and the need for advertisement and digital services grow, both Facebook Inc and Alphabet Inc seem poised to take advantage and grow.
Johnson & Johnson — 1.21% is the number 10 holding for this ETF, and with its single-dose Covid19 vaccine, it is expected to be among the forefront companies raking in big time as the world overcomes this pandemic.
Here are the most significant holdings that are making up the SPDR S&P 500 ETF.
| | | | |
| --- | --- | --- | --- |
| N | Name  | Shares Held | Weight |
| 1. | Apple Inc. | 160,644,370 | 6.01% |
| 2. | Microsoft Corporation | 76,777,736 | 5.52% |
| 3. | Amazon.com Inc. | 4,357,167 | 4.13% |
| 4. | Facebook Inc. Class A | 24,486,758 | 2.15% |
| 5. | Alphabet Inc. Class A | 3,061,395 | 1.95% |
| 6. | Alphabet Inc. Class C | 2,934,192 | 1.89% |
| 7. | Tesla Inc. | 7,816,787 | 1.49% |
| 8. | Berkshire Hathaway Inc. Class B | 19,409,688 | 1.45% |
| 9. | JPMorgan Chase&Co. | 31,063,496 | 1.36% |
| 10. | Johnson & Johnson | 26,759,310 | 1.21% |
Industry outlook
The global economy has started recovering on the back of the Covid19 vaccine. The federal government's economic stimulus is expected to spur total economic growth. An ETF that cuts across the economic spectrum is an excellent way to ride the resulting bullish rally at a minimal cost.
Jerome Powell, Chair of the Federal Reserve, says that the US economy is turning point due to government support and mass inoculation against Covid19. This statement affirms the bullish outlook of the majority of the stocks under the SPY ETF as tracked by Zacks' analysts.