ETF full name: Invesco QQQ Trust
Segment: Large-cap non-financial growth stocks
ETF provider: Invesco Ltd
| | |
| --- | --- |
| Invesco key details | |
| Issuer | Invesco QQQ Trust |
| Dividend | 0.52% |
| Inception date | March 10, 1999 |
| Expense ratio | 0.20% |
| Management company | Invesco Ltd |
| Investment objective | Provide results that correspond to the Nasdaq 100 Index |
| Investment geography | US and non-US |
| Benchmark | NASDAQ 100 Index |
| Leveraged | No |
| Weighted average market cap | $779.67 billion |
| MSCI ESG rating | 4.92 out of 10 |
| Number of holdings | 102 |
| Weighting methodology  | Market-cap weighted |
About the ETF
The tech-focused Invesco QQQ ETF was launched at the dot-com boom height on March 10, 1999. It tracks the Nasdaq 100 Index, which consists of the 100 largest non-financial companies listed on the Nasdaq stock exchange.
As of March 31, 2021, QQQ is the second most-traded ETF in the US-based average trading volume. Just like its underlying index, the ETF is rebalanced every quarter. Constituents are added or removed once a year.
QQQ FactSet analytics insight
It has 102 stocks currently, almost 70% of which are from informational technology — 48.78%, and communication services — 19.22%. The consumer discretionary sector is the third-largest with an 18.18% allocation. The ETF has negligible exposure to the utilities, industrials, and consumer staples sectors.
A significant disadvantage of investing in a tech-heavy ETF like QQQ is the concentration risk. Its performance hinges heavily on the ten most extensive stocks. On the other hand, most technology companies are growing at a blazing fast pace despite their large size.
The QQQ tracks the Nasdaq 100 Index, including shares of the 100 largest non-financial companies on the Nasdaq stock exchange. Nasdaq-listed American Depository Receipts (ADRs) of foreign companies could also be part of the index if they fulfill the criteria.
Though stocks' weightage is based on market capitalization, Nasdaq has additional rules to cap the most extensive constituents' influence. Nasdaq reviews the index constituents every quarter and adjusts the weighting depending on the distribution requirements.
QQQ annual performance analysis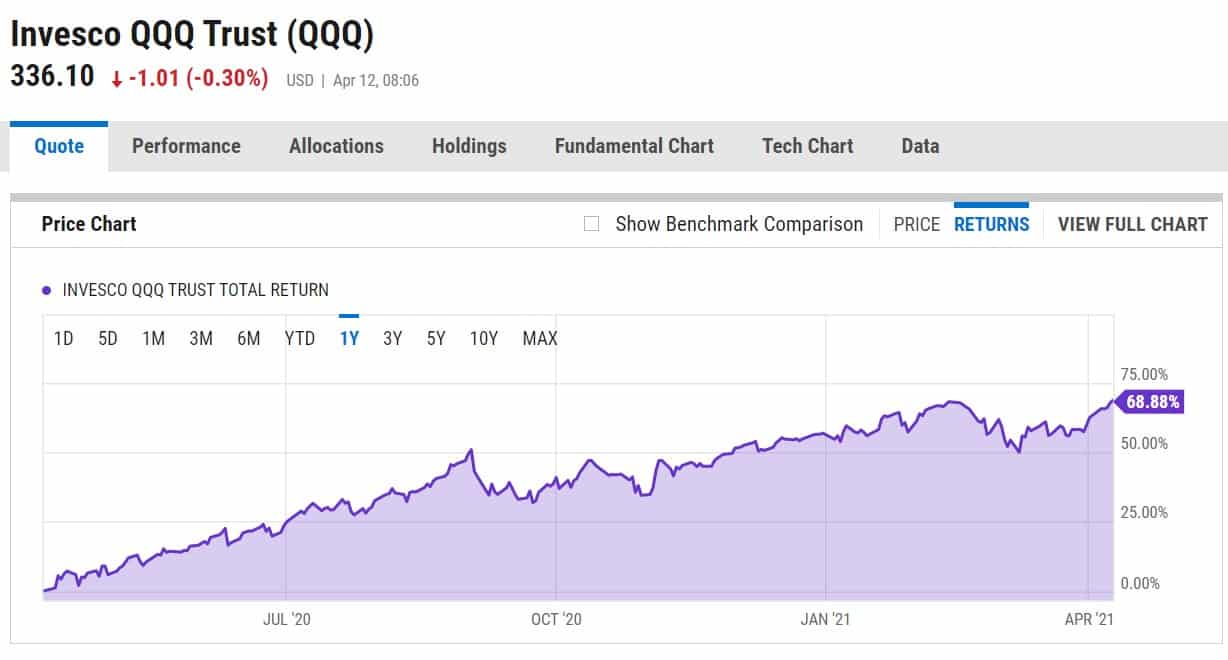 The QQQ is a tech-focused ETF consisting of high-growth, disruptive, and innovative stocks. It has historically been more volatile than the S&P 500 index. But the QQQ and its underlying index have significantly outperformed the S&P 500 over the last year and last decade.
Given the accelerated shift to work-from-home and other tech-driven trends, investors have become increasingly bullish on tech stocks.
Tech giants such as Apple, Microsoft, Amazon, Facebook, and Alphabet benefited last year from the COVID-induced lockdowns worldwide. The massive rally in Tesla stock — from $130 on April 13, 2020, to $677 on April 09, 2021 — has also helped boost QQQ returns. Tesla is the fourth biggest constituent of the Nasdaq 100 index.
Though nobody can predict the future, analysts are bullish on technology stocks. According to research firm Gartner, global smartphone sales would jump 11.4% to 1.5 billion units in 2021.
5G adoption will continue to drive smartphone sales this year. Semiconductors are experiencing a massive shortage, and semiconductor sales are expected to remain robust through 2021.
Invesco QQQ ETF (QQQ)

Resource
ETF DATABASE
ETF.com
MarketWatch
Morningstar.com
QQQ
A-
A 59
5
5
MSCI ESG Rating
4.92/10
–
–
–
QQQ key holdings
Apple is the single largest constituent — 11.29% of the Nasdaq 100 index and the QQQ ETF. It is followed by Microsoft — 9.76% and Amazon — 8.59%. Tesla, with 4.07%, is ahead of Facebook — 3.80%. Google's parent company Alphabet's Class A and Class C shares constitute 3.45% and 3.79%, respectively.
Collectively, the top 10 most significant holdings account for 52.03% of the ETF. The remaining 90 stocks constitute only 48%. It indicates that the performance of QQQ depends heavily on the ten most extensive stocks.
Here are the ten most extensive holdings of QQQ as of April 2021.
| | | |
| --- | --- | --- |
| N | Name | Weight in percents |
| 1. | Apple Inc | 11.29% |
| 2. | Microsoft Corp | 9.76% |
| 3. | Amazon.com Inc | 8.59% |
| 4. | Tesla Inc | 4.07% |
| 5. | Facebook Inc | 3.80% |
| 6. | Alphabet Inc Class C | 3.79% |
| 7. | Alphabet Inc Class A | 3.45% |
| 8. | NVIDIA Corp | 2.75% |
| 9. | PayPal Holdings Inc | 2.40% |
| 10. | Intel Corp | 2.13% |
Industry outlook
Technology companies continue to disrupt and overgrow. The COVID-19 pandemic has accelerated the shift to remote work and related technologies. But valuations remain expensive. Barron's said recently that the valuations of tech stocks have become "scary." Even though analysts and investors are optimistic about technology's future, the current valuations remain a concern.