It seems like everybody is talking about climate change nowadays, and for a good reason. The term itself refers to the changes in our natural environment caused by people's modern lifestyles.
Almost all of the activities brought by the development of new technologies impact the world, one way or another. The industry is constantly growing, more and more vehicles are roaming the roads with each coming day, and we as a species are creating more and more waste.
Climate change: why should you care?
Environmental scientists have long ago realized that the process of modernization could not go unchecked indefinitely, or the damage done to the planet will go past the point from which there is a return.
All of that has made governments around the globe impose stricter conservation rules and regulations, forcing the companies to soften the negative impact their operations have on Earth and the climate as we know it. Today's article is about the companies that decided to go the extra mile.
What is an ETF
ETF stands for exchange-traded fund. To put it in simple words, it's a group of stocks or bonds that you can buy, much like you do any other security. An ETF is to make your investment portfolio easier to form and cheaper to balance.
Today, we will answer the question: what ETFs are the best to buy if you want to invest in companies dedicated to combating climate change?
1. Invesco MSCI Sustainable Future ETF (ERTH)
Price: $68.88
Expense ratio: 0.58%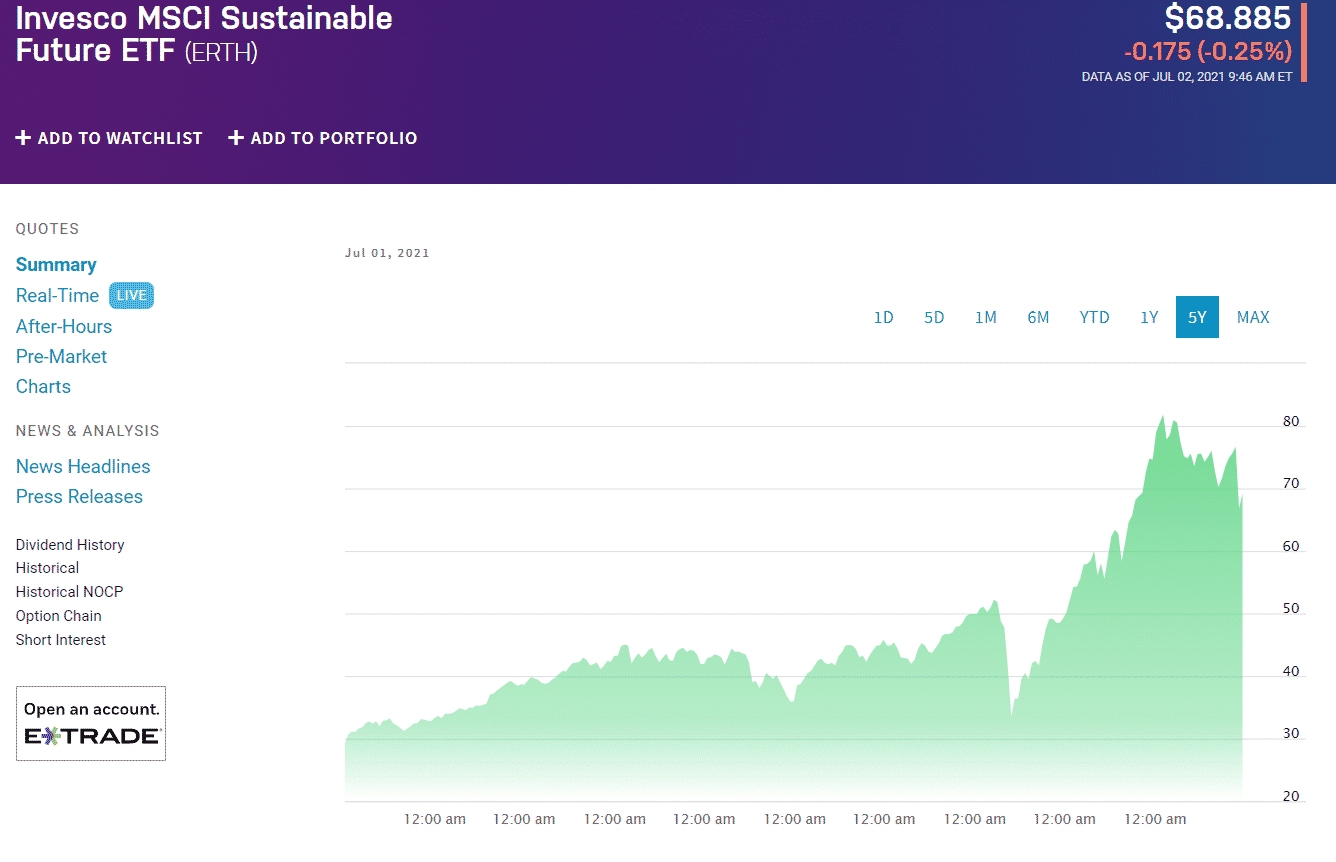 This exchange-traded fund was founded in 2006 by Invesco and made to track the MSCI Global Environment Select Index. The benchmark itself consists of organizations whose revenues come from goods and services made to address climate change in some shape or form. For a company to be eligible for the index, at least 50% of its revenues must come from such products.
Holdings
Among its 137 holdings, there is an amalgam of organizations ranging in size and market capitalization alike.
Among its three top holdings, you can find Short Term Investments Trust Government & Agency Portfolio Institutional with a 12.93% share, Chinese automaker NIO Inc.'s Sponsored ADR Class A with a 5.33% pull, as well as Elon Musk's Tesla Inc. with 4.51%.
The ETF pays out a quarterly dividend of $9.95, while its annualized average return came in at 61.51%.
2. iShares Global Clean Energy ETF (ICLN)
Price: $23.53
Expense ratio: 0.46%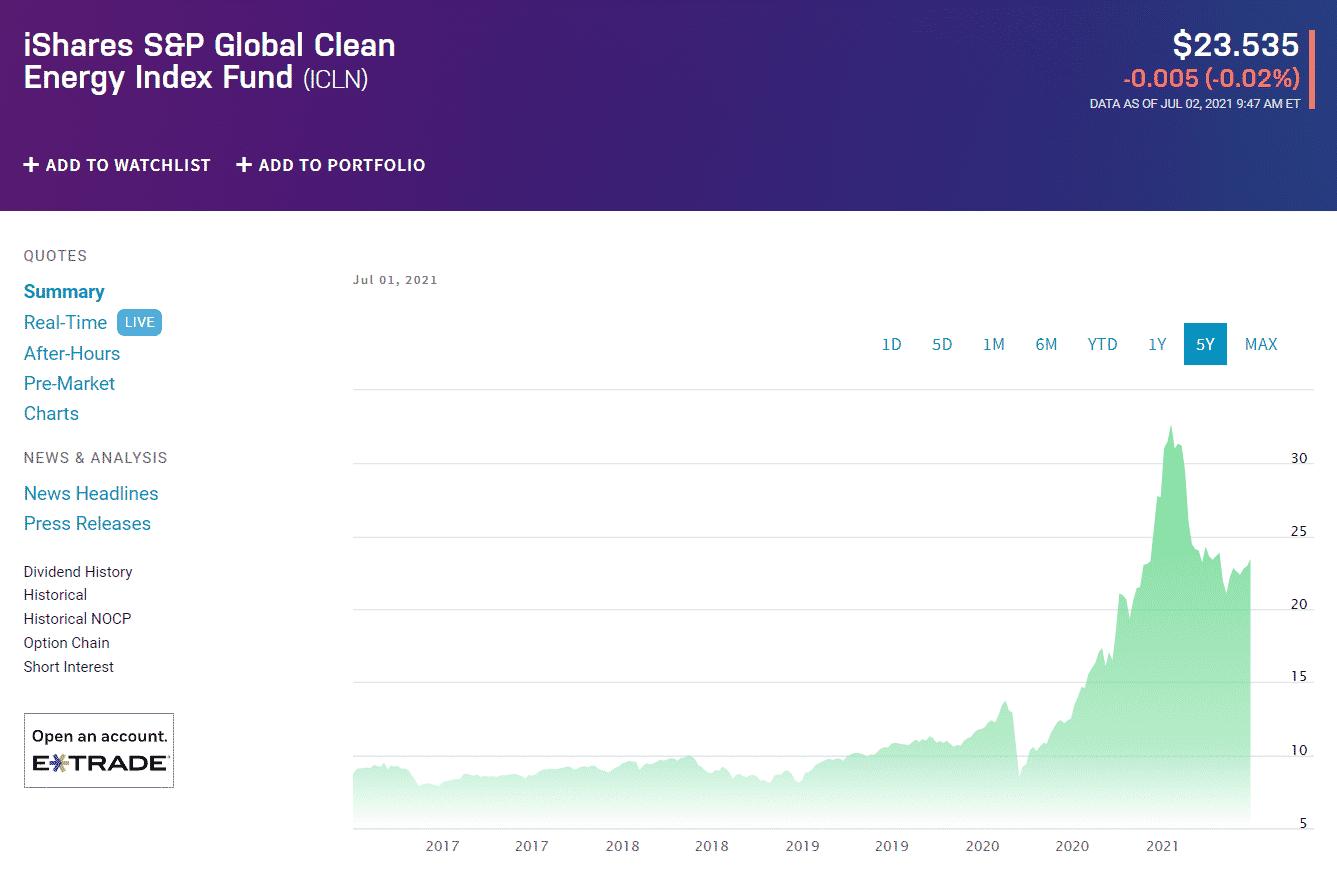 In 2008, the iShares Global Clean Energy ETF was to track the S&P Global Clean Energy index. The criteria for its holdings are set similarly to the previous one, which means that at least half of its constituents' revenues have to come from products and services that tackle climate change.
Holdings
The ETF consists of 82 holdings and has $5.98 billion in assets under management. Just under 50% of its holdings in the United States, with the remaining part spread across the globe pretty evenly.
The ETF's three most prominent holdings are Vestas Wind Systems, a Danish manufacturer, seller, installer, and servicer of wind turbines, NASDAQ-listed Enphase Energy, and Denmark's largest energy company Orsted. The three firms participate in the fund with 7.62%, 6.33%, and 5.87%.
The ICLN ETF pays out a quarterly dividend of $0.12, with an average yearly return of 88.13%.
3. KraneShares MSCI China Clean Technology Index ETF (KGRN)
Price: $47.53
Expense ratio: 0.80%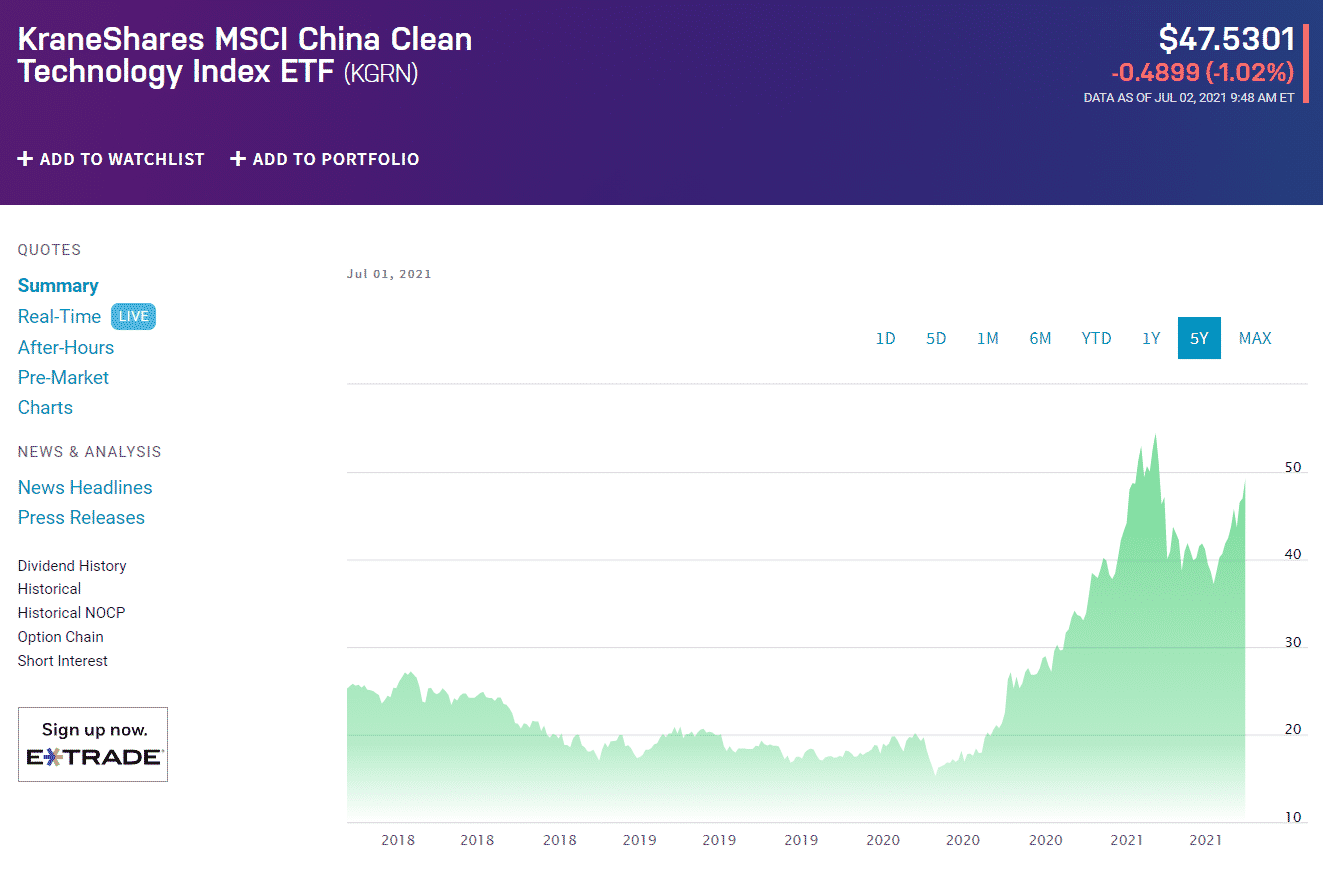 The KraneShares MSCI China Clean Technology Index ETF KGRN was founded in 2017 and tracked the MSCI China IMI Environment 10/40 Index. As the name suggests, this ETF allows you to diversify your portfolio geography and industry-wise. Even though most prominent Chinese companies are state-owned, there is a wide array of opportunities for investors to choose from.
Holdings
The KGRN ETF's assets under management amount to a bit over $172 million, spread across 44 holdings. On the MSCI scale, the KGRN ETF has an A grade, based on a score of 5.77/10.
The fund's three top holdings include NIO Inc. Sponsored's ADR Class A stock, the share of which is 9.81%, as well as Shenzhen-based BYD Company, which participates with 9.62%. Beijing electric vehicle giant Li Auto, also known as Li Xiang, pulls 8.43% of the fund's share.
The ETF's annual return came in at 118.05%, while its quarterly-paid dividend amounted to $0.003.
4. ALPS Clean Energy ETF (ACES)
Price: $75.44
Expense ratio: 0.55%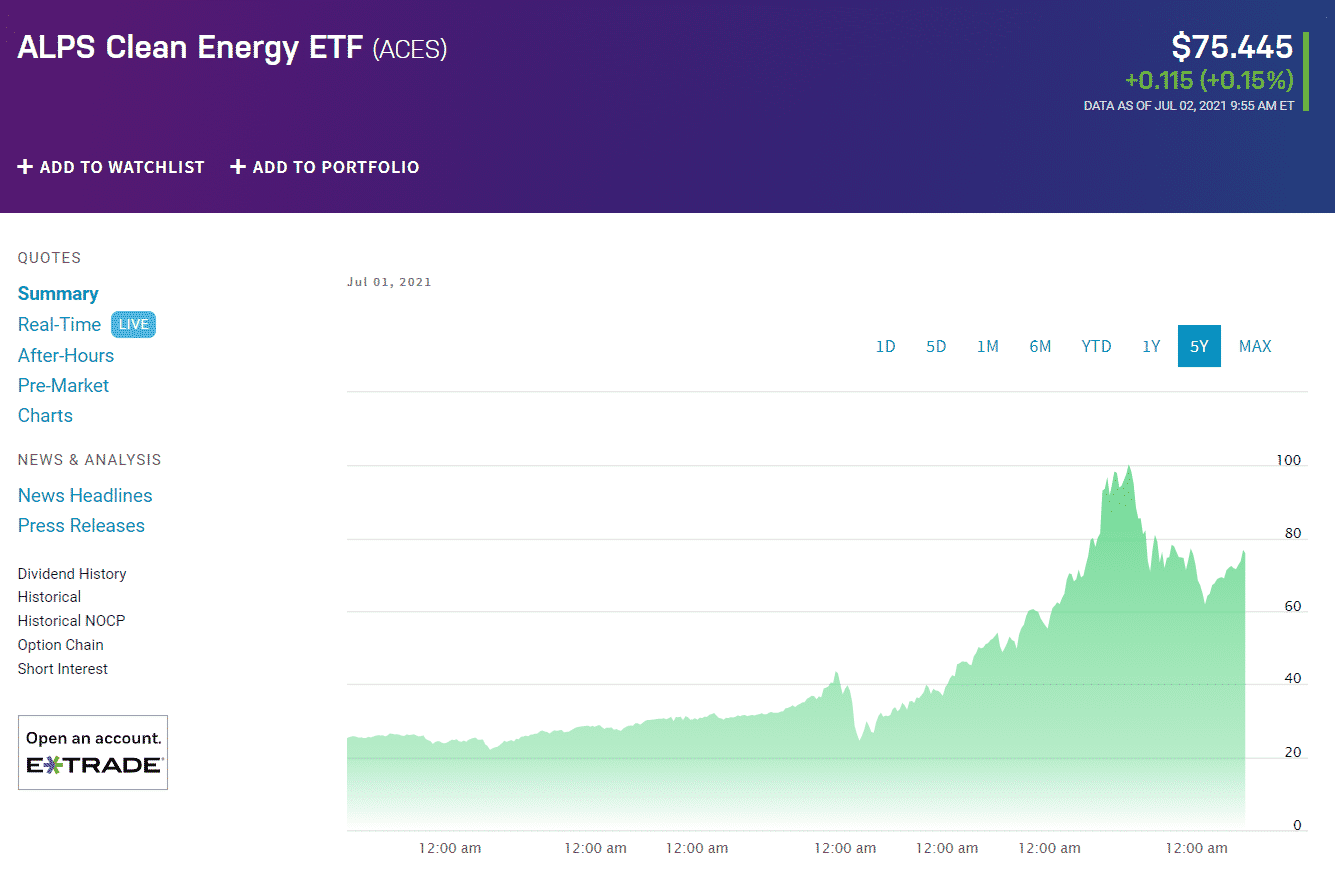 ALPS Clean Energy ETF ACES was founded in June 2018, and it corresponds to the CIBC Atlas Clean Energy Index. The benchmark consists of companies based in Canada and the United States involved in the clean energy industry. Simply put, any North American company dealing in sustainable energy, clean technologies, and similar niches are eligible to be included in the index.
Holdings
Within the list of 44 holdings, there isn't a unit with a dominant share. To be exact, all the holdings on the company's top-ten list hover around the 5% mark. Among them, you can find a mixture of organizations ranging in both size and market capitalization.
While we already mentioned Tesla and Enphase Energy, which are among this ETF's top three holdings, more remains to be said about the fund's runner-up holding — Sunrun Inc. The San Francisco-based provider of residential solar panels and home batteries had a pretty impressive year behind, despite the pandemic. In the year's opening fiscal quarter, Sunrun's revenue jumped 59%, while its sales of solar energy systems and products rocketed 44% on an annual basis.
The ETF pays out a quarterly dividend of $0.18, while its annualized average return came in at 93.25%.
5.Invesco WilderHill Clean Energy ETF (PBW)
Price: $90.58
Expense ratio: 0.70%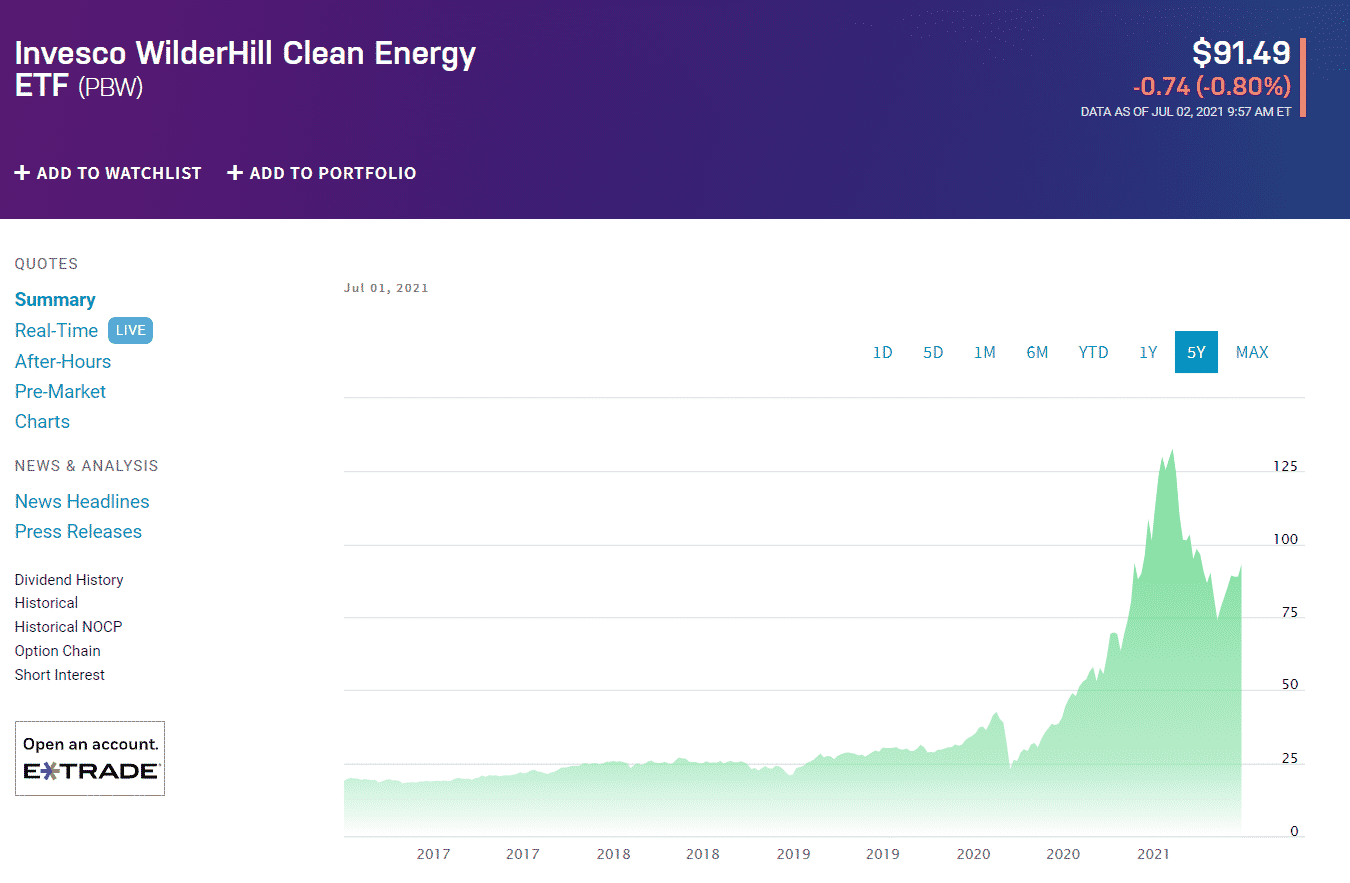 Like other ETFs on the list, Invesco WilderHill Clean Energy ETF PBW aims to allow investors to put their money into clean energy. Unlike others listed here, the PBW ETF mainly relies on technology companies, with its assets spread across industrials, materials, utilities, and even health care firms.
Holdings
While the fund itself counts 68 holdings, no discernable company has a majority share in the ETF. Almost 85% of the fund's holdings are based in the United States, with China and Canada making up for the rest, in that order (the top holding amounts to 2.28%).
So speaking of the top holdings, the three units with the most considerable pull are the integrated electric energy corporation, Ameresco, Inc., California-located electric vehicle infrastructure company ChargePoint Holdings, and Guangzhou-based and NYSE-traded Chinese electric vehicle manufacturer Xpeng, Inc. The three firms participate in the fund with 2.28%, 2.24%, and 2.02%.
The PBW ETF cashes out a quarterly dividend of $0.26, with an average yearly return of 136.38%.