The crypto industry is rapidly expanding in terms of technological advancements. Entrepreneurs in this field are finding innovative projects to enrich the digital industry.
The projects, however, require a large amount of funding to solidify future success. Some of these entrepreneurs possess the skills to create a product but not the business sense or capital to take it to the next level.
Huobi Capital has identified innovative projects relating to blockchain technologies and is investing in these projects to help them grow and become successful. As a crypto enthusiast, you would surely be interested in a fund that aims to invest in future projects that it deems to be successful in the long run.
Read further about Huobi Capital, a crypto venture capital fund.
Crypto fund overview: what is Huobi Capital Crypto Fund?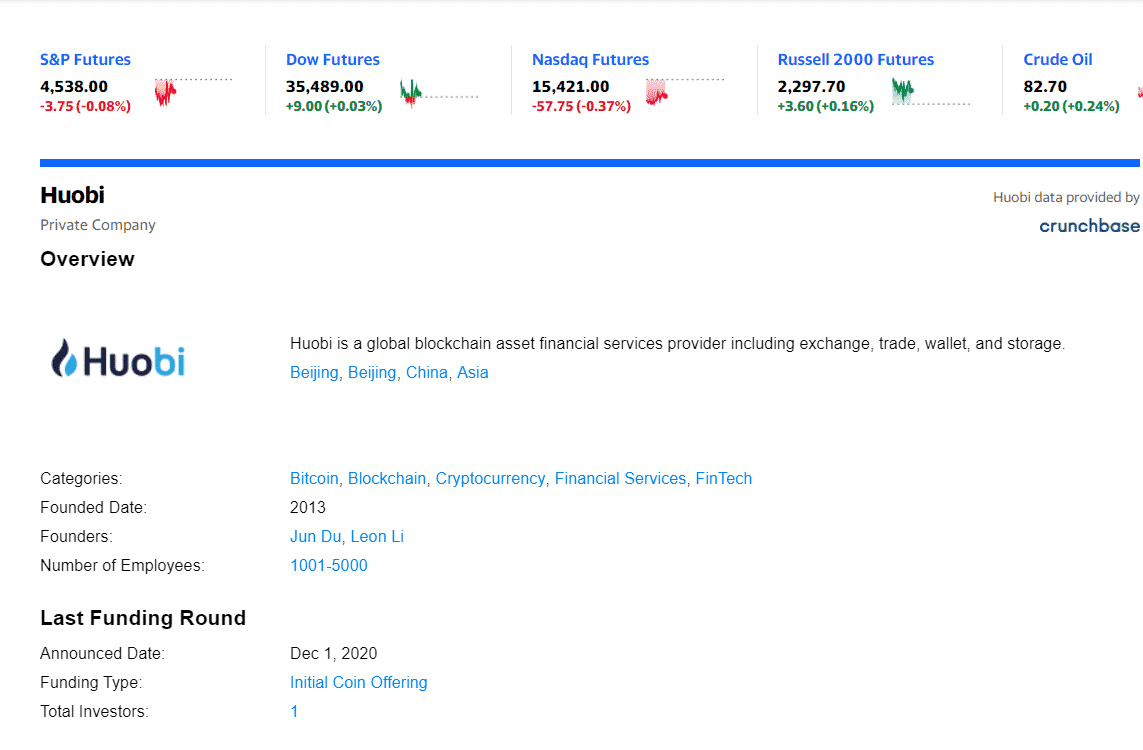 The Huobi Group established the Huobi Capital, a venture capital fund, which invests in blockchain and crypto-assets. Huobi Capital's investment strategy is to bring innovative investors' blockchain projects with high potential and help these projects grow in the long term.
The investments focus mainly on blockchain technology and digital assets projects.
Huobi Group launched Huobi Capital with a $100 million investment on 1 September 2013, and the fund's headquarters are in the Asia Pacific region.
What cryptocurrency is Huobi Capital Crypto Fund?
The Huobi Capital portfolio consists of a total of 17 investments. On 1 October 2021, Stader Labs raised $4 million in funds for investment with Huobi Capital.
The crypto portfolio of the fund is diverse, incorporating most of the top-performing crypto coins and tokens. However, the fund is not transparent about its crypto holdings since the information is not readily accessible.
Animoca Brands, a gaming company that raised $88.9 million during the fund's inception, has recently withdrawn from the fund.
How to invest in the Huobi Capital Crypto Fund?
The Huobi Capital Fund page does not give information on how to join the fund. However, an email address is located on the Huobi Capital website and Facebook page, which potential investors can use to reach out to the support team.
Based on the funding rounds, the investors are companies with significant capital and not necessarily individual investors.
How big is Huobi Capital Crypto Fund?
The fund has an investor base of over 4,950. The coins used for Huobi Capital have a market cap of $1.38 trillion and a daily trading volume of roughly $63.5 billion, according to Coinmarketcap.
In terms of portfolio breakdown, the Huobi Capital fund has five investments in the fintech industry, one in enterprise software, and one in gaming.
Geographical investments are three in Singapore, one in the United States, one in China, and one in Canada.
The breakdown in terms of funding rounds consists of three Seed rounds, two ICO, one Angel, and one Growth equity VC.
Is Huobi Capital investment fund safe? 
The safety around the fund's investments is not publicly known. However, we have listed a few pros and cons for you to consider.
| | |
| --- | --- |
| Pros  | Cons |
| Huobi Capital gives investors exposure to investing in innovative blockchain and digital currency projects. | The fund's expense ratio and management fees are not visible to potential investors. |
| The fund has a large investor base of 4,952. | Information around the fund's performance is not available publicly. |
| Huobi Capital's mother company is well established in the crypto industry. | |
Final thoughts
Huobi Capital is not a new fund and has been in the market for eight years. Therefore, it has a solid presence. However, the information around the performance and holdings are not transparent.
Similarly, potential investors will find it a challenge to join since there is no public sign-up option. This leaves us to assume that the fund has a distinct selection of investors and is therefore not looking to gain interest from individual investors. Huobi Capital has regular funding rounds, which means the fund is constantly growing and gathering new interest.